Indywidualne koncepcje elektryfikacji floty
Zmniejsz koszty i osiągnij cele zrównoważonego rozwoju swojej floty — niezależnie od tego, czy dopiero rozpoczynasz proces elektryfikacji czy jesteś już w trakcie.
Przejście na pojazdy elektryczne może przynieść oszczędności wynoszące 33 milionów dolarów i zredukować emisję CO2 o 194 tys. ton w ciągu 4 lat.
firma Enterprise Fleet Management jako przykład udanej oceny przydatności pojazdów elektrycznych (EVSA)
Pomożemy Ci bezproblemowo zelektryfikować flotę
Peter Hecker
szef działu telematyki, DB Regio AG
To oprogramowanie zapewnia nam wysoki stopień stabilności i elastyczności. Możemy bezpośrednio włączyć naszych lokalnych współpracowników do obiegu informacji. Jest to szczególnie dobrze odbierane przez naszych współpracowników w terenie, a także przez naszych kierowników zadań. Tylko w tym roku udało nam się zredukować zbędny czas pracy na biegu jałowym o około 40%, co odpowiada zmniejszeniu wpływu na środowisko o około 1400 ton CO2
Chris Haffenreffer
zastępca wiceprezesa ds. innowacji, Enterprise Holdings
Poprzez współpracę zaczęliśmy lepiej rozumieć możliwości przetwarzania dużych ilości danych, jakimi dysponuje firma Geotab. Uświadomiliśmy sobie, że gdybyśmy mogli na dużą skalę połączyć analitykę firmy Geotab z rzeczywistymi danymi firmy Enterprise Fleet Management, moglibyśmy uzyskać unikalną perspektywę rozwoju naszej floty w nadchodzących latach
Jak firma Geotab może pomóc przejść na flotę elektryczną
Gwarancja zasięgu
Korzystaj z rzeczywistych danych rynkowych, aby określić, które pojazdy obecnie dostępne na rynku spełniają codzienne potrzeby Twojej floty.
Korzyści finansowe
Ustal całkowity koszt posiadania pojazdu, w tym oszczędności wynikające z ograniczenia konserwacji i oszczędności paliwa, aby dowiedzieć się, w jaki sposób pojazdy elektryczne mogą poprawić wyniki finansowe Twojej floty.
Wpływ na środowisko
Oszacuj korzyści dla środowiska wynikające z przejścia na pojazdy elektryczne, obliczając zmniejszenie emisji CO2 i redukcję zużycia paliw kopalnych.
Bezproblemowa elektryfikacja floty dzięki rzeczywistym danym rynkowym
Przeanalizuj unikalne profile oraz wzorce jazdy swojej floty i uzyskaj spersonalizowane rekomendacje dotyczące marki i modelu, które uwzględniają dostępność pojazdów elektrycznych na lokalnym rynku, wydajność w ekstremalnych warunkach pogodowych oraz nakłady finansowe.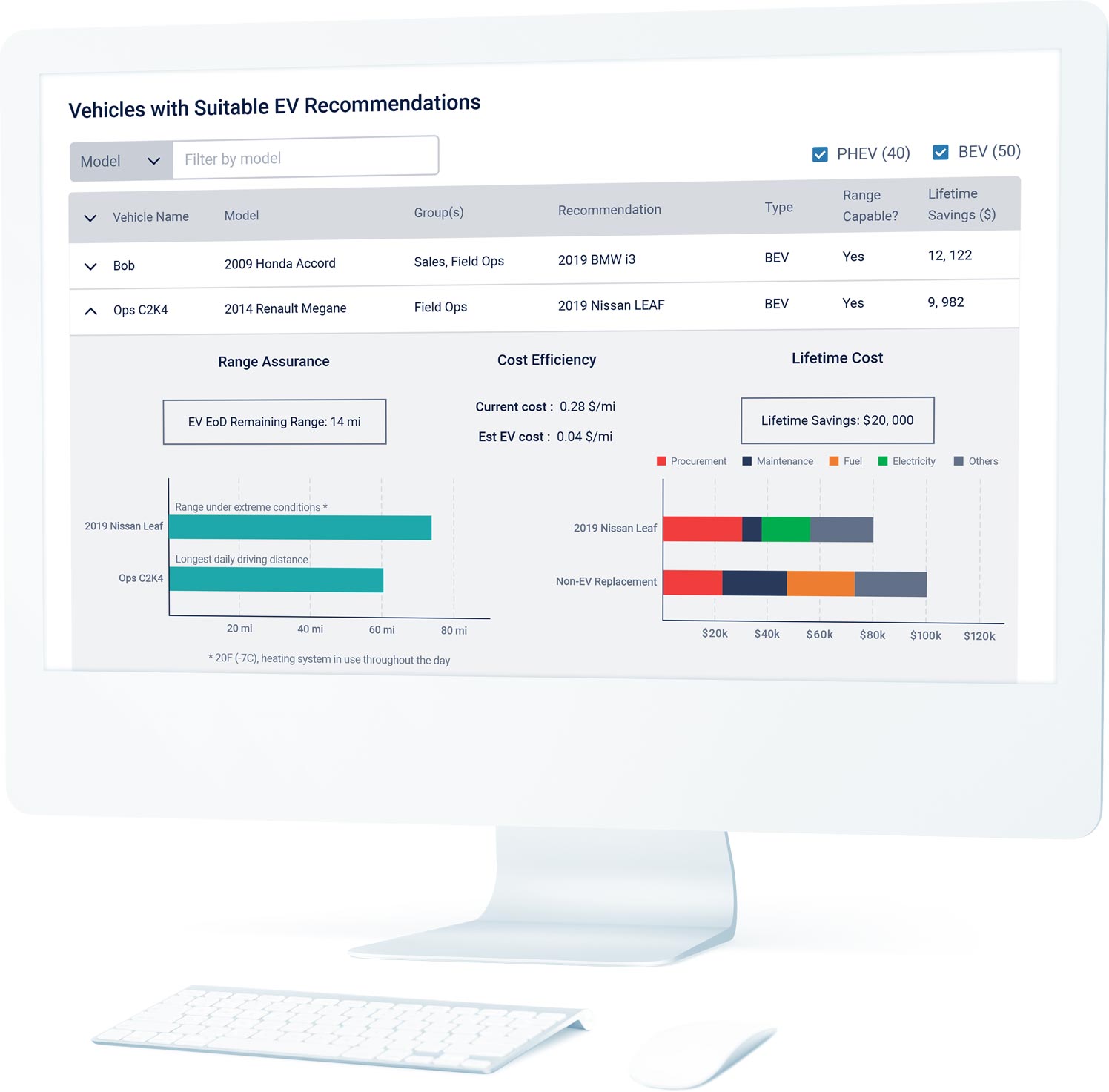 Płynne przekształcenie floty
Gdy już dodasz pojazdy elektryczne do swojej floty, platforma firmy Geotab zapewni Ci wgląd w dane, których potrzebujesz, aby efektywnie nimi zarządzać razem z pojazdami z silnikiem spalinowym.
Przejdź na zasilanie elektryczne za naciśnięciem jednego przycisku
Zamów prezentację, aby dowiedzieć się, jak możesz rozpocząć tworzenie planu elektryfikacji lub zmaksymalizować wydajność istniejących pojazdów elektrycznych w swojej flocie.