The State of Fuel Economy in Trucking
With the rising cost of fuel over time, managing fuel consumption is more important than ever.1,2 This infographic shows the average fuel economy of Class 7 and Class 8 trucks in the United States and Canada based on data collected by Geotab. Depicting an average miles per gallon range between 4.51 MPG and 6.47 MPG, the data highlights that there is room for improvement when it comes to fuel economy. Run on Less followed seven Class 8 trucks equipped with Geotab GO devices over a three-week period as they set out to demonstrate that technology and best driving practices can achieve 9+ MPG.
View the heat map below to see how your fuel economy performance compares with others in your area, ​and click on the legend below to view the Run on Less drivers routes and final results.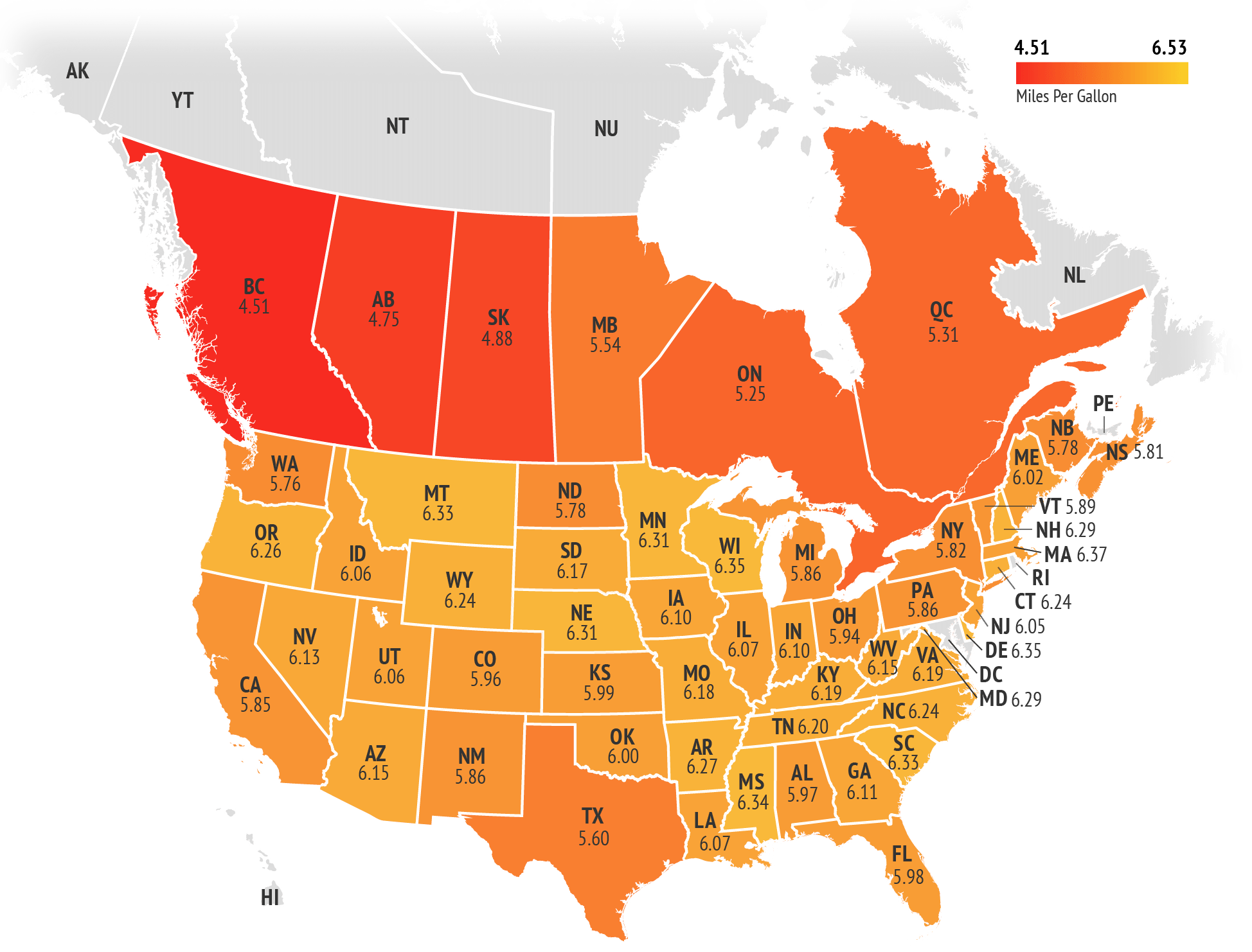 Fuel Efficiency Across America and Canada (average MPG) for Class 7 and Class 8 Trucks
Canada
Alberta
4.75
British Columbia
4.51
Manitoba
5.54
New Brunswick
5.78
Nova Scotia
5.81
Ontario
5.25
Quebec
5.31
Saskatchewan
4.88
USA
Alabama
5.97
Arizona
6.15
Arkansas
6.27
California
5.85
Colorado
5.96
Connecticut
6.24
Delaware
6.35
Florida
5.98
Georgia
6.11
Idaho
6.06
Illinois
6.07
Indiana
6.10
Iowa
6.10
Kansas
5.99
Kentucky
6.19
Louisiana
6.07
Maine
6.02
Maryland
6.29
Massachusetts
6.37
Michigan
5.86
Minnesota
6.31
Mississippi
6.34
Missouri
6.18
Montana
6.33
Nebraska
6.31
Nevada
6.13
New Hampshire
6.29
New Jersey
6.05
New Mexico
5.86
New York
5.82
North Carolina
6.24
North Dakota
5.78
Ohio
5.94
Oklahoma
6.00
Oregon
6.26
Pennsylvania
5.86
South Carolina
6.33
South Dakota
6.17
Tennessee
6.20
Texas
5.60
Utah
6.06
Vermont
5.89
Virginia
6.19
Washington
5.76
West Virginia
6.15
Wisconsin
6.35
Wyoming
6.24