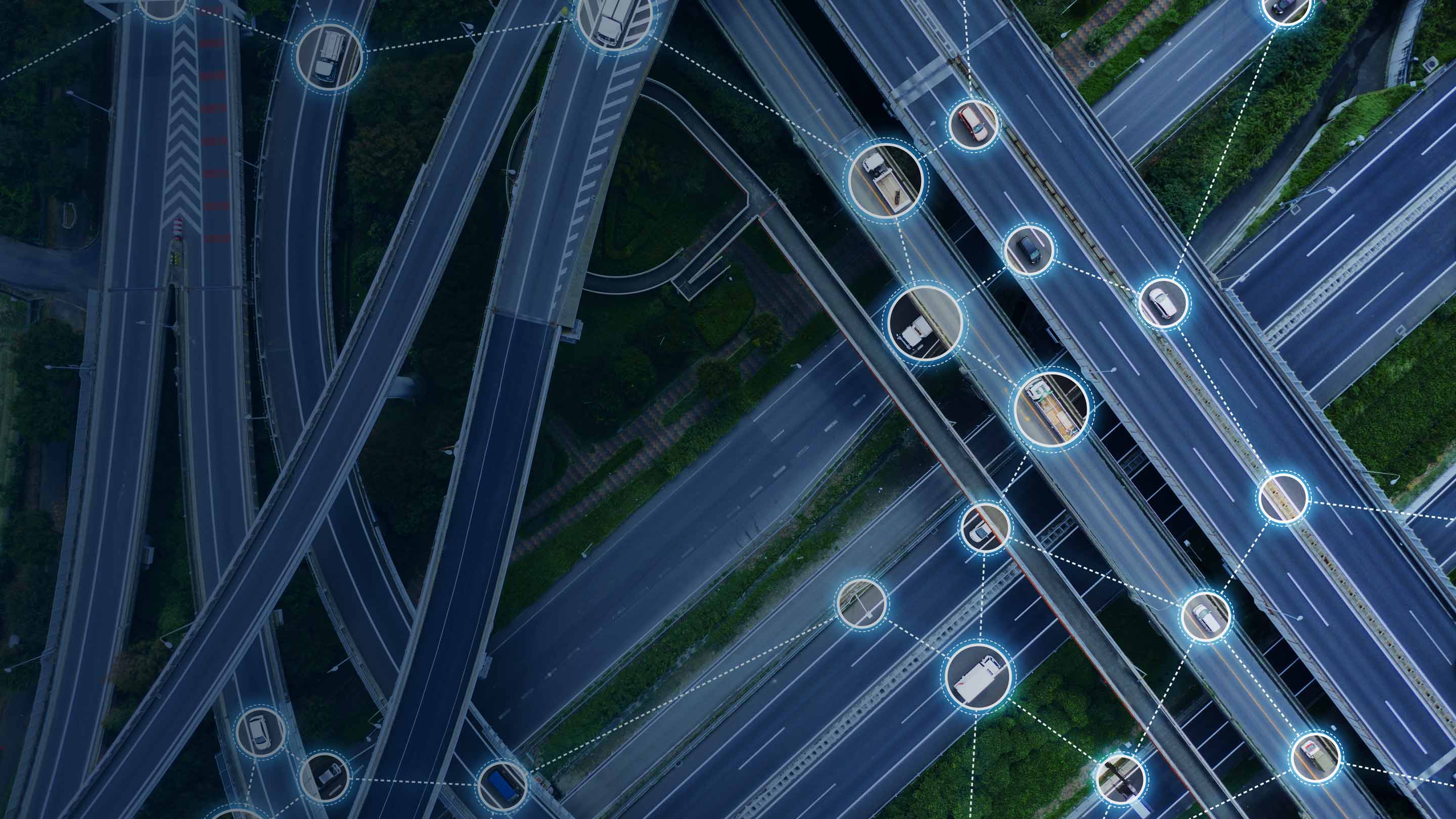 Geotab + dash cams: a powerful combination
Get video value with dash cams, integrated with Geotab rules and driver coaching.
Explore camera solutions

Smart tools for small business
Lower costs, boost uptime with the Geotab Small Business Plan.
---
Geotab by the numbers
100 Million+
Miles driven daily
2,000,000+
Telematics devices in operation
40 Billion+
Data points processed daily
Fleet management solutions
Choose the industry leader
Geotab was ranked the #1 commercial telematics vendor worldwide by ABI Research and continues to be recognized for our innovative technology and solutions. Whether you have one vehicle or 1000, we have the solutions to suit your needs.
Get to know us
---
Our resources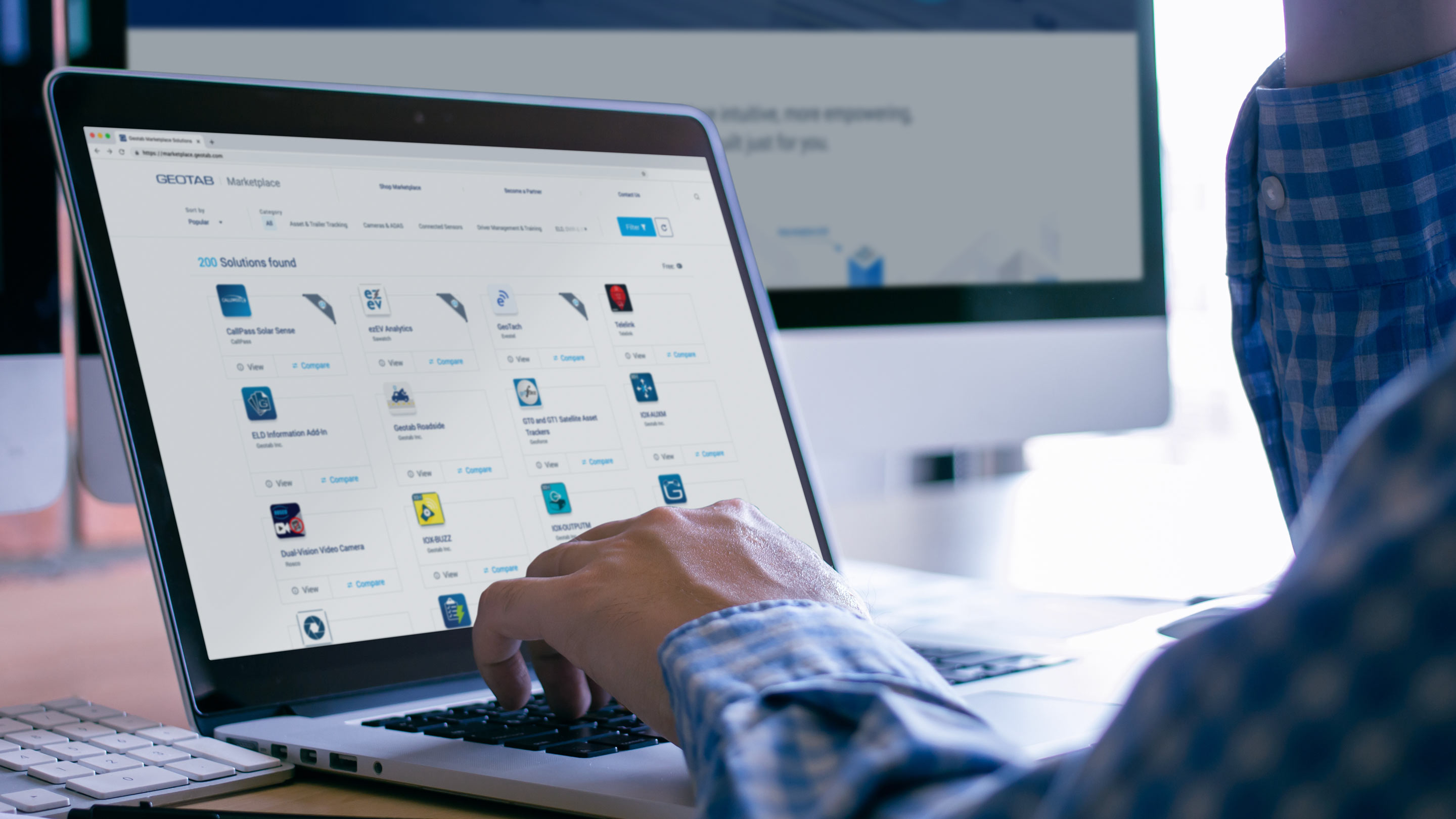 Marketplace
Shop for solutions
Connect the things that matter to your business. Take advantage of the integrated solutions provided by our diverse partner network to help you achieve your goals.
Visit the Marketplace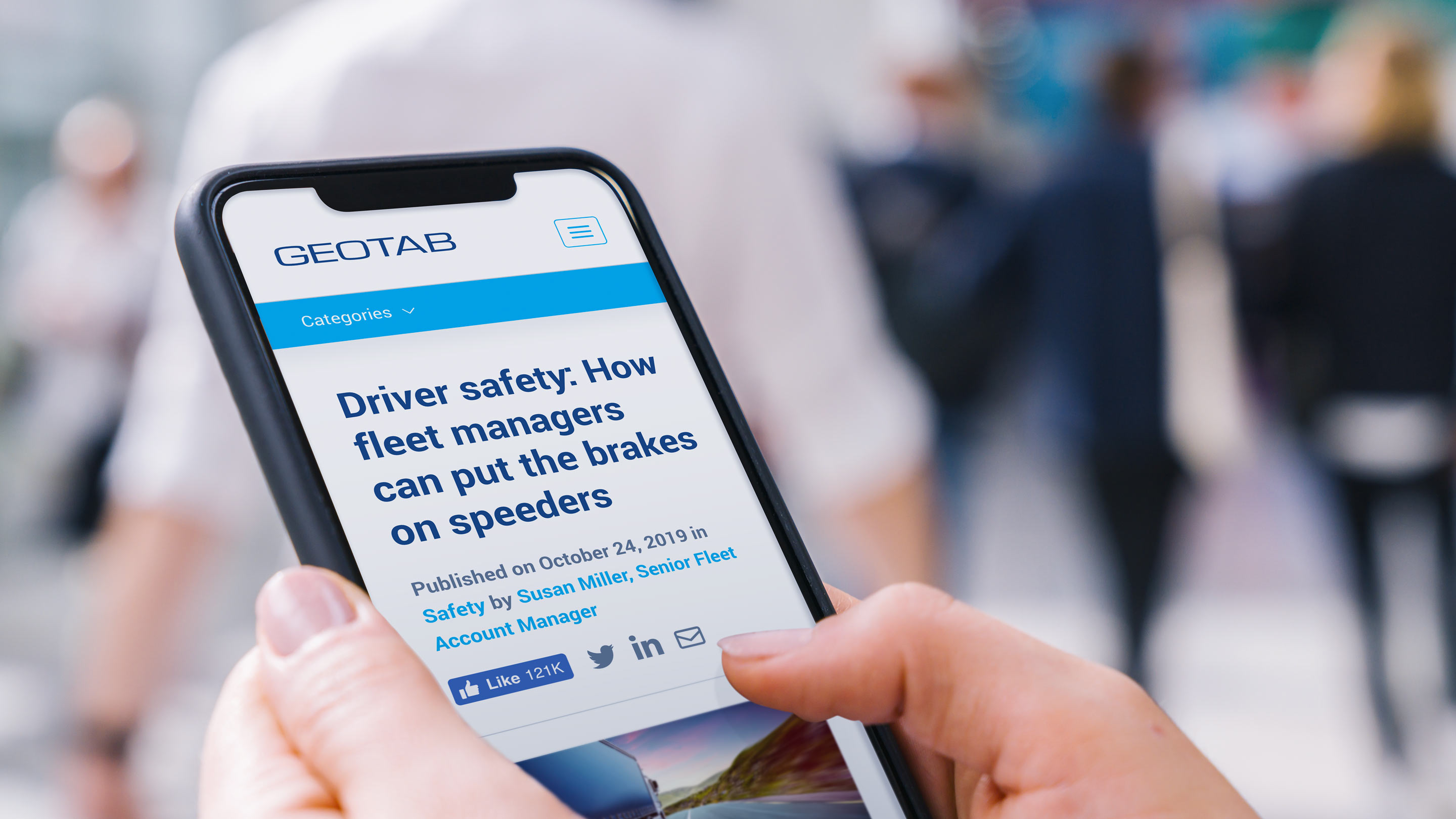 Blog
The Geotab blog
Your online source of fleet management and mobility news, insights and best practices.
Visit the blog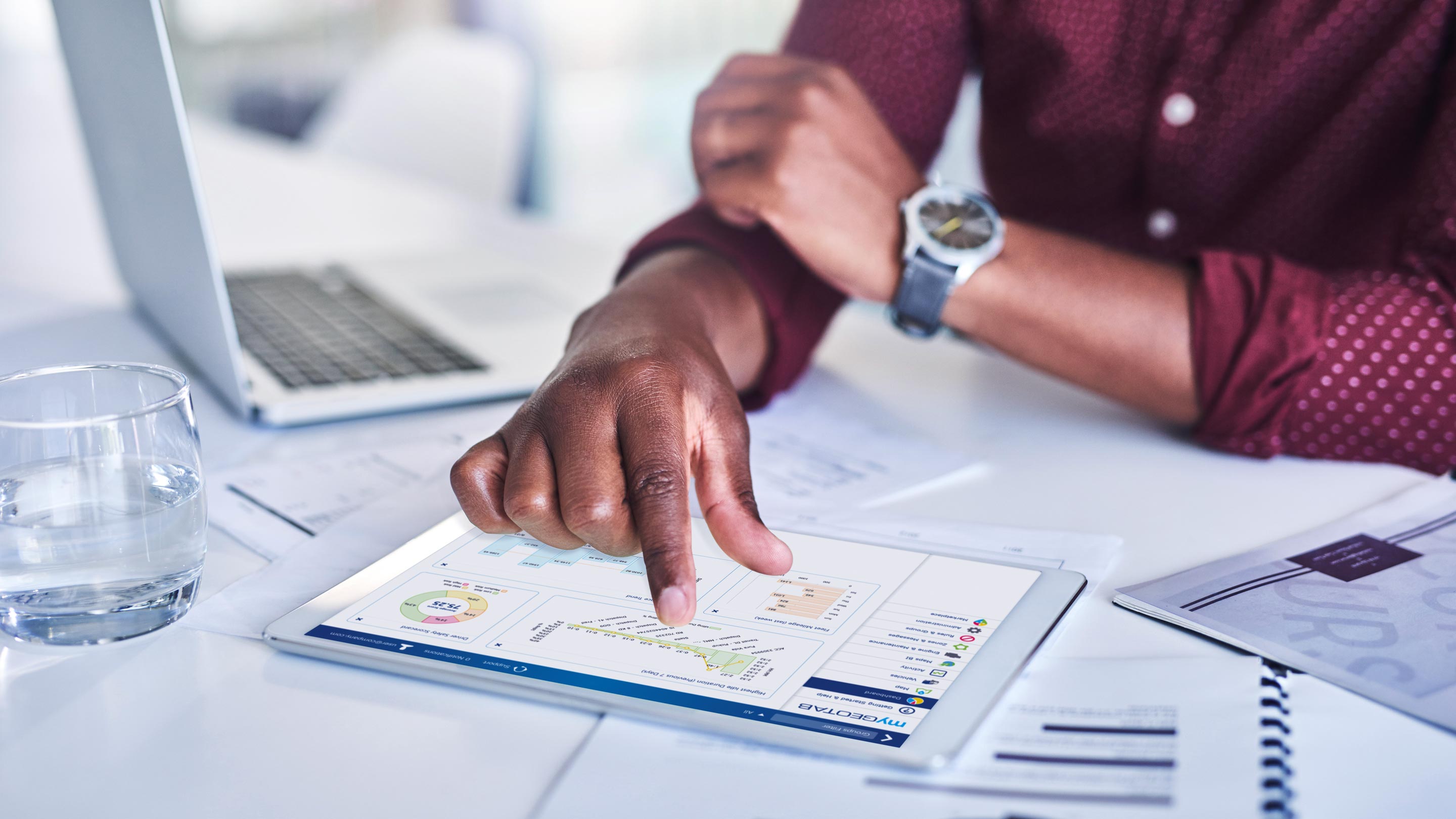 What is fleet tracking?
Fleet tracking is the use of a vehicle tracking device and software to monitor and manage a fleet of vehicles. Through fleet tracking, a fleet manager or business owner can collect data on location and vehicle health.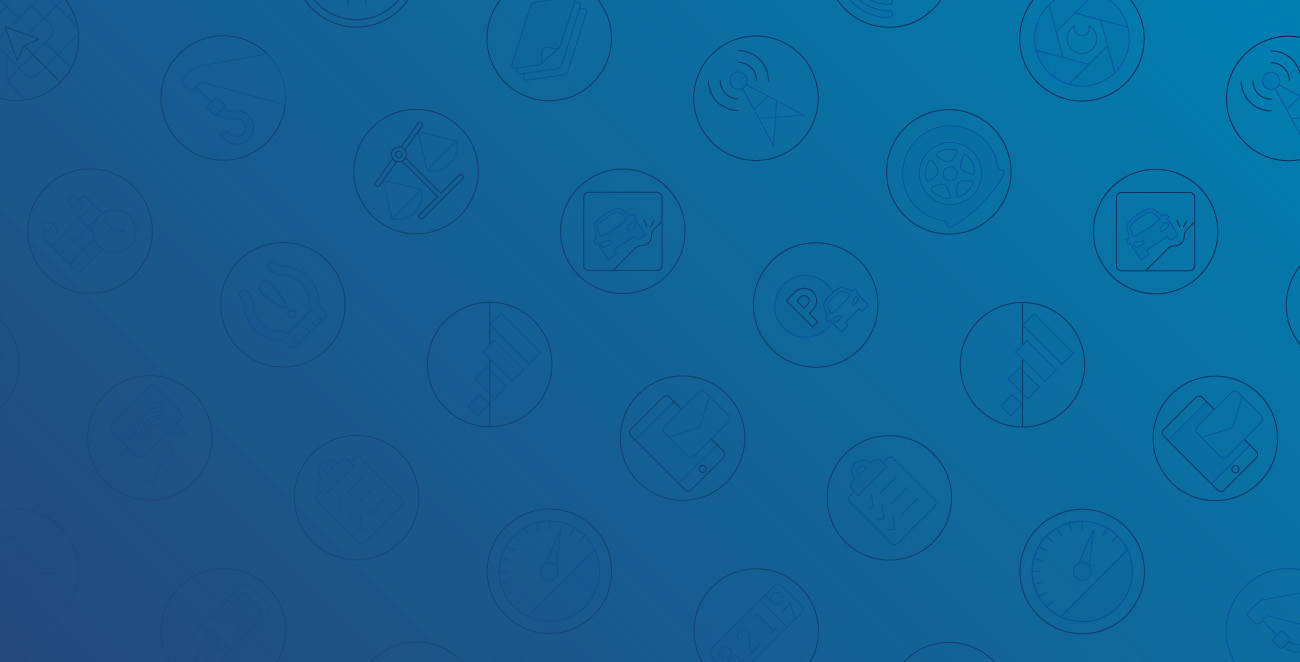 Telematics glossary
Whether you are new to telematics or mastering advanced integration, our glossary is a handy reference for everything you need to know about telematics.
Read the glossary
---
Commonly asked questions
What does Geotab do?
Geotab is the world's #1 commercial telematics provider. We connect vehicles to the internet and provide web-based analytics to help organizations manage their fleets. Our solutions help improve business operations in six areas. They include, productivity, fleet optimization, sustainability, safety, expandability and compliance.
What fleet management solutions do Geotab offer?
Geotab offers a variety of solutions for fleets of all sizes and industries from fuel management, driver coaching, routing and dispatching, and much more.
What are the advantages of using Geotab's Fleet Tracking Solutions?
With Geotab's fleet tracking solution, receive insights that will lead your fleet into the future. With features such as accurate vehicle tracking and in-vehicle coaching, improve efficiency and maximize your fleet's profit. To learn more about the advantages, visit the
Vehicle Tracking Device
page.
What industries does Geotab work with?
Geotab works with a large number of industries, including: Construction, Courier and delivery, Utilities, Oil, gas and mining, Food and beverage, and Waste and recycling. View the full list of our
industry-specific offerings
. Is your industry not listed? Reach out for a
chat
and we'll be happy to show you the vast capabilities of our solutions.
What is Fleet Tracking?
GPS fleet tracking enables fleets to understand vehicle location and other fleet activities. For Geotab, fleet tracking includes much more than "dots on a map" and also includes many other focus areas such as driver safety, fleet compliance, vehicle emissions and vehicle health. To learn more, visit our
Asset Tracking Solution
page.
What is a Fleet Tracking System?
A fleet tracking system enables you to view detailed, real-time data on your vehicles. All of this data can be accessed remotely from a single platform. To learn more about Geotab's fleet management software, visit our
MyGeotab
page.
What are the benefits of a Fleet Tracking System?
There are many benefits to using GPS tracking, including helping increase safety, improve customer service, streamlining vehicle maintenance and reducing downtime, strengthening fleet compliance and increasing. Discover how companies are using fleet tracking to improve business operations on our
success stories
page.
Does Geotab Fleet Tracking Software use GPS?
The Geotab GO device is an industry leading, expandable telematics device. With its ability to use GPS fleet tracking, vehicle locations can be viewed in near real-time along with a complete trips history. Our patented algorithms provide detailed and accurate information to help support your fleet.
What is the Geotab GO Vehicle Tracking Device?
The Geotab
GO device
is a small vehicle tracking device that plugs easily into a vehicle's
OBD II
port, no antenna or wire-splicing required. Adapters are available for those without an OBD II port and no special tools or professional installers are needed. As soon as you begin to drive, the GO device starts recording rich data on vehicle location, speed, engine idling, distance and much more, with end-to-end security. The
latest iteration
features a 32-bit processor, more memory and a gyroscope.
What telematics software packages does Geotab offer?
Geotab offers four software packages. Base, Pro and ProPlus packages offer increasing levels of functionality and are available worldwide. The Regulatory package is geared towards the U.S. and Canada and adds HOS and IFTA functionality on top of the Base plan. For a full description of each plan, visit our
Software Packages
page.
Transform your fleet with Geotab