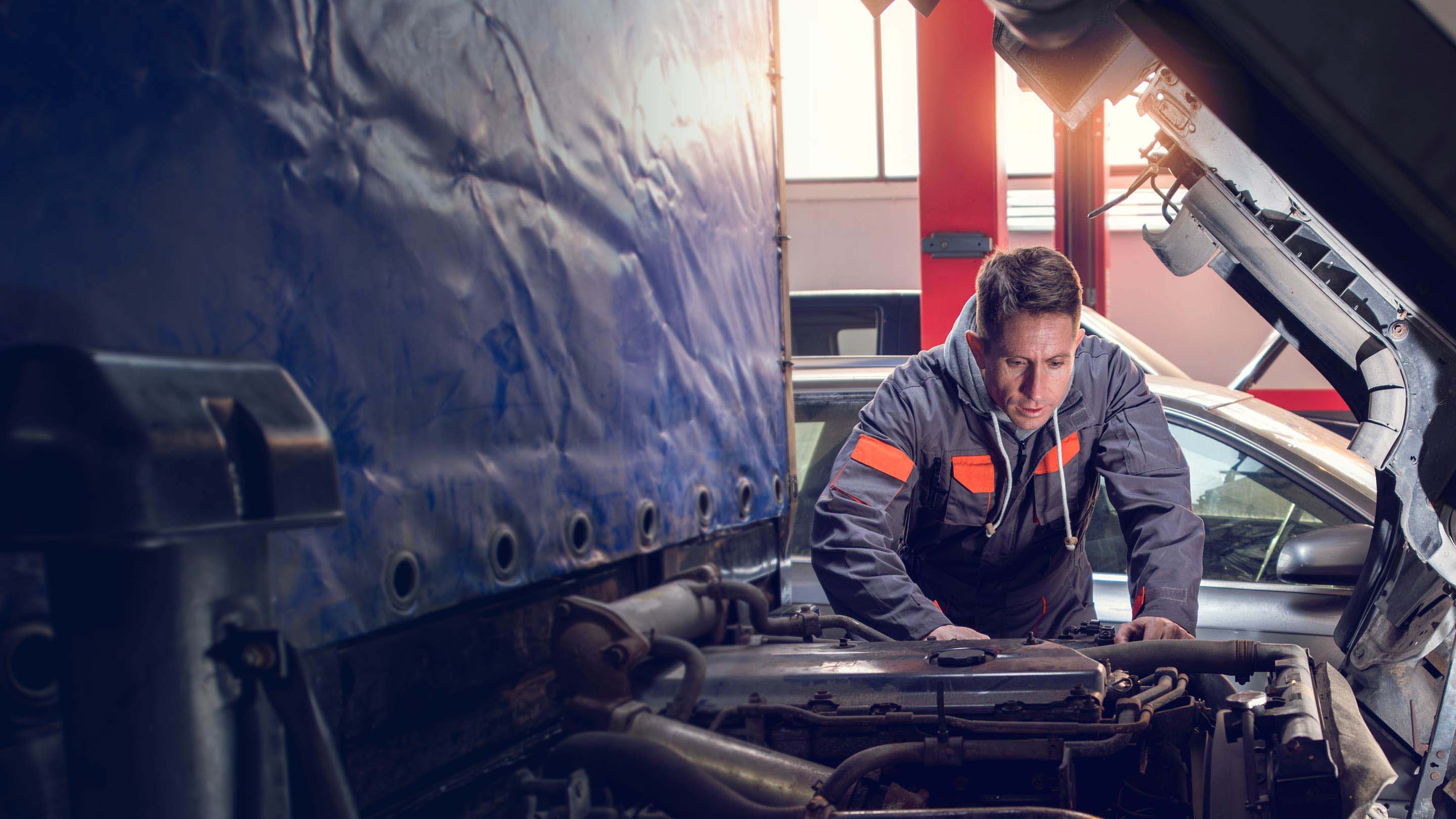 Fleet maintenance solutions
Take a proactive approach to fleet maintenance. Maximize uptime and reduce costs with our fleet maintenance software solutions.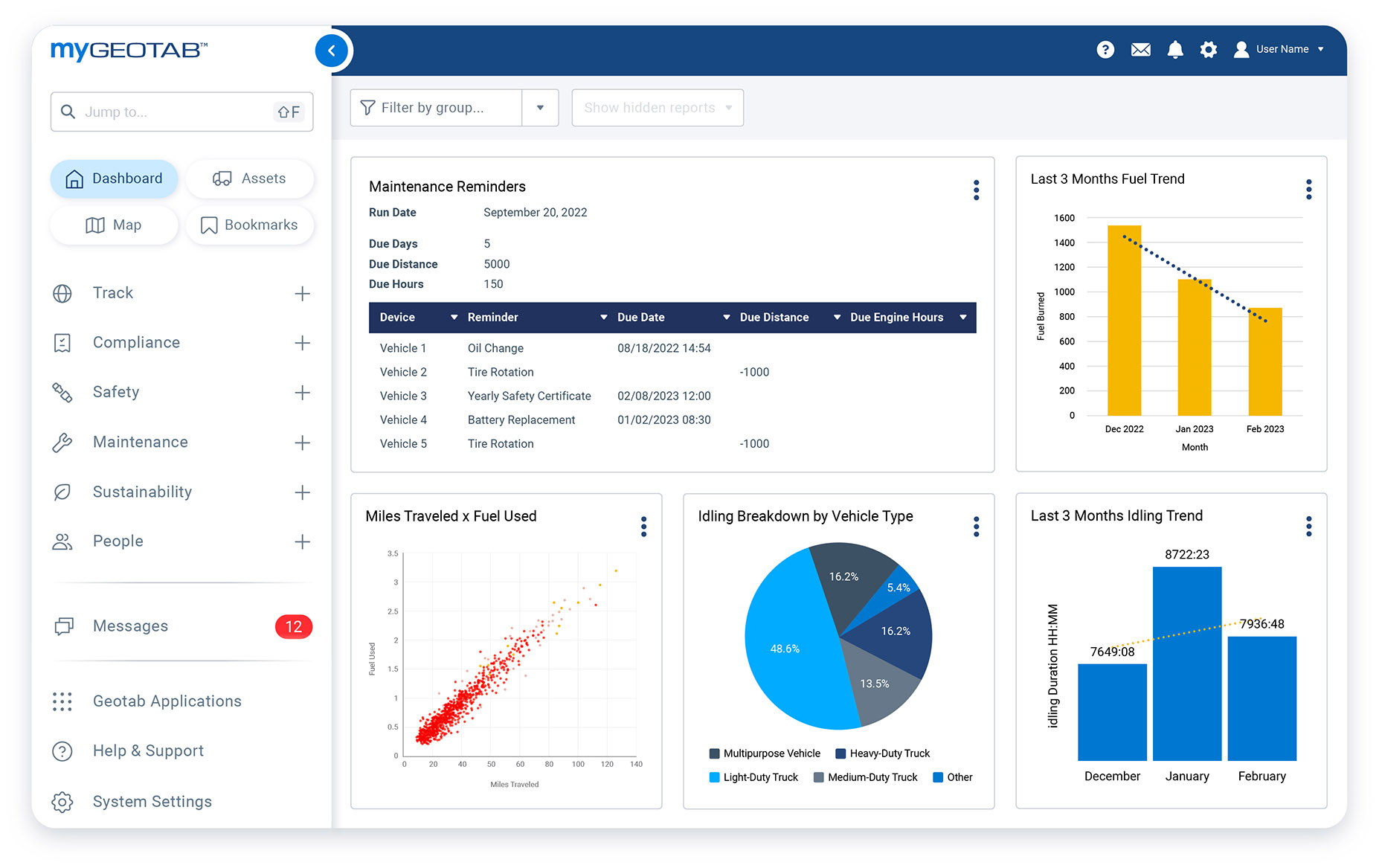 Optimize fleet maintenance and reduce costs
Managing your fleet's maintenance has never been easier. With Geotab's remote diagnostics and fleet vehicle management software you can easily find more information on engine diagnostics, scheduled maintenance reminders, and even maintenance cost reports, all in one easy to use app. Not just helpful for ensuring your fleet stays on the road without delay, these fleet maintenance solutions help your fleet to perform at their peak levels. This will ultimately lead to increased fleet safety
Manage fleet vehicle maintenance
Quickly identify issues and prioritize vehicle repairs with active diagnostic faults and critical engine data available through Geotab's fleet maintenance software. Fleet managers can save time and reduce costs by focusing on predictive engine health.
Preventative maintenance insights
Proactively attend to engine issues before they become costly repairs by closely monitoring your engine fault code information. While some competitors may claim to provide DTCs (Diagnostic Trouble Codes), Geotab's solution provides more comprehensive and accurate data allowing for quicker and more accurate diagnosis of vehicle issues. With Engine Status Reports you can detect early signs of vehicle engine health issues, preventing breakdowns and avoiding more costly repairs down the road.
Prevent vehicle wear and tear
Harsh driving can take a toll on vehicle conditions. Improving driver behavior is one way to help. Even the simplest vehicle repairs can be costly to your bottom line. Minimize vehicle wear and tear with Geotab's driver scorecard and proactive driver coaching tools. For those instances when wear and tear is inevitable, be alerted the instant issues are detected with our fleet maintenance solutions.
Fleet maintenance tools
Geotab's fleet maintenance software makes managing your fleet's diagnostics easy. Reduce vehicle downtime, cut administrative costs and catch engine issues early with MyGeotab and our partner integrations. We offer the following tools to help you manage all of your fleet maintenance and diagnostic needs:

Geotab also supports over 15,000 vehicle makes and models, including those no longer in production, and works for ICE, hybrid and electric vehicles.
Remote diagnostics
Inventory management
Maintenance scheduling and reminders
Work order management
Maintenance cost reports
Currency conversion support for customers who operate cross-border

See our solutions in action
Manage your maintenance schedule with the new Maintenance Center!
The release of our new Maintenance Center provides a centralized hub for efficiently managing your upcoming maintenance schedules. Easily monitor maintenance events, identify the most frequent tasks for your fleet, and keep everything organized – all in one convenient location.
Quickly identify vehicle maintenance costs
Uncover which assets are costing you the most to maintain. With the Costliest Assets widget, you can see which assets cost the most by tallying up your costs per asset.
Mechanics love Geotab
Geotab provides valuable data on a vehicle's faults so mechanics can quickly and accurately diagnose vehicle issues. Customized settings allow users to tailor the product to fit specific needs and roles. With access to preventative maintenance data relevant to their role, mechanics can prioritize their workload, identify potential issues before they become serious, and keep the vehicles they work on operating safely and efficiently.
Software for fleet maintenance and diagnostics from Geotab Marketplace
Maximize uptime and fleet productivity by ensuring your vehicles are operating at their peak. Solutions include predictive maintenance, remote diagnostics, collision reconstruction and maintenance management.
Fleet maintenance blog resources
Extend the life of your fleet with effective maintenance programs. You can prevent wear and tear and also reduce fuel costs. Learn how the right maintenance schedule keeps your fleet moving.
---
Commonly asked questions
What is fleet maintenance?
Fleet maintenance is often broken down into two parts: preventative maintenance and predictive maintenance. Preventative maintenance is regularly scheduled maintenance on a vehicle to reduce breakdowns. Predictive maintenance is performed when remote diagnostic data suggests that timely intervention will avoid breakdowns and expensive repairs. By using both of these methods, fleet managers can maximize vehicle uptime, control maintenance costs, and increase fleet safety. By adding in the use of fleet benchmarking, you'll receive all the high quality data needed to track performance and maintenance.
How does Geotab's fleet maintenance software work?
Geotab's vehicle maintenance software helps to increase the lifespan of your fleet by catching small problems before they become large, expensive ones. With MyGeotab, you can forecast and schedule your fleet's regular service tasks and inspections, and keep accurate records of vehicle issues, maintenance schedules, and parts inventories to ensure the maintenance scheduling process always runs smoothly. You can also coordinate use with our driver scorecard and proactive coaching to help minimize wear and tear.

Using MyGeotab's engine diagnostics solutions, you can keep your drivers safer, maximize vehicle uptime, and flag potential problem areas so you can plan fleet operations effectively. Geotab's fleet maintenance software uses remote diagnostics to quickly identify issues and prioritize vehicle repairs with active diagnostic faults and critical engine data, saving you time and money.
How do I set up a fleet maintenance program?
A maintenance plan is important because it minimizes downtime and maximizes revenue. If you don't have a maintenance program in place, you are putting your vehicles and drivers at a much higher risk of accidents, breakdowns and costly downtime. Setting up a maintenance plan also helps keep your vehicles running in top shape, which can have a direct effect on the efficiency and fuel economy of your vehicles.

Setting up your maintenance program within a broader fleet management and telematics solution enables you to benefit from remote diagnostics, inventory management, and predictive maintenance capabilities. And you'll have all your maintenance data together in one place, helping with fleet budgets and forecasts.
What are Geotab's fleet maintenance tools?
Geotab makes managing fleet maintenance and diagnostics easy. We offer the following tools to help you manage all of your fleet maintenance and diagnostic needs:

• Remote diagnostics to identify small problems before they become large, expensive ones
• Inventory management to streamline the maintenance scheduling process and ensure that everything is on hand when you need it
• Predictive maintenance to reduce vehicle downtime and costly breakdowns on the road by anticipating future maintenance requirements
• Maintenance scheduling and reminders to keep on top of your preventative maintenance program and ensure no inspections, services or faults slip through the cracks
• Work order management to easily log defects from anywhere and track their resolution
• Maintenance cost reports to track work completed and report on costs and trends, helping you target areas where you can improve your bottom line
How can Geotab help improve maintenance for my fleets?
Geotab's fleet maintenance solution helps you to quickly identify issues and prioritize vehicle repairs with active diagnostic faults and critical engine data available through the MyGeotab fleet maintenance software. This enables you to:

• Increase fleet safety by providing vehicles your drivers can safely depend on
• Control costs by predicting problems and preventing breakdowns from happening
• Keep accurate records, allowing you to maintain service schedules and parts inventory with ease
How does driver behavior affect vehicle maintenance?
Driver behavior plays an important role in reducing the need for fleet maintenance. For example, a driver who is constantly braking sharply, traveling at high speeds or performing other unsafe driving habits can cause accelerated wear to the vehicle, which can lead to expensive repairs down the line.
How does maintenance software improve fleet safety?
Driver conduct has a significant impact on the need for vehicle maintenance. A motorist who repeatedly participates in hard braking, speeding or other risky driving behaviour, for example, might cause a vehicle's wear and tear to be accelerated.

With active diagnostic problems and critical engine data available through Geotab's fleet maintenance software, fleet managers can swiftly identify issues and prioritize vehicle repairs. By focusing on predictive engine health, you may save time and money by identifying smaller issues before they compound into larger repairs.
How can fleet maintenance software save unwanted costs?
Fleet maintenance software can save on unwanted maintenance costs by prioritizing the vehicles that need attention the most. Geotab's fleet management software can be used to pull engine problem codes and analyze a variety of other data points to determine which vehicles require your mechanic's assistance first. Prioritize vehicles and shift from reactive to proactive maintenance, increasing both the fleet's and support crew's productivity.
Ready to optimize fleet vehicle maintenance?
Streamline your fleet's maintenance and repairs with our easy to use web-based software for fleet maintenance.