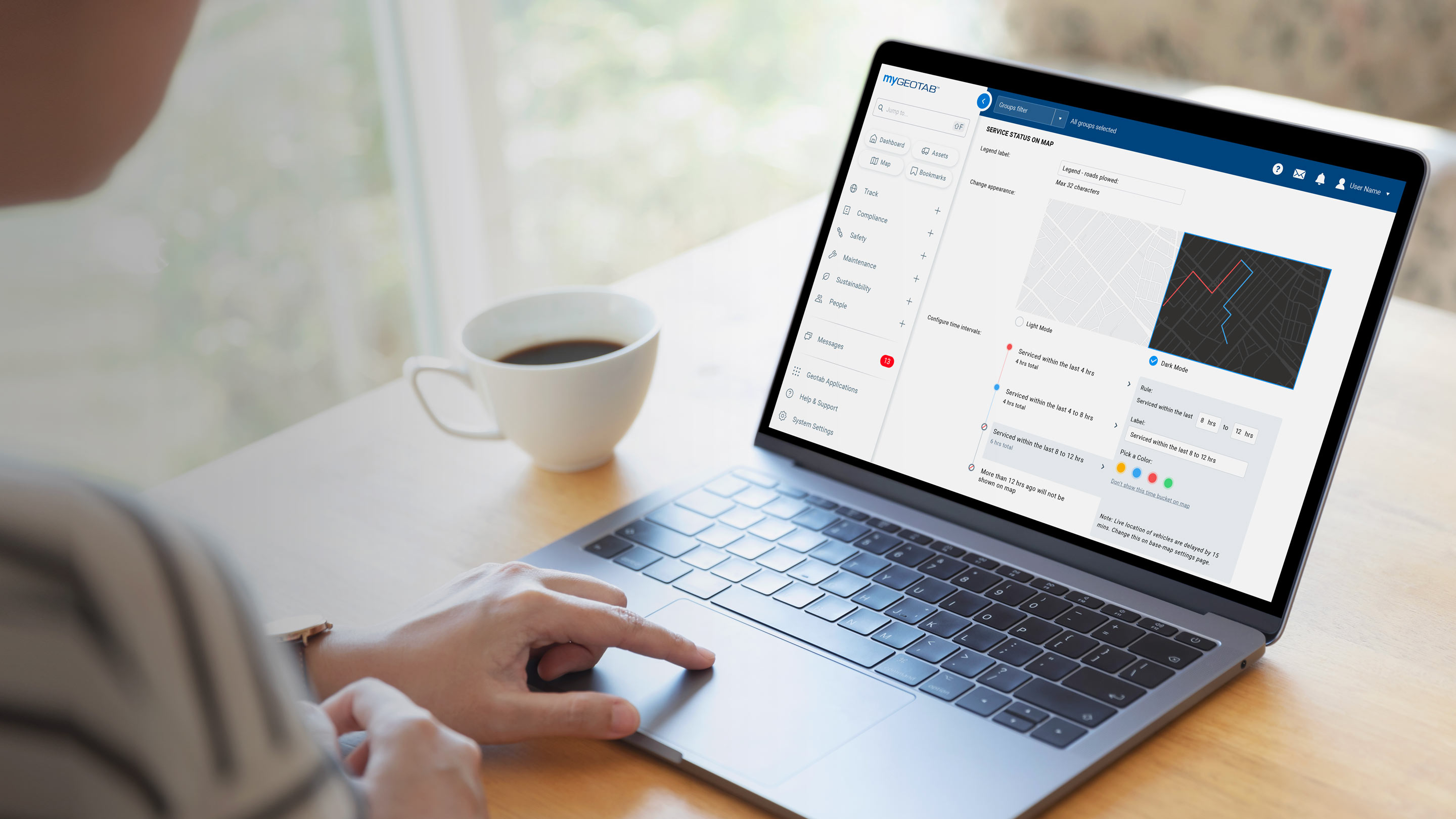 Citizen Insights
Accountability is everything. Show your citizens you are doing everything you can to ensure their safety and well-being.
Book a demo
Get brochure
Insights that drive safety and transparency
Give citizens up-to-date access to the status and location of operational fleet vehicles such as snowplows, salt spreaders and waste management vehicles to improve safety, communication and transparency.
---
Video
The key to smooth public works operations is in the reporting
Access critical equipment insights to streamline your public works fleet operations. Geotab understands your compliance concerns and material management rules, helping you stay on track for key performance benchmarks.
Watch full video
Empower your citizens
Intuitive and easy-to-use, Citizen Insights gives your constituents access to relevant, up-to-date information for safe and efficient travel within your community. Similar to checking the weather, Citizen Insights can become part of a commuter's daily routine. Help your citizens to travel clear, serviced roads whenever they are moving though their jurisdiction.
Accountability first
Transparency and accountability are keystone values for any government operation – and the same applies to a citizen portal. Sharing relevant and consistent data with members of your community not only keeps your citizens safe and informed, it also instills confidence in the performance of your fleets during operational events. Choose exactly what information citizens can monitor to keep it simple and ensure the safety of your drivers and first responders. And do it all from one easy-to-use platform.
Yours by design
Citizen Insights is the only fully configurable, off-the-shelf solution. With two integration methods, you can ensure the right fit for your jurisdiction's size, 511 approach and IT capacity. Citizen Insights empowers your team to respond to changing conditions in real-time, ensuring public-facing information is always up-to-date.

---
Why add Citizen Insights?
Increase trust
Build trust and improve transparency with a simple, powerful service that requires no extra effort from your busy teams. And share metrics to prove you are meeting targets and delivering first-rate service to your jurisdiction.
Maintain control
Empowering your constituents with data through a public portal helps keep them safer. But you need to protect your teams, too. Control exactly what the public sees on the Citizen Insights map. For example, you can choose to show which streets are covered, but keep specifics of your operation for internal-use only.
Reduce inquiries
Free up your contact centers and cut costs related to inquiries. Instead, direct the public to Citizen Insights, where they can access valuable, up-to-date data to help them stay safe.
Deliver it your way
Citizen Insights was designed with governmental agencies in mind. Choose the solution delivery type that best suits your agency's 511 initiatives. A turnkey, off-the-shelf website, or an iframe embedded link that can be integrated into your existing agency website.
---
Blog
Charlottesville, Virginia: A new way to connect with the public
Charlottesville, Virginia added Citizen Insights into their fleet management solution to increase communication and engagement with constituents, and to strengthen public trust. Dive into the features and benefits Geotab's Citizen Insights solution delivers to both government agencies and their citizens.

Read more
Empowering. Intuitive. Ready to go.
Help your citizens see their streets in a new light.