Simple, versatile ELD Compliance Software
Geotab ELD Compliance software for the U.S. and Canada simplifies Hours of Service (HOS), Driver Vehicle Inspection Reporting (DVIR), Driver Identification and Messaging.

This smart mobile app works with the Geotab GO telematics device to help fleets meet compliance regulations, boost productivity and driver safety.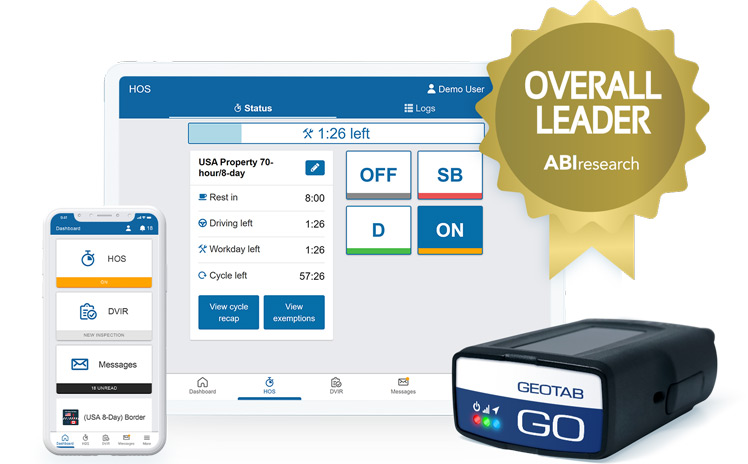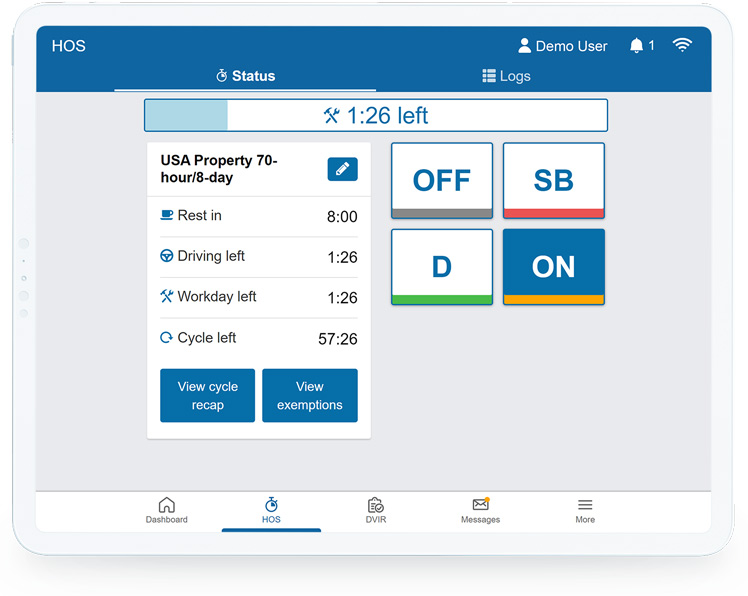 Reduce the risk of HOS violations and errors
Keep accurate logs with reminders for drivers to Log in and Log out, real-time availability and alerts for when they are running low on hours of service (HOS).
Gain peace of mind with Hours of Service visibility
Set up detailed dashboard reports on driver logs and remaining hours and quickly manage unassigned logs.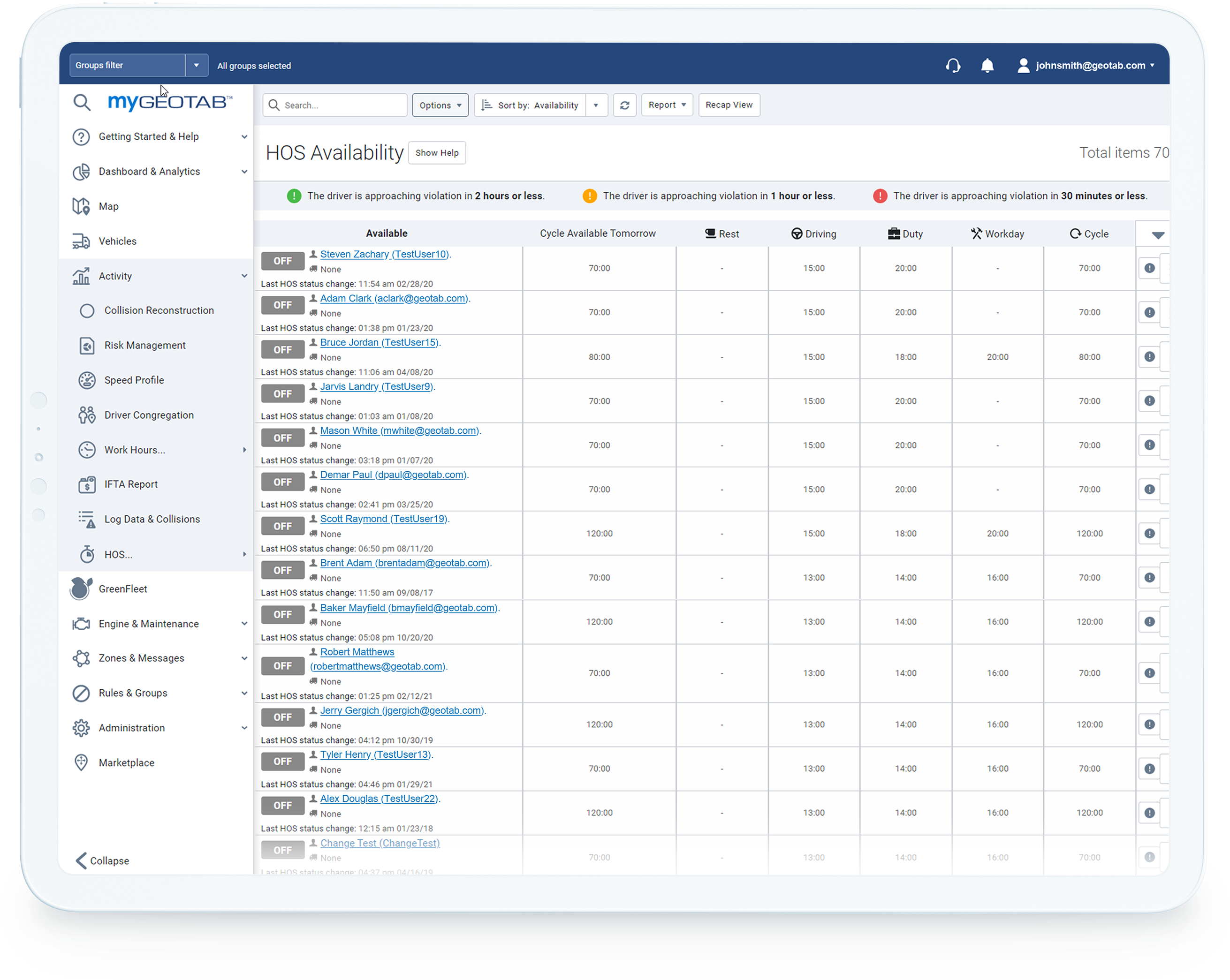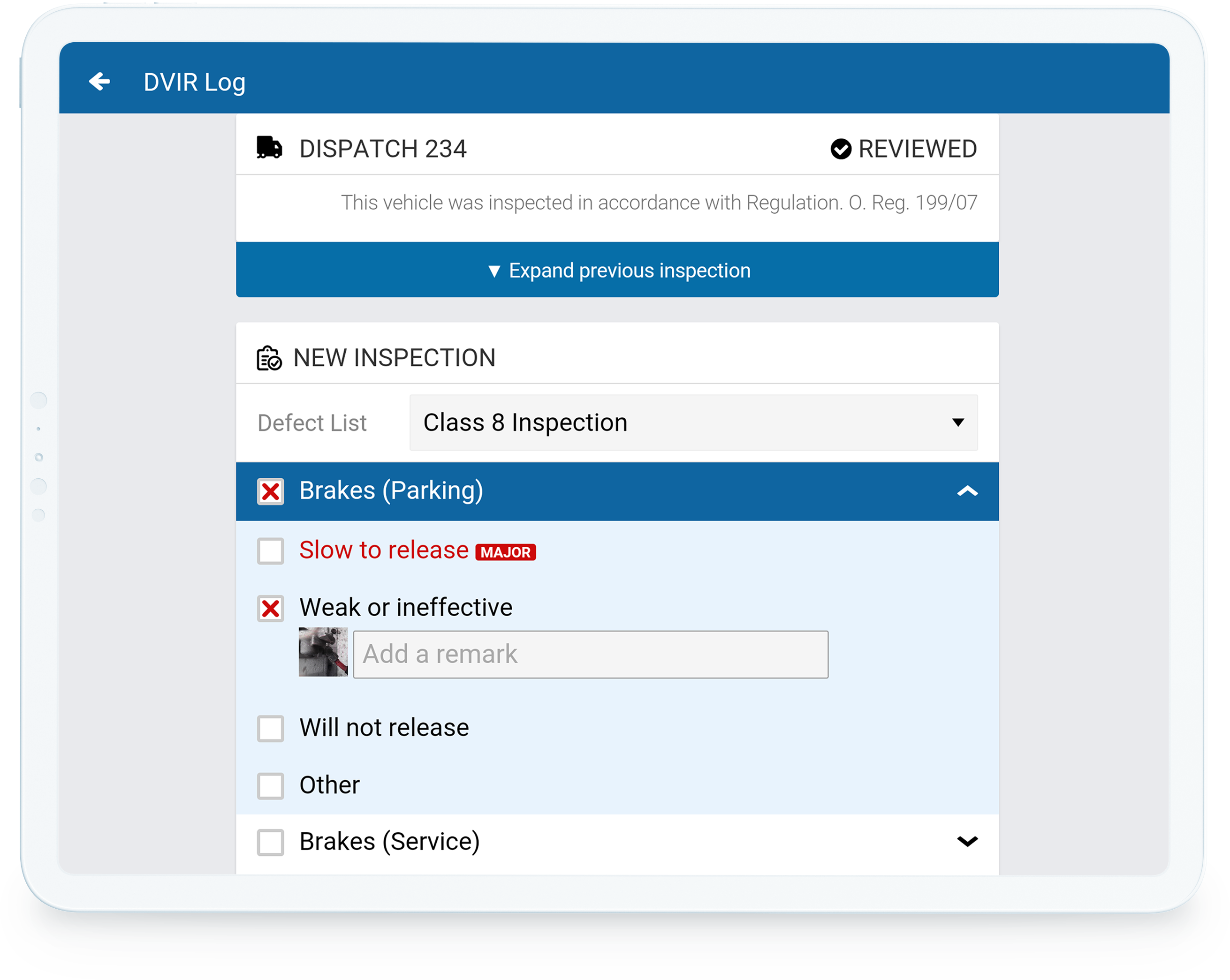 Simplify driver vehicle inspections
Help drivers complete vehicle checks with workflows for pre and post trip inspections in the U.S. and Canada. Set up rules for real-time alerts when defects are found or inspections are missed.
Learn more about DVIRs
Boost productivity with messaging in your ELD app
Using the Geotab Drive ELD app messaging feature, send direct messages to a driver or vehicle to make sure the right person gets the message. Attach hyperlinks, routes, zones, or automatically send a personalized message when a custom rule breaks.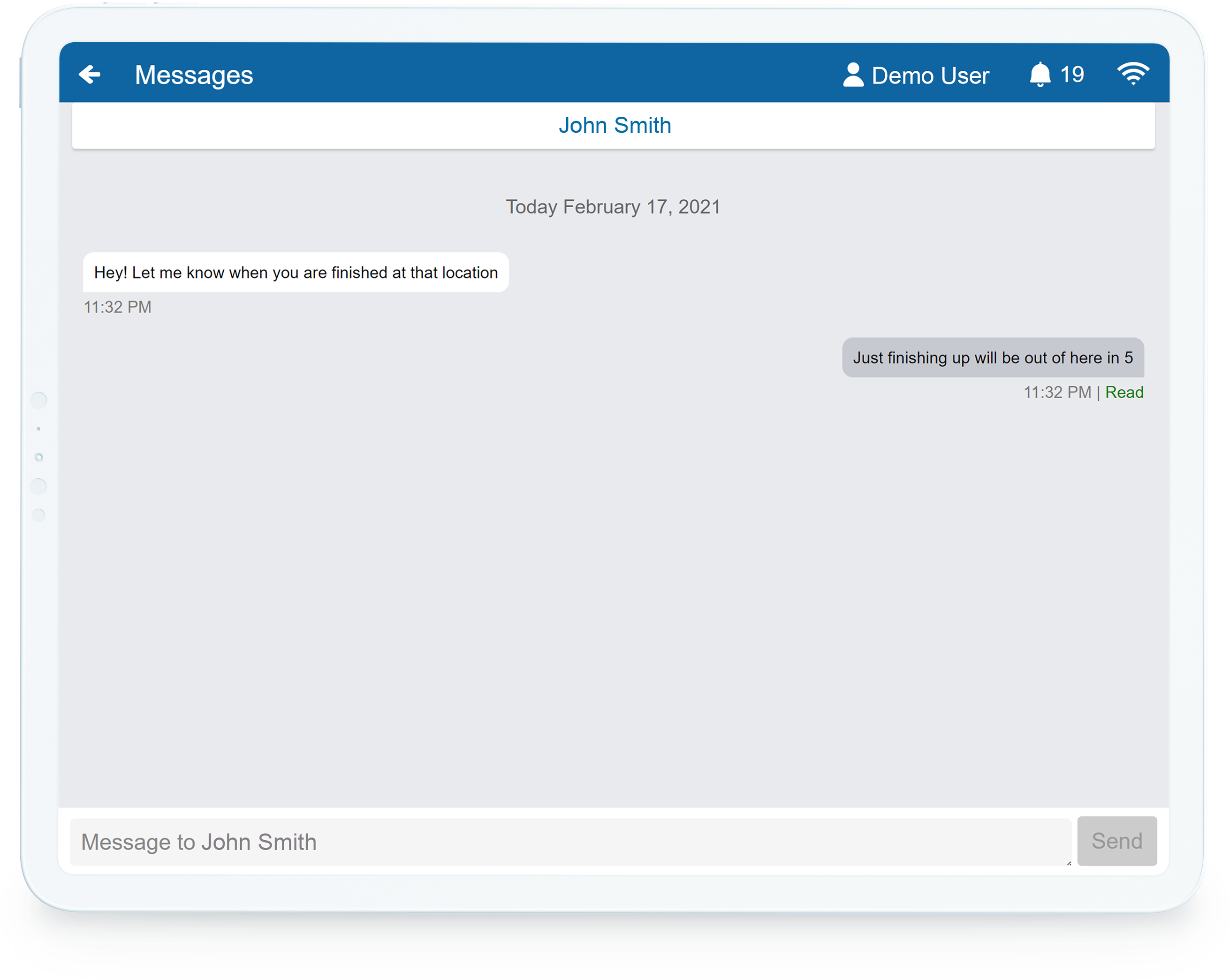 ---
Key features
ELD Log Reminders
Alert drivers to sign in or out and confirm status. Give them a heads up when they enter zones/geofences
Cross Border Compliance
Supports over 100+ HOS rulesets and exemptions for the U.S. and Canada, including intrastate, short-haul, 16-hour workdays, oil well and Agriculture.
Intuitive DVIR
Quick, intuitive, custom vehicle inspections with the ability to attach photos.
Driver ID
Easily track driver and vehicle usage. Monitor for unauthorized use of assets.
Driver Messaging
Improve communication with drivers. Supports texts to speech while driving.
Team driving
Supports co-drivers and team driving rulesets.
Driver assistance
Alerts when you run out of hours or miss a vehicle inspection. Prompts to unassign your vehicle when you walk away. Warnings when interrupting shift and cycle resets.
Simplified roadside Inspections
Send logs with a simple click with an alternative display mode for out of coverage use. PIN protection keeps your data private.
Easier log management
Annotate logs with a simple click and adjust availability calculations. Workflows to help drivers certify their logs and claim unassigned driving.
Over-the-Air Updates
All updates are automatic. Any new firmware updates for new features, custom applications and maintenance are securely delivered wirelessly to the device.
Offline support for out of cellular coverage use
Syncs automatically when coverage is restored or connect our IOX-USB cable for offline ELD operation.
Language support
English, French, Spanish and Portuguese language options.
---
Case study
ELD compliance and efficiency with Geotab Drive
By adopting electronic logs, a direct store delivery company improved inspections, vehicle maintenance and fleet transparency.
Read the case study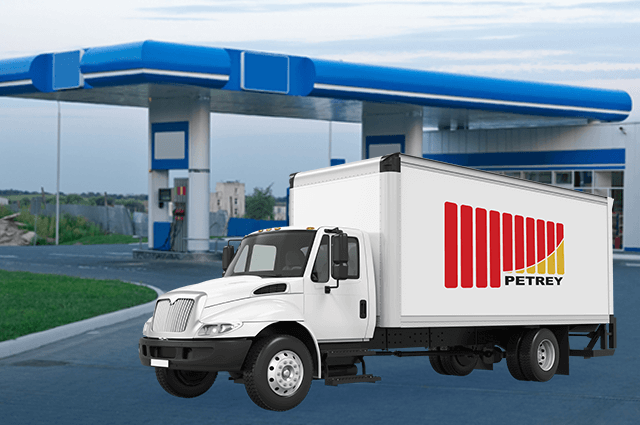 ---
Integrate and customize your ELD solution
Get more value from your ELD with Geotab's open APIs and Software Development Kit. Partner solutions include:
AI-powered dash cams
Cold chain temperature monitoring
Asset tracking for trailers, flatbeds and containers
Fuel usage and mileage monitoring
Engine fault reporting for proactive vehicle maintenance
Integration with Transportation Management Systems (TMS) and maintenance programs
---
---
Commonly asked questions
What is ELD compliance?
ELD compliance means complying with the eld mandate, or final ELD rule.
What is the ELD mandate? What is the final ELD Rule?
The ELD mandate, also referred to as the ELD Final Rule, is a United States federal government regulation. It states that commercial motor vehicle operators are required to use an electronic logging device, or ELD.
Why is the ELD mandate required?
The ELD mandate is required because it is intended to help create a safer work environment for drivers. Additionally, it streamlines the ability to accurately track, manage, and share records of duty status (RODS) data.
How can I ensure ELD compliance and comply with the ELD mandate?
An ELD solution can help you fleet stay compliant with the ELD mandate.
What is an ELD solution?
ELD solutions eliminate the paperwork problem mainly by automatically tracking driving time, including duration and distance. An eld solution records data regarding the operation of the vehicle and driver activity such as driver hours of service (HOS) and record of duty status (RODS).
What does an ELD do?
An ELD is an electronic logging device that is used by commercial motor vehicle drivers to automatically record drive time and Hours of Service (HOS) data. Additionally, ELDs can capture data on the vehicle engine, movement and miles driven.
What is an electronic logging device?
An Electronic Logging Device is a piece of electronic hardware installed on a commercial motor vehicle engine to record driving hours. Commercial drivers regulate driving hours by a set of rules known as the hours of service in the United States.
How does an ELD work? How does the electronic logging device work?
An electronic logging device (ELD) plugs into a vehicle's onboard diagnostics (OBD) port to capture data on the vehicle's engine, location, speed, miles driven, and more.
Do I need an electronic logging device? Who needs electronic logging devices?
The ELD rule requires and eld solution to be used by commercial drivers who are required to prepare hours-of-service (HOS) records of duty status (RODS). ELDs must be certified and registered with FMCSA. All commercial bus and truck drivers are required to use an electronic logging device or ELD solution to keep record of compliance with the Hours of Services (HOS) rules.
What ELD solutions does Geotab offer? Can Geotab help with eld mandate compliance?
Yes! Geotab ELD solutions ensure compliance for Hours of Service (HOS), Driver Vehicle Inspection Reporting (DVIR), and driver identification (Driver ID). Geotab's ELD solutions help fleets meet compliance regulations and our electronic logging solution is self-certified and registered with FMCSA.
What other ELD benefits can I expect?
ELD benefits include compliance regulations, productivity boost and driver safety and more. Contact Geotab to learn how an eld solution can benefit your business.
Let us show you how Geotab can do more for you.