What is an ELD?
An electronic logging device (ELD) attaches to a vehicle and records driving time and Hours of service records. Find info here on: What is an ELD?
For more information on Geotab's ELD solution, click here.

An ELECTRONIC LOGGING DEVICE (ELD) is technology used by drivers of commercial motor vehicles (CMVs) to automatically record driving time and Hours of service (HOS) records, plus capture data on the vehicle's engine, movement, and miles driven. In this article, we explain "What is an ELD?" and describe the key features and benefits of electronic logging.

See also:
Quick guide to the FMCSA's ELD mandate
CVSA Roadcheck 2020: Are you prepared?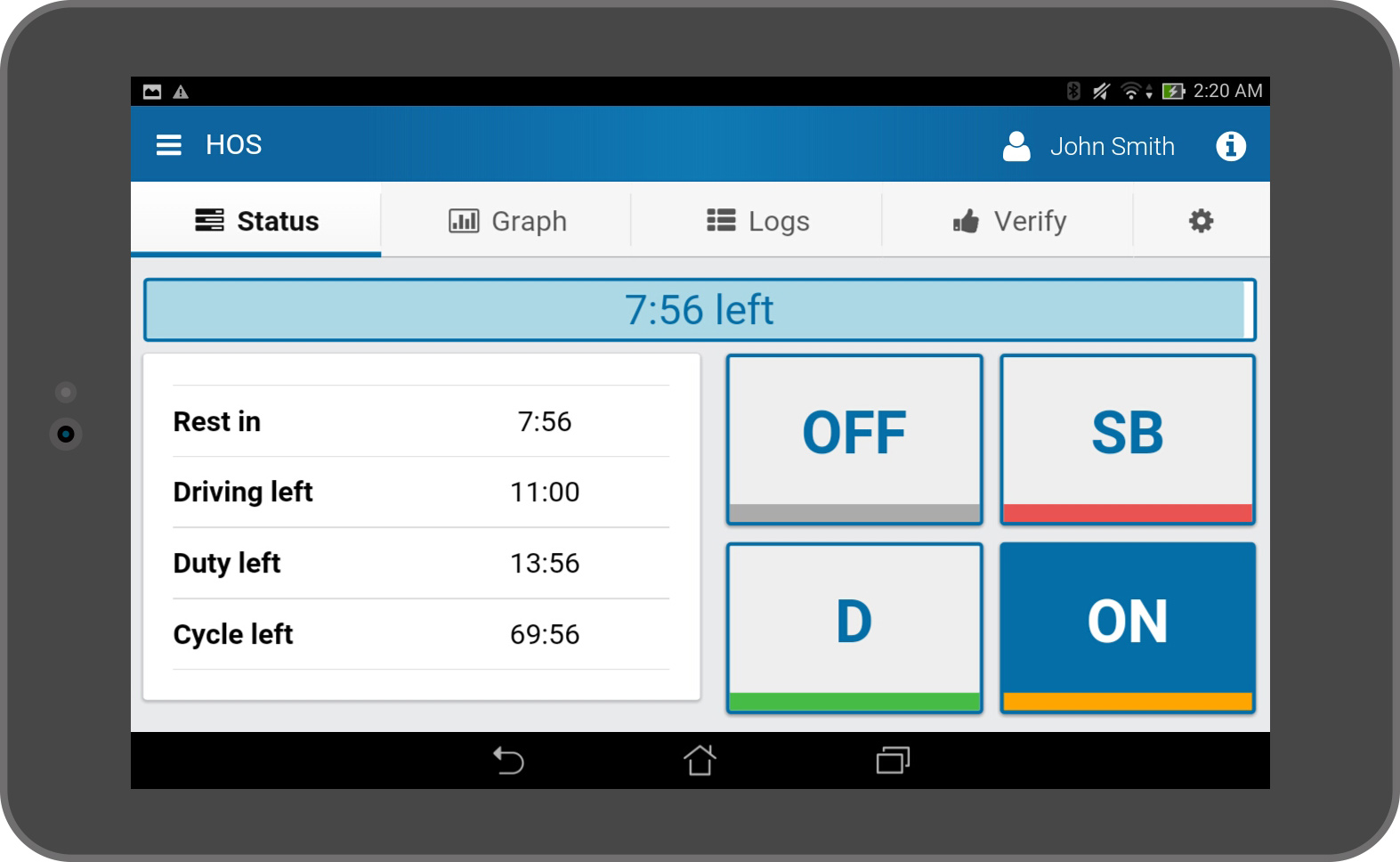 ELD regulations (U.S.)
Although many carriers in the trucking industry have already adopted electronic logging, the release of the ELD rule by the U.S. Federal Motor Carrier Safety Administration (FMCSA) has generated more interest. The ELD Mandate requires motor carriers and drivers who currently keep records of duty status (RODS) to switch to electronic logging.

Carriers who currently use papers logs must have ELDs installed and in use by December 18, 2017 to be considered compliant.

See also: Quick guide to the ELD mandate

Electronic logging devices — Key features
The FMCSA has set out three main requirements for electronic logging devices. ELDs must conform to set technical specifications, be certified by the manufacturer, and registered with the FMCSA.

ELD solutions are typically offered in two formats: An all-in-one package including a device with a pre-loaded mobile app, or a BYOD (Bring Your Own Device) solution which the carrier can put on their existing hardware (depending on compatibility). A smartphone or tablet can be used as part of the ELD solution provided that it meets FMCSA technical specifications and is certified and registered.

Features and functions* of an ELD:

Internal synchronization with the engine control module
Automatically record driving time and details
Records location
Electronic data transfer: telematic (wireless or email) or local (USB 2.0 or Bluetooth)
Tamper prevention
Certification of driver records (at end of each 24 hr period)
Displays report for safety officials on-demand (on screen or print-out)
User manual
Audio controls (volume and mute)
Click image for PDF version.


*For all minimum features and functions, see the FMCSA list.

Frequently asked questions about ELDs
In this section, you can find answers to some of the top questions about electronic logging devices.

What information does an ELD record?
The ELD automatically records the following data to keep records of duty status and help drivers track their driving limits and prevent fatigue related issues:

Date
Time
Location
Engine hours
Vehicle miles
Driver identification
User authentication
Vehicle
Motor carrier
How do I know if an electronic logging device is compliant?
The FMCSA doesn't guarantee that any registered device is compliant to the ELD guidelines. Under the regulations, the ELD provider/manufacturer certifies their own device — not the FMCSA — and then registers it. Self-certification means that ELD providers are responsible for verifying that their ELD solution meets the technical specifications set forth in the ELD rule.

The FMCSA keeps a list of self-certified and registered ELDs on their website. However, it should be noted that even if a provider/manufacturer appears on the list of Registered ELDs, this is not 100% certainty that the ELD is compliant to the rule. Therefore, buyers are advised to do their own research on ELD providers to verify quality, reliability, and security.

In the event that a registered electronic logging device is found to be non-compliant, the FMCSA may remove the device from the registered list.

How do ELDs work?
A cloud-based ELD system leverages cloud computing to ensure a reliable, accurate, and stable data flow. The Cloud ELD consists of several components: a vehicle tracking device (telematics device) that connects to the truck, fleet management software, and a mobile app which runs on a smartphone or tablet. The app is connected via Wi-Fi or a cellular connection so it can send and receive information.

Cloud ELD overview: The telematics device sends engine and GPS location data to a server. Duty Status logs are created on the server and pushed down to the ELD mobile app together with engine and location information.

This process is continued in a cycle so that critical driving data and Hours of Service is continually updated.

In the background, the mobile app is synced with fleet management software so that fleet and compliance managers can monitor and analyze compliance with ELD reports, maps, and notifications. See examples of ELD reports here.

What's the difference between AOBRD and ELDs?
An AOBRD is an Automatic On-Board Recording Device, regulated by the 1988 AOBRD rule (49 CFR 395.15). Like an ELD, an AOBRD automatically records a driver's duty status and has integral synchronization. An ELD on the other hand, has greater features and functionality, and complies with the ELD rule.

According to the implementation timeline issued by FMCSA, motor carriers and drivers currently using AOBRDs must upgrade to ELDs by December 16, 2019. They are given two extra years to comply with the ELD Mandate, as compared to carriers using paper logs, who must have ELDs in use by December 18, 2017.

Here are some ELD features that were not required or addressed in the original AOBRD Rule:

Graph grid display of driver's duty status changes.
Warning for unassigned driving time/miles.
Default to On-duty not driving duty status when vehicle has stopped for more than five minutes.
Synchronization with Universal Coordinated Time (UTC).
Can drivers edit an ELD log?
Yes, if an ELD log has a mistake or information is missing, a driver or someone authorized at the carrier office can edit the record, provided they follow the guidelines. For example, if a driver forgets to go Off Duty at lunchtime, or starts working in the yard at the beginning of the day and doesn't change status to On Duty — a log edit would be required to avoid a violation.

The FMCSA outlines several conditions for editing and annotating electronic logging device (ELD) records:

Drivers or personnel must add a note to the edit which describes the reason for the edit. This type of note is also called an annotation.
Drivers are responsible for reviewing the change, certifying that it's accurate, and resubmitting their ELD log. For example, if another authorized staff member makes an edit, the driver still has the final sign off.
The original ELD record must be maintained.
Driving time cannot be edited.

How much do ELDs cost?
The cost of ELDs can range from hundreds of dollars to thousands per vehicle. When purchasing an ELD solution, there are several costs involved: the device hardware, professional installation (if required) and a monthly software fee. As mentioned above, it's important to research the ELD provider and solution to ensure that you're getting the best value for dollar.

The return on investment on electronic logging devices can be substantial for carriers, depending on what added features are available. With a well-rounded telematics ELD solution, cost-savings can be realized through improved fleet productivity, fuel efficiency and improved safety, in addition to compliance benefits.

What are the benefits of ELDs?
ELDs have many important benefits for carriers extending from fleet compliance to productivity and efficiency. Most importantly, electronic logging will improve the driver safety. The FMCSA has estimated that it will save 26 lives and prevent over 1,800 vehicle crashes annually. By enforcing stronger compliance to Hours of Service regulations, ELDs may help reduce driver fatigue as well.

ELDs can help save time and money. They simplify the process of keeping Records of Duty Status (RODS) and increase the efficiency of inspections so carriers can dramatically reduce the amount of time that truck drivers and administrators spend on paperwork. Eliminating paper logbooks also minimizes the risk of errors in record-keeping.

ELD benefits for carriers:

Increase driver safety and save lives.
Automated Recording of Duty Status — By automatically recording duty status for drivers, HOS compliance can be improved.
More drive time — Drivers no longer have to fill out and submit paper RODS.
Less administration — Office staff no longer have to process paper RODS.
Lower paper costs — Paper log books are no longer necessary.
Extended benefits of electronic logging:

Support for IFTA and IRP mileage reporting
Vehicle inspection reporting
Fuel usage monitoring
Engine fault reporting — Allows for proactive vehicle maintenance.
Driver safety monitoring
Receipt and invoice scanning
Access to real-time data — ELDs provide a lifeline to data that can be used to increase overall fleet productivity and efficiency.
Does Geotab have an ELD solution?
The Geotab Drive mobile app for Driver Vehicle Inspection Reporting (DVIR), Hours-of-Service (HOS), and Driver Identification, can be used on an Android or iOS phones and tablets. The smart driver app syncs data between the Geotab GO device and a tablet to provide numerous functions, such as automatic duty status changes, violation alerts, among others, and complete end-to-end inspection workflow.

You can find Geotab Drive at the Geotab Marketplace, Google Play Store, or Apple iTunes store.

Do you know what to look for in an ELD? Read this white paper for tips and make the right decision for your fleet: Choosing an ELD Solution: What to Ask

Getting ELD ready
Since the first ELD deadline is December 2017, it's wise to start evaluating and selecting ELDs as soon as possible. By beginning the process now, you can leave enough time for implementation and training.

Carriers will need to carry out these steps as part of an ELD rollout:

Update Hours of Service policy and procedures.
Train all affected staff on ELDs, including drivers, management, and any administrators.
Schedule audits to check compliance on an ongoing basis.
Although there may be a learning curve at first, ELDs should make the life of drivers a little easier, by automating Hours of Service and reducing time spent filling out paper logs. Carriers need to help drivers become familiar with functions such as logging in, recording duty status changes, certifying records, troubleshooting, and handling roadside inspections.

Starting early means your fleet can start taking advantage of great benefits that ELDs offer.

Next up: How Geotab Cloud ELD works

Learn more about ELDs: ELD Exemptions: Frequently Asked Questions on the ELD Mandate
ELD Rollout Checklist: Tips for a Successful Implementation
While Geotab recognizes our place as a self-registered ELD manufacturer and provider and we will answer questions regarding those Hours of Service (HOS) ruleset options we provide, neither Geotab nor any of its employees, officers or agents can offer legal advice to any resellers or customers concerning which HOS ruleset(s) or exemption(s) may apply to any particular situation. Please contact your local DOT department or refer to the FMCSA website at https://www.fmcsa.dot.gov/ for questions Geotab is unable to answer.

---
If you liked this post, let us know!
---
Disclaimer
Geotab's blog posts are intended to provide information and encourage discussion on topics of interest to the telematics community at large. Geotab is not providing technical, professional or legal advice through these blog posts. While every effort has been made to ensure the information in this blog post is timely and accurate, errors and omissions may occur, and the information presented here may become out-of-date with the passage of time.
Subscribe to
Geotab | Blog
Sign up for monthly news and tips from our award-winning fleet management blog. You can unsubscribe at any time.
Other posts you might like