Driver Vehicle Inspection Report (DVIR)
Strengthen fleet safety and compliance. Switch to electronic reporting with Geotab.
Request a demo
What is DVIR?
A Driver Vehicle Inspection Report (DVIR) is a formal report which confirms that a driver has completed an inspection on a commercial motor vehicle. Drivers must complete pre-trip and post-trip inspections and detail any mechanical defects they encounter. These inspections play an important part in improving road safety while ensuring fleet compliance.
Why is DVIR needed?
DVIRs are enforced by authorities in the U.S. with the aim of increasing safety by reducing the number of collisions, injuries and fatalities involving commercial vehicles. An Electronic DVIR helps improve road safety by enforcing vehicle inspections before and after every trip.
Penalties for not completing an inspection
Motor Carrier Safety Assistance Program (MCSAP) Inspectors are responsible for completing roadside inspections on commercial motor vehicles and drivers. Noncompliance to DVIR regulations may result in fines given at the discretion of the Department of Transportation (DOT) officer. Vehicles which are deemed unsafe during a roadside inspection will be out of commission effective immediately. This unplanned downtime could create a loss in revenue to the carrier.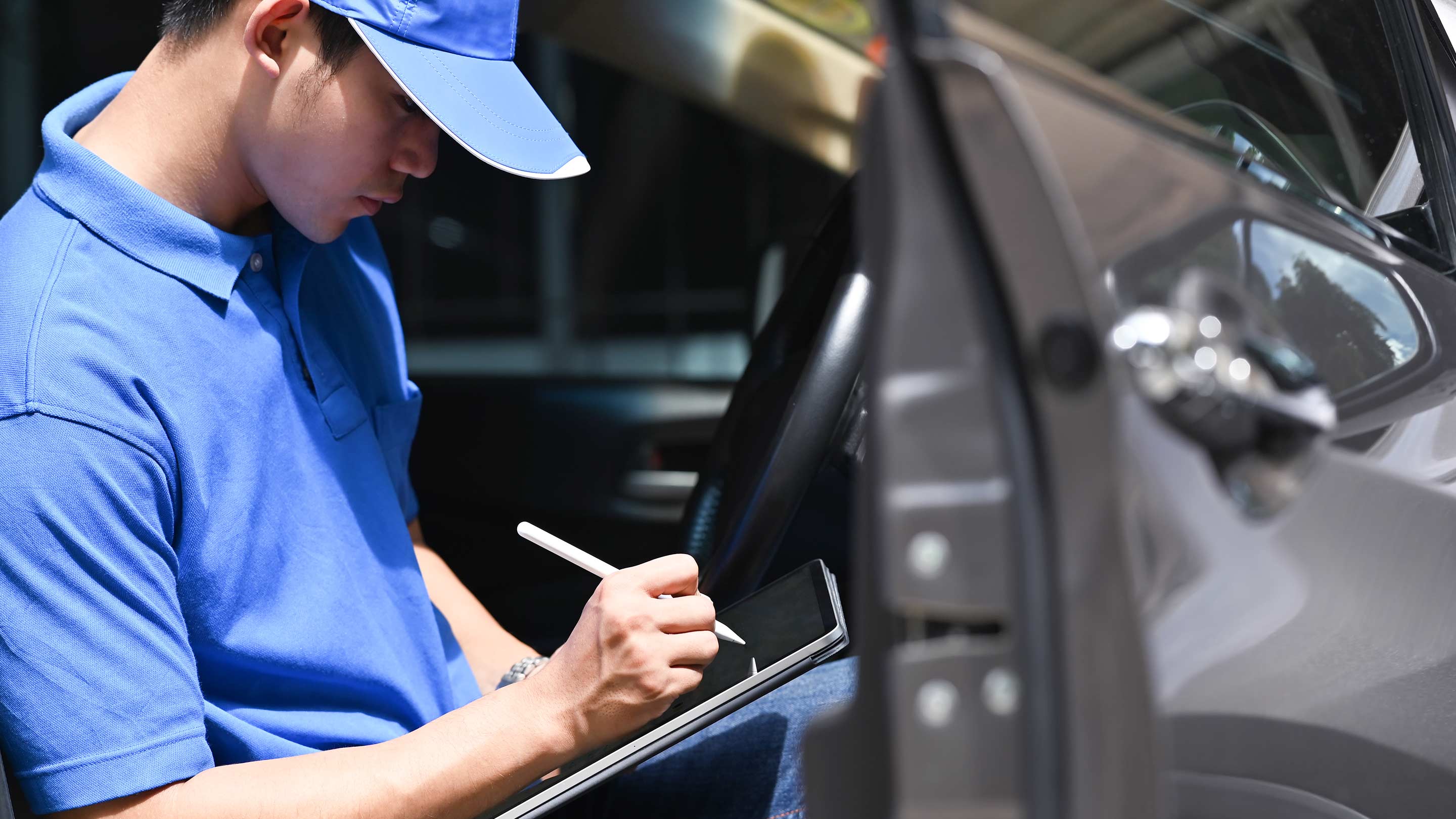 What does a vehicle inspection include?
The following regulations under section §396.11 must be included in vehicle inspection reports:
Brakes and air system
Steering mechanism
Lights and reflectors
Tires, wheels, and rims
Windshield wipers
Rear view mirrors
Coupling equipment and fifth wheels
Safety and emergency equipment
See our solutions in action
Product
Geotab Drive
This driver platform streamlines Electronic Logging Device (ELD) compliance, DVIR, driver identification, messaging and more from one robust application. Managers can stay up-to-date on fleet compliance with real-time access to information in MyGeotab. Streamline work for drivers with the easy to use DVIR app feature.
View on Marketplace
Video
A driver's how to guide for DVIR
Inspections must be performed at the beginning of a driver's shift and again at the end (known as the pre-trip inspection and post-trip inspection). Geotab Drive makes fleet compliance easier than ever through its intuitive electronic vehicle inspection report logging and certification process.
Watch video
Case study
Supporting compliance and improving safety
A medium-sized fleet uses Geotab Drive to strengthen DVIR and ELD compliance, and proactively monitor maintenance.
Read more
Marketplace
DVIR solutions from Geotab Marketplace
Streamline ELD compliance, vehicle inspections, driver ID and more. Solutions include Geotab Drive, elogs, ELD, DVIR and IFTA reports, and solutions for trailers and tachograph.
See solutions
Streamline fleet compliance today
Learn more about how simple it is to use our web-based software and fleet management devices to improve fleet compliance.