Fleet management software and device for business vehicles
Manage your entire fleet from one platform
Request a demo
Fleet management hardware and software that empowers business decisions
MyGeotab is a web-based fleet management software that is available to all Geotab customers under any feature package.

The Geotab GO9 allows you to lead your fleet into the future with expanded capacity for further native vehicle support, improved fuel usage support, electric vehicles and global expansion.

---
MyGeotab software key features
Advanced reporting
Create, run and deliver the information you want, the way you want it, and when you want it. Start with our standard reports, and make them more meaningful by tailoring them to your exact fleet needs.
Driver behaviour management
Influence safe driving behaviour with in-vehicle driver feedback and coaching tools. Drivers that share vehicles are still individually identified with Geotab's Driver ID NFC technology.
Robust engine data reporting
Geotab collects and responds to common status information in your vehicle. This includes engine RPM, engine light, seatbelt, odometer, engine hours, emissions, vehicle identification number (VIN), and vehicle battery voltage.
GPS vehicle tracking
See vehicle location in near real-time and a complete trips history. Our patented algorithms provide accurate, detailed information. Get fast, precise updates with Active Tracking and manage driver privacy with Privacy Mode.
Route optimisation
Reduce vehicle mileage and fuel consumption by creating zones and routes for your drivers. MyGeotab lets you compare actual versus planned routes.
Engine health and maintenance
Be alerted to potential critical engine health issues and easily prioritise the repairs for your vehicles. Focus on proactive vehicle maintenance by detecting issues early on and setup vehicle maintenance reminders.
Open data integration
Geotab's SDK lets you integrate vehicle and location information into your company's operations or with third-party Add-On applications. Visit the Geotab Marketplace for Add-Ins, Add-Ons, and much more.
Custom mapping
Design your own business relevant maps which are automatically combined with the application's vehicle information. Flexibility in map views, legends and zone shapes and sizes allow for further customisation.
Device agnostic software
Bring your current telematics device to the platform that lets you do more with your data. Offering comprehensive dashboards, an industry-leading rules engine and customisable alerts — you will get the data you need to drive your business.
A powerful cloud software package
MyGeotab is a web-based fleet management software that presents all vehicle and driver information in one place. Available to all Geotab Customers under any feature package — Base, Pro, ProPlus — its key software features include:

• Robust engine data reporting
• Route optimization
• Driver behavior management
• Engine health and maintenance
• GPS vehicle tracking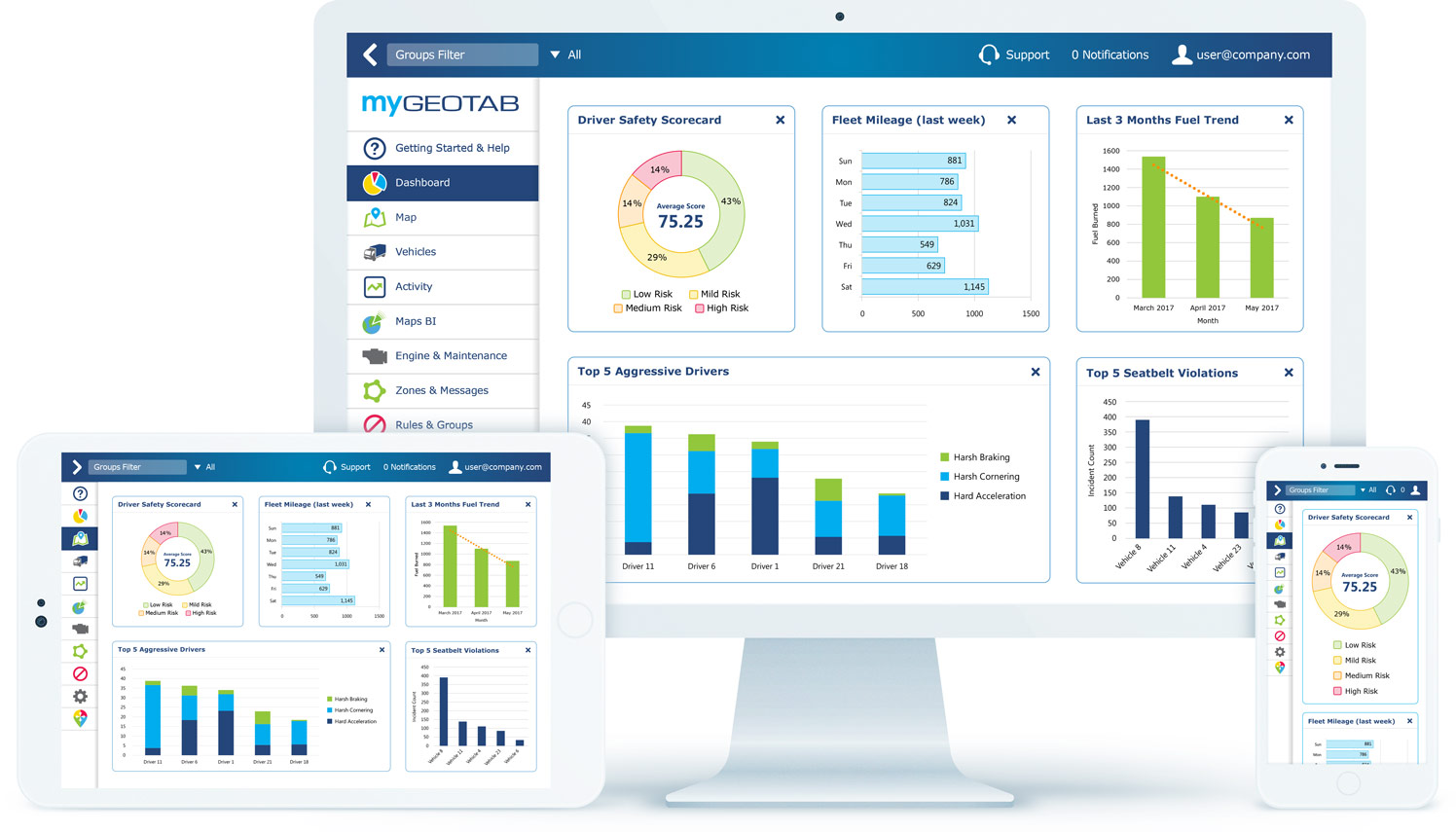 ---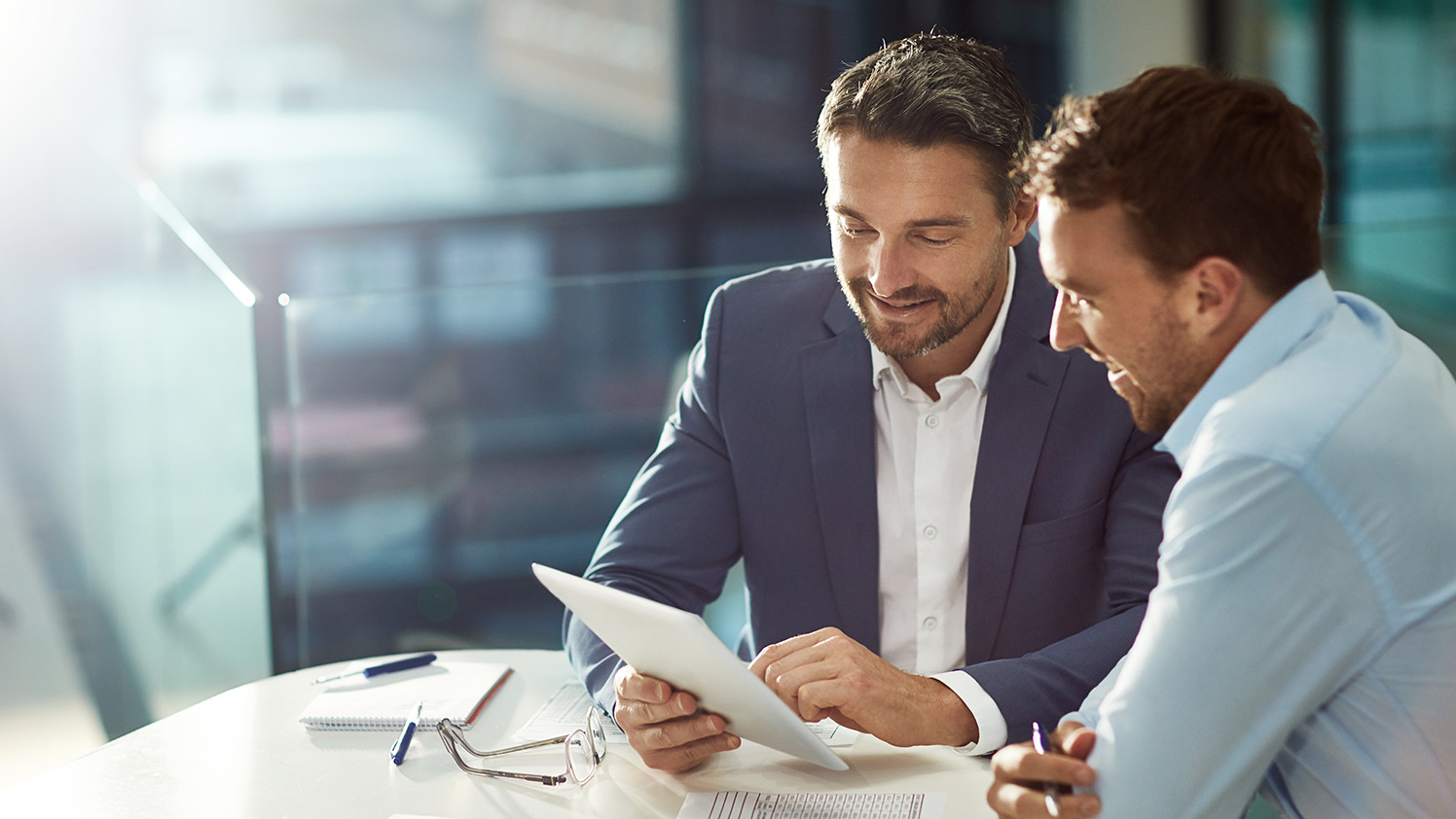 Extend your data. Unlock new opportunities
Extendable Services enables users to share telematics services with their business partners and trusted organizations through subscriptions. Available on all standard rate plans, Extendable Services gives end users greater control over their vehicle data and unlocks new business opportunities.

Request a demo
---
Geotab GO9 Vehicle Tracking Device Features
Accurate GPS vehicle tracking
Collect rich, accurate data on vehicle location, speed, trip distance and time, engine idling and more. Even if your vehicle is parked indoors and underground, GPS vehicle tracking and telematics starts recording as soon as you begin driving. The GO9 introduces the new Global Navigation Satellite System module (GNSS) for faster latch times and enhanced location data accuracy.
Vehicle health assessments
The GO9 delivers valuable information for both EVs and conventional vehicles such as engine health and battery state of charge. Record vehicle identification number (VIN), odometer, engine faults, seatbelt use and more.This data not only helps prioritise vehicle maintenance, but also helps audit vehicle use to identify both safe and risky driving habits.

Collision detection and notification
Geotab offers exceptional harsh-event data (acceleration, braking, cornering, etc.) and collision reconstruction through our patented algorithms and the GO device's accelerometer. Collision alerts keep you in the know and provide a detailed summary of events. Detection of a suspected accident will prompt the automatic upload of detailed data from the device to allow for forensic reconstruction of the event.

End-to-end cybersecurity
The Geotab platform security provides end-to-end data protection. Security methods include authentication, encryption, and message integrity verification for Geotab GO vehicle telematics devices and network interfaces. Each Geotab GO device uses a unique ID and non-static security key, making it difficult to fake a device's identity. Over-the-air updates use digitally-signed firmware to verify that updates come from a trusted source.
Intelligent in-vehicle driver coaching
Improve driving habits with real-time, in-vehicle feedback. Set up rules to reduce unwanted driving behaviours like speeding, idling, or not wearing a seat belt. Advance driver safety further by playing an audible alert or coach the driver with spoken words through Geotab GO TALK (available as an Add-On). Immediate feedback can enhance fleet safety, reinforce company policy and encourage your drivers to take immediate corrective action.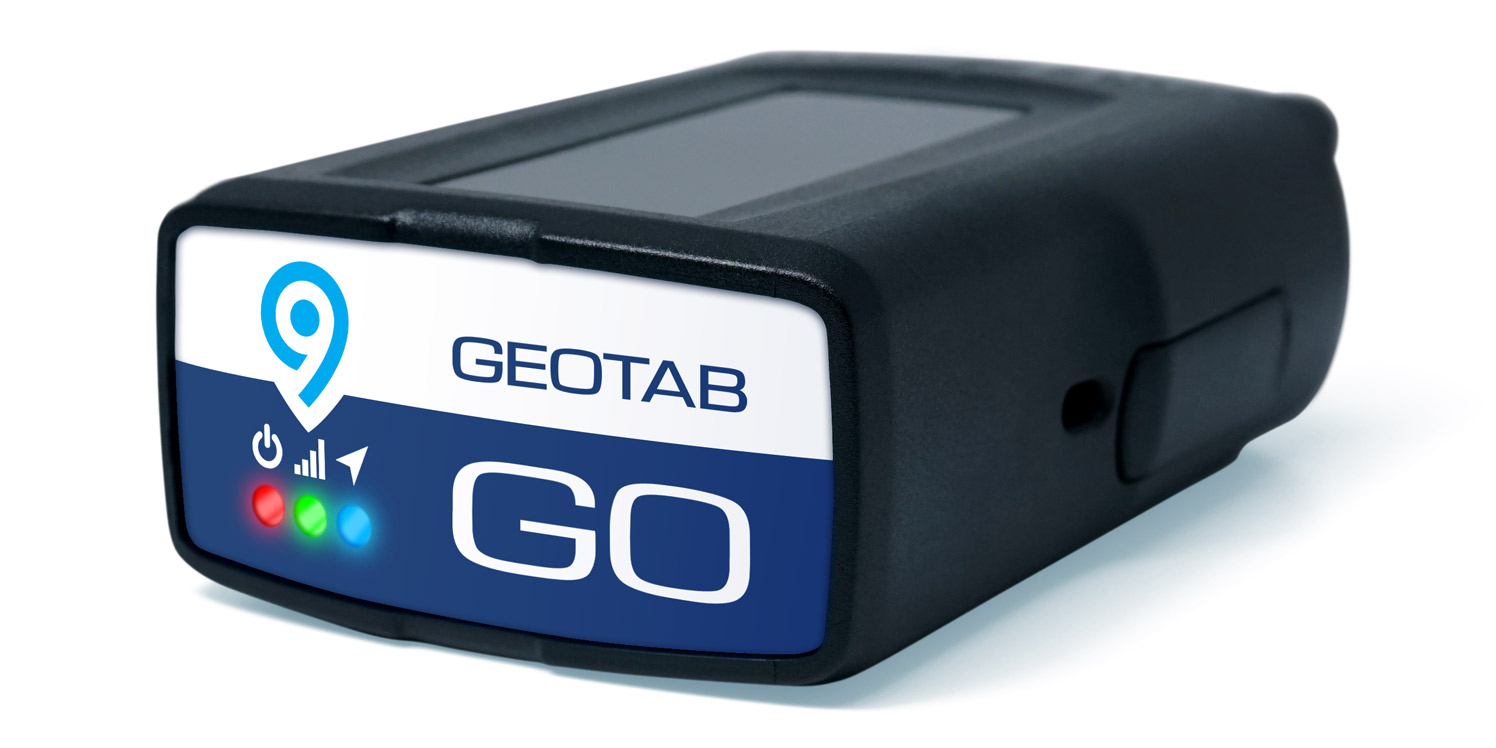 One device, many possibilities
The Geotab GO9 is an expandable vehicle tracking device that transmits rich fleet data on location, vehicle health, driver behavior and more. Features include:

• 32-bit processor
• Accelerometer
• Gyroscope
• GNSS module
• End-to-end cybersecurity

---
Commonly asked questions
What is Geotab's fleet management software?
MyGeotab is a web-based fleet management software that displays all your vehicle and driver information in one place. It can be used to make quicker, better-informed decisions based on real-time data insights. It offers data analytics, reporting, and live dashboards to help you make reliable decisions for your organisation.
What is the advantage of MyGeotab's fleet management system?
MyGeotab's fleet management system offers many key advantages. With options to scale our solutions to any business size and integrate new software applications via our SDK and APIs, MyGeotab is built for all your fleet's needs.

To give you maximum control, MyGeotab delivers standard and customizable reporting and dashboards. As your fleet operates, keep an eye on your customised dashboard to view critical indicators, such as how driving behaviour, vehicle make and model and time of day all affect fuel use. MyGeotab is also accessible in a variety of languages to make it easier to use for all team members throughout the world.
What are the key fleet management software features?
Key fleet managements features for the MyGeotab software include:

• Fleet performance analytics
• Driver behaviour monitoring for productivity and safety
• Engine data reporting
• Live tracking and optimised routes
• Fleet integration tools
• Customised maps

To learn more about MyGeotab and our fleet management software features, Request a demo today.
What is fleet management software?
Fleet management software is a digital tool used to house data pulled from vehicles equipped with telematics devices. It provides detailed reports and insights based on vehicle data to help you better understand fleet performance. Geotab's software solution, MyGeotab, keeps an eye on your customised dashboard to observe crucial indicators like driving behaviour, vehicle type and model and time of day.
What does a fleet management system do?
Fleet management systems work to provide actionable insights into vehicle data by pulling information directly from a connected car and into a fleet-specific dashboard.
What are the Geotab fleet management software packages?
For fleets all across the world, Geotab offers a variety of telematics software packages. In Australia, there are three packages to choose from: Base, Pro and ProPlus. Each plan has its own set of possibilities. Visit our Software Packages plan page to see a complete list of our plans and the features they cover.
What extra features does Pro and ProPlus offer?
The Geotab Pro and ProPlus plans offer all of the features available on the Base plan (GPS location, VIN, driver ID, basic IOX support, harsh braking detection and more) as well as a few additional features.

Geotab's Pro plan offers the additional features of engine and accelerometer data as well as EV support while the ProPlus plan offers active tracking, lifetime device warranty, premium services and advanced IOX support on top of all of the offerings from the other plans.
What is the Geotab GO vehicle tracking device?
The Geotab GO device is a small vehicle tracking device that plugs easily into a vehicle's OBD II port, no antenna or wire-splicing required. Adapters are available for those without an OBD II port and no special tools or professional installers are needed.

As soon as you begin to drive, the GO fleet tracking device starts recording rich data on vehicle location, speed, engine idling, distance and much more, with end-to-end security. The latest iteration features a 32-bit processor, more memory and a gyroscope.
What are the benefits of choosing Geotab for vehicle tracking systems?
Partnering with Geotab for vehicle tracking is a great business decision for many reasons. Geotab offers accurate tracking, easy-to-use dashboard reports, flexibility and expandability, and power of choice with a wide range of solutions from the Geotab Marketplace.
What kind of vehicles are Geotab's GO device able to track?
Geotab GO devices are compatible with all vehicles. This includes passenger vehicles, electric vehicles (EVs), heavy-duty vehicles, farm machinery, construction, powered trailers, HGV fleets, company car fleets and much more. Request your personalised demo.
Is the Geotab GO device a telematics device?
Yes. The Geotab GO device is an industry leading, expandable telematics device. With its ability to use GPS fleet tracking, vehicle locations can be viewed in near real-time along with a complete trip history. Our patented algorithms provide detailed and accurate information to help support your fleet now and into the future.
Connect with us
Let us show you how simple it is to use our web-based software and telematics devices to manage your fleet