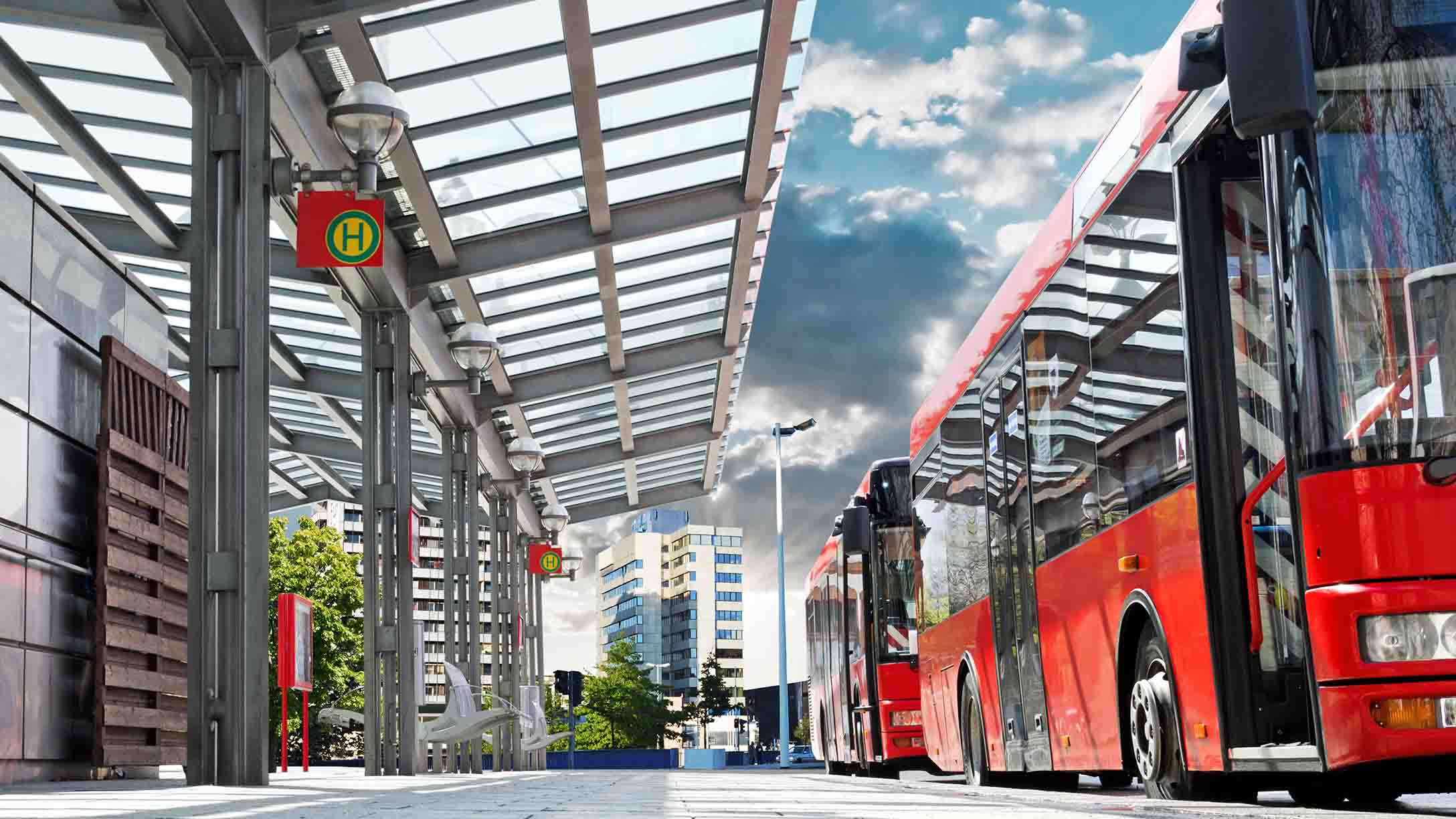 DB Regio Bus uses telematics to promote innovation for the future of its public transport services
Published on July 13, 2022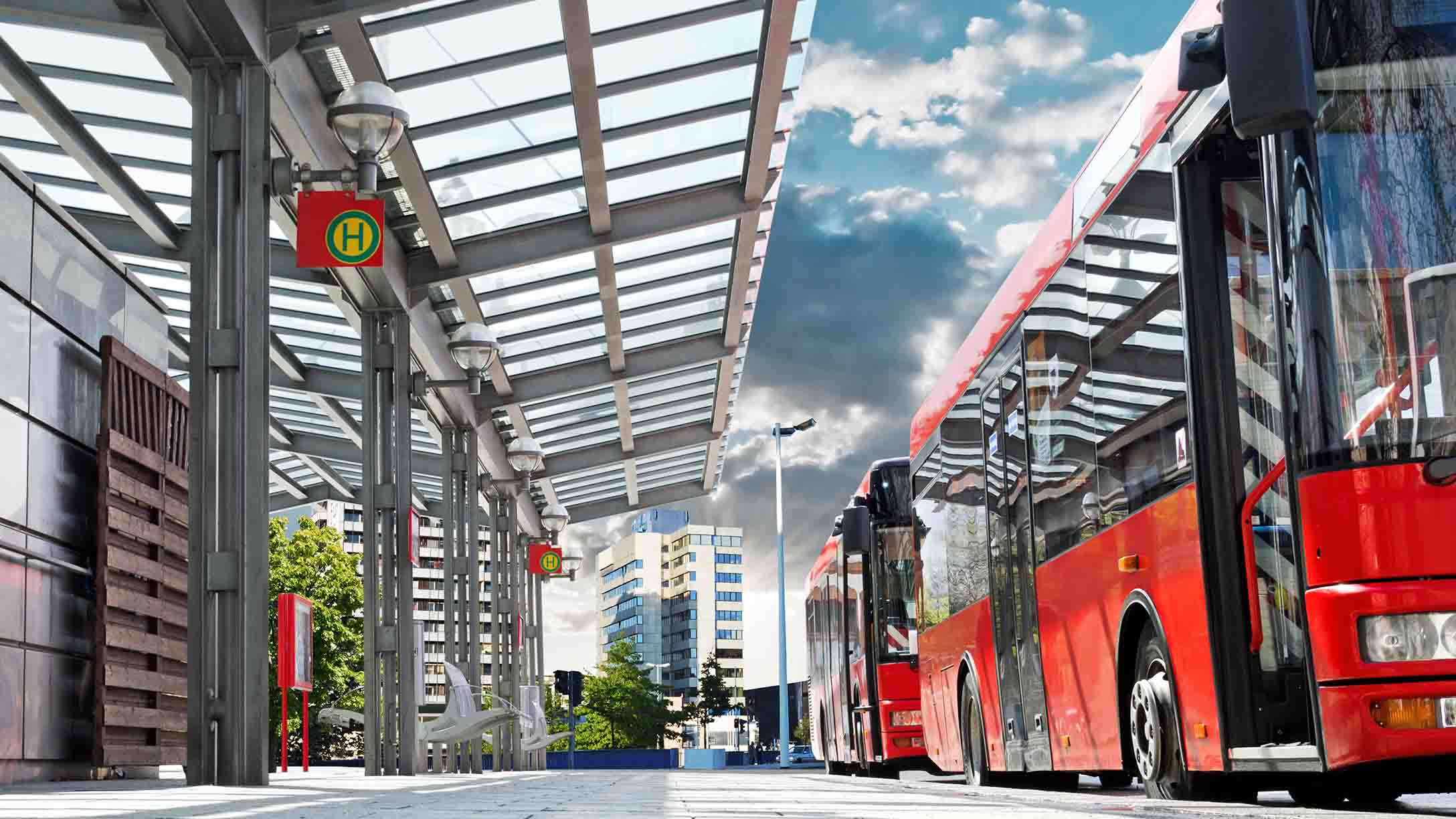 DB Regio Bus is conscious of its growing responsibility for the environment and the local community. Therefore, the company focuses on people and the environment equally to achieve general company objectives. As a driver of The Green Transformation, DB Regio Bus has identified four fields of action for its collaborative project with Geotab: climate, passengers, drivers and company.
DB Regio Bus has high, locally specific requirements for its extensive, mixed fleet of buses. Every day, thousands of DB buses are in use throughout Germany, transporting people to where they need to be in the local region. By installing Geotab GO9® devices and MyGeotab™ fleet management software, DB Regio Bus obtains relevant data about the condition of its vehicles for optimised servicing and maintenance, data for analysing collisions, and data for managing fuel cell and electric buses.
In addition to identifying potential savings, DB Regio Bus has also made significant improvements in sustainability, including reducing its CO2 emissions, and contributing to improved air quality with environmentally friendly driving styles and integration of alternative drive systems.
The driving style of individual drivers has also been improved in a targeted manner by using telematics, which contributes to significantly lower fuel consumption, fewer accidents and increased comfort for passengers.
The challenge: high demands of the telematics solution and ambitious sustainability targets
With over 29 companies, holdings in six regions and a fleet of almost 10,000 vehicles—approximately 5000 of them owned—DB Regio Bus is the market leader in local transport throughout Germany, and has more than 400 districts and self-governing cities as customers.
The company has been using telematics in fleet management since 2017. "The solution we chose initially was unable to deliver the expected data diversity, data quality and speed, and the hardware didn't meet our quality standards", says Peter Hecker, Senior Telematics Specialist at DB Regio Bus. The company requires a strong and competent partner to help manage its demanding and extensive fleet. Therefore, since 2020, it has relied on Geotab's telematics solutions for its non-articulated, articulated and electric buses; touring coaches; minibuses; and passenger vehicles.
Deutsche Bahn is already the most climate-friendly mobility company in Germany. In 2020, it succeeded in reducing CO2 emissions for the entire DB Group by more than 34% as compared to 2006. The company intends to achieve climate neutrality by 2040 (see DB strategy for climate protection). This involves not only switching to renewable power, but also expanding and using alternative energy sources and fuels, as well as tools to promote and optimise the operation of electric vehicles.
Passengers are at the heart of the DB Regio Bus Group's business. Their satisfaction depends significantly on the punctuality and smooth operation of the buses. The basic prerequisite for successful day-to-day operations is that the vehicles are available to the drivers on time and ready for use. This requires reliable data on technical maintenance, for example being informed about faults on vehicles before the start of operation, and being able to schedule maintenance work quickly in order to prevent delays or cancellations during operation.
Telematics are helping to improve driver behaviour and reduce driver stress levels. A relaxed driving style reduces wear on vehicles and ensures the safety of passengers and other road users.
DB Regio Bus telematics requirements at a glance:
Implementation and expandability:

Easy to install, use and expand
Compatible with a variety of vehicle models, in particular with electric vehicles

Productivity, optimisation and safety:

Important information on the vehicle condition for maintenance purposes
Live technical data on faults or specific data on potential savings for control centres, team leaders and fleet managers
Support with analysis and reconstruction of accidents for claims management

Sustainability and the environment:

Lower CO2 emissions
Reduced noise and improved air quality through alternative drive systems
Reduced energy costs for the company
The solution: fact-based fleet management
From October to December 2020, almost all of the company's 5000 owned buses were equipped with Geotab GO9 devices thanks to how easy these are to install.
The entire DB Regio Bus company structure is mapped in the MyGeotab fleet management software. The software provides important data for maintenance, relevant insights for the claims department, and immediate information for the control centre, team management and fleet management.
In terms of vehicle maintenance, the Geotab solution offers clear benefits for analysing, processing and reporting technical anomalies, e.g. information about the brake pads and individual fault codes.
Fault on the CAN Bus system (e.g. condition of the passenger doors or door faults)
Timely detection in the event of insufficient or significant deviation in brake pad thickness
Measurement of workshop visits and availability times
Assessment of the installation quality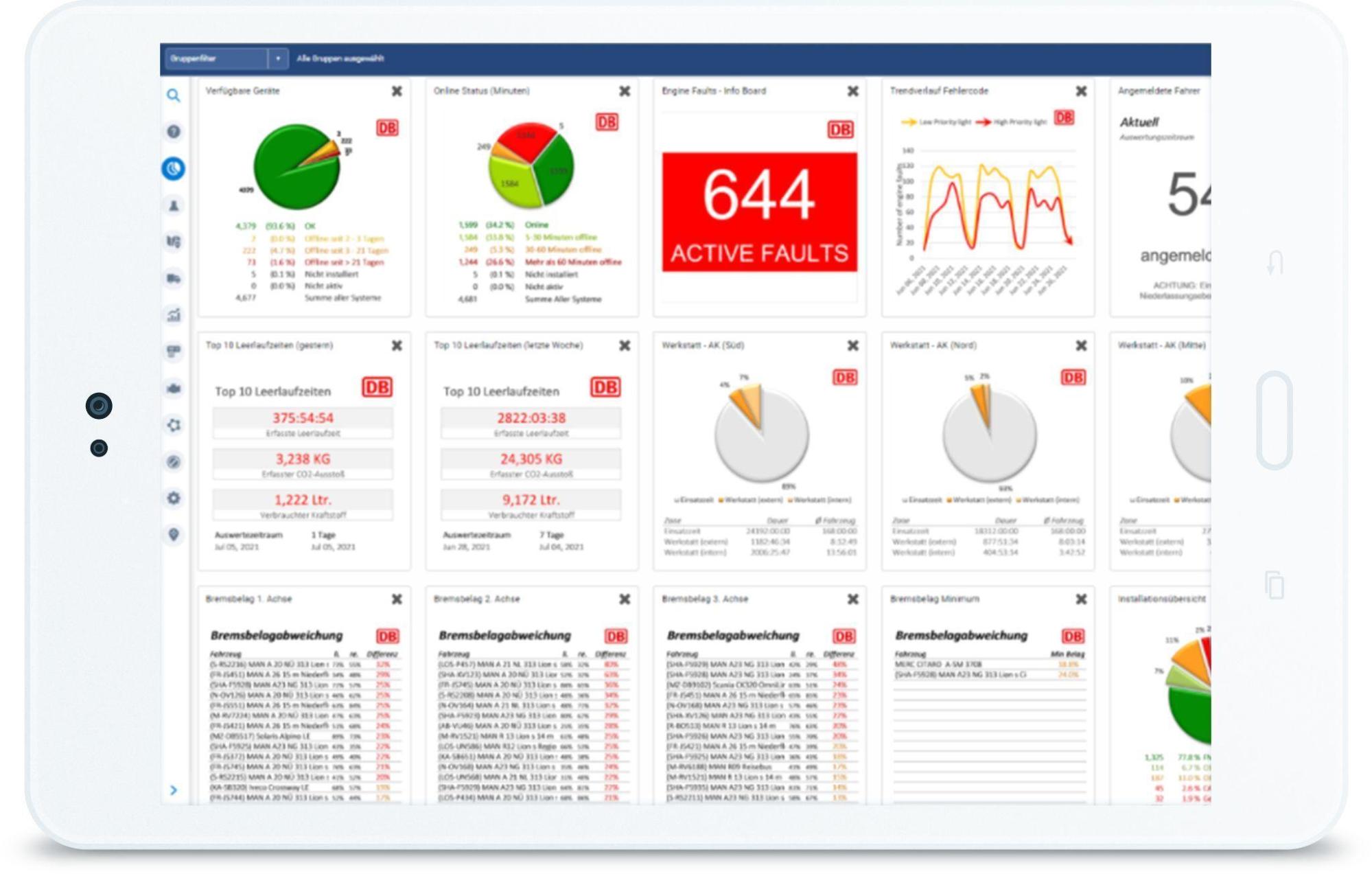 The GO9 device also provides important information about vehicle condition:
Fault codes are detected and reported almost immediately
Active warning lights on the dashboard are made available to the control centre in real time.
Critical temperature values are automatically detected and reported to the responsible groups.
A fault with the alternator or the starter battery can be detected and reported during ongoing operation.
High electricity consumption in the vehicle can be detected and reported.
Faulty sensors or control units can be detected in real time and reported.
Near-real-time data and warning messages are received with minimal delay (email or pop-up notifications).
Critical events are transmitted straight to the appropriate control centre and transport service management, and it is possible to configure, on an individual basis, the vehicle data to be included in the report. Idling time reports for the previous 24-hour period are automatically emailed to team managers.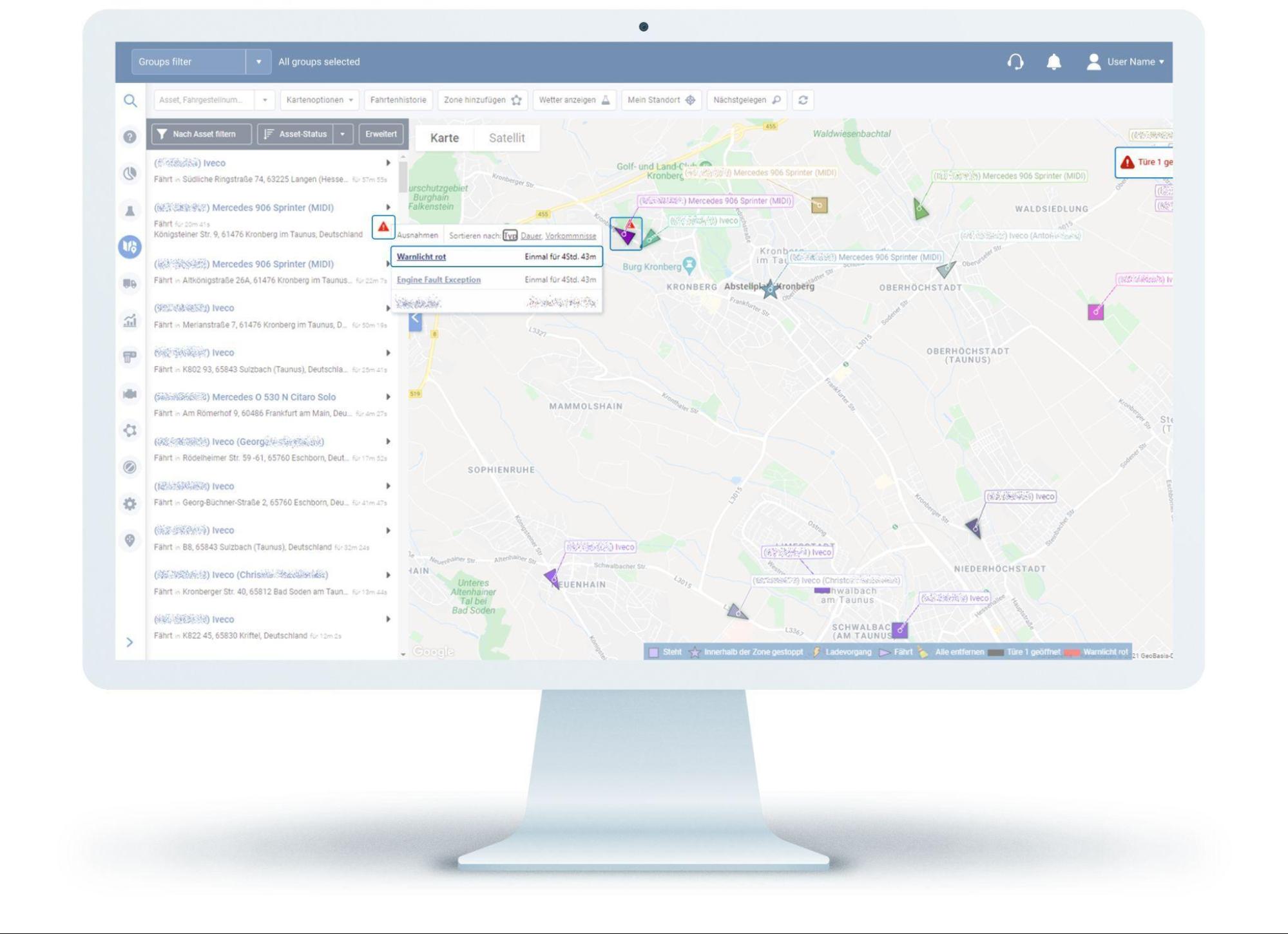 This data not only makes it possible to prioritise vehicle maintenance but also supports receiving data-based insights in order to identify safe and risky driving habits.
The patented Geotab Curve™ algorithm saves and processes several million data points daily and enables collisions to be reconstructed. Having this option is especially important to the central claims management team in order to obtain accident data and information about passenger falls. The control centre and team management are immediately informed about events via automatic notifications.
Detailed logging of the circumstances of the accident
3-axis acceleration sensor and gyroscope
Detailed speed data
Weather data at the time of the accident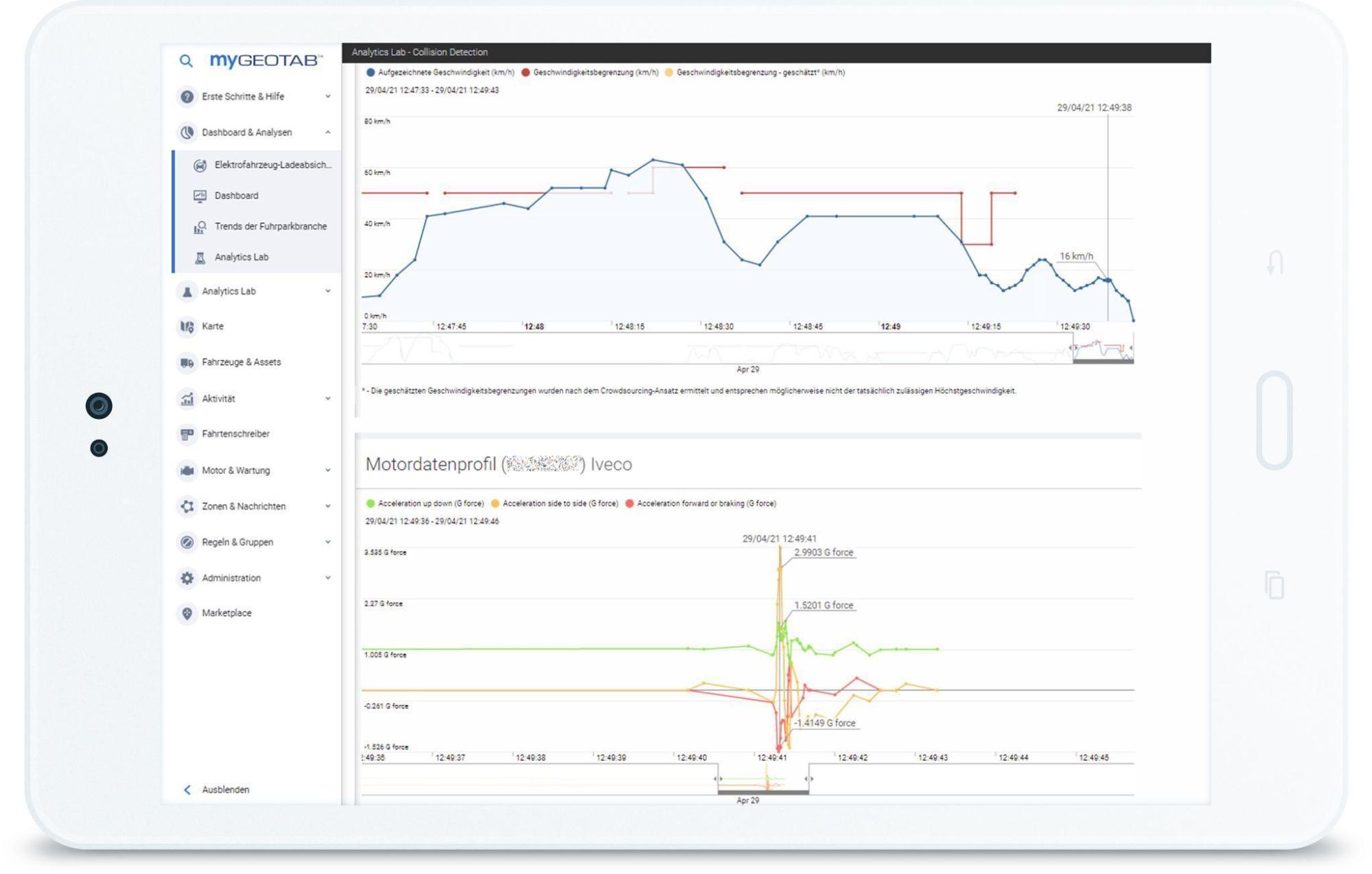 As DB Regio Bus also uses electric buses, it is important to obtain relevant data on the charging status of these vehicles. MyGeotab enables live monitoring and shows all deployable electric vehicles. It also provides information about the state of charge, charging interruptions and remaining range. If the desired charge is not achieved, the system sends an automatic notification to the appropriate control centre. In addition, an evaluation report on energy consumption is made available to the DB Regio Bus control centre.
The results: shaping the future through telematics
Geotab Telematics solutions enable DB Regio Bus to identify potential savings and improve efficiency to secure the company's clear competitive advantage. In two years, DB Regio Bus has substantially reduced fuel costs and has been able to leverage data insights like vehicle condition and driving behaviours to better manage and optimise its fleet. "The effect of coronavirus makes it difficult for us to produce a reliable analysis of savings. However, it is clear to see that we have been able to noticeably reduce our fuel costs since telematics was introduced in 2017. By switching to Geotab we will once again considerably extend our potential for savings. The software gives us greater stability and flexibility, and we can directly include our local colleagues in the flow of information. This is particularly well received by local colleagues and is also viewed positively by transportation authorities. This year alone, we have been able to reduce unnecessary idling times by approximately 40%, which corresponds to reduction in the environmental impact of approximately 1400 tonnes of CO2", says Hecker.
A further advantage is that installing the devices in the vehicles is a quick and easy process. Thanks to the provision of effective installation instructions and descriptions of the Geotab products, the devices can be installed in DB's own workshops within 15 to 30 minutes. Switching from an old to a new vehicle is also performed independently by the DB workshops. "Thanks to the lifetime guarantee and relatively low investment costs, the solution pays for itself after just a few months", reports Hecker.
Benefits for passengers and the environment
Last but by no means least are the benefits for passengers and the environment. "Stress down, efficiency up" was the motto of DB Regio Bus AG when it introduced the Fairfleet Eco-App, which it has been using since the beginning of the year (see Measure 76). The Eco-App uses the data recorded by Geotab and delivers immediate feedback to drivers. They can see when they are driving in a stressed and hectic manner and have the opportunity to correct this behaviour. This has been well received by the drivers. It reduces stress when driving and results in many additional benefits for the company, such as reduced fuel costs, lowered risk of accidents and increased comfort for passengers.
© Image rights Fairfleet GmbH & Co.KG
If you consider that it takes a tree around 80 years to absorb a tonne of CO2, it becomes clear how much influence a driver has. "Our aim is to reduce our CO2 emissions by up to 15,000 tonnes annually by using the Eco-App", says Hecker. "This takes the pressure off around 1,200,000 trees per year, and it doesn't end there — drivers experience less stress, the environment benefits from lower CO2 emissions, passengers enjoy greater comfort and the company noticeably reduces its costs".
Deutsche Bahn's course for a sustainable future has been set. The introduction of Geotab's telematics solution is a central element to developing and implementing sustainability targets using data-based decisions at DB Regio Bus. In doing so, the company is once again demonstrating its capacity as a role model and driving force behind the sustainable development of the economy, society and the environment — the three Ps of sustainability: people, planet and profit. This guiding principle is also known as the "triple bottom line" approach.
About DB Regio Bus
With around 365 million passengers in 2020, Deutsche Bahn is the largest provider of bus transport services in Germany. DB Regio operates more than 10,000 buses in over 400 districts and self-governing cities, thus ensuring public transport, connections to climate-friendly train travel and participation in mobility in Germany.
"We believe that we are making a relevant contribution to higher air quality while simultaneously reducing our drivers' stress levels and increasing profitability. We are also making use of the opportunities that digitalisation offers us to increase passenger comfort and reduce accident rates". (Peter Hecker, Senior Telematics Specialist at DB Regio Bus)
Post Tags
Ready to optimize your fleet?
Let us show you how simple it is to use our web-based software and fleet tracking devices to manage your fleet.