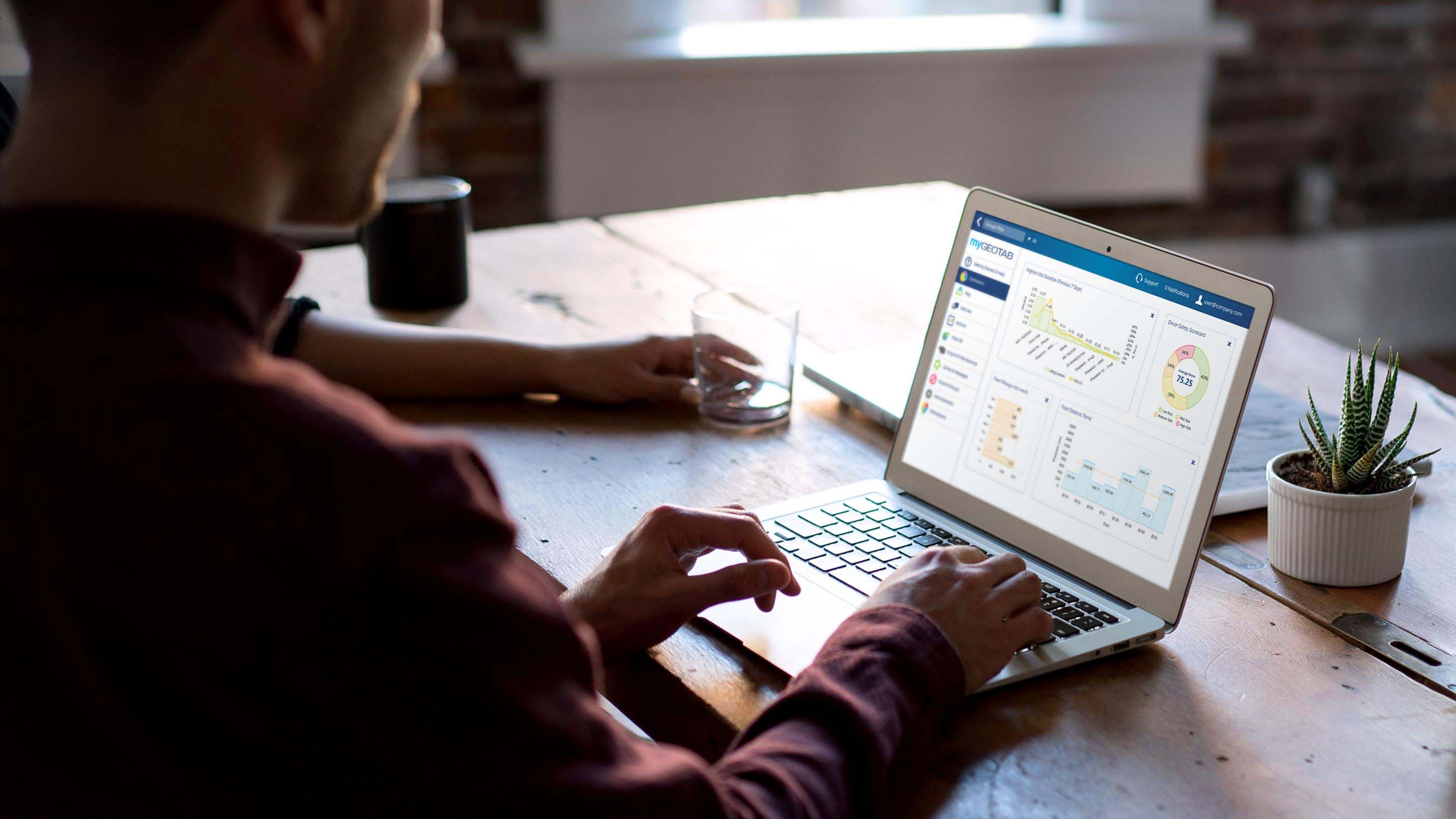 Fleet management reports
Set up custom reports to suit your fleet needs. Get key insights into your fleet operations, maintenance needs and costs for improved performance results.
Schedule a demo
Freedom in flexibility
Geotab's advanced reporting flexibility delivers the information you want, the way you want it, when you want it. Find useful reports in MyGeotab and tailor them to meet your unique business needs. Implement the Driver Safety Scorecard report to maximize driver safety and improve driving habits within your fleet, or run the Speed Profile report for a visual representation of the actual vs. posted road speeds. Discover the endless possibilities with these and other custom reports.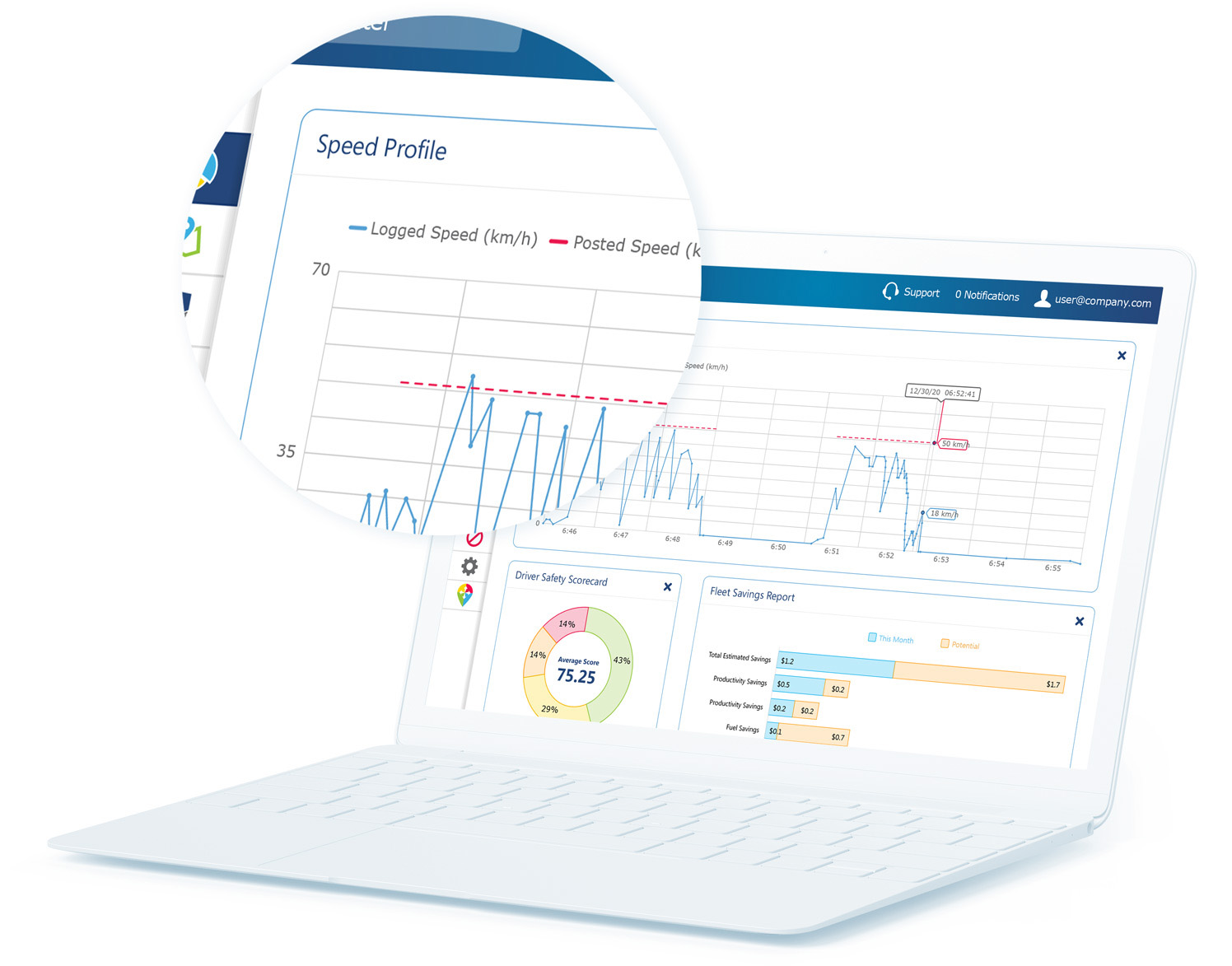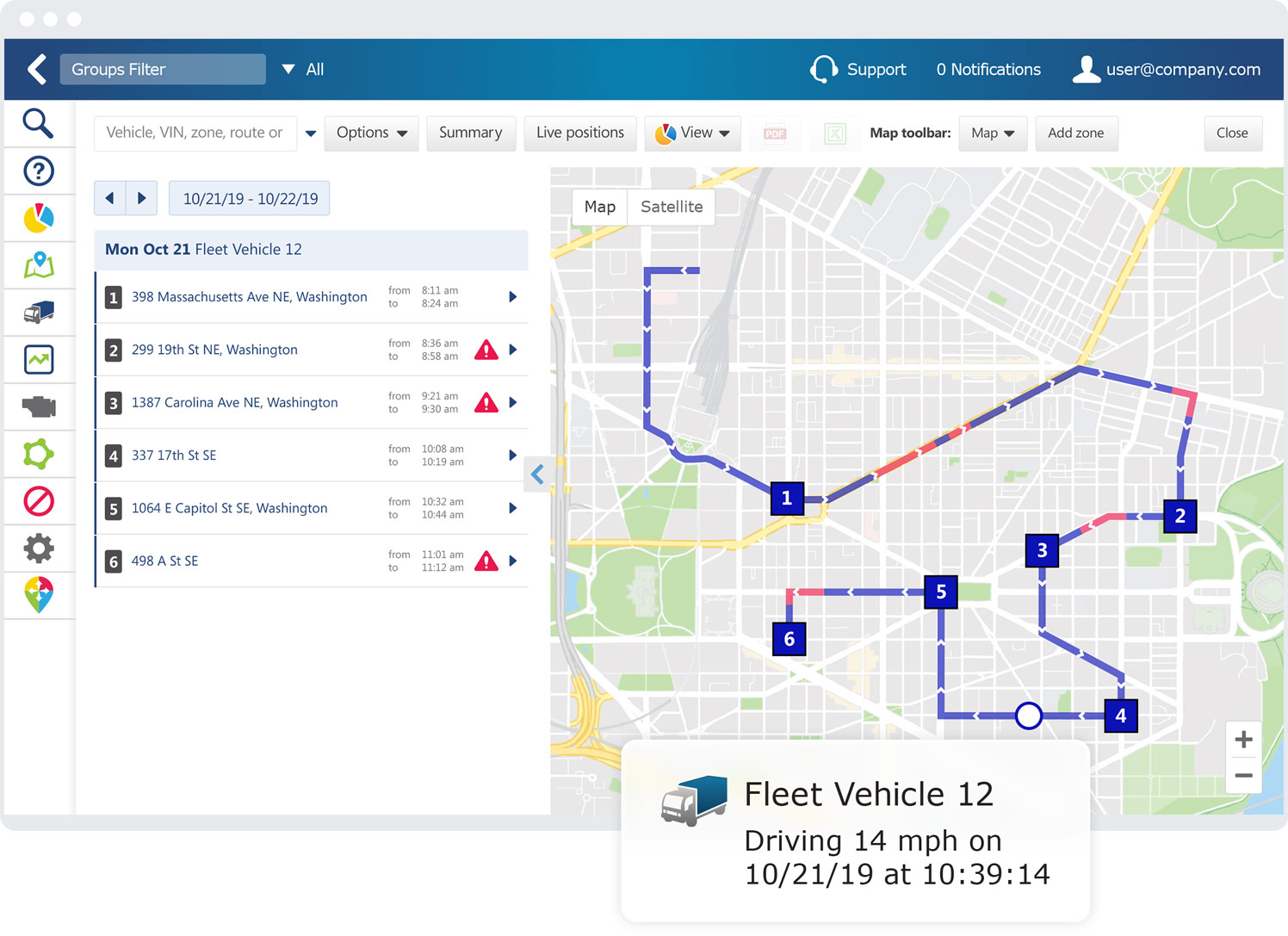 Trips history report
View your fleet vehicle trip history with a breadcrumb trail for an accurate productivity assessment. Take a look at vehicles individually or analyze them together to better understand day-to-day activities and uncover areas of improvement.
Advanced risk management report
Track driving patterns for increased safety, efficiency and fleet productivity. Reduce idling times, reverse driving events and get alerted when engine abuse or engine faults occur. Manage overall driving performance by monitoring stop counts, average speed, total driving duration and more.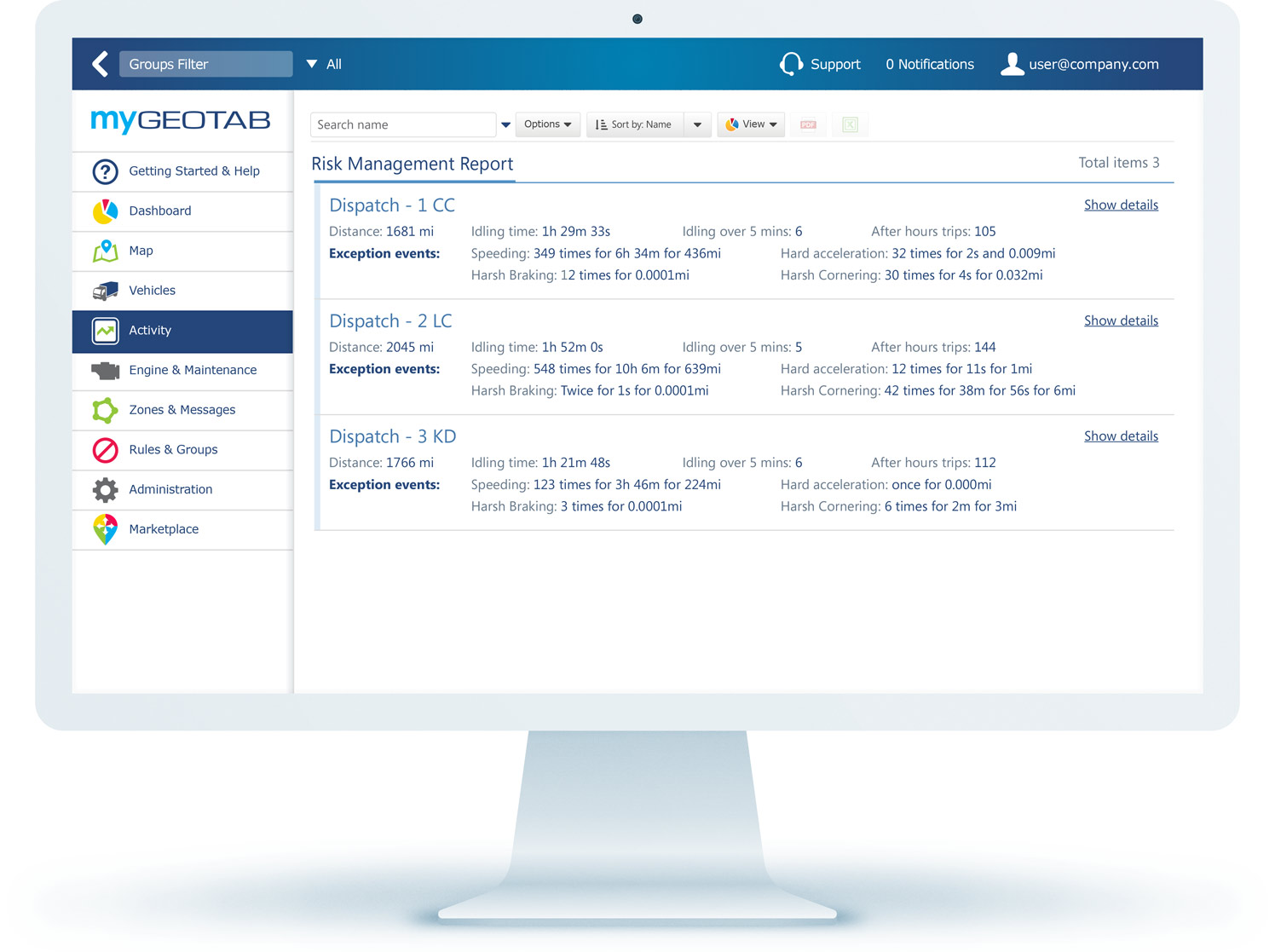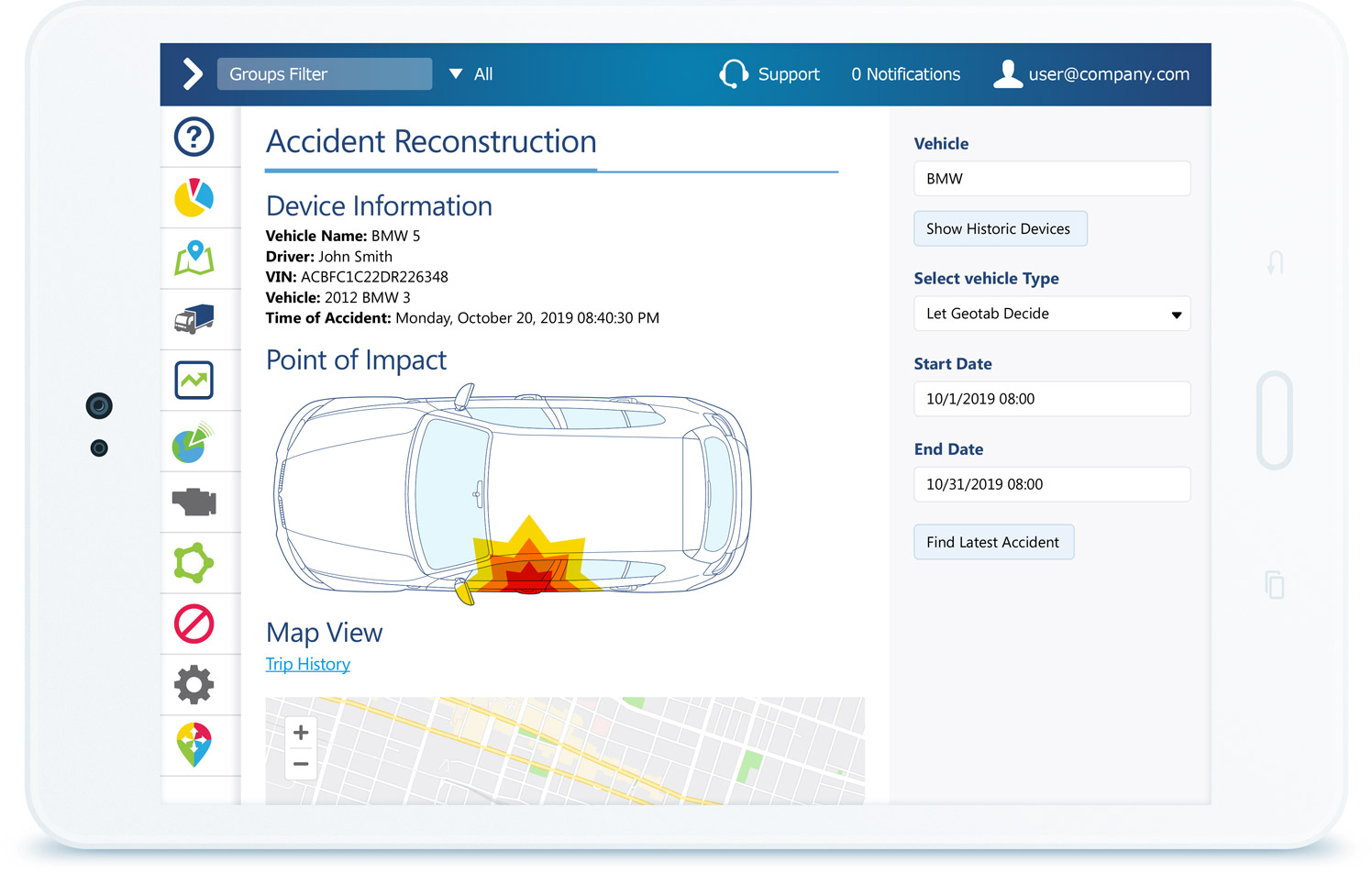 Log data and collisions report
Capture robust information from each vehicle in your fleet in one central location. Gain visibility to a vehicle's GPS location, accelerometer data, engine data, fuel consumption, RPM level and much more! View a vehicle's activity leading up to a collision by observing driving habits, direction and force of impact.
---
Video
How to set up a Marketplace report in MyGeotab
The Geotab Marketplace gives users access to a constantly growing catalog of solutions already integrated with the MyGeotab software. These solutions include a wide selection of pre-built custom reports, which allow users to supplement existing reports in MyGeotab. Learn how to setup a custom Geotab Marketplace report within your MyGeotab database.
Watch video
Marketplace
Reporting solutions from Geotab Marketplace
Find specialized reports tailored to different scenarios. Solutions include ways to track HOS violations, determine fuel economy, estimate potential fleet savings, and assess driver safety.
See solutions
---
Commonly asked questions
What is fleet reporting?
Fleet management reports are customized, detailed reports that provide you with the most important information to monitor your fleet's performance. Fleet reporting is specialized and tailored to different scenarios, including tracking drivers hours violations, determining fuel economy, estimating potential fleet savings and assessing driver safety.
What reports can be generated from Geotab's telematics system?
Geotab's advanced reporting flexibility delivers the information you want, when and where you want it. Find useful pre-built reports in MyGeotab and tailor them to meet your unique business needs. Geotab's default reports are grouped into four core operational areas:

Compliance
• Risk management
• Driving hours status log

Fleet
• Detailed vehicle data
• Fuel usage
• Maintenance history
• Maintenance due
• Idling events, total fuel use and total miles trends

Safety
• Driver safety scorecard
• Vehicle speed profile; actual vs posted speeds
• Engine faults and measurements
• Safety violations (exceptions)
• Accidents
• Audit logs

Productivity
• Trips history
• Customer visits
• Congregation events
• Time card log
• Planned vs actual routes

What are the benefits of automated fleet reporting?
Automating reporting helps fleet managers focus on what matters most to them while still monitoring fleet activity. Automated reporting provides customized insights that are available when and where you need them. With an automated system you have the ability to check on fleet performance in real-time or at weekly, monthly, yearly or other intervals.

These automated reports can be scheduled to whatever frequency you require, so that they are ready for you instantaneously. Thousands of data points can be analyzed in simple dashboards, where you can filter by any parameter that is important to you.

Automated reporting can help fleet managers to track fleet efficiency, safety, compliance, maintenance, asset utilization, and much more. Then set up custom rules to create automated alerts and reminders for the information that you can't afford to miss.
What are the advantages of Geotab's fleet management reporting system?
Geotab's fleet management tracking and reporting system provides fleets with:

• Pre-built reports that are designed to optimize your fleet efficiency, safety and productivity
• Key reports built into simple dashboards, saving you valuable time and effort
• Complete customization so that each report can fit your unique requirements
• Automated reports, scheduled to run at the frequency you require
• Custom alerts and notifications via text or email for the information you can't afford to miss
• User permissions to provide your team with only the information they need
• Complete oversight of fleet operations so that you can make informed decisions to improve performance
How does Geotab's reporting software integrate with fleets?
Geotab's reporting software integrates with fleets through the installation of a Geotab GO device. Once installed in a vehicle, the GO device transmits information via the cloud to the MyGeotab software database. From there, your custom dashboard displays the information that is most important to you. To learn more about Geotab's fleet management reports, book a demo today.
How can fleet reports help my business?
MyGeotab offers a set of default reports built into your database to help manage the productivity, safety and efficiency of your fleet.
How do I set up reports in MyGeotab?
Geotab Marketplace gives users access to a catalog of solutions that are already integrated with MyGeotab software. Watch this video to learn how to set up a custom Geotab Marketplace report within your MyGeotab database.
Start getting the most out of your fleet
Learn more about how simple it is to use our web-based software and fleet management devices to improve fleet reporting.