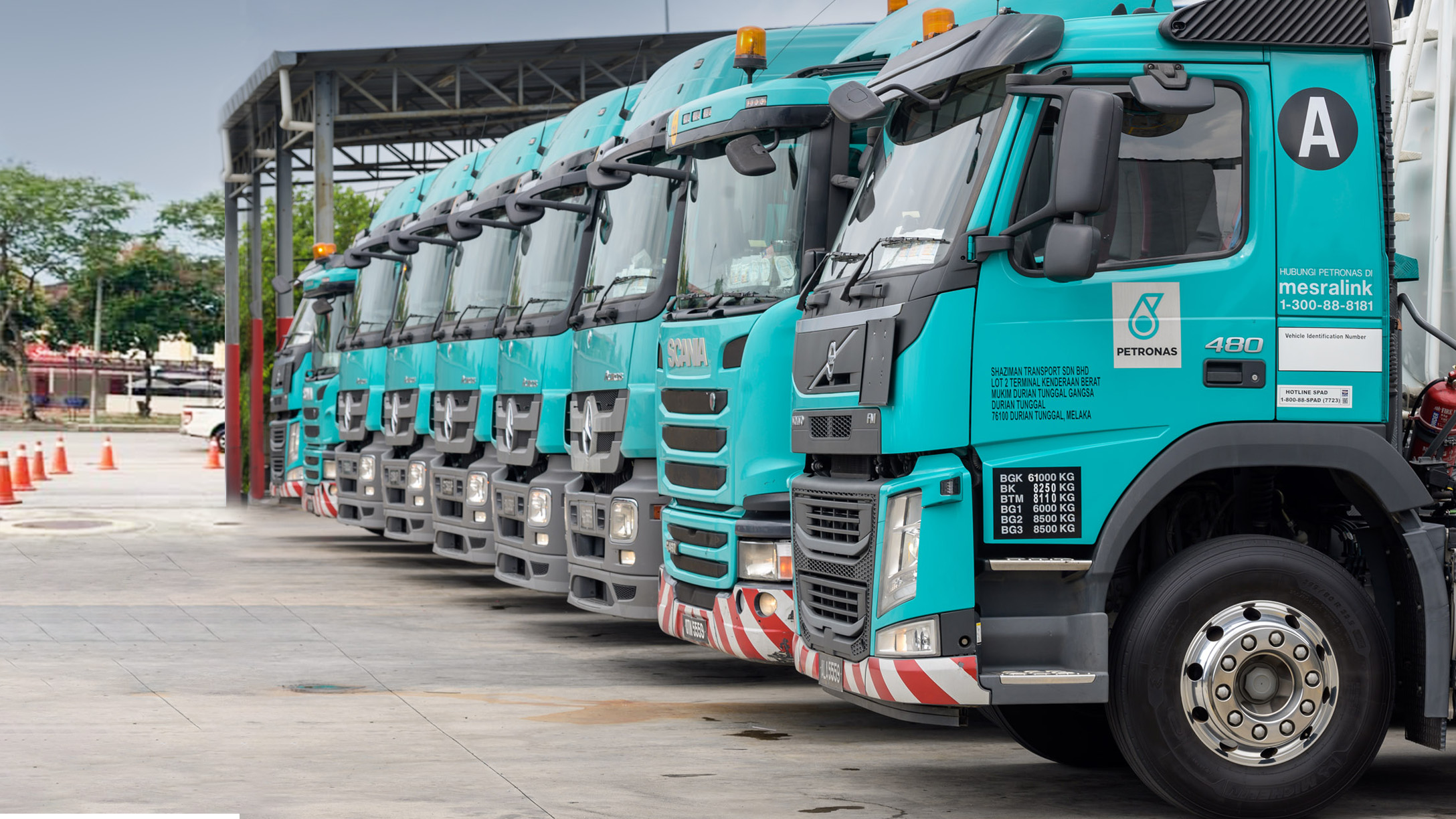 Shaziman Transport improves performance, saves money and reduces environmental footprint with data
Published on February 17, 2023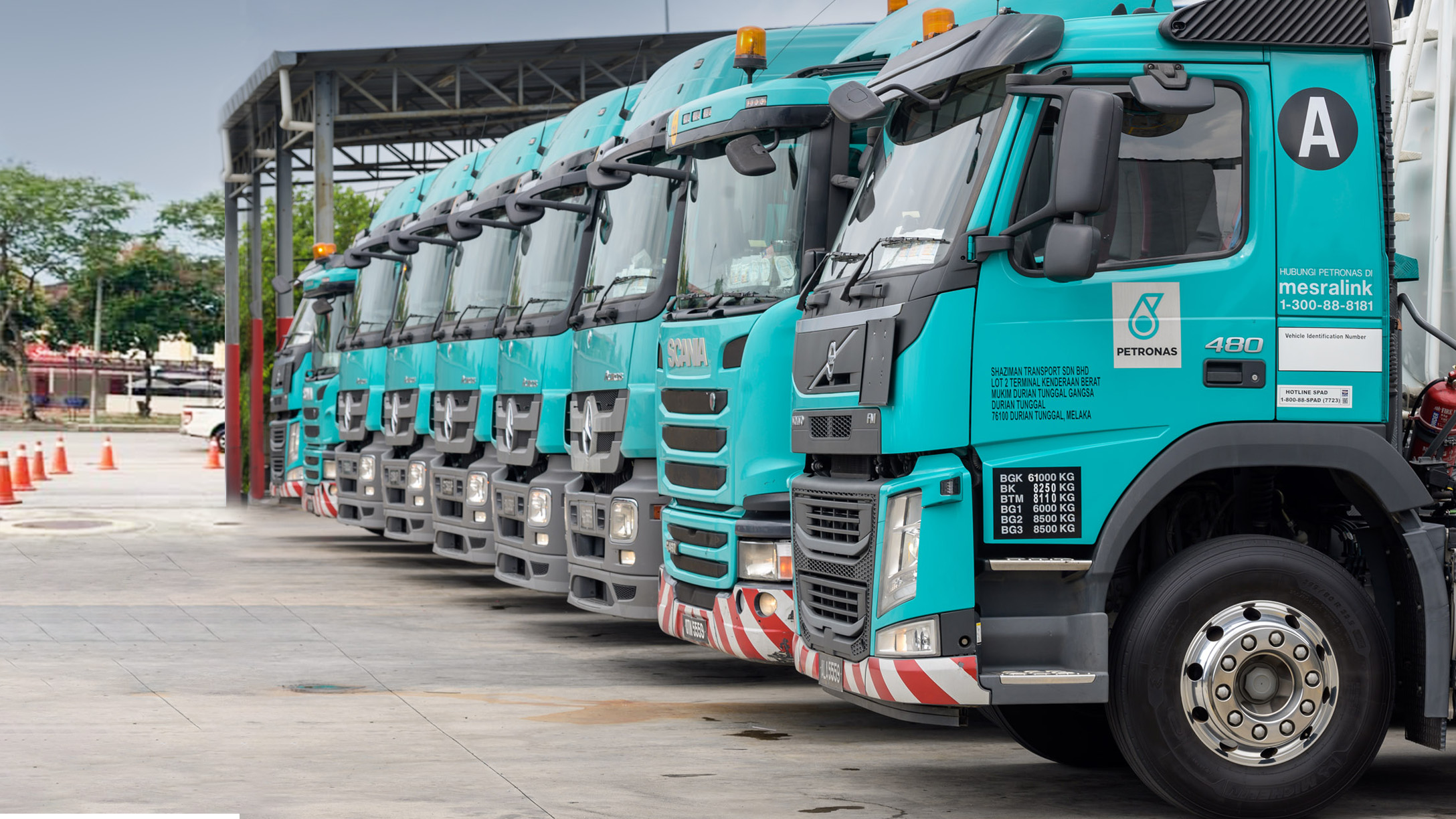 They transport multiple types of petroleum products ranging from petroleum fuel, diesel, jet fuel and industrial gasses including liquid chemical products in southern and central Peninsular Malaysia, as well as Singapore and Thailand. They also provide car carrier services with a fleet of 25 car haulers.
The company prides itself on maintaining its fleet of vehicles to the highest standards, keeping employees, customers and the public safe, meeting all regulatory requirements and providing reliable, high-quality service to customers.
The Challenge: Keeping vehicles up and running
Before working with Geotab, Gunasekaran Muthu, Workshop Manager at Shaziman Transport says they
had a lot of unscheduled vehicle breakdowns which were difficult and costly to manage. "The engine temperature would go up or battery voltage would drop. Drivers would stop in a terminal, but it was difficult for us to rectify the program, so we would need to send a tow truck." Now the team is able to monitor and predict when maintenance and inspections are needed to minimize breakdowns.
Two years ago, Guna set out to improve their telematics system to address these issues and find opportunities to save money and reduce Shaziman's environmental footprint. He started with a three-month trial of Geotab devices in select vehicles. Impressed with the results, Shaziman made the decision to install Geotab GO9 devices and supporting tools to achieve its fleet management goals.
The Solution: A robust system to increase uptime and enhance safety and sustainability
Fleet optimization
Guna said they knew Geotab could help them achieve their maintenance goals. "When Geotab presented maintenance monitoring, we were impressed. It had been taking too long to manage vehicles individually."
Now, he and his team are automatically notified when issues arise and can easily monitor which trucks have been serviced and those that haven't.
Sustainability and environmental protection
Reducing carbon emissions, managing fuel consumption and reducing costs are also high priorities for Shaziman. Guna notes that while some drivers are diligent about shutting the engine down, others neglect to or simply forget. They now use Geotab's Idling Rule to trigger an exception if the idle time exceeds 10 minutes.
Driver performance
Shaziman takes the transport of flammable substances very seriously. They adhere to the highest safety standards and industry best practices to keep employees, customers and the public safe.
On top of providing comprehensive and ongoing training, Shaziman uses Geotab tools to identify issues and coach drivers to improve performance and address unsafe behavior.
The Results: Reduced downtime, increased safety and data insights to enrich customer relationships
Predictive maintenance and issue management
With distance and time frames built into the system, Guna and his team can predict maintenance for multiple components, such as brake pads, alternators and starters. "We automatically receive a message on servicing earlier so we can provide it to the operations team, and they can schedule maintenance."

They are also better able to monitor trends and take the necessary action. "For example, low voltage. It is supposed to be 24 or higher. Now, we use a system setting at 23 and if it drops below that, we receive an email. We can also track how often it has dropped to 23, and, if it is frequent, we will ask the operations team to bring it to the workshop so we can test with another battery tester."

Guna says they've also set this up in their tankers. "Petro oil companies require a lot of critical safety inspections. We have a long list to do monthly, quarterly and yearly. We've created weekly, monthly, quarterly, six month, and yearly notifications based on component requirements in the tanker. We automatically receive notifications when the time comes for inspections/repairs. We are able to monitor well without missing any inspections."

On top of being able to collaborate with the workshop team to prepare for repairs and inspections, he says that they've been able to show the auditors from the petroleum companies how they are monitoring their tankers. "We've represented to them that we have the Geotab system for maintenance and critical inspections."

Guna says that fault warnings are also enormously beneficial in helping Shaziman avoid bigger problems. He shared that in the past, some drivers might ignore warnings or forget to check if the coolant was low. Now, he and his team are alerted and can notify the operations team. "If it is critical, we will stop the vehicle and deploy the "break down team" to repair the vehicle where it is. If it isn't too serious, we ask the driver to go to the nearest workshop. We notify operations that the truck is there and fix the problem."
Driver behavior
Shaziman has taken time to explain to drivers why they are implementing the Geotab system. Some have adapted quickly to the change and others require more coaching.

"We take time to counsel drivers. Maybe they forgot about the indication, or they aren't aware of it.
For example, if the temperature goes above 110, we tell the driver that this causes engine damage and that we need to avoid this. We know that with counseling they will continue to learn, and behaviors will change. This is good for the company and the driver."
Idling reduction
To reduce fuel waste and greenhouse gas emissions, Shaziman, with assistance from Geotab, has been conducting a study based on trip level idling to determine where the greatest amount of idling occurs – pre, mid or post trip. They've found that the greatest amount of idling occurs post trip so they can now work with drivers to understand why and address the issue. They have also been able to access data specific to each vehicle, such as the percentage of drive time spent idling and where the vehicle is located when it is idling.

"We are driving for oil companies. Our drivers can't stop anywhere they like. We can identify if trucks are stopping in unauthorized locations. It's not about penalizing the driver. It's about understanding the reason for the unauthorized stop," says Guna.
Proactive relationship management
Guna is impressed with the precision of the information he receives from Geotab compared with the system they used previously. In particular, he points to a recent fuel consumption project Shaziman undertook with help from Geotab.
They were able to reduce fuel consumption in one line of vehicles by 9%. And, with the insights gleaned from the project, they identified an issue that they are investigating with another manufacturer.
Shaziman, Geotab and Intranet Asia: working together like a well-oiled machine
When they experienced a surge of emails, Guna worked with the Geotab and Intranet Asia team to identify and rectify the issue. It turned out that the master cut out for each truck is triggered when the vehicle stops at a terminal or station. When this happens, no electricity is supplied to the components that are being monitored, which creates a fault code in the system and an alert is issued. "In one day, a vehicle can stop eight times. Multiply this by 100 units and you can see why this was an issue."
Guna is very pleased with the support from the Geotab and Intranet Asia teams. "If there are any issues, they respond immediately and will even come to the site if required."

He notes that Intranet Asia has been integral in ensuring they receive products on time and Geotab has played a significant role in managing installations. "We have a scheduled plan and they come to our five sites. Some vehicles are straightforward, and others require more work."
Shaziman has also trained some of its technicians to assist. Regional groups install devices and then send the vehicle serial number to Geotab to activate in the system.
Future planning
Guna is working with Geotab to fine tune the system to meet their needs. They meet regularly and Shaziman provides feedback, such as adding things like tracking service dates and type of service for each vehicle. "Every service will be in the system and will be easier to extract later if we need it. Right now, we have to get that info one by one."
He is also working with his Managing Director, Geotab and Intranet Asia to explore the possibility of integrating everything into one system.

"In the future, we are planning to implement the Driver Vehicle Inspection Report (DVIR) via Geotab's Drive app and the Driver Scorecard instead of the current manual methods used. We will do a trial on some of the units and if it's successful and practical, the next step would be to implement it to all units. The Driver Scorecard system measures drivers' performance and violations. Geotab constantly provides us with the results and we may reward those drivers who have fewer violations during their trips."
Shaziman is currently using manual inspection sheets to check vehicles before and during each trip. With the DVIR and Geotab's Drive app, they will be able to digitalize the process and use their hand phones to send inspection reports before and during each trip. This will enable mentors to confirm inspections are being performed. It will also allow the workshop team to monitor whether critical repairs are required and rectify them. "Once the repairs are completed, we would be able to update and inform the mentors and drivers accordingly."
From the Fleet Manager
"We have managed to avoid a lot of breakdowns. We prevent them before they happen. This is what we're getting from Geotab."
Client profile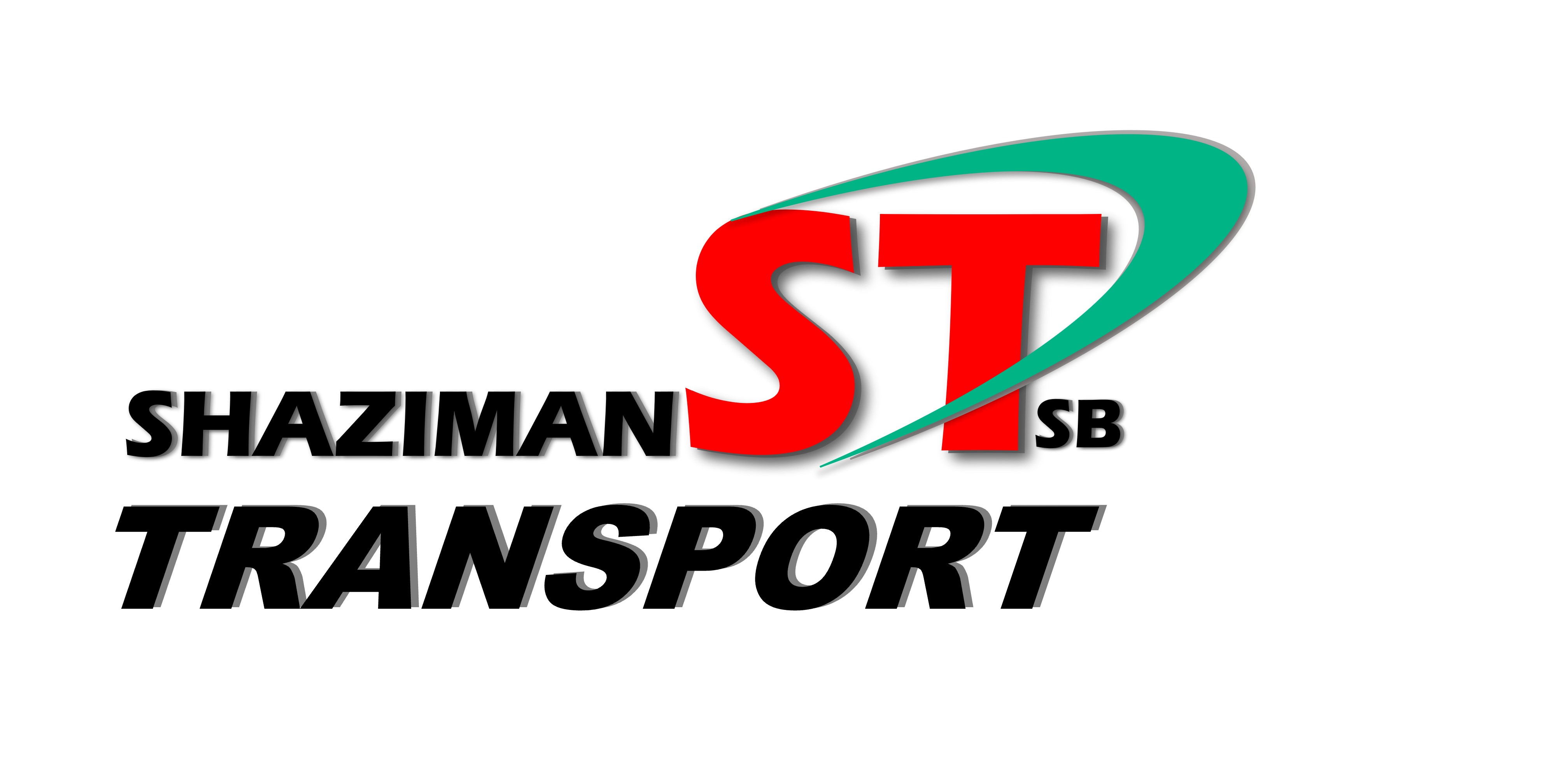 Client name:
Shaziman Transport
Industry:
Bulk petroleum transport
Types of vehicles:
Prime movers and tankers, car carriers
Ready to optimize your fleet?
Let us show you how simple it is to use our web-based software and fleet tracking devices to manage your fleet.