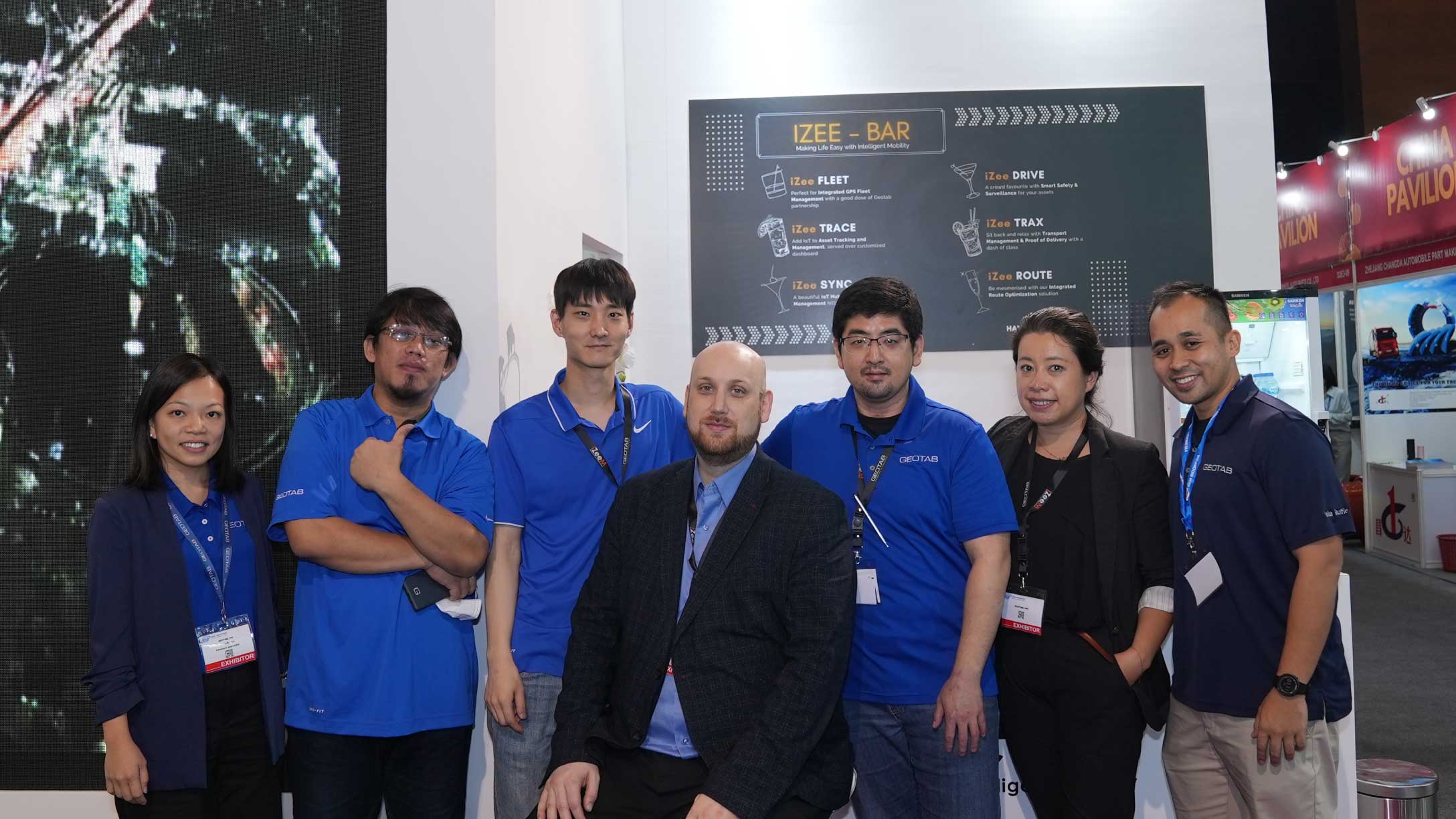 Driving success: Key takeaways from IIBT Indonesia 2023
---
Jordan Guter, the Vice President of Solutions Engineering at Geotab shares his key observations and top learnings from IIBT Indonesia.
As visitors enter the bustling metropolis of Jakarta, Indonesia's capital city, they are greeted by a nation positioned at the threshold of remarkable growth and potential to become one of the world's top five economies in the next 25 years. It offers a treasure trove of opportunities, driven by its rich natural resources and a staggering consumer market of over 270 million people.
In this dynamic landscape, the trucking and logistics industry holds immense potential. However, navigating the challenges presented by Indonesia's unique geography and congested cities requires innovative fleet management solutions. Indonesia's vast archipelago comprises more than 17,000 islands scattered over 5,000 kilometers, spanning a distance longer than the journey from Los Angeles to New York. Such a diverse terrain poses significant hurdles for land transport.
The country faces many other issues – fuel consumption exceeds the global average by 13%, and risky driving behaviour and poor road conditions are the norm. Over 100,000 traffic accidents plague the country every year, making it a constant struggle to run Indonesia's trucking businesses.Recognising the situation's urgency, Geotab seized the opportunity to exhibit at the prestigious IIBT Indonesia, the region's top trade show for commercial vehicles. Geotab's debut at this event helped showcase the company's latest innovations alongside iZeem, a Geotab Partner, while also providing an invaluable platform for direct engagement with customers and hearing about specific market needs.

Jordan Guter with Izeem's GM and Head of Commercial, Samuel Loke.
Jordan Guter, Vice President, Solutions Engineering, Geotab, attended IIBT Indonesia and shares some of the key learnings and takeaways. Growing interest in telematics
There is an increasing interest in evolving technologies in Indonesia, especially telematics. Guter shares that customers are demanding data-driven, accurate fleet management solutions. "During my tech session outlining the differences between GPS tracking and telematics, one aspect that left a lasting impression on attendees was the realisation that telematics encompasses far more than simply plotting data on a map," explains Guter.
Guter spoke about Orkin's success story, outlining how Geotab's solutions helped improve and track idle fleet time as well as chart fuel savings for the pest control company.
He further clarifies that, "The value lies in our ability to extract meaningful insights from a wealth of information derived from GPS, acceleration and engine data. By delving deeper into the layers of data, we unlock a world of possibilities. Telematics enables us to uncover patterns, identify inefficiencies and optimise operations in ways that were once unimaginable. This transformative capability empowers fleets and businesses to operate with enhanced efficiency, driving down costs along the way."
Guter with other Geotabbers who attended the IIBT Event in Jakarta, Indonesia.
He deciphers that with this newfound understanding of telematics, fleets can streamline routes, identify areas of excessive fuel consumption and implement proactive maintenance schedules. These insights empower businesses to make data-driven decisions, maximise productivity and ultimately achieve significant cost savings.
Driver safety is also a big concern for fleet managers in Indonesia."We showcased intelligent AI solutions which will help in this area," he states..
As part of the tech session, Guter spoke about the power of Geotab's data and how telematics solutions can eliminate inefficiencies in fleet management.
Fleet management needs vary across different sectors
There is a lot of focus on fleet management in Indonesia, specifically in the mining, bus and truck industries. While these sectors share some common fleet management principles, such as vehicle maintenance, fuel management and driver monitoring, they also have distinct requirements due to their unique operational characteristics, regulations and safety considerations.
According to Guter, buses are the main land transport for getting around Indonesia, with revenue for the sector forecast to rise at an annual growth rate of 7.23% over the next four years. "Key considerations in bus fleet management include optimising routes, scheduling, driver management, passenger safety, vehicle maintenance and compliance with regulatory standards," he specifies.
Jordan also notes that with over 5.3 million trucks operating on Indonesia's roads, fleet management focuses on long-haul transportation, local delivery, logistics and construction. It involves monitoring driver activities, ensuring compliance with transportation regulations, optimising fuel efficiency and preventing fuel theft, managing cargo, tracking vehicle maintenance and minimising downtime. Additionally, truck fleet management often deals with complex supply chain logistics and time-sensitive deliveries.
Indonesia is a major player in the global mining industry, with significant coal, copper, gold, tin, bauxite and nickel production. The country recently became the world's second-largest cobalt producer. Guter illustrates that mining fleet management typically involves handling a range of specialised vehicles, such as haul trucks, excavators, loaders and drilling rigs, which operate in challenging environments. Key aspects of mining fleet management include optimising vehicle utilisation, tracking productivity, ensuring equipment maintenance, managing fuel consumption, improving safety protocols and coordinating with mining operations for efficient extraction.
More focus on electric vehicles
Indonesia has set its sights on ambitious green targets for the coming years to accelerate the adoption of electric vehicles. For example, Jakarta aims to have 10,000 electric buses in service by 2030. However, transitioning into this new era requires careful planning and adaptation.
This is where telematics comes into play, providing a wealth of data that unveils the best practices for leveraging EVs efficiently. Through telematics, fleets can gain unparalleled visibility into vehicle performance, battery usage and charging behaviour. Insights obtained from the telematics device helps optimise routes, manage charging schedules effectively and make informed decisions regarding infrastructure investments. By marrying the power of telematics with charging system information, businesses can understand how to set up their operations for success while minimising costs.
As Indonesia embraces a greener future, Geotab is committed to supporting the transition to electric vehicles through innovative telematics solutions. Together, with Geotab, you can navigate the complexities of Indonesia's evolving market, maximise the potential of EVs and drive towards a sustainable future.

Geotab's APAC team at the IIBT event.
As Geotab continues to forge ahead on its expansion plans in the Asia Pacific region, participating in the IIBT Indonesia will be instrumental in propelling the company toward achieving its growth objectives. Geotab remains steadfast in its commitment to delivering innovative solutions, fostering local partnerships and spearheading advancements that will drive the success of our customers in this dynamic market.
---
If you liked this post, let us know!
---
Disclaimer
Geotab's blog posts are intended to provide information and encourage discussion on topics of interest to the telematics community at large. Geotab is not providing technical, professional or legal advice through these blog posts. While every effort has been made to ensure the information in this blog post is timely and accurate, errors and omissions may occur, and the information presented here may become out-of-date with the passage of time.
Other posts you might like