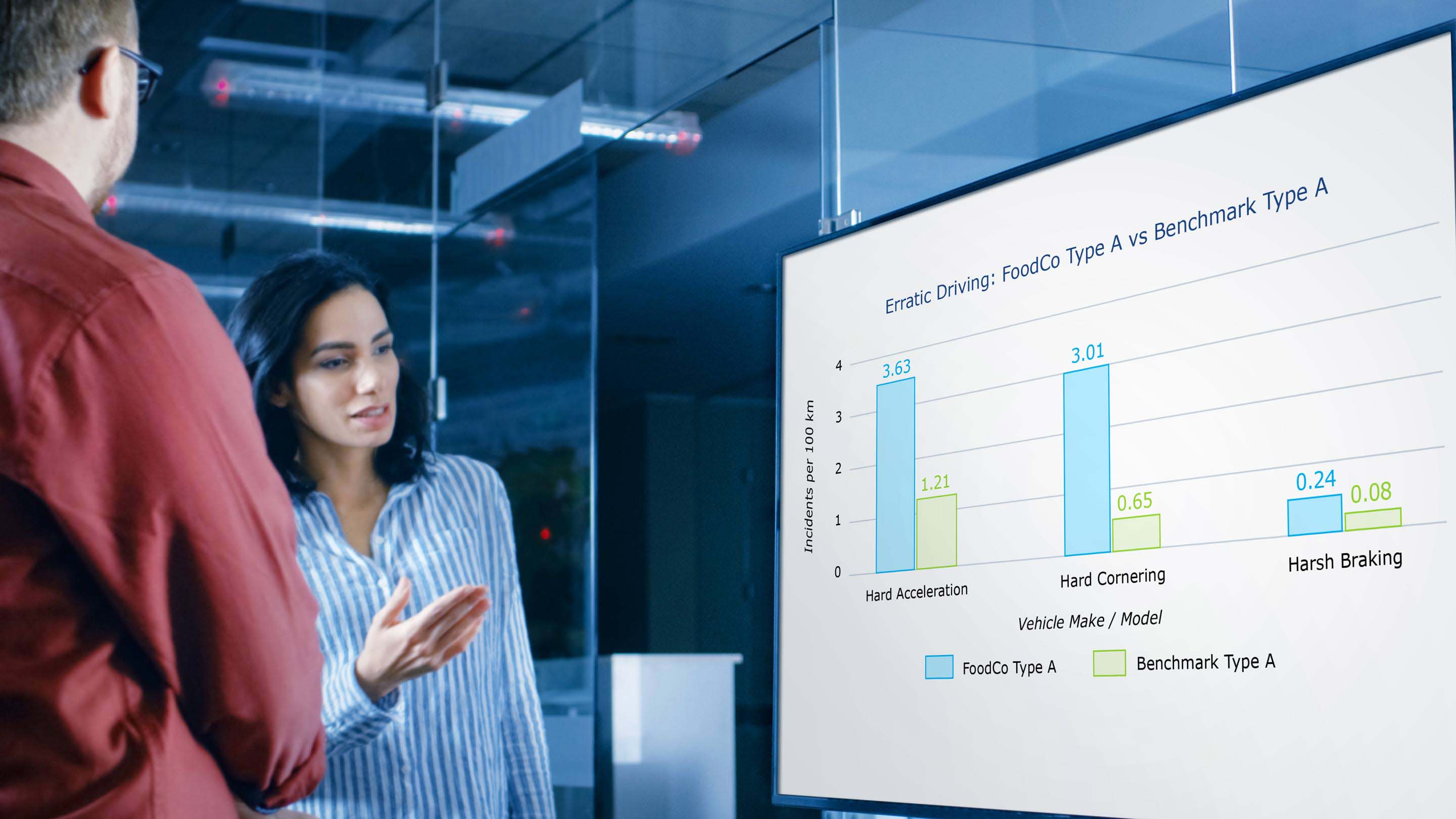 Fleet benchmarking for optimal fleet performance
Fleet benchmarking reports let you contrast your efforts with leaders in the field, to see where you could be saving money.
Request a demo
Fleet benchmarking for enhanced savings
Installing a vehicle tracking device allows you to collect a wealth of information to optimise savings. From the basics such as GPS location, speed, stops and idling, through to advanced features such as accelerometer movements, engine diagnostic data and fuel usage, Geotab puts all your fleet data in one easy-to-use portal.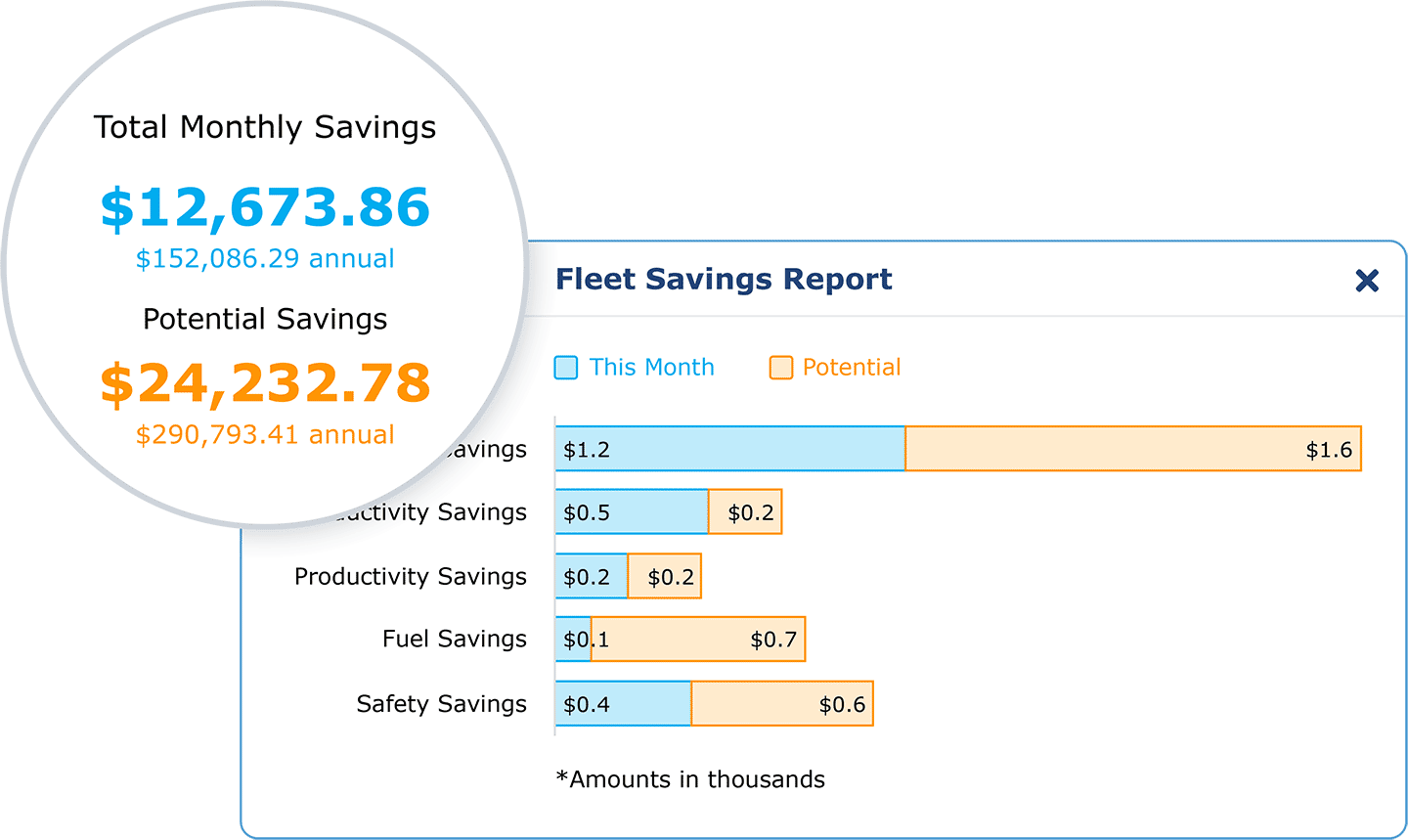 Fleet management benchmarks offer key metrics to optimise performance
Set fleet benchmarks on driver behaviour such as harsh braking, cornering and acceleration or seat belt use. Generate driver safety scorecards and manage your team for productivity and safety. Compare fleet performance against historical data or best practices to see how your fleet stacks up in safety, fuel economy and much more.
Turn fleet benchmarks into insight
Every data point Geotab helps you collect can be turned into real-world insights to boost performance. Inform decision-making by comparing patterns of fleet usage against your own fleet benchmarks and goals or similar fleets. Pinpoint opportunities to optimise fleet performance, cut costs, and let Geotab make data one of the most powerful assets in your fleet.
Why benchmark fleet performance with Geotab
Find new efficiencies as you do business
Identify opportunities for improvement
Uncover gaps in your operations
Target underperforming teams of business units
Provide precise driver training to have every part of your team perform the best they can
See our solutions in action
---
Commonly asked questions about fleet benchmarks
What is fleet benchmarking?
Fleet benchmarking is a trustworthy technique for analysing and optimising operations based on a fleet's driving habit. Assess your present performance and track your progress toward your objectives. Telematics allows customers to collect a significant amount of data from a number of sources, create unique fleet goals, and make appropriate adjustments.
How does Geotab collect fleet benchmarking data?
Big data modelling from Geotab compares your fleet vehicles to others of comparable size, composition, region and driving pattern from throughout the Geotab ecosystem. We help you look for areas where your fleet can improve or save money and deliver quantifiable value to your company.
What are the benefits of Geotab's fleet benchmarking solutions?
Finding the best benchmark for your fleet might be difficult as each fleet is unique. Based on your fleet's driving pattern, our powerful machine learning algorithm selects the best vehicles and fleets to benchmark against. The following are some of the advantages of using Geotab for fleet benchmarking:
Learn about your unique driving pattern and vocation
Obtain unique fleet benchmark recommendations
Find new efficiencies
Uncover gaps
Identify strategic savings opportunities
Pinpoint areas of improvement
Take control with advanced driver coaching
Ready to reduce fleet fuel costs?
Let us show you how simple it is to use our web-based software and fleet tracking devices to manage your fleet fuel consumption.