Fleet management solutions to move your business forward
Geotab's unrivaled fleet management solution lets you harness fleet asset data for efficiency, cost control, and safety.
---
---
What is fleet management?
Fleet management is an operations function for companies and institutions that rely on transportation for the delivery of their products or services. Through telematics tracking, it equips businesses with innovative tools to control costs, manage productivity and reduce risk. Fleet management solutions can drive valuable benefits.
---
Why is Geotab the global fleet telematics leader?
The largest global fleet
Join the world's largest connected fleet-tracking network.
Over 23 years of growth
More than two decades of innovation.
Around 40,000 connected fleets
Relied upon by more than 40,000 businesses and organisations.
Open platform expandability
Our Marketplace offers hundreds of third-party solution options.
75 billion
Data points are collected daily.
Over 4 million
Globally connected vehicles.
---
Our GPS fleet tracking devices offer many possibilities
The Geotab GO9® and GO9 RUGGED® fleet tracking devices are easy to install into any vehicle or powered asset in your fleet. They intelligently gather and transmit data points, including key insights about engine diagnostics, driver performance and safety.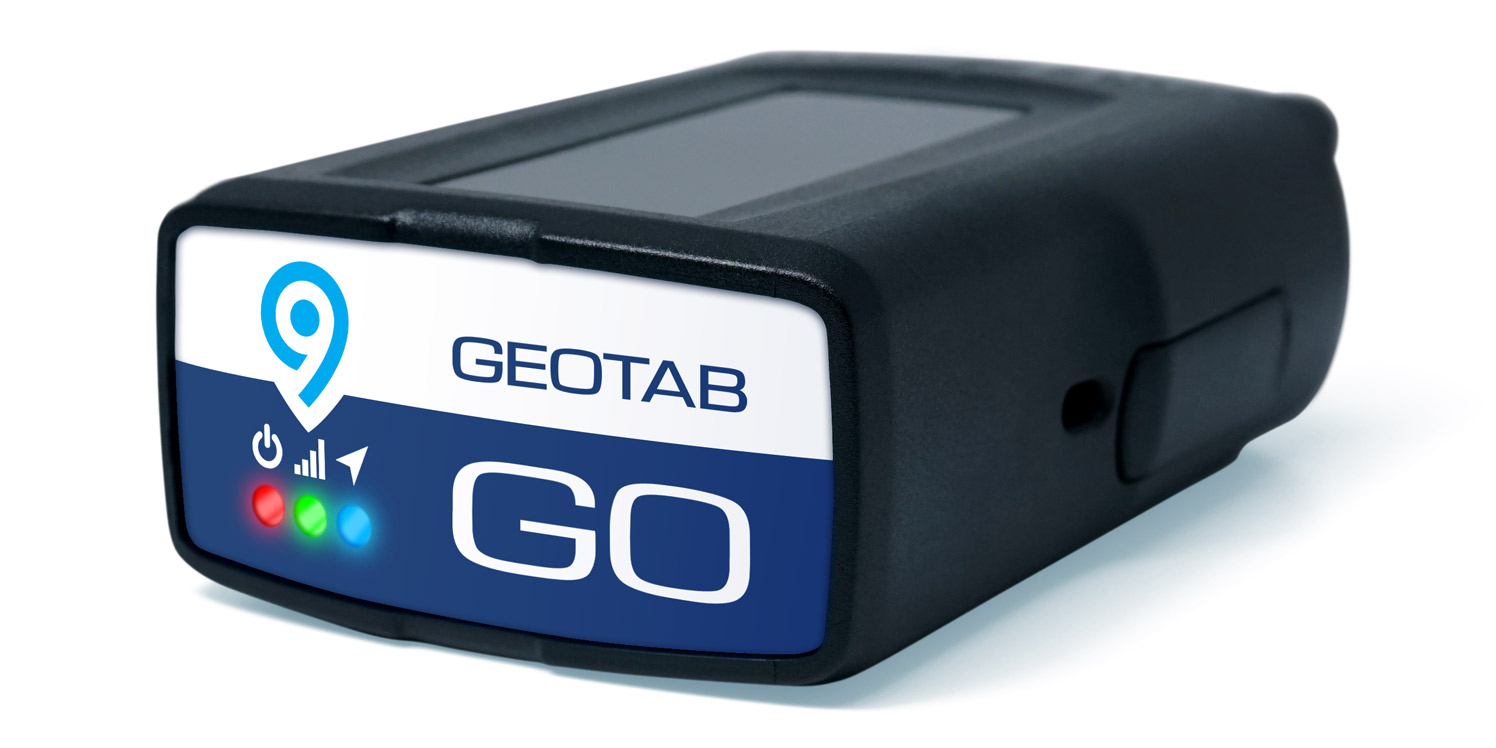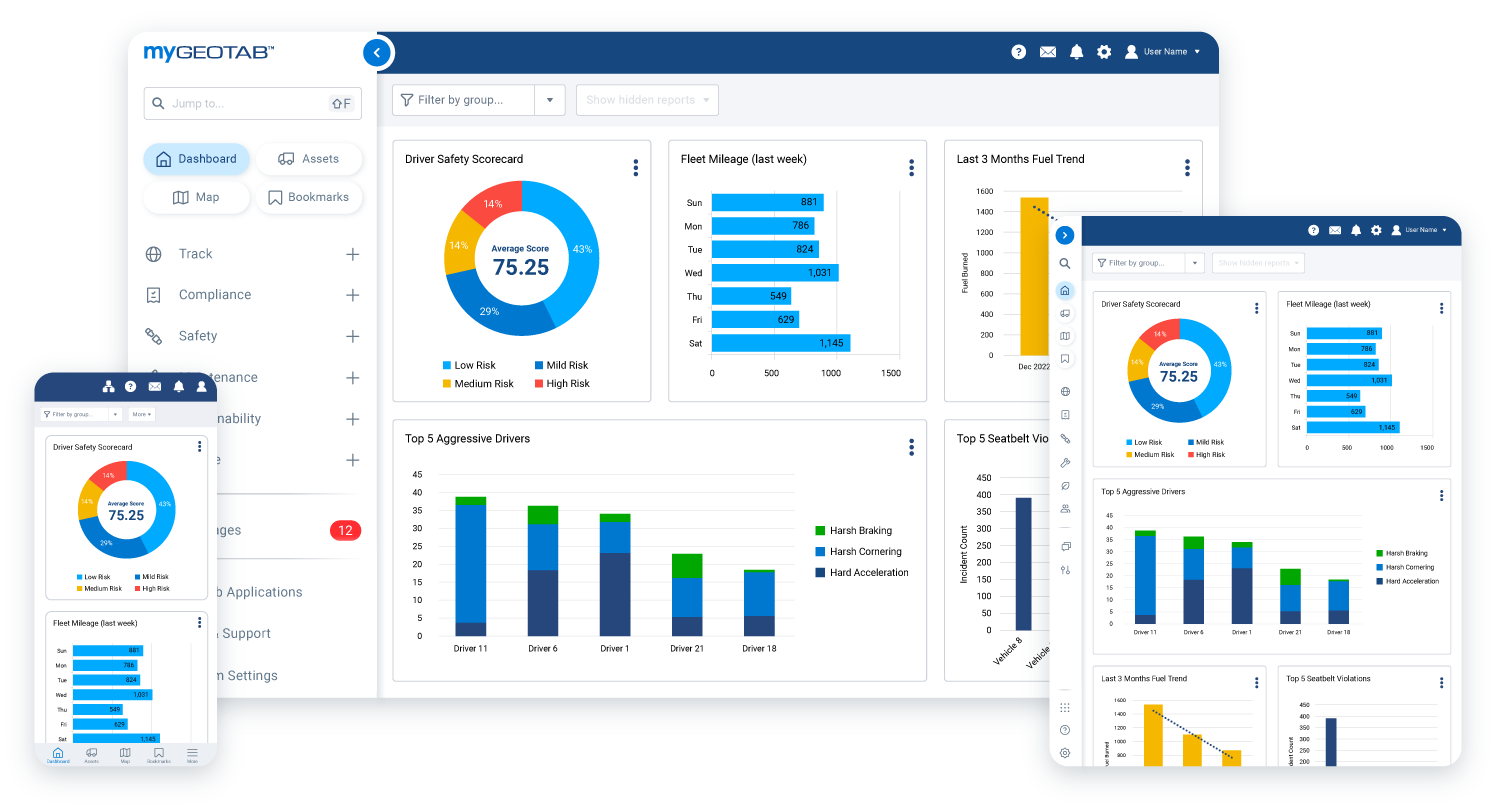 A powerful fleet management solutions platform
Our scalable MyGeotab fleet management solutions platform collects, processes and presents decision-worthy, real-time insights through cohesive dashboards, as well as standardised and custom reports. Track your fleet in real-time and analyse vital data trends related to vehicle health, driving habits, fuel consumption and more.
Integrate and customise for a tailored fleet tracking solution
Connect hardware like cameras and sensors to expand your visibility into road conditions and safety hazards. Integrate with operational systems to see your fleet-related data with broader context. Invest in a fleet tracking system that can scale on your terms.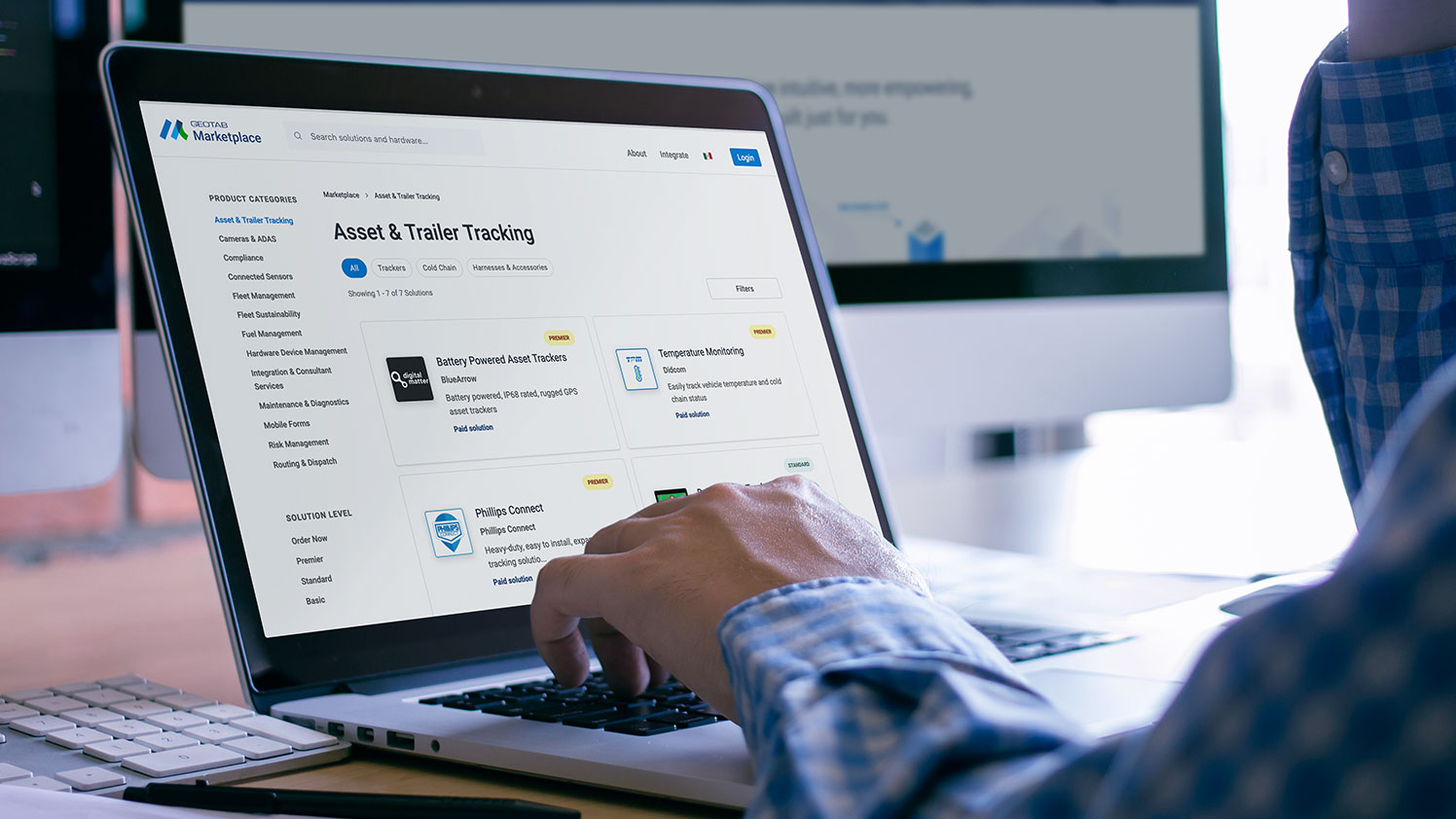 ---
How Geotab delivers value
Geotab was built on a strong foundation of engineering and data science. Our open-platform fleet management solutions integrate with the Geotab Marketplace® for access to hundreds of partner products and services.
Productivity
Track, route and dispatch drivers to ensure a productive fleet.
Optimisation
Drive efficiency & cost savings in fuel efficiency and planned fleet maintenance.
Safety
Analyse and encourage safe driver behaviour with reports and in-vehicle coaching.
Sustainability
Reduce fuel consumption and carbon and particulate emissions, or integrate electric vehicles (EVs) and electrify your fleet.
Compliance
Comply with regulations like Australia Standard HoS rules and be audit-ready for safety reviews.
Expandability
Our open platform lets you integrate hardware or software options to drive performance.
Fleet management resources
---
---
Commonly asked questions
What does Geotab do?
Geotab is the world's leading commercial telematics provider. We connect vehicles to the internet and provide web-based analytics to help organisations manage their fleets.
What fleet management solutions does Geotab offer in Australia?
Geotab offers Australian businesses, institutions and government organisations fleet tracking and management solutions that align our Pillars of Innovation, described above. Our cloud-based, open-platform fleet management software integrates with our Marketplace of hundreds of partner products and services. Our fleet management solutions enable Australian fleets of all sizes to leverage fleet asset data to create efficiencies, improve productivity, control costs, keep drivers safe and monitor vehicle health.
What are the advantages of using Geotab's fleet tracking systems?
Geotab empowers fleet management by measurement. Our fleet tracking solutions provide full visibility over metrics such as speed, fuel usage, location and driving behaviours. Identify and target areas of required improvement and eliminate inefficiencies.

Using MyGeotab, you can also benchmark your organisation's performance against truck fleets of a similar size, makeup or geographical area. For example, you can see how driver behaviour is impacted by weather or road congestion. Other advantages include:

• Ease of installation
• Expandability
• Secured, scalable data communication
• Our patented curve-based logic algorithm
• Built-in accelerometer and gyroscope

What industries does Geotab work with?
Geotab works with organisations across all industries, however, some of the leading Australian industries we serve include:
• Agriculture
• Courier and delivery
• Field sales and service
• Food and beverage
• Landscaping
• Mobility
• Moving and storage
• Oil, gas and mining
• Passenger transportation
You can find more detailed information about our industry solutions on our website. Is your industry not listed? Reach out for a
chat
. We'll be happy to show you the vast capabilities of our solutions.
What is fleet tracking?
Fleet tracking provides visibility into vehicle location and activity. It also monitors driver and vehicle-related issues including speeding, harsh braking, sharp cornering and hard acceleration.
To learn more, visit Geotab's
Asset tracking and management
solution page.
What is a fleet tracking system?
At the heart of fleet tracking systems is a device or apparatus that is either embedded into Original Equipment Manufacturer (OEM) vehicles or plugged into a vehicle or equipment asset in the case of aftermarket devices. These vehicle tracking devices, like the
Geotab GO
, plug into a vehicle's OBD port to pull data and transfer it back to a cloud-based data management system.
What is the benefit of fleet telematics?
Fleet telematics has a number of benefits, including:
• Improving safety
• Customer service
• Streamlining vehicle maintenance
• Minimising downtime
• Enhancing fleet compliance
• Generating revenue
To learn more, explore the
Geotab success story
library and select the applicable fleet size and focus for your organisation.
What is the Geotab GO vehicle tracking device?
The Geotab GO is a small form-factor vehicle tracking device that plugs directly into your vehicle's onboard diagnostics (OBD) II port. It also works with an adapter for those vehicles without this port. Vehicles send data from a variety of sources, including the engine, drivetrain, instrument cluster and other subsystems. Using multiple internal networks, GO devices can capture a lot of this data.
What telematics software packages does Geotab offer?
Geotab offers multiple telematics software packages for fleets around the world. There are three packages available in Australia, including the Base, Pro and ProPlus plans. Each plan has specific options available. To see a full list of our plans and the features they include, visit our
Software Packages
plan page.
For more information on the type of data you can utilise for your fleet, visit our
Fleet Management Software
page.
What are the benefits of choosing Geotab?
As the #1 commercial fleet telematics provider worldwide, Geotab serves businesses and public sector organisations of all sizes across the globe. Geotab's secure open-platform technology gives you complete visibility over your vehicles' movements, engine health, fuel usage and more. With this critical business intelligence, you can make data-driven decisions to improve a wide range of business operations. You also get access to over 200 third-party Add-Ons from Geotab's Marketplace. Geotab puts data security first. For more information, visit our Security Center.
What is fleet management?
Fleet management refers to the wide range of tasks needed to organise and maintain a group of vehicles. Any business or organisation that owns or leases vehicles must engage in fleet management. A good fleet manager aims to:
Keep operations running efficiently
Remain competitive in the marketplace
Meet budget goals
Does Geotab Fleet Tracking Software use GPS?
The Geotab GO device is an industry leading, expandable telematics device. With its ability to use GPS fleet tracking, vehicle locations can be viewed in near real-time along with a complete trips history. Our patented algorithms provide detailed and accurate information to help support your fleet.
What is telematics?
Telematics is a method of monitoring cars, trucks, heavy-duty equipment and other assets by using GPS technology and on-board diagnostics (OBD) to plot the asset's movements on a computerised map. Also known as fleet tracking or GPS vehicle tracking, telematics is now an essential management tool for any commercial and public sector fleet.
What is the purpose of fleet telematics?
Telematics devices are designed to retrieve data generated by the vehicle, like GPS position, speed, engine light information,engine faults, fuel usage. MyGeotab retrieves additional data for electric vehicles on real-time charge levels, charging locations and durations, and battery state of health, enabling fleet managers to effectively manage their EVs and compare their performance directly against the conventionally fueled vehicles in the fleet.. The telematics device sends the data up to the cloud, and it is then available for viewing and analysis in a fleet management platform.
What is fleet tracking and control?
Fleet control is the ability to monitor and manage a fleet of vehicles using a tracking device and software. But Geotab's solutions show you much more than just location data. Fleet managers and business owners can view data insights on vehicle health, speed, driver behavior, fuel usage, battery charge levels and much more.
What tasks does fleet management include?
The tasks involved in fleet management will vary depending on your organisation and business goals. Usually, this will include:
Overseeing vehicle acquisition and sales
Monitoring and managing fuel programs
Scheduling maintenance
Supporting corporate safety programs
Tracking fleet metrics
Managing compliance
---