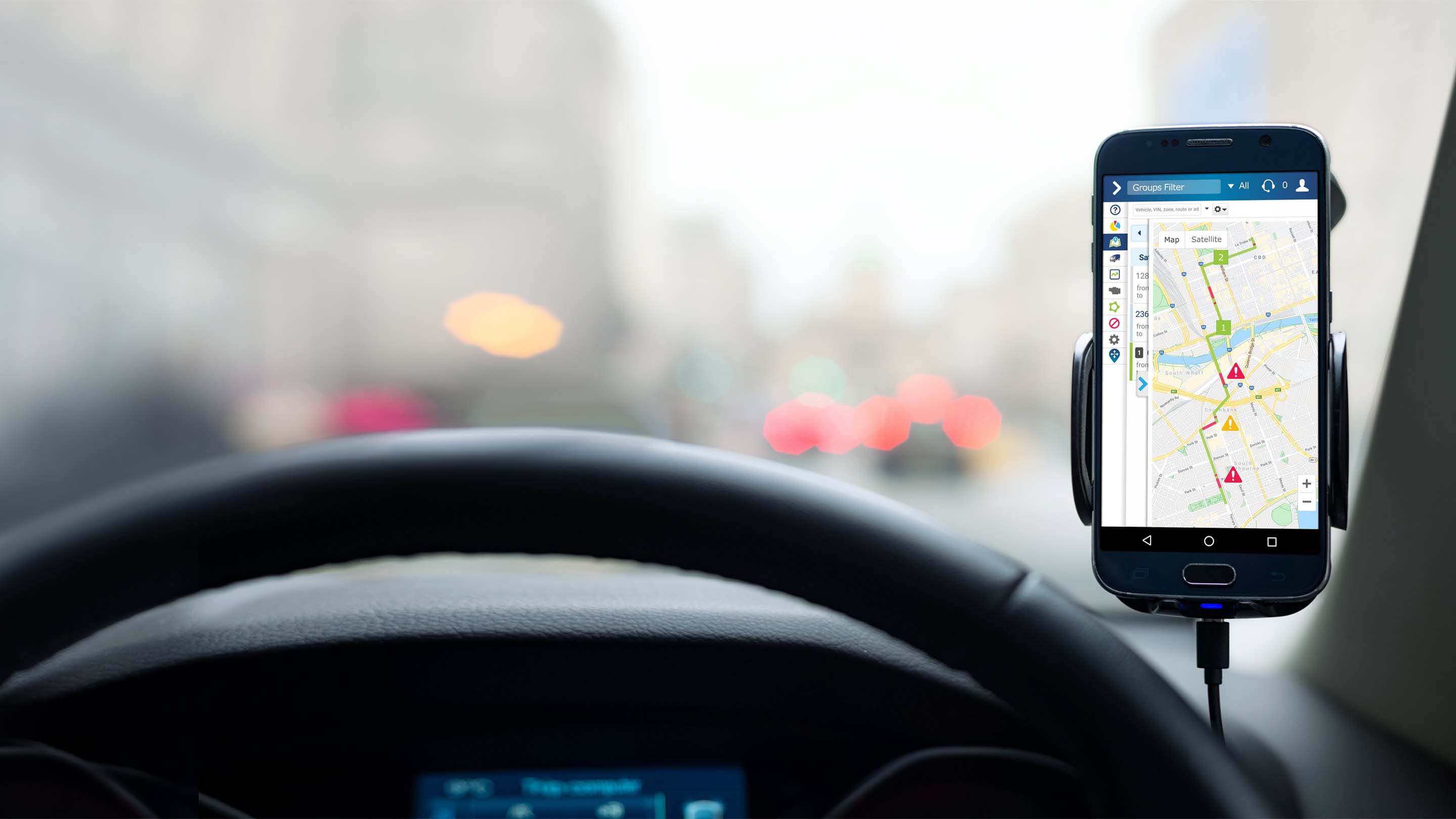 Fleet route and dispatching software for fleet efficiency
Help your team navigate efficiently to save time and money with industry leading fleet route planning software.
Request a demo
Optimise fleet routes to get there faster
Set specific fleet routes or set a chain of locations where your fleet vehicles are expected to stop, such as customer deliveries or service locations. Create custom zones with geofences to be alert when a driver enters or leaves a zone. Map out the most efficient fleet route between stops to conserve fuel, and save time on the road. Fit more into every day with effective fleet route planning software.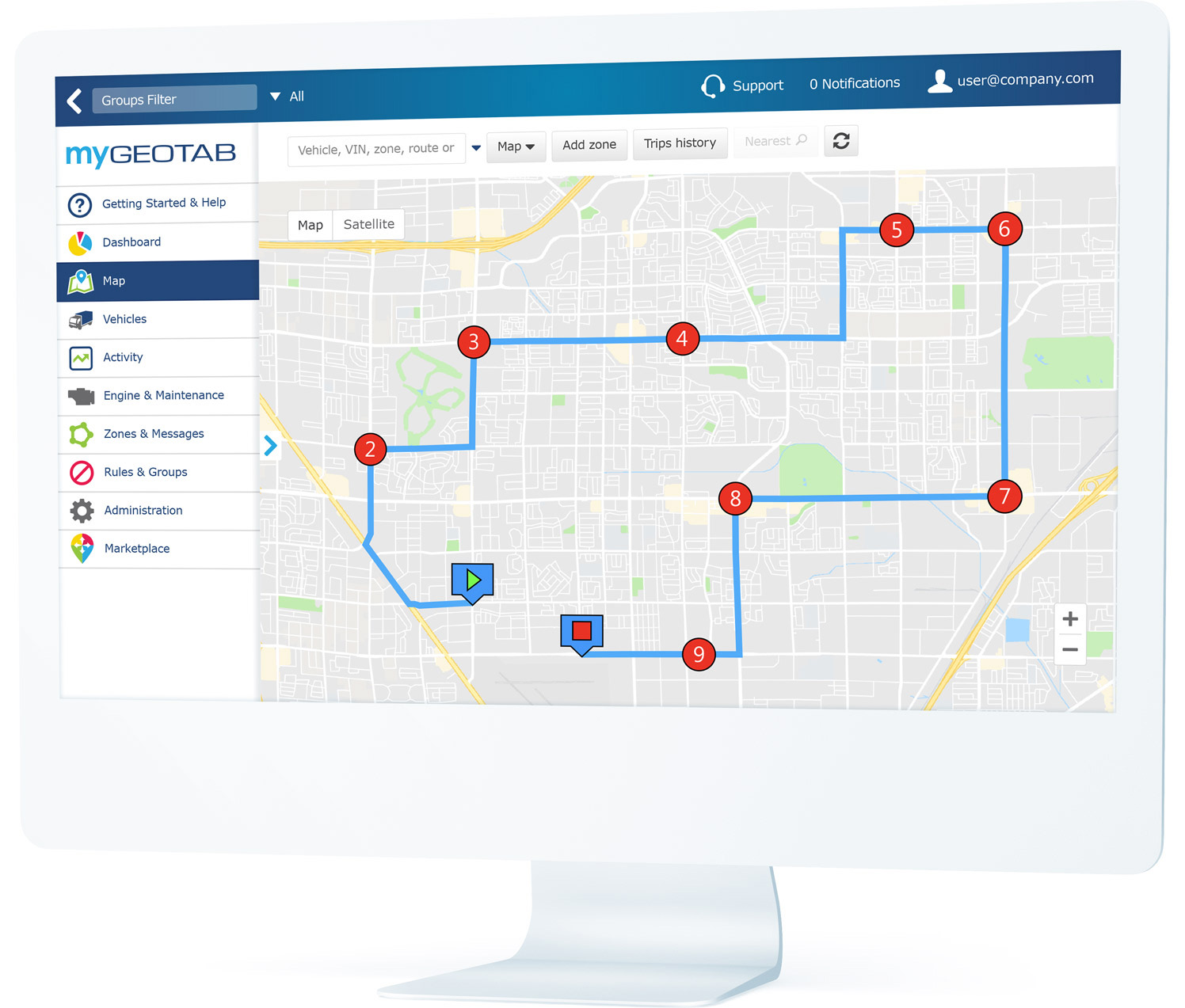 Bolster efficiency with fleet route planning integrations
Solution Partners on the Geotab Marketplace provide even more route planning power. Navigate around traffic congestion or other diversions to further boost your fleet efficiency.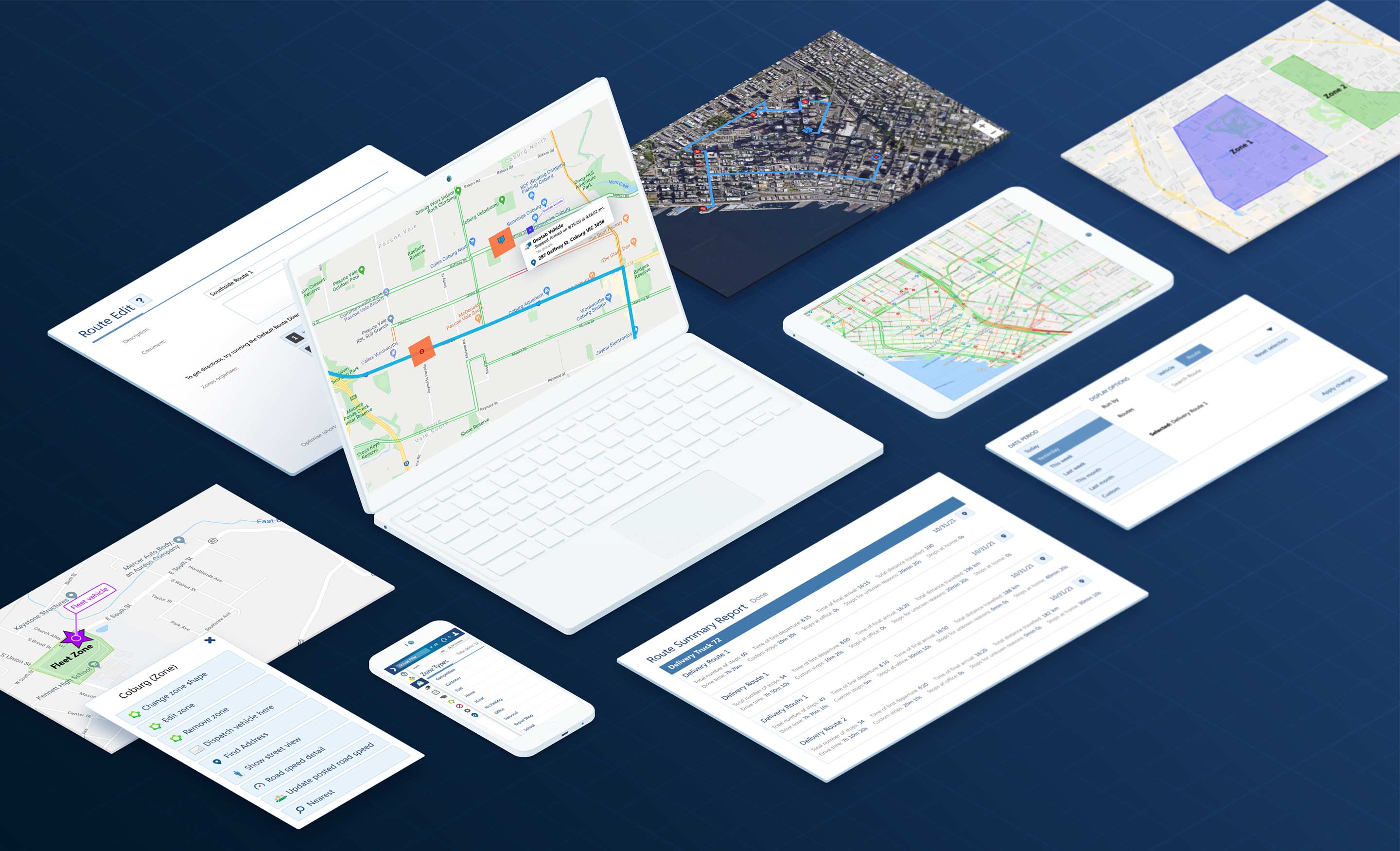 Turn data into insight for fleet route and dispatch optimisation
Improve routes between job locations
Create and send routes and dispatch drivers
Map out custom zones and set up notifications
Review route planning compliance, to ensure smooth operations
Compare expected and actual schedules to identify opportunities to streamline.
Dispatch drivers in real-time
A new service call doesn't have to wait. View your fleet live in the field with MyGeotab, and integrate with Garmin for in-vehicle messaging. Find your nearest or next available driver for the job quickly and easily. Send new jobs, zones or routes to your drivers for enhanced fleet productivity.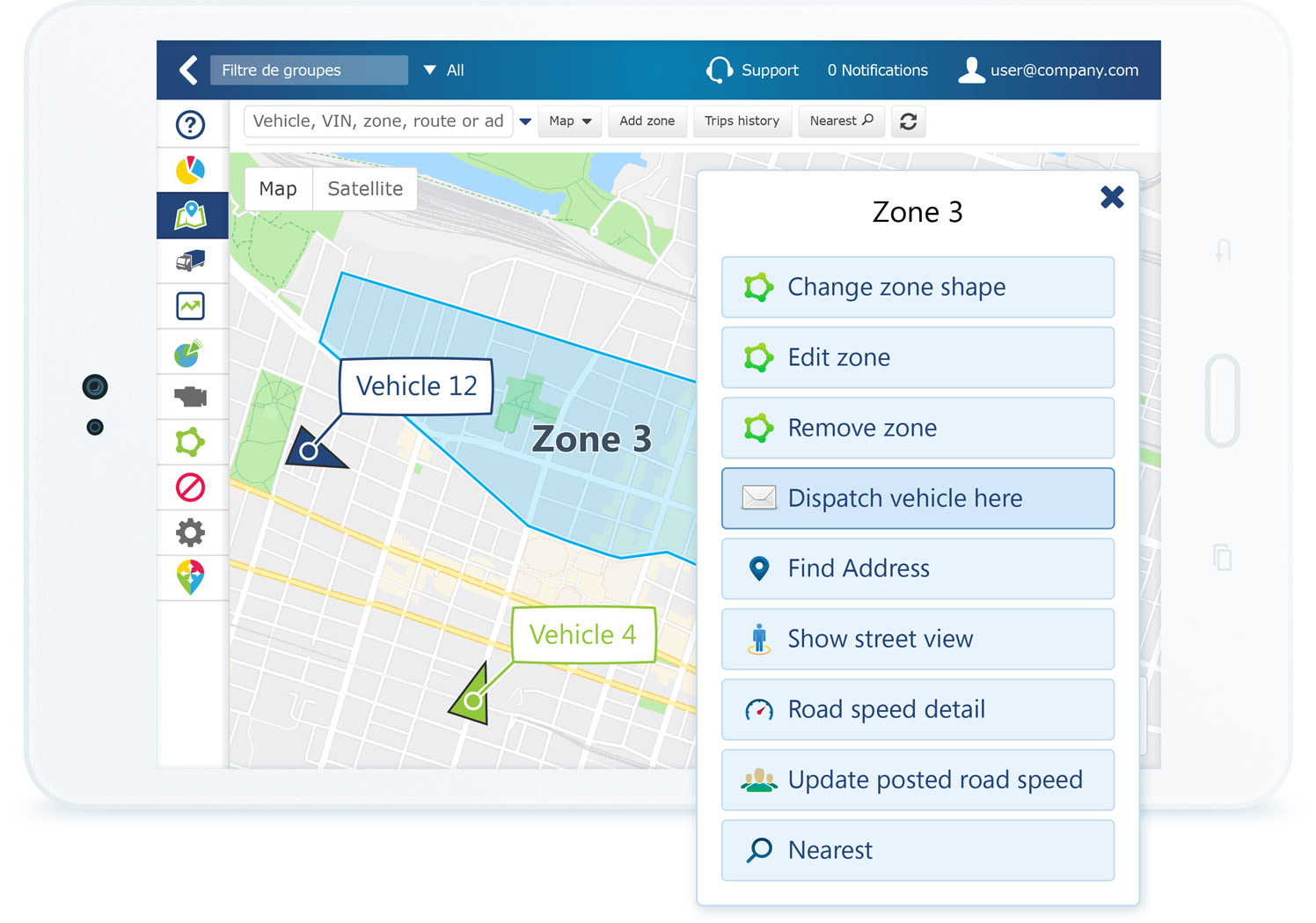 ---
Fleet Routing and dispatching solutions from Geotab Marketplace
Improve operational efficiency by assigning and fleet dispatching routes to your drivers in real-time to ensure accurate pickups, deliveries, and returns. Solutions include hazard alert services, delivery tracking, and dynamic routing tools.
---
Commonly asked questions about fleet routing
What is fleet route optimisation?
Fleet route optimisation is a process for achieving maximum productivity by making routes as efficient as possible, saving on travel time and miles driven. This fleet routing and dispatch process can be simplified using fleet route management software, which enables you to plan and optimise hundreds of routes in minutes. Some solutions now enable dispatchers to allocate new jobs to drivers while they are out on the road, highlighting the most suitable candidates from a mileage and travel time perspective and bearing in mind parameters such as driving time status.
What features make Geotab routing and dispatch software right for my fleet?
Geotab's fleet route management software helps you achieve maximum productivity by saving on travel time and miles driven. They make planning routes quick and effortless and let you create a series of stops where vehicles are expected to provide a service or make a delivery or pickup. With Geotab, you can also add zones for closer monitoring and alerts to make your route more efficient and save time and fuel. Then, when plans change at the last minute, with MyGeotab you can dispatch new jobs to drivers in real-time, selecting the vehicle that can get the job completed the fastest, with the least travel distance — and bearing in mind considerations such as remaining driving hours.

With Geotab's routing and dispatching software, you can then identify improvement areas in your day-to-day fleet operations.
What is fleet routing scheduling and dispatching software?
Fleet dispatch routing software and scheduling gives you the ability to:
Tighten up routes to increase your fleet's productivity
Create efficient routes and assign vehicles
Set up custom zones
Review missed stops or stops made out of order
Compare planned versus actual arrival times and stop duration
View travel time and time spent in designated zones
What are the benefits of Geotab's route optimisation and dispatching solution?
Routing has proven to be one of the most important features in fleet management and has the potential to provide fleets with significant fuel savings. Geotab's fleet route optimisation and dispatching solution can significantly increase the efficiency and productivity of the fleet while simultaneously reducing costs.
Does Geotab software allow for multi-stop route planning?
Geotab and its Marketplace Partners offer multiple solutions for fleet route planning, including multi-stop routing. Visit our Marketplace to see our integrated routing and dispatching software tools that can improve operational efficiency for multi-stop fleet operations.
What are the advantages of transport route optimisation software?
Route planning has proven to be one of the most important functions of fleet management. You can significantly increase the efficiency and productivity of a fleet while reducing costs with fleet route planning software.
How do I select a transport route?
The MyGeotab platform provides an intuitive way to dispatch vehicles to specific locations using zones and integration with third-party route planning devices. In MyGeotab, dispatches are managed by obtaining zone addresses and sending those addresses to the third-party routing device.
Why do I need route optimisation?
Route optimisation is one of the most important features in your fleet management and has the potential to provide significant fuel savings. Geotab's fleet routing and shipment optimisation solution can significantly increase efficiency and productivity while simultaneously reducing costs. Investing in fleet route planning software saves your company money in the long run.
What other fleet management solutions does Geotab offer?
Geotab offers many other fleet management solutions, particularly to help with productivity, optimisation, safety, sustainability, fleet compliance and future-proofing.

To learn more about Geotab solutions, visit our Fleet Management Software Solutions page.
Which sectors does Geotab work with?
Geotab works with multiple industries and is continuously evolving to provide additional support. To see the full list of sectors we currently work with, visit our Industries page.
Ready to enhance your fleet route management?
Let us show you how simple it is to use our web-based software and fleet vehicle tracking devices to manage your fleet routing and dispatching.