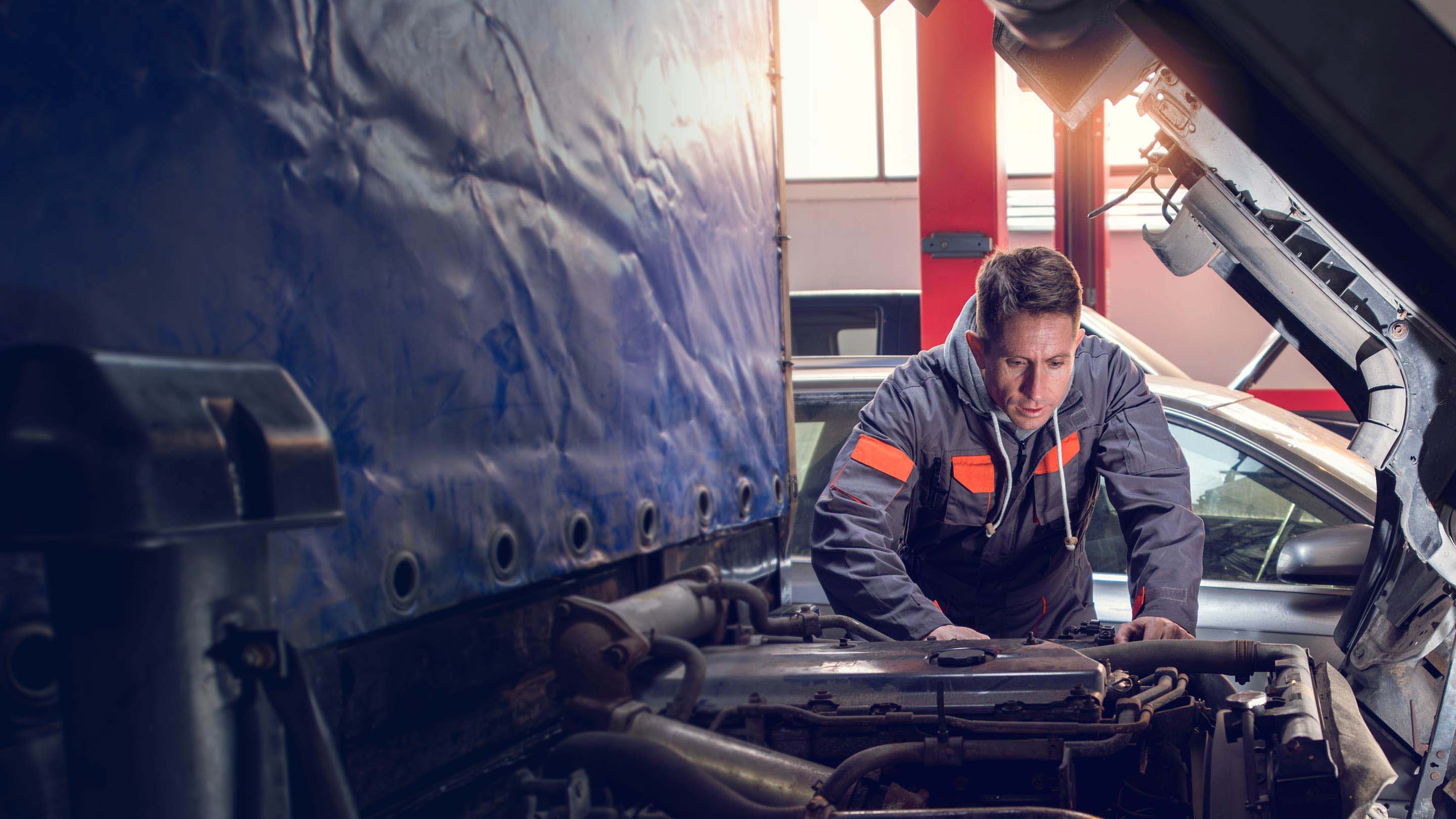 Proactive fleet maintenance software
Maximise uptime by targeting maintenance to your most at-risk vehicles through fleet maintenance software.
Request a demo
Prioritise the vehicles that need maintenance attention
With Geotab's fleet maintenance software platform, you can pull engine fault codes or analyse many other data points to identify which vehicles need your mechanic's help first. With this fleet maintenance solution, maintenance companies can target priority fleet vehicles and move from simply scheduled servicing to proactive fleet maintenance, boosting the productivity of both the fleet and the support crew.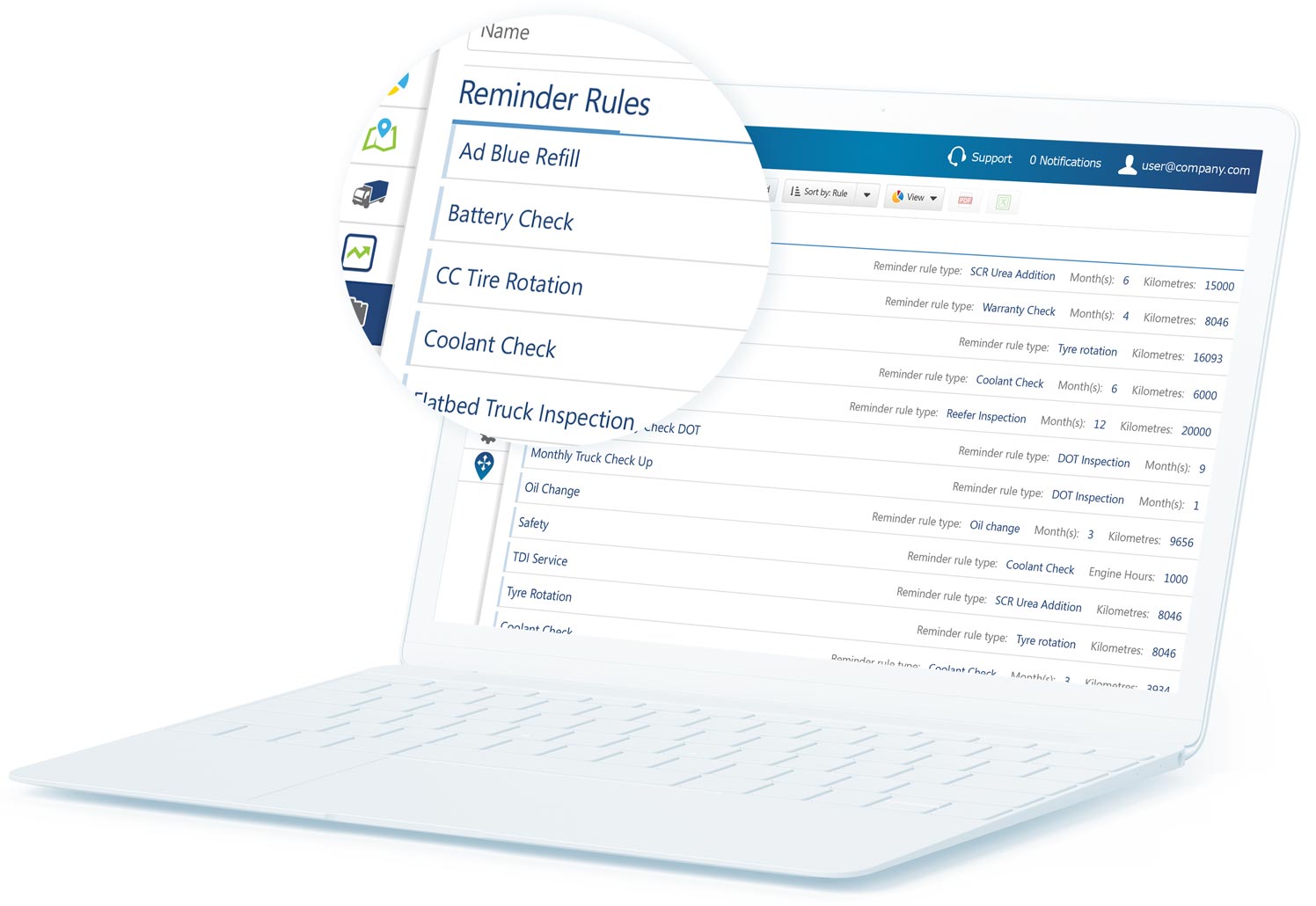 Prevent excessive fleet vehicle wear
How the vehicle is driven has a major impact on its condition. Harsh acceleration, cornering and braking can all cause increased wear and tear on your assets, impacting business profitability. With our fleet maintenance solutions, you can intervene when it comes to unsafe or risky drivers, simply by using Geotab's driver scorecard and driver coaching options, available through our fleet maintenance software.
Detect fleet maintenance problems and avoid disaster
Monitoring engine fault codes collected by the Geotab vehicle tracking GO device lets you know when it's time to intervene. Missing such a fault could mean costly fleet repairs or vehicle down-time. Every moment off the road is an under-utilised fleet asset. But with fleet maintenance software, you can have fault codes emailed to you so you can get ahead of the issues.
---
Fleet maintenance tracking made smarter, not harder
Diagnosing faults and taking corrective action has never been easier thanks to our fleet maintenance tracking software. Fleet managers can easily access fault data directly through the cloud-based vehicle and fleet maintenance software, recorded by the in-vehicle tracking device. Share this information with your servicing team to target your fleet vehicle maintenance before a problem occurs.
Remote vehicle diagnostics
Inventory management
Scheduling maintenance and automated reminder notifications
Integrate to your work order systems
Generate maintenance costing reports and control expenditure
See our solutions in action
---
Diagnostic and fleet maintenance solutions from Geotab Marketplace
Maximise uptime by ensuring your vehicles are operating at their peak. Our fleet maintenance solutions include predictive maintenance, remote diagnostics, collision reconstruction and maintenance management.
---
Commonly asked fleet maintenance questions
What is fleet maintenance?
Preventative and predictive maintenance are two types of fleet maintenance that are commonly used. Preventative maintenance is routine maintenance performed on a vehicle to avoid breakdowns. When signs show that prompt intervention will prevent breakdowns and costly repairs, predictive maintenance is carried out. Fleets can keep more of their vehicles if they use both of these strategies.
How does Geotab's fleet maintenance software work?
With active diagnostic problems and critical engine data available through Geotab's fleet maintenance software, fleet managers can swiftly identify issues and prioritise vehicle repairs. By focusing on predictive engine health, you may save time and money.
What are the benefits of fleet maintenance software?
Geotab makes managing fleet maintenance and diagnostics easy. We offer the following tools to help you manage all of your fleet maintenance and diagnostic needs:

• Remote diagnostics
• Inventory management
• Predictive maintenance
• Maintenance scheduling and reminders
• Work order management
• Maintenance cost reports
How does fleet maintenance software improve fleet safety?
Driver conduct has a significant impact on the need for fleet vehicle maintenance. A motorist who repeatedly participates in hard braking, speeding or other risky driving behaviour, for example, might cause a vehicle's wear and tear to be accelerated.
With active diagnostic problems and critical engine data available through Geotab's fleet maintenance software, fleet managers can swiftly identify issues, prioritise vehicle repairs, and refine fleet safety. By focusing on predictive engine health, you save time and money.
How can fleet maintenance software save unwanted costs?
Fleet maintenance software can save on unwanted maintenance costs by prioritising the vehicles that need attention the most. Geotab's fleet maintenance tracking software can be used to pull engine problem codes and analyse a variety of other data points to determine which vehicles require your mechanic's assistance first. Prioritise vehicles and shift from reactive to proactive maintenance, increasing both the fleet's and support crew's productivity.
How do I set up a fleet maintenance program?
A fleet maintenance strategy is critical because it reduces downtime and increases income. You put your vehicles and drivers at a considerably higher risk of breakdowns and costly downtime if you don't have a maintenance programme in place. Setting up a fleet maintenance schedule also aids in keeping your vehicles in good working order, which can have a direct impact on fleet fuel management and overall fleet optimisation.
How can Geotab help improve maintenance for my fleets?
Geotab's fleet maintenance solution helps you to quickly identify issues and prioritise vehicle repairs with active diagnostic faults and critical engine data available through the MyGeotab fleet maintenance software.
This enables you to:
Increase fleet safety by providing vehicles your drivers can safely depend on
Control costs by predicting problems and preventing breakdowns from happening
Keep accurate records, allowing you to maintain service schedules and parts inventory with ease
What other fleet management solutions does Geotab offer?
Geotab offers many other fleet management solutions, particularly to help with productivity, optimization, safety, sustainability, compliance and future-proofing.
To learn more about Geotab solutions, visit our Fleet Management Software Solutions page.
How does driver behavior affect vehicle maintenance?
Driver behaviour plays an important role in reducing the need for fleet maintenance. For example, a driver who is constantly braking sharply, travelling at high speeds or performing other unsafe driving habits can cause accelerated wear to the vehicle.
Ready to increase vehicle uptime?
Let us show you how simple it is to use our web-based software and fleet tracking devices to streamline fleet maintenance.