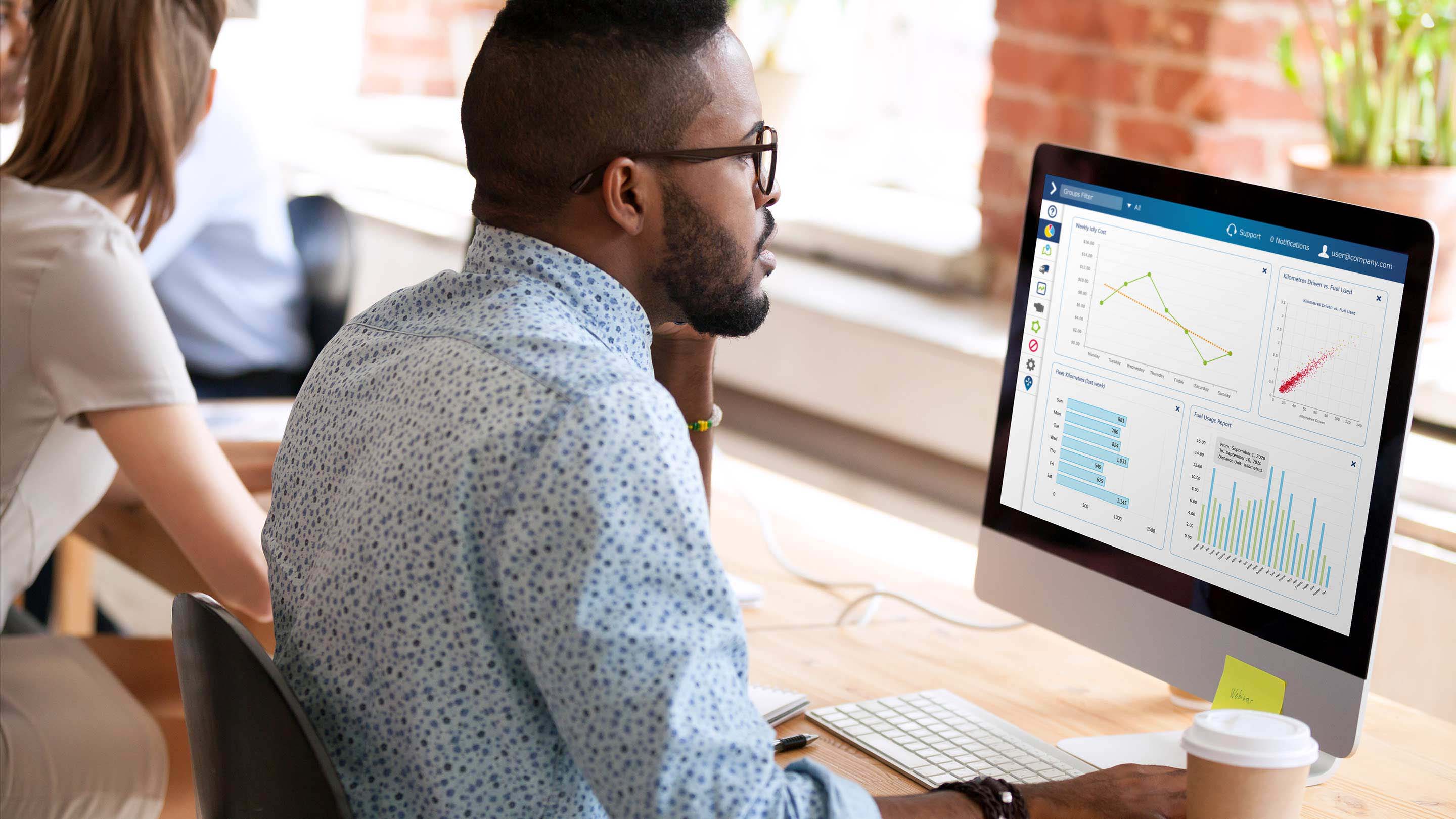 Powerful fleet management software
Use our fleet management software to manage your entire fleet's productivity, safety and performance in real time.
Request a demo
See software plans
Make data-driven decisions for your business with fleet management software
What is fleet management software? Well, Geotab's cloud-based fleet management software, MyGeotab, offers data analytics, reporting and live dashboards to help you make reliable decisions for your organisation. Choose from Base, Pro or ProPlus depending on the data you need from your connected fleet and let Geotab help you drive performance through its fleet management software for Australia.
---
Key software features
Understand fleet performance
Collect, analyse and report on fleet activity, to inform data-driven decision-making based on your fleet management system. Geotab's suite of standard reports provides critical insights on asset performance. Tailor the fleet system solution to your unique needs, with customisable reporting available as well.
Monitor driver behaviour for productivity and safety
With audible in-vehicle feedback and behaviour reporting back at base, you can use your fleet management system to intervene before risky behaviour becomes a bigger safety issue. This even includes individual driver monitoring in pooled vehicles, by expanding further with NFC Driver ID.
Keep your fleet on the road by reporting engine data
Collect engine RPM, check engine light, seat belt use, odometer, emissions, battery voltage and more as part of your fleet management tracking. Geotab helps you collect diagnostic data through its fleet vehicle management software to manage maintenance and take preventative measures before your assets are off the road and costing your business.
Live tracking and optimised routes
Locate vehicles in near real-time or analyse their trip history. With Active Tracking capabilities, you can use your fleet management system to route drivers around obstacles or send drivers planned routes to maximise their efficiency on the road, boosting productivity. Manage fuel consumption and driver hours, or generate notifications as drivers enter your customised geofencing zones. Allow personal trip confidentiality with Privacy Mode.
See the bigger picture with fleet integration
Geotab's SDK helps you incorporate the vast amounts of vehicle data we can collect into your other business systems. The Geotab Marketplace hosts a variety of third-party applications, or you can customise a new integration with our APIs. Extend your fleet management platform with other sources to improve efficiency and asset utilisation.
Customise your maps
Choose between map views, legends and custom map zone shapes and sizes to tailor the fleet management tracking solution to your needs. Combine collected vehicle information with your own business-relevant mapping to monitor your fleet in the field.
---
Grow with Geotab fleet management
Geotab's fleet management software solutions are scalable to any size business or can be expanded to specific applications. Our fleet management tracking platform provides the perfect foundation for growth. Integrate new software applications via our SDK and APIs, or extend the in-vehicle monitoring capabilities with our IOX expansion port. Monitor on-road sensors, driver safety and vehicle diagnostic information to meet the exact requirements of your growing fleet, all using fleet management software for Australia.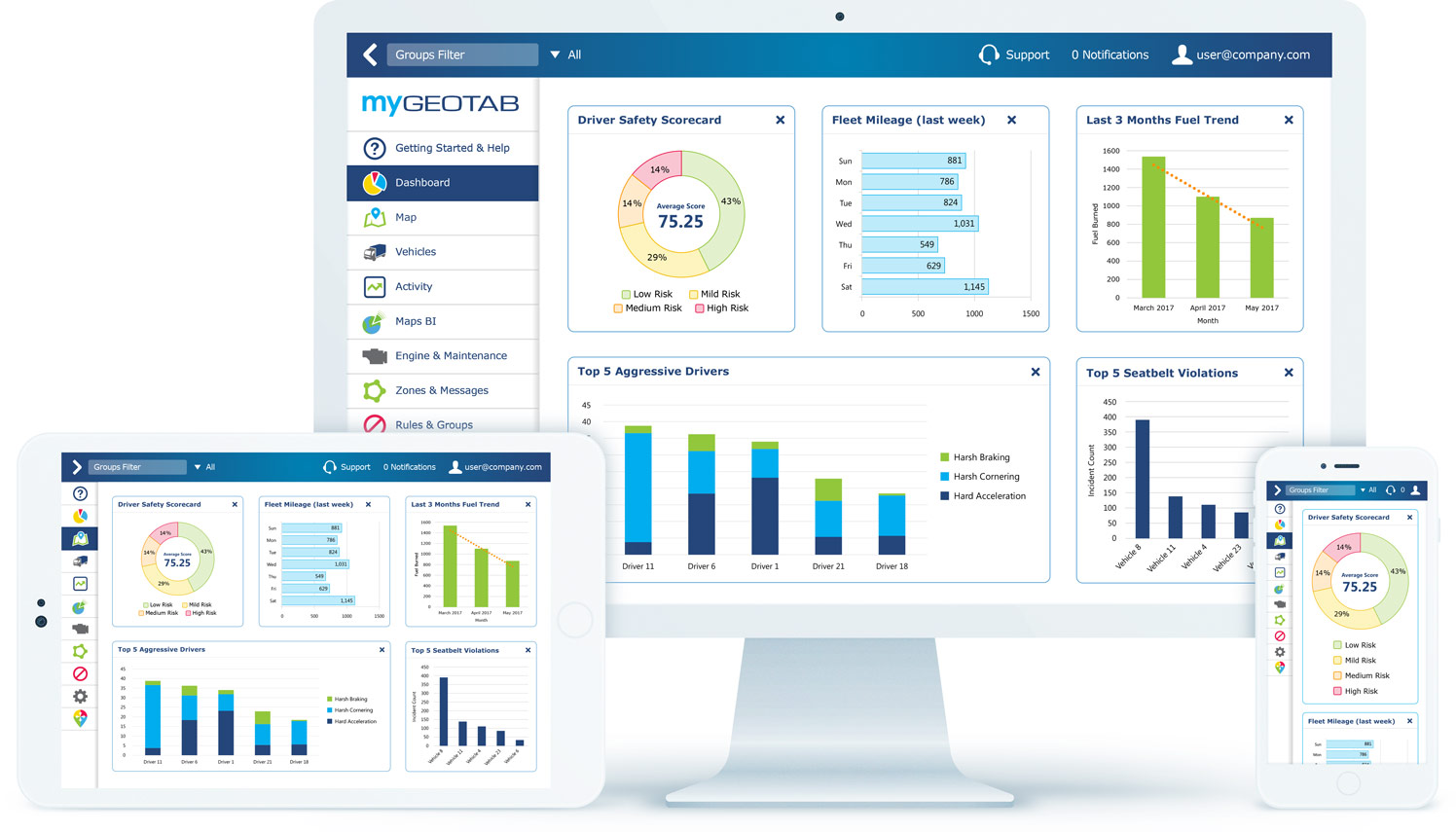 Simplify the management of your fleet
MyGeotab provides standard and customisable reporting and dashboards in its fleet tracking software to give you complete oversight. Monitor your customised dashboard to see key metrics as your fleet operates — use your fleet system to notice how driving behaviour, vehicle make and model and time of day all impact fuel consumption. MyGeotab is also available in several languages to help implement it for all team members across the globe.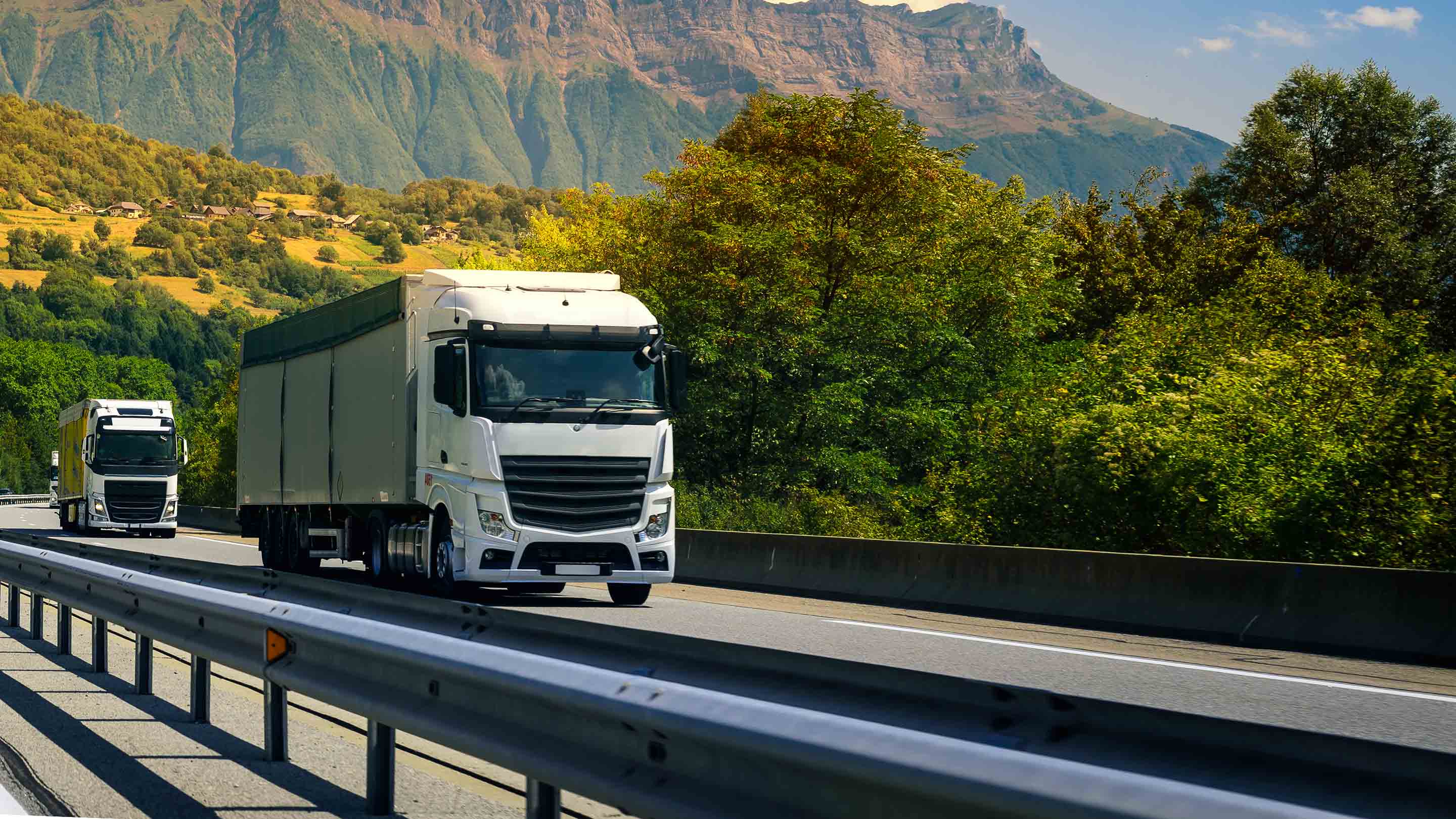 Powerful fleet management software to harness your data
MyGeotab offers reporting, benchmarking and data analysis to inform management decision-making. Use real-world data gathered using your fleet vehicle management software to improve driver safety and productivity, asset utility and the sustainability of your fleet. Expand the solution with software Add-Ins, for a comprehensive fleet management solution.
Standard reports to drive performance from day one
Customise reports to learn more about fleet's activity
Turn real-world data into useful insight
Explore the opportunities offered by Geotab Marketplace partners
Keep your drivers safe and your assets valuable by monitoring performance
Valuable fleet insight led by reliable data
Customise what data is collected from your connected vehicles with a simple on-off toggle in MyGeotab. Set up bespoke rules and geofencing zones to automate reporting and notifications as you operate the fleet. When you implement a rule to match your business policies and priorities, you can select your notification options, including email alerts, desktop notifications or even in-vehicle coaching and alerts.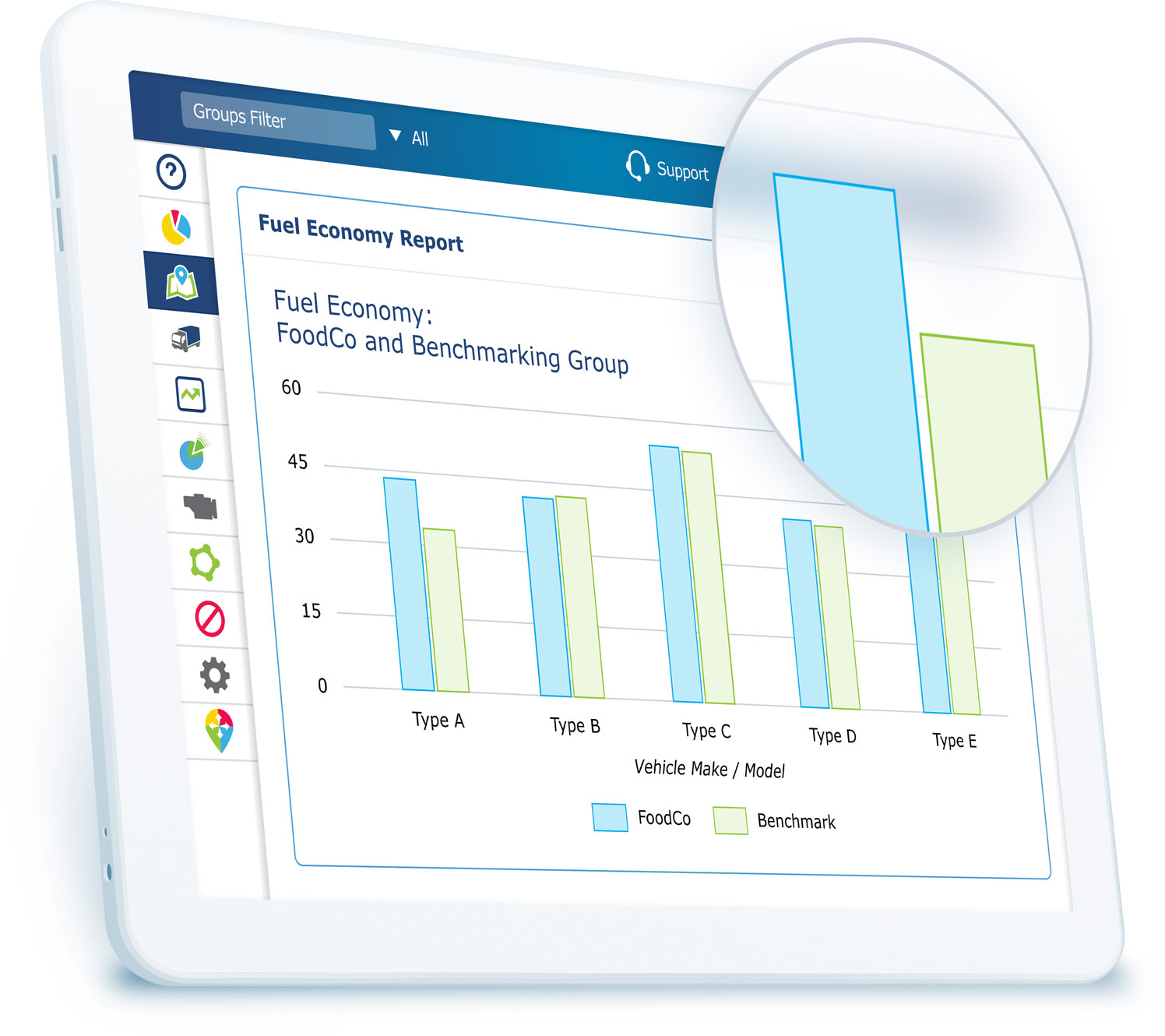 Compare fleet groups to identify problem areas
Use your fleet tracking software to build functional or geographic groups of fleet vehicles and evaluate performance within the fleet. For example, contrast fuel consumption for different cities or regional areas, or between different work groups. See how an environment or task influences operations, such as the impacts of hot and cold weather or distances travelled. Set benchmarks and identify opportunities for optimisation and efficiency.
---
---
Commonly asked questions
What is Geotab's fleet management software?
MyGeotab is a web-based fleet management software that displays all your vehicle and driver information in one place. It can be used to make quicker, better-informed decisions based on real-time data insights. It offers data analytics, reporting, and live dashboards to help you make reliable decisions for your organisation.
What is the advantage of MyGeotab's fleet management system?
MyGeotab's fleet management system offers many key advantages. With options to scale our solutions to any business size and integrate new software applications via our SDK and APIs, MyGeotab is built for all your fleet's needs.

To give you maximum control, MyGeotab delivers standard and customizable reporting and dashboards. As your fleet operates, keep an eye on your customised dashboard to view critical indicators, such as how driving behaviour, vehicle make and model and time of day all affect fuel use. MyGeotab is also accessible in a variety of languages to make it easier to use for all team members throughout the world.
What are the key fleet management software features?
Key fleet managements features for the MyGeotab software include:
• Fleet performance analytics
• Driver behaviour monitoring for productivity and safety
• Engine data reporting
• Live tracking and optimised routes
• Fleet integration tools
• Customised maps
To learn more about MyGeotab and our fleet management software features,
Request a demo
today.
What is fleet management software?
Fleet management software is a digital tool used to house data pulled from vehicles equipped with telematics devices. It provides detailed reports and insights based on vehicle data to help you better understand fleet performance. Geotab's software solution, MyGeotab, keeps an eye on your customised dashboard to observe crucial indicators like driving behaviour, vehicle type and model and time of day.
What does a fleet management system do?
Fleet management systems work to provide actionable insights into vehicle data by pulling information directly from a connected car and into a fleet-specific dashboard.
What are the Geotab fleet management software packages?
For fleets all across the world, Geotab offers a variety of telematics software packages. In Australia, there are three packages to choose from: Base, Pro and ProPlus. Each plan has its own set of possibilities. Visit our
Software Packages
plan page to see a complete list of our plans and the features they cover.
What extra features does Pro and ProPlus offer?
The Geotab Pro and ProPlus plans offer all of the features available on the Base plan (GPS location, VIN, driver ID, basic IOX support, harsh braking detection and more) as well as a few additional features.

Geotab's Pro plan offers the additional features of engine and accelerometer data as well as EV support while the ProPlus plan offers active tracking, lifetime device warranty, premium services and advanced IOX support on top of all of the offerings from the other plans.
---
Ready to optimise your fleet?
Let us show you how simple it is to use our web-based software and fleet tracking devices to manage your fleet.