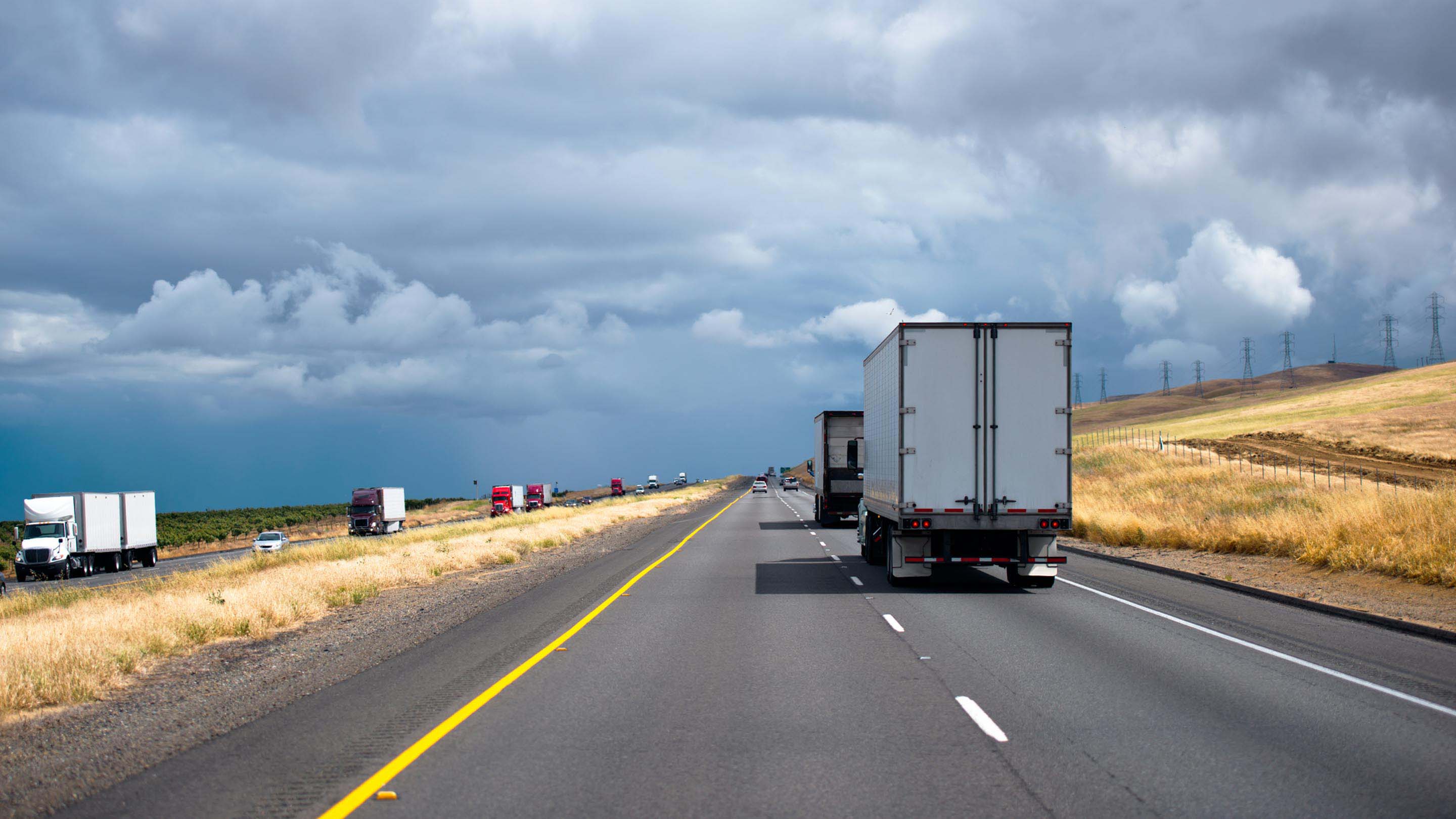 Tips for creating an effective telematics RFP
---
A telematics checklist to help make the RFP writing process easier.
Writing a telematics Request for Proposal (RFP) is a huge and often challenging task for any fleet. Selecting the right provider takes a lot of thoughtful planning and requires the collaboration of many stakeholders.
The first step of the RFP process — defining the key requirements — is critical to your future success. It's important to consider your fleet needs today, and also take the long view and forecast the capabilities you will need in the future as your fleet evolves.
The questions you will want to address in your RFP can range from the basics:
What challenges are your fleet or drivers facing that you need to find a solution for?
How many telematics devices will you need? Will one type of device work for all your needs?
What kind of vehicle or driving metrics would you like to track and report on?
To the more complex:
Would you like to integrate your telematics data with any other internal management systems or accounting software?
Do you need the telematics system to work with any industry-specific hardware or software?
Will you choose to add electric vehicles to your fleet?
To help you in this effort, we have put together a telematics RFP preparation checklist.
What to include in your telematics RFP
When defining your fleet goals, it may be helpful to consider your needs in the following areas: productivity, safety, fleet optimization, compliance, expandability, and sustainability. To help differentiate between providers, other categories to consider adding to the RFP are support, implementation, project management and security — with a specific emphasis on cybersecurity. Seeking out a solution that emphasizes cybersecurity in the short and long run should be a key component of your RFP.
We provide more information for each of the areas below:
Security
Cybersecurity is an executive responsibility and therefore is the foundation of your foundation and cannot be overlooked for any RFP. Do not make any assumptions that all responses to your RFP will be secure...from updating firmware in your vehicles over the air, to encrypting data in the device before and during cellular transmission, to using best software practices for database user access, make sure that you have created a dedicated section to cover cybersecurity standards, testing, data security and database management.
If government, FedRAMP certification
Two factor authentication (2FA) or multi-factor authentication (MFA)
Strong and robust security policies
Geotab has published a white paper on this topic that reviews Best practices for telematics cybersecurity and questions to ask providers. Read the white paper here.
The National Motor Freight Traffic Association (NMFTA) created telematics procurement RFP templates for carriers to help raise the bar on cybersecurity. Read about their initiatives for the trucking industry in this article.
Productivity of your assets and people
Adding productivity-focused features into your RFP, such as real-time GPS tracking and asset utilization, will ensure you have the tools you need to maximize fleet uptime, balance your field activity with the most cost effective vehicle, asset and people strategies.
Zone requirements:
Create different zone types to reflect where and how assets are used and domiciled
Associating zones with any privacy concerns for zone labels, individual or group user access
Trip requirements:
True trip miles calculated from odometer readings
Accurate trip start and location times based on ignition for electric and combustion vehicles
Calculate trip activity within 10 seconds of vehicles emerging from indoor or overnight parking
Other points to include:
Automate the data from all stop activity for reports and enable access by API with CRM or ERP systems
Define your expectation for accuracy and quality in time recording +/- seconds, not minutes, no missed stops or activity
Multiple event notification options including email, web service call, text, security user desktop alerts
Accurate breadcrumb trail recording of trips viewed with multiple map options to view trips on streets or with street image views
Alerts and notifications delivered to responsible management users for under-used, parked or missing assets
Audit log reports of personal versus business trips for tax log preparation
Real-time active tracking for police, first responder fleet vehicles
Safety
Common dangerous behaviors, like speeding and distracted driving, can be monitored, driver's coached, and manager escalations automated. Prioritizing safety in your RFP will support your organization's goals for employee health and safety, while also helping reduce the impacts of harsh driving, like costly wear and tear on vehicles. In a COVID-19 recovery, you may specify specific social distancing measures including vehicle condition inspection as part of your safety policy.
Points to include:
Pre and Post Trip Vehicle Inspection Reporting with centralized data for management record keeping
Basic safe driving reporting through more advanced driver coaching
Identification of a driver matched to a vehicle's daily use
In-vehicle driver alert options ranging from audible sounds to pre-designated verbal coaching
Risk management summary or detailed reports of driver and vehicle performance
User region, zone, or groups specific speeding thresholds for reports, coaching and/or notifications
Include seat belt use safety policy in driver risk summaries
Include driving in reverse (backing into a parking space) in driver risk summaries
Include aggressive driving acceleration, braking and swerving in driver risk summaries
Instant collision notifications for low speed damage when vehicle is parked and unattended
Instant collision notifications for collisions with a driver in vehicle including detailed collision reconstruction
There are different types of driver alerts available from beeps to spoken alerts. Geotab's GO TALK verbal coaching solution delivers pre-recorded phrases inside the vehicle which helps correct driving behavior on-the-spot during trips. GO TALK is available including speeding over posted speed limits on Geotab ProPlus.
Fleet optimization
Managing fuel consumption and maintenance can help minimize costs and identify how cost effective different vehicle classes are for their purpose in the field. Keeping track of specific variables, such as idling, electric vehicle suitability and benchmarking them against similar fleets, can help you implement data-driven, cost-saving strategies.
Points to include:
Ability to benchmark fleet cost of operating versus alternative fuel and vehicle types
Engine data monitoring for priority preventative repairs
True Odometer Readings accessible by API to feed other fleet management systems
12V cranking battery Voltage health and notifications to prevent jumpstarts
Fuel efficiency reports
Vehicle maintenance reports
Idling cost
Compatible with data exchange into fleet management systems
Compliance
Electronic logs and integrated vehicle inspection apps for drivers can streamline fleet compliance processes in the field. Keeping compliance features in mind when creating your RFP will help you find tools to strengthen compliance to regulations, from hours-of-service to fuel tax reporting.
Points to include:
Electronic logging: ELD USA, ELD Canada 2021 compatible, tachograph (Europe, Latin America)
Duty of Care Reports
IFTA and IRP mileage reporting Vehicle inspection mobile app for drivers
Expandability
An important question to ask in addition to "what can the software do?" is "how can the software help us work better?" Integration or expandability enables fleets to automate and accelerate their operations. For example, will the solution allow you to customize or build a mobile app for workers?
Points to include:
IFTA and IRP mileage reporting tax reporting support
Vehicle inspection mobile app for drivers
System enables expansion
APIs and software development kit available for free
Hardware Add-Ons
Software Add-Ins
Third-party device integration
Integration with OEMs
Ability to integrate into different FMIS systems
Sustainability / Electric Vehicles
Highlighting sustainability on your RFP will help you focus on minimizing harmful emissions or managing electric vehicles. Tools exist which can help you improve routing and reduce idling, as well as calculate the feasibility of switching some or all of your fleet to EVs.
Points to include:
Track CO2 emissions
Fuel consumption reports
Recycling program for devices
If you have or will be acquiring electric vehicles in your fleet, ask for these features:
Electric Vehicle Suitability Assessment Tool
EV model support
EV basic monitoring such as EV State of Charge reporting and Real-time charging status
Driving energy data monitoring
Charging data
EV alerts and notifications
For a complete breakdown of the features you need to include in your RFP for EVs, please refer to the Telematics RFP checklist for EV support. As well, read about the State of California procurement process for telematics, which included zero emission vehicle (ZEV) reporting for fleet sustainability requirements.
Support
Acquiring technology is one thing, but maximizing your use of it and getting the most value from your investment requires a robust support system, such as installation or software help, troubleshooting assistance, and training programs.
Points to include:
Support services from experts
Community forum
Videos and Blog articles
Lifetime device warranty
Roadside Assistance
Learn more
Creating a comprehensive telematics RFP that covers your current and future fleet management goals will help you find the provider that best suits your needs, while supporting success in the long run.
This article presents an overview of telematics features. To learn more about government fleet management and specific solutions for government agencies, go to geotab.com/public-works and read our post on winter operations.
Contributors:
Shaista Khan, RFP Manager, Geotab Inc.
Karyne Wee, Global RFP Manager, Geotab Inc.
---
If you liked this post, let us know!
---
Disclaimer
Geotab's blog posts are intended to provide information and encourage discussion on topics of interest to the telematics community at large. Geotab is not providing technical, professional or legal advice through these blog posts. While every effort has been made to ensure the information in this blog post is timely and accurate, errors and omissions may occur, and the information presented here may become out-of-date with the passage of time.
Get industry tips and insights
Sign up for monthly news and tips from our award-winning fleet management blog. You can unsubscribe at any time.
Republish this article for free
Other posts you might like