Managing fleet costs and finding savings with telematics
Published on May 7, 2020 in Fleet Management by Michael Cruces
---
Fleet costs can be monitored, managed and minimized using insights from telematics technology.
Telematics can have a significant impact on your business's bottom line. By implementing a fleet management program with Geotab's tracking devices, you can gather the information that helps you monitor fleet costs.
Existing fleet trends can give you a strong indication of future expenses, assisting with budgeting. You can also monitor activity outside expectation, as well as target problem areas to reduce your costs and improve efficiency. In this article, we discuss a variety of financial benefits you can realise by working with Geotab.
See also:
• Driver ID in the connected fleet
• How to manage fuel consumption
• Fleet management in the Outback
Use your fleet's telematics data to analyse and validate business expenses
Operating your fleet costs money. But like most businesses, you likely budget and forecast those expenses as a part of your day-to-day operations.
Geotab's fleet management software helps you calculate actual operating expenses, to compare these with your budgets. Outlier expenses may show as significant disparities, and indicate where savings can be made.
The unique open platform offered via Geotab Marketplace also lets you integrate fuel card data directly into the platform, helping you manage fuel expenses.
See also: Driver behavior: Managing your risk and lowering insurance premiums
Manage risks to reduce insurance costs
Telematics helps you manage driver behaviour and reduce risk in fleet operations. With Geotab fleet management you can pull data from collisions to help you assign causes and risks.
In managing your fleet you naturally assume a certain frequency and cost of collisions and repair necessary. Insurers use this data to calculate your premiums. Integrating Geotab's vehicle tracking devices helps you use proven, lived data rather than assumptions, potentially lowering your insurance premiums.
As collision rates decrease through safer driving, you can prove this to your insurance provider, and negotiate decreased expense.
Should a collision occur, Geotab can also use telematics data to provide not only notifications to your response personnel, but a collision reconstruction report. This can be used by insurers to assign responsibility or potentially help prove your well-trained drivers were not at fault.
Plan maintenance schedules and save
Your vehicle schedules, for ease of management, might be based on time since service, rather than kilometres travelled. For example, you might be changing oil every 6 or 12 months. This means the lesser-used assets might be overserviced, costing you money.
By leveraging the detail of telematics data, you can move this to reflect actual maintenance needs. More accurate scheduled maintenance can therefore save you money, targeting service to the most necessary vehicles and reducing waste.
Geotab's fleet tracking devices can also detect harsh use of the vehicle, which impacts its condition over time. Harsh braking can wear down brake pads, for example, reducing their life. By interceding with driver behaviour, you can reduce bad habits and again save your business operating expenses by replacing parts less frequently.
Manage asset acquisition and disposal
You define your vehicle assets' useful lifetime, and then dispose of them on the market. Integrating Geotab's fleet management system into your operations helps in two ways:
Shift useful lifetime from time-based to lived usage. By using distance travelled or engine hours as a measure of productivity expected from your fleets, you can reduce the frequency of asset turnover of your less-used vehicles, allowing you to invest in other areas of your business, and
Decreasing wear and tear by reducing harsh driving improves the condition of these assets. This helps you keep disposal value high, returning much needed funds to your investment pools.
Further, Geotab's tracking devices generate data that can let you assess the productivity of your fleet, and help you accurately assess when to increase or decrease your asset portfolio and even your employee headcount.
Vehicles are covering more distance, serving more customers? Averaging distance travelled or customer site visits per day could indicate a need to invest in business growth.
Vehicles spending more time at base, being less productive? You could be able to scale back to reinvigorate the customer portfolio, or address seasonality.
Reduce fuel consumed by idling
Fuel consumption is a major expense in fleet management, and time spent idling is costing you money. In some cases, idling can consume as much as 7L per hour. Fuel consumption is also impacted by load, accessories (such as refrigeration), and ambient temperature — a refrigerated semi-trailer on a hot Australian day of course burns far more fuel than a passenger car! Every vehicle in your fleet idling for even an hour a week could be costing your business thousands of dollars a year.
Beyond that, excessive idling is an unnecessary increase on engine hours, impacting wear and tear, and maintenance needs, without being more productive.
Integrating Geotab's fleet management into your vehicles will help you monitor and report on idling, allowing you to adjust policies for when a driver should turn off ignition, and coach drivers to save you money.
To alert drivers to excessive idling, Geotab's unique platform can be expanded to include buzzers or the spoken notices of the GO TALK, and remind drivers they're burning precious fuel.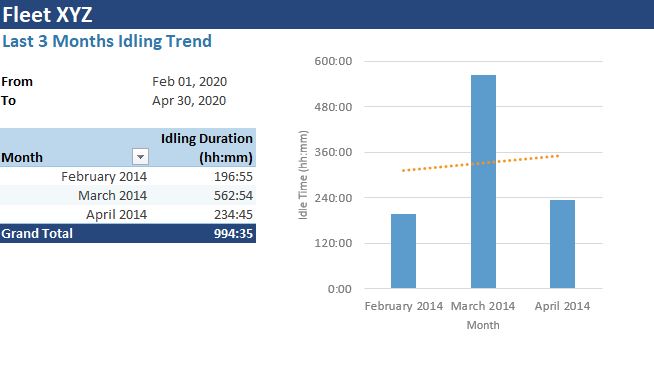 Conclusion
Fleets can use telematics to tackle fleet costs related to help manage risk, plan maintenance, reduce fuel use, and much more. To learn more about Geotab's solutions for Australian fleets, please contact us.
---
If you liked this post, let us know!
---
Disclaimer
Geotab's blog posts are intended to provide information and encourage discussion on topics of interest to the telematics community at large. Geotab is not providing technical, professional or legal advice through these blog posts. While every effort has been made to ensure the information in this blog post is timely and accurate, errors and omissions may occur, and the information presented here may become out-of-date with the passage of time.
Subscribe to the Geotab Blog
Sign up for monthly news and tips from our award-winning fleet management blog. You can unsubscribe at any time.
Other posts you might like