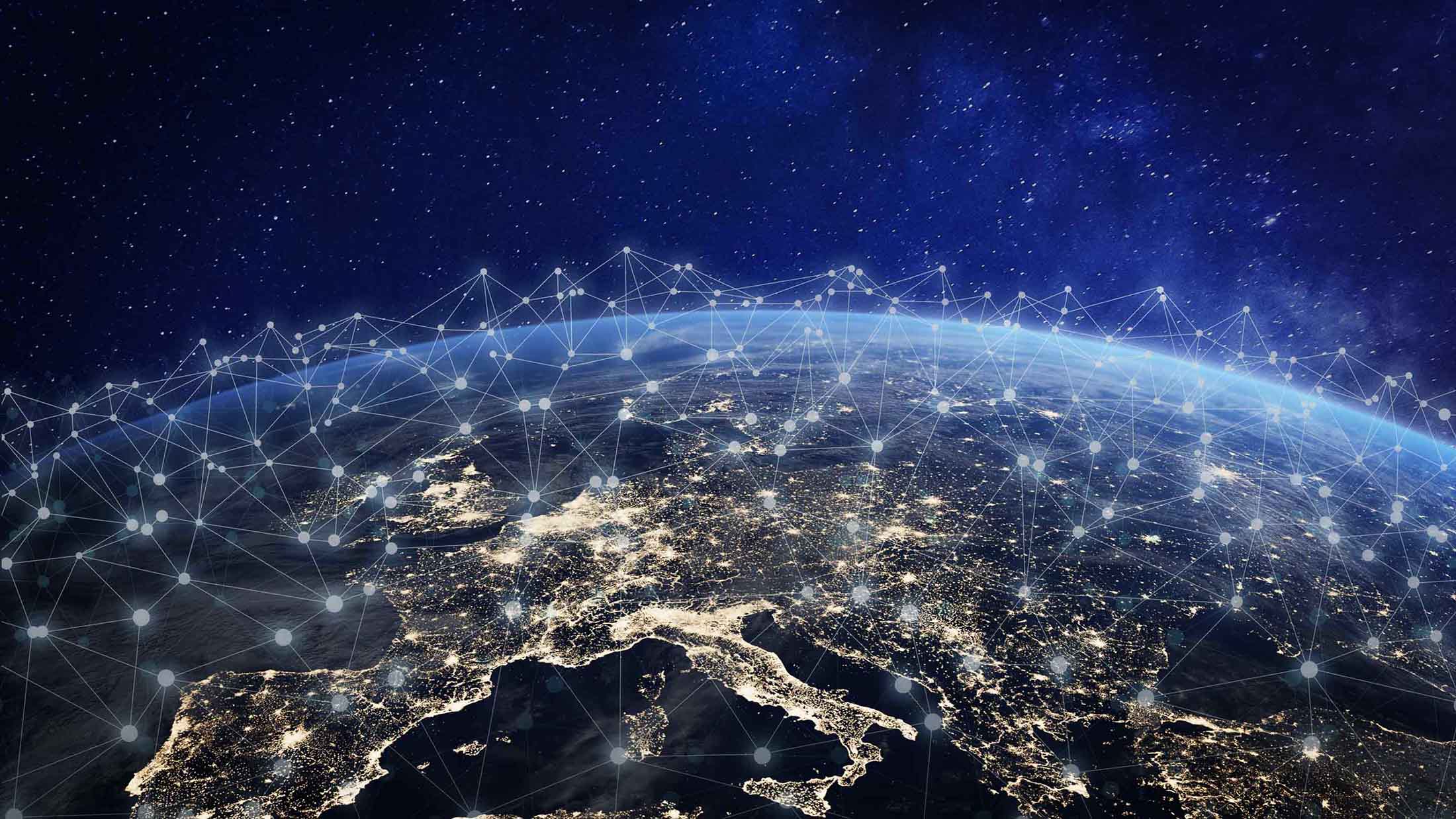 Fleet maintenance woes? Automation is the answer
---
Ignoring fleet maintenance can be a costly mistake. Learn how to set alerts and reminders to stay organized and extend the lifespan of your vehicles.
Imagine you're the fleet manager of a 30 vehicle fleet. One of your drivers just called asking you to drive his truck over to him. You grab the keys off the rack and hop into the truck. While you're driving, you notice the sticker showing "Next Oil Change Due: 66,139." However, the truck's odometer is reading 72,000. Your heart sinks. The truck is 4,000 miles overdue for an oil change. Has this ever happened to you?
You may ask yourself: "How can I know about these maintenance events before it's too late?" The answer is automation. With alerts and reminders, you can stay informed and practice proactive fleet maintenance.
See also: 4 must-have reports for heavy equipment maintenance managers
What are maintenance events?
Maintenance events vary from a basic oil change to a full (Department of Transportation) DOT safety inspection. The most common maintenance events are oil changes and air filter replacements.
However, even instances such as a vehicle registration can be something you need to be reminded on in order to maintain a vehicle's ability to legally operate on the road. These events are important to daily operations of any sized fleet, and cannot be ignored by any means.
See also: Quick guide to preventative maintenance planning for fleets
Why is preventative fleet maintenance important?
Ignoring maintenance events will almost always lead to costly repercussions. For example, if you do not regularly get a vehicle's oil changed, this can cause an immense amount of wear and tear on the engine. The parts of the engine get significantly hotter due to friction, and could ultimately result in engine problems.
The cost of ignoring these maintenance events will always be much greater than the cost of acknowledging them, so addressing these events in a timely fashion is a must.
Taking preventative measures to eliminate the possibility of maintenance problems down the road will invariably pay off for your fleet in uptime and dollars saved. Geotab's Maintenance Reminder feature can greatly help you with this process.
See also: Top 3 tools for successful fleet maintenance in MyGeotab
The pros and cons of maintenance reminders
Pros of maintenance reminders:
Always be in the know — Receive regular friendly reminders, either through email or text, to be alerted when a vehicle is almost due for a maintenance event. This will help you actively prevent maintenance issues from affecting your fleet and eliminate the possibility of unprecedented costly vehicle problems down the road.
Increase the lifespan of your fleet — Healthier vehicles lead to greater productivity. Vehicle downtime directly affects a vehicle's ability to generate revenue. Eliminating unnecessary downtime will help your company maximize the revenue stemming from your fleet.
Predictive maintenance scheduling — Receiving early maintenance reminders can help you efficiently schedule necessary vehicle downtime to perform maintenance events and/or vehicle repairs.
Stay organized — Organize past maintenance events to keep track of your fleet's maintenance history. This can help you identify vehicle trends, which will further complement the preventative measures you are taking.
Cons of maintenance reminders:
Maintenance reminders 101
Geotab offers a very reliable maintenance reminder platform that can be used to track maintenance events for any and all kinds of vehicles. This feature can be set up to automatically remind you on all individual maintenance events for your entire fleet, regardless of their particular make, model, and size.
The main component for any maintenance event is the frequency for which it needs to be performed. The frequency determines the rule's conditions for each maintenance reminder. The Advanced Reminders report is a great tool that works in conjunction with the maintenance reminder rules feature.
In this walkthrough, I will show you how to create a custom version of this report that integrates Geotab's redirect feature. Generally speaking, adding a redirect function to any of your Geotab reports allows you to trigger an automatic emailed version of that report when certain criteria becomes true.
In this particular instance, adding a redirect function to an Advanced Reminders report results in the report only being emailed when there is at least one maintenance event to report. The main purpose for this is to mitigate the amount of maintenance reports you need to read. This way when you do receive a maintenance reminder report, you will know at least one of your scheduled maintenance events is upcoming and can address it accordingly.
Setting up a maintenance reminder rule in MyGeotab
The steps below will show you how to set up one maintenance reminder rule for your fleet. These steps can also be repeated for as many other maintenance reminder rules you wish to set up for automation.
1. Open your MyGeotab Database. Go to Engine & Maintenance > Reminders > Reminder Rules.
2. At the top of your screen, select the Add button.
3. In the Description textbox, input the name for your reminder rule.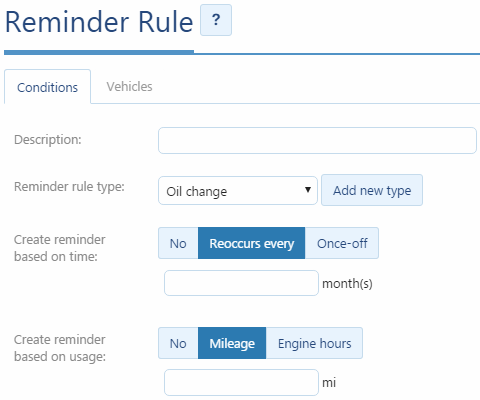 4. At Reminder rule type, select the type of rule this reminder is intended for, e.g. oil change.
If the default rule type options do not include the desired rule type, we can manually add it in. Click on the Add new type button > ADD > Input new Description > SAVE, and this new custom rule type will show under our listed rule type options to choose from.
The next step is to set your preference for whether this rule will be based off of time, usage, or both. When creating your own maintenance reminder rules you can be reminded by both a time and usage based frequency. In that event, you would leave both choices enabled. Time can be set to re-occur every X months or be a one-time reminder. Usage can be based on either Mileage or Engine Hours.
5. Select the Create reminder based on condition and input the frequency, e.g. every 4 months or input "3000 mi" to be reminded about your fleet's oil change every 3000 miles.
Tip: Group the vehicles in your fleet, independent of their make and size, by the frequency for which they require the maintenance event (e.g. a semi-truck and a sedan can be part of this same rule as long as they both require oil changes every 3000 miles).
6. Next, select the Vehicles tab. Now you can assign vehicles to the rule. Search for desired vehicles by entering the vehicle name or associated info in the search bar) or manually select them by clicking on the drop-down arrow next to the search bar. You can also click Select All if you want the rule to apply to all the vehicles in your database.
7. For each vehicle selected, MyGeotab will display the current date, odometer, and engine hours. To log the most recent maintenance, input the details for when the maintenance event was last performed (e.g. if a vehicle last had its oil changed at 41627 miles, you will want to input 41627 into the Odometer (mi) textbox).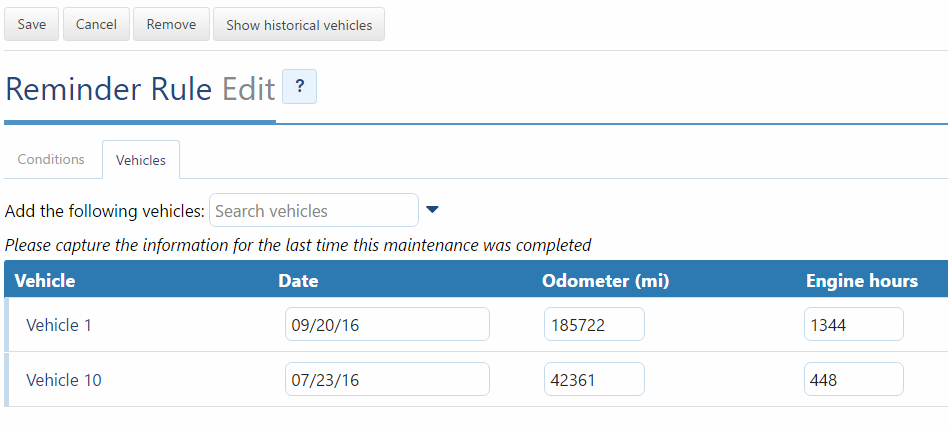 If the reminder rule is based on time, you will want to select the date of when the maintenance event was last performed. If the reminder is based on engine hours, you will want to input the engine hours reading of when the maintenance event was last performed.
8. After selecting all desired vehicles and entering their corresponding information, click the Save button.
Recording completed maintenance
You can also use MyGeotab to record maintenance completed, which may be important for you if your company policy requires you to document and verify maintenance activities.
To record a completed maintenance, go to Engine & Maintenance > Reminders > Reminders Due.
Select the Reminder Rule and Vehicle(s) which apply, the Due period, and click Apply Changes. The Maintenance History screen is displayed.
Click on the maintenance event that was completed, and enter the details of the maintenance, e.g. the date, odometer, and engine when it was completed. Click Save.

To view your Maintenance History, go to Engine & Maintenance > Reminders >Maintenance History.
Creating a maintenance reminder report
The process of creating a maintenance report has been dramatically simplified with the introduction of the Dynamic Vehicle Maintenance Reminder report available on the Geotab Marketplace. This is a free custom report that allows you to set exactly when you want to be reminded.
You can configure the report to be emailed out when specific due date, due distance, or due hours parameters are met. This helps you avoid missing important maintenance deadlines and keeps your time open for focusing on other tasks.
For instructions on importing the report into MyGeotab, please go to the Dynamic Vehicle Maintenance Reminder page.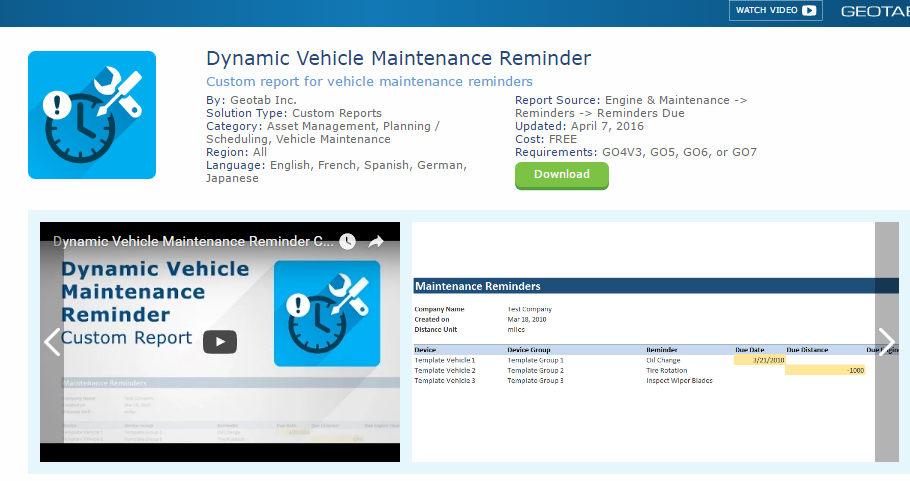 Implementing a preventative maintenance platform for your fleet will help you manage scheduled downtime and prevent unnecessary vehicle harm. Geotab's maintenance reminder feature is a user-friendly tool to accompany your fleet's preventative maintenance system. It can act as your always dependable source for upcoming maintenance events without you having to consciously think about every single maintenance instance for your entire fleet.
Take a deep dive into MyGeotab: Learn how to design a custom dashboard report
Related:
Why usage-based preventative maintenance is better for fleets
---
If you liked this post, let us know!
---
Disclaimer
Geotab's blog posts are intended to provide information and encourage discussion on topics of interest to the telematics community at large. Geotab is not providing technical, professional or legal advice through these blog posts. While every effort has been made to ensure the information in this blog post is timely and accurate, errors and omissions may occur, and the information presented here may become out-of-date with the passage of time.
Get industry tips and insights
Sign up for monthly news and tips from our award-winning fleet management blog. You can unsubscribe at any time.
Republish this article for free
Other posts you might like