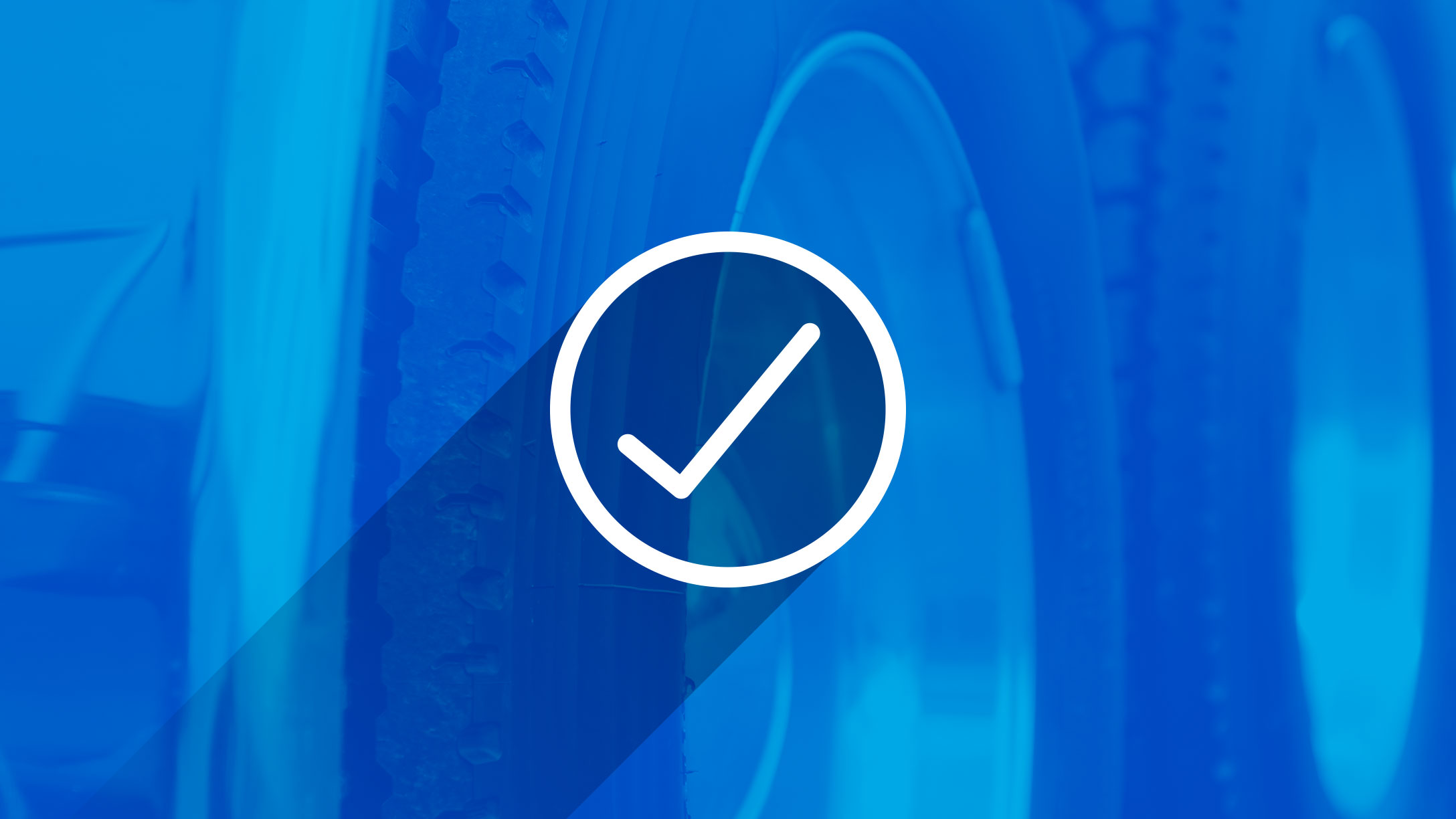 What is DVIR?
---
Learn all about DVIR - Driver Vehicle Inspection Reports.
A Driver Vehicle Inspection Report or DVIR, is a formal record confirming that a driver has completed an inspection on a commercial motor vehicle.
Inspections are carried out at the beginning of the day, before work begins, and also at the end of the day when driving is finished (called the pre-trip inspection and post-trip inspection). Vehicle inspections are an important part of a truck driver's daily routine and they are essential to keeping vehicles in good condition, while ensuring road safety and fleet compliance.
See also: Everything you need to know about bypass programs
Key facts about vehicle inspections
Vehicle Inspections (DVIRs) are a legal requirement in the United States.
Carriers must keep DVIRs on-site for three months from the date the report is submitted.
If a commercial vehicle fails an inspection, it can be removed immediately from the roads until the repair is complete. An out-of-service truck can cost a carrier $861 on average, not including any fines or repairs (CVSA).1
More than 3.5 million roadside safety inspections are conducted annually (FMCSA).
Almost 15 trucks or buses are inspected every minute in North America during the annual International Roadcheck.2
FMCSA estimates that commercial vehicle roadside inspections and programs prevented 9,000 injuries and 14,000 crashes.3
DVIR regulations
In the United States, completing a driver vehicle inspection report (DVIR) is a requirement based on federal regulations 49 CFR §396.11. Vehicle inspection rules also exist in other countries and jurisdictions, such as the province of Ontario in Canada.
In 2014, the Federal Motor Carrier Safety Administration (FMCSA) rescinded the requirement for drivers to submit an inspection report if no defects or deficiencies are found.
The decision to rescind the regulation does not apply to passenger-carrying vehicles. A pre- and post-inspection report must be submitted and carriers must retain the records (§396.3 Inspection, repair, and maintenance).
DVIR exemptions
Section §396.11 stipulates several exceptions. DVIR regulations do not apply to the following operators: private motor carriers carrying passengers not as a business, driveaway-towaway, and motor carriers with only one commercial motor vehicle.
What does a vehicle inspection include?
Following the regulations in §396.11, an inspection report must include:
Brakes and air system
Steering mechanism
Lights and reflectors
Tires, wheels, and rims
Windshield wipers
Rear view mirrors
Coupling equipment and fifth wheels
Safety and emergency equipment
If there is a power unit and trailer, the driver must check those as well before operating the vehicle.
The DVIR process
A DVIR includes several basic steps, including the inspection, identification of defects, signing the report, and corrective action.
Vehicle Inspection — During an inspection, a driver will perform a circle check of the vehicle, checking under the hood, walking around to look for defects or damage, and starting the vehicle to test the lights and brakes, among other things.
Report Defects — The driver must report any defects or deficiencies that will impact the safe operation of the vehicle or could lead to a breakdown.
Sign Off — The driver signs the report then submits it to the motor carrier.
Corrective Action and Certification of Repairs — Motor carriers must immediately repair and certify any defects listed on the DVIR that would affect the safe operation of the vehicle.
Carrier responsibilities related to DVIRs
Prior to the vehicle returning to service, motor carriers must certify any repair, correct deficiencies, or replace defective and missing parts. If repairs are deemed unnecessary to prevent unsafe operations, a carrier must certify the repair wasn't needed. Before operation, a driver must inspect and sign-off on repairs.
Carriers are required to keep DVIRs and certifications for repairs for at least three months at the principal place of business or where the vehicle resides or is maintained.
Reasons why a DVIR is required
The goal of the U.S. and other authorities is to reduce the number of crashes, injuries, and fatalities involving commercial vehicles.
DVIRs help ensure that a vehicle is in a safer and optimal condition before and after operation. This provides a safe environment for the driver and anyone around.
For example, not inspecting a tire could have devastating consequences. A tire blowout on a 18-wheeler could cause many deaths as tire debris flies towards other drivers or if the truck weaves or overturns.
Roadside inspections
In the U.S., Motor Carrier Safety Assistance Program (MCSAP) Inspectors are responsible for carrying out roadside inspections on commercial motor vehicles and drivers. Following the criteria in the North American Standard Inspection Program, inspectors check the trucks to verify if they are in compliance with federal safety and hazardous materials regulations.
There are eight levels of inspections, including full (North American Standard Inspection), walk-around driver/vehicle, driver/credentials, special inspections as part of a study, vehicle-only, terminal, and radioactive materials, jurisdictional mandated, and electronic inspection.
In total, almost 3.5 million inspections were conducted across the country in 2016. The rate of vehicles taken out-of-service (OOS) was 20.05%. Last year, the most frequent vehicle violation during roadside inspections was not having working lamps, according to FMCSA Large Truck and Bus Statistics.
Every year, the Commercial Vehicle Safety Alliance (CVSA) conducts a three day inspection event, called the International Roadcheck.
Two cases in the news underline the importance of completing inspections. In a recent 72 hour roadside blitz in Rhode Island, inspectors discovered 780 vehicle violations and 120 driver violations among 500 commercial vehicles.4 Last year at an Arkansas Roadcheck event, more than 20% of trucks inspected by police (one in five) were found to have severe violations and had to be taken off the road for repairs.
Penalties for not completing an inspection
Carriers who are found to be in noncompliance with DVIR regulations are subject to fines from the Department of Transportation (DOT) officer at their discretion. Aside from the fines laid on by an officer, there are other costs associated with noncompliance. If a vehicle is found unsafe, the vehicle will immediately be out of commission until it's repaired. This unplanned downtime can lead to lost revenue for the carrier. In addition, the carrier's CSA score could take a hit, which would cause a loss of business.
Electronic Driver Vehicle Inspection Reports (eDVIRs)
Electronic data collection is seen as a way to improve the speed of uploading inspection reports and help ensure driver and vehicle compliance. FMCSA supports the electronic collection of inspection data and has shared that more states are adopting this method.
With the introduction of electronic DVIRs (eDVIRs), the inspection and reporting process for drivers is much more efficient. Commercial vehicle drivers can complete a DVIR using a smartphone or tablet, including selecting defects and adding comments.
They can also quickly certify and view a previous inspection.
For carriers who have adopted electronic logging, they can take advantage of vehicle inspection functionality on their electronic logging devices (ELDs).
Read more about electronic logging here: What Is an ELD?
Automating DVIRs with Geotab
Fleets looking to automate their vehicle inspections can do so through the Geotab driver platform. To start a Driver Vehicle Inspection Report, the driver simply opens the Geotab Drive mobile app and selects DVIR on the dashboard. A pre-set list of common defects makes it easy to select and leave details on defects. Critical defects are automatically highlighted for attention. Please check with your local authority for applicable regulations in your region.
Integration with the MyGeotab software means that fleet managers can monitor DVIRs from their desk and catch issues before they become violations — even receiving an automated alert (within 30 minutes) any time a driver reports a defect. Learn more about our Driver Vehicle Inspection Reporting solution, on the Geotab Drive page on the Marketplace.
To stay up-to-date on ELDs and fleet best practices, please subscribe to the Geotab newsletter.
References:
http://cvsa.org/program/programs/international-roadcheck/what-inspectors-look-for/
http://cvsa.org/program/programs/international-roadcheck/
https://www.fmcsa.dot.gov/newsroom/fmcsa-estimates-truck-bus-safety-roadside-inspections-and-traffic-enforcement-activities
http://www.thewesterlysun.com/news/policecourts/10450071-154/780-vehicle-issues-120-driver-violations-cited-during-international-roadcheck.html
Related:
Fleet maintenance woes? Automation is the answer
12 Smart ELD reports for Hours of Service violations
E-Logs: New opportunities for trucking

While Geotab recognizes our place as a self-registered ELD manufacturer and provider and we will answer questions regarding those Hours of Service (HOS) ruleset options we provide, neither Geotab nor any of its employees, officers or agents can offer legal advice to any resellers or customers concerning which HOS ruleset(s) or exemption(s) may apply to any particular situation. Please contact your local DOT department or refer to the FMCSA website at https://www.fmcsa.dot.gov/ for questions Geotab is unable to answer.
---
If you liked this post, let us know!
---
Disclaimer
Geotab's blog posts are intended to provide information and encourage discussion on topics of interest to the telematics community at large. Geotab is not providing technical, professional or legal advice through these blog posts. While every effort has been made to ensure the information in this blog post is timely and accurate, errors and omissions may occur, and the information presented here may become out-of-date with the passage of time.
Get industry tips and insights
Sign up for monthly news and tips from our award-winning fleet management blog. You can unsubscribe at any time.
Republish this article for free
Other posts you might like