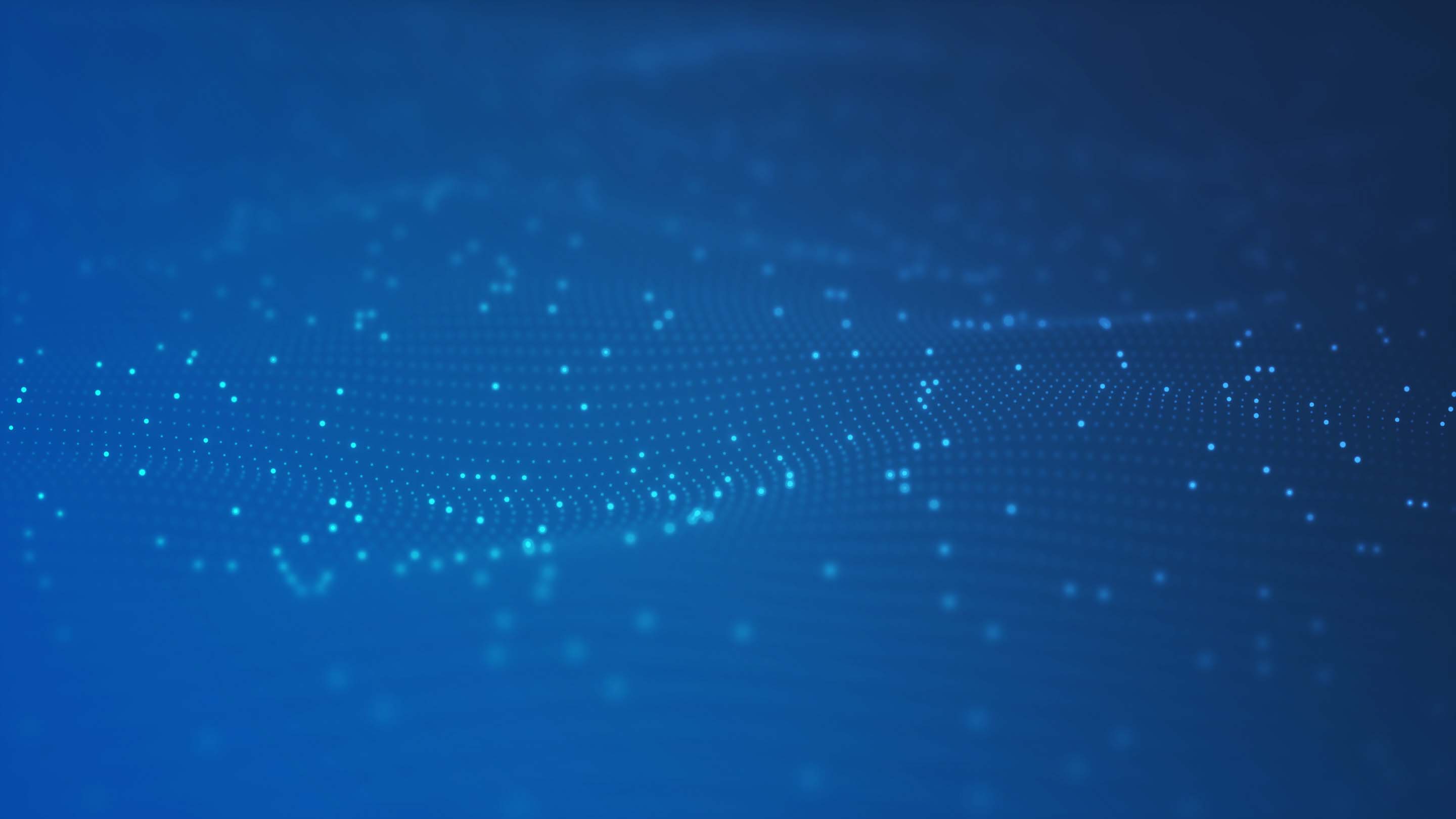 Fleet management ROI vs. COI Comparison
---
How can fleet managers reduce costs? Learn about fleet management ROI vs. COI and how to find new savings in safety, fuel, maintenance, and productivity.
Current economic conditions continue to challenge companies across all industries, diminishing demand and increasing competition. As a result, many business owners are being forced to focus their efforts on maximizing bottom line returns in the face of poor top line growth. This often means minimizing operating costs in order to grow operating margins.
This is especially relevant to fleet managers, whose fleet costs often make up a large portion of their company's total operating budget. Unfortunately, cost savings opportunities can be difficult to spot. Telematics can help in this effort. With telematics, fleet managers can identify and quantify fleet-wide savings opportunities, and implement the proper driver management initiatives to achieve them.
In this blog post, I discuss the difference between fleet management ROI and COI and introduce a new tool that can be used to help fleet managers identify and quantify strategic savings opportunities throughout their fleet operations.
What is COI?
COI — or Cost of Ignoring — can be thought of as the amount of lost savings that result when a company fails to undertake a strategic business investment that would otherwise improve operational efficiency. In other words, for fleet managers, it can be thought of as the incremental operating costs resulting from the improper use of telematics (or in some cases the complete lack of telematics).
ROI vs. COI
Although COI has the same strategic objective as its better-known cousin Return on Investment (ROI), there are a few fundamental differences, as captured in the table below. In summary, COI is focused on minimizing operating costs, whereas ROI is focused on maximizing incremental revenue.
Where should I look for savings?
Each fleet is unique, and therefore each fleet can have drastically different cost structures. In our research, we found that two variables in particular impacted a fleet's operating costs: vehicle class and vehicle mileage.
For example, a long-haul Heavy-Duty (HD) fleet will have a very different Cost per Mile (CpM) breakdown than a low-mileage Light-Duty (LD) fleet. In general, the HD fleet will likely have larger proportional fuel expenses per mile compared to the LD fleet which will have larger collision and claims costs per mile.
Suggested reading: Taking a close look at the costs of running a fleet
As a result, the savings opportunities available to a specific fleet will change based on the fleet's operating characteristics, making them difficult to quantify.
Introducing the Fleet Savings Summary Report
To help fleet managers assess their COI and identify strategic savings opportunities, Geotab created the free Fleet Savings Summary Report, which is available on the Geotab Marketplace.
The report illustrates a fleet's existing and potential savings, and subsequently shows a fleet manager where to focus driver coaching efforts in order to minimize their fleet's Total Cost of Ownership (TCO).
The Fleet Savings Summary Report breaks down a fleet's cost saving opportunities into four categories: Safety, Fuel, Maintenance, and Productivity.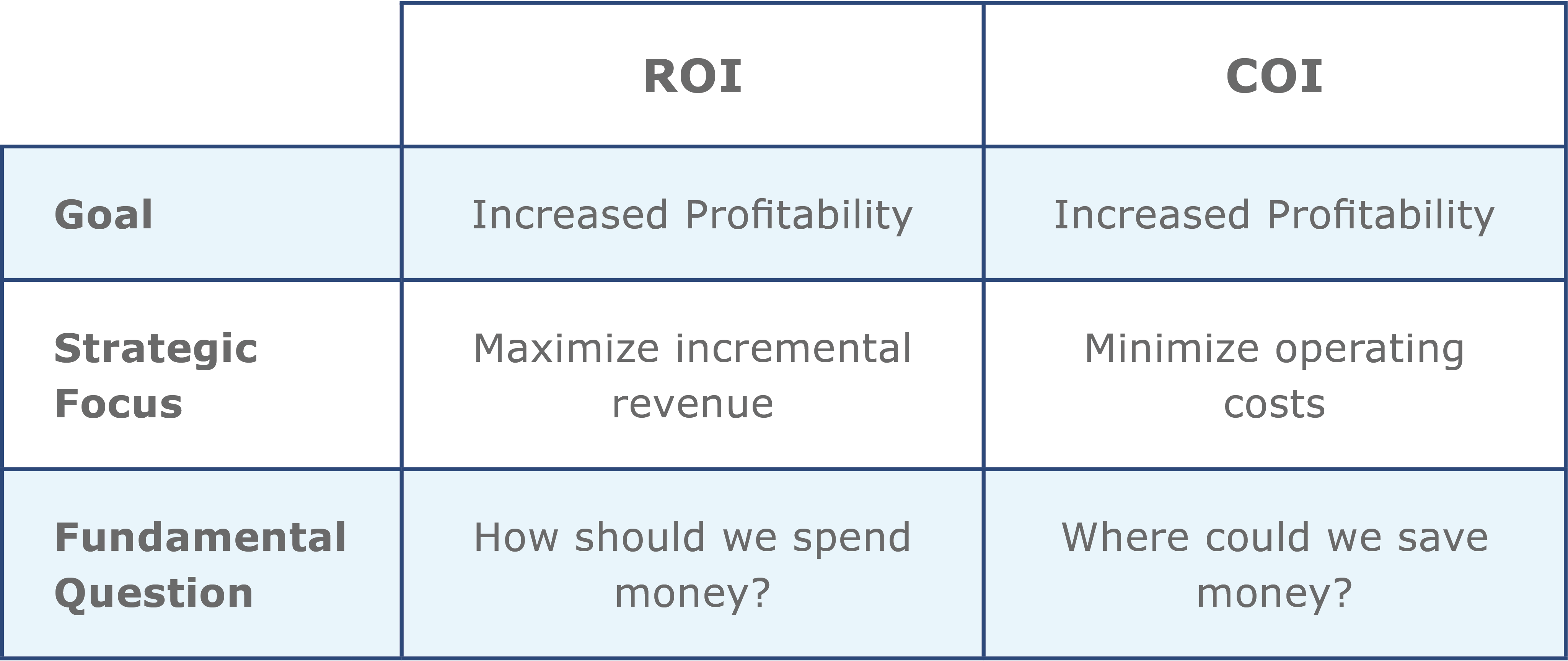 This tool allows fleet managers to quickly visualize their fleet's performance, and more importantly, identify which drivers and/or savings categories should be targeted for improvement. Once these improvements have been implemented and the resulting benefits take effect, costs will decline, and profit margins will grow.
A lot of effort went into ensuring the accuracy of the information provided within the Fleet Savings Summary Report. This being said, it should be noted that the savings values within are highly normalized, and therefore are only applicable to a generic fleet.
For a generic fleet however, our research determined the existence of large telematics-related savings opportunities, as summarized in the table below.
Estimated Potential Monthly Telematics Savings Per Vehicle (USD):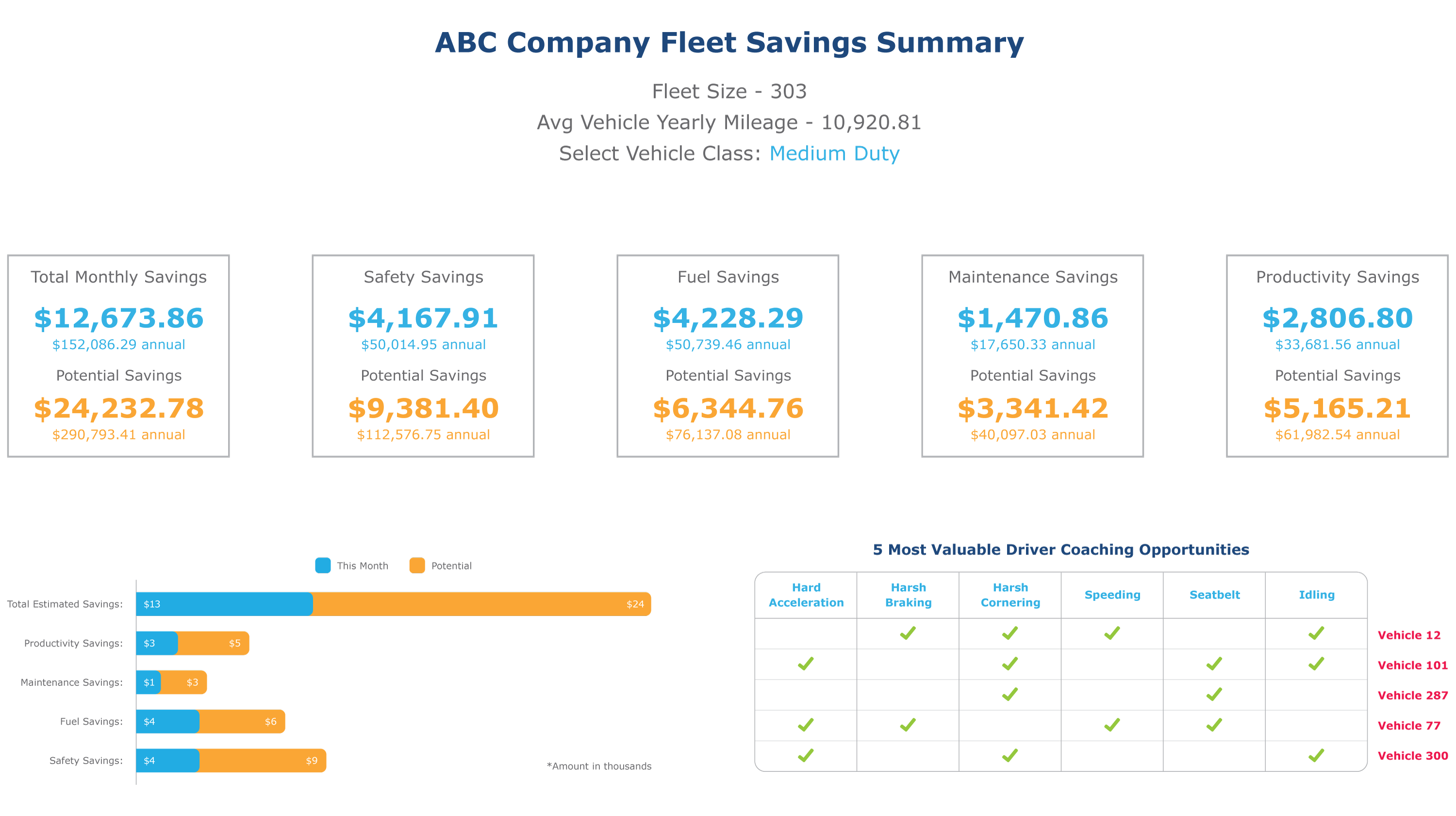 Four ways fleets can reduce costs
As described above, there are four specific areas where savings can be found: safety, fuel, maintenance, and productivity. Let's look at each in more detail.
The importance of driver coaching in fleet management
Proactive management of driver behavior is essential to any cost reduction exercise. By investing in driver coaching, and specifically focusing on the most costly drivers, a fleet can minimize their operating costs. Keep in mind that the drivers you need to target may change from month to month. That's why using a telematics solution is essential, because it can objectively pinpoint the most costly or risky drivers based on numerous variables.
There are a variety of tools that can be used in driver coaching efforts, many of which are available from the Geotab Marketplace. Some examples include:
Driver scorecard
Top 5 Speeding Violations Reports
Last 3 Months Fuel Trend Report
Weekly Idle Cost Daily Trend Report
GO TALK In-vehicle Verbal Feedback
Mobileye Advanced Collision Prevention
Turn your fleet into a success story
Many of our more efficient customers are benefiting from these telematics savings, as can be seen at www.geotab.com/success-stories. These customers deploy telematics and use its rich data to closely monitor fleet assets and proactively manager driver behaviour.
These same savings can be achieved by any fleet manager who is committed to using their telematics solution to its full extent. By pursuing these cost reduction opportunities, fleet managers can reduce their COI, improve their operating efficiency, and grow their bottom line.
To help fleet managers proactively manage their fleet operations and realize the savings described above, Geotab offers a wide range of tools.
Read more:

To learn how to find new cost savings opportunities for your fleet, read our white paper, "Increasing Fleet Profitability with Telematics: COI vs. ROI."
Related posts:
Is Idling Costing Your Business Money?
---
If you liked this post, let us know!
---
Disclaimer
Geotab's blog posts are intended to provide information and encourage discussion on topics of interest to the telematics community at large. Geotab is not providing technical, professional or legal advice through these blog posts. While every effort has been made to ensure the information in this blog post is timely and accurate, errors and omissions may occur, and the information presented here may become out-of-date with the passage of time.
Get industry tips and insights
Sign up for monthly news and tips from our award-winning fleet management blog. You can unsubscribe at any time.
Republish this article for free
Other posts you might like