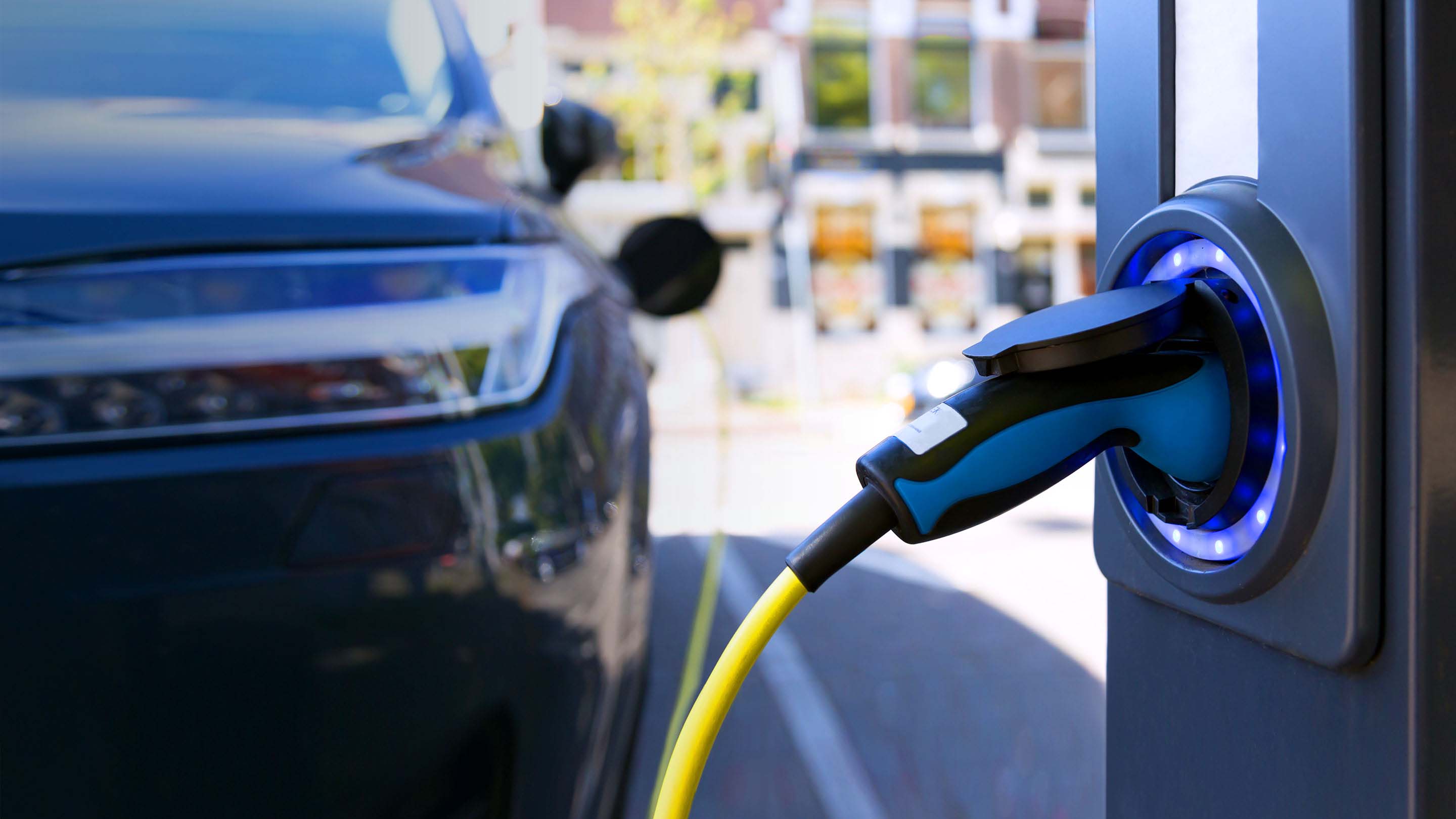 Use real data to plan your electric vehicle future
With Geotab's EV Suitability Assessment, you can use the data from your own fleet and compare one-to-one which vehicles can be replaced with the perfect EV.
Request a demo
What is the EV Suitability Assessment (EVSA)?
The EVSA takes data collected by Geotab's tracking devices, and matches your fleet's operational movements with available EVs. By analysing your fleet data, Geotab can make brand-agnostic recommendations for suitable replacements that will offer exactly the same outcomes. This makes the transition to an electric fleet that much easier.

Use historical fleet data to generate a recommendation for replacement based on that specific vehicle's driving patterns. This report includes an analysis of currently available models in the Australian market, and includes financial considerations and calculates environmental impacts of the switch to electric.

This best-fit analysis can guide your business case or procurement initiatives to make it easy to electrify your fleet, and realise savings and support environmental programs by slashing pollution outputs.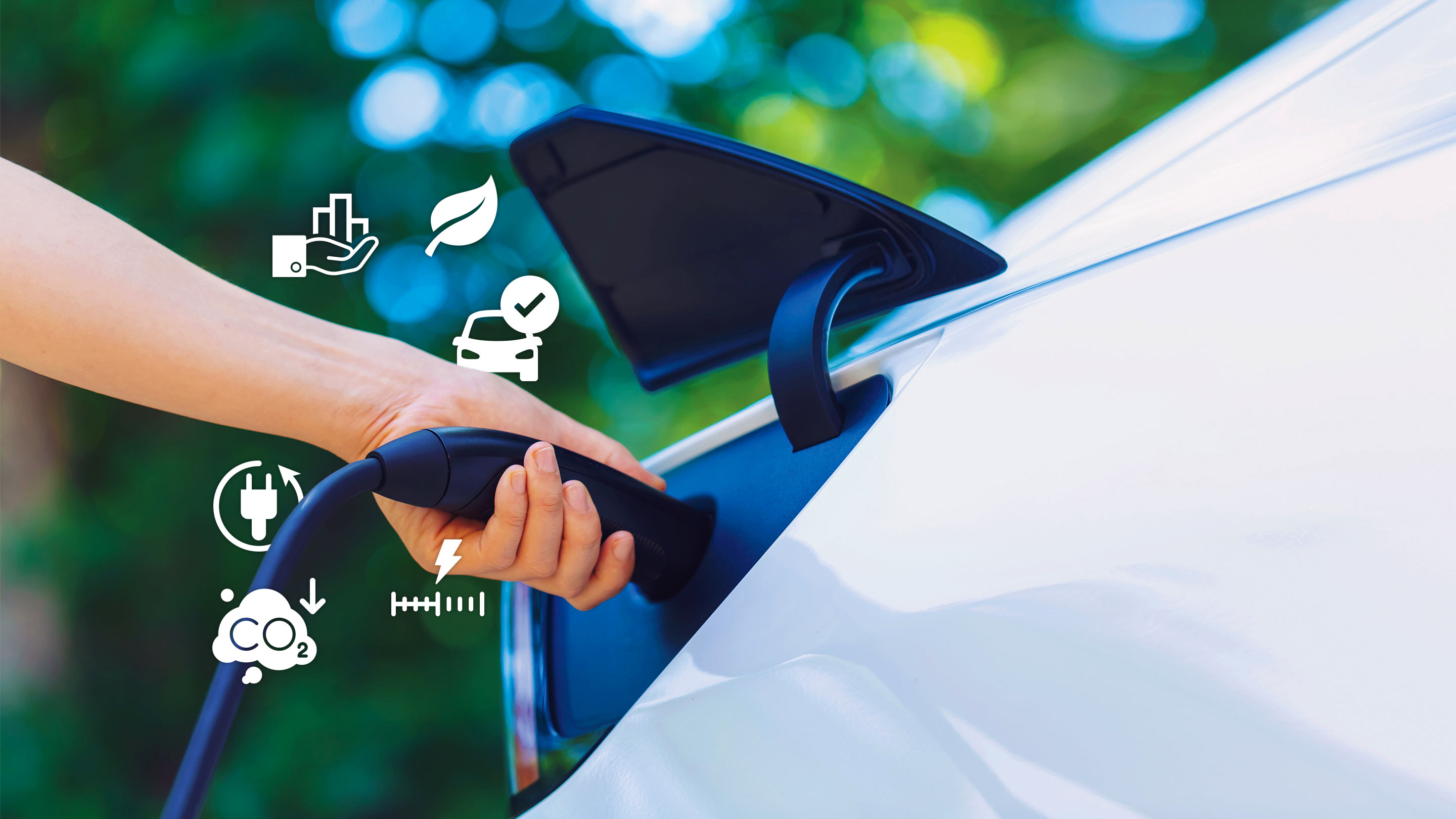 Why use the EV Suitability Assessment?
Use your actual fleet usage patterns to select the most appropriate vehicles to go EV
Overcome range anxiety by matching battery range with distance requirements
Make the business case for cutting Total Cost of Ownership (TCO)
See how much your CO2 emissions could be reduced to meet your sustainability goals
Customise the report to your specific needs by including your own organisation's maintenance costs or financial assumptions
View brochure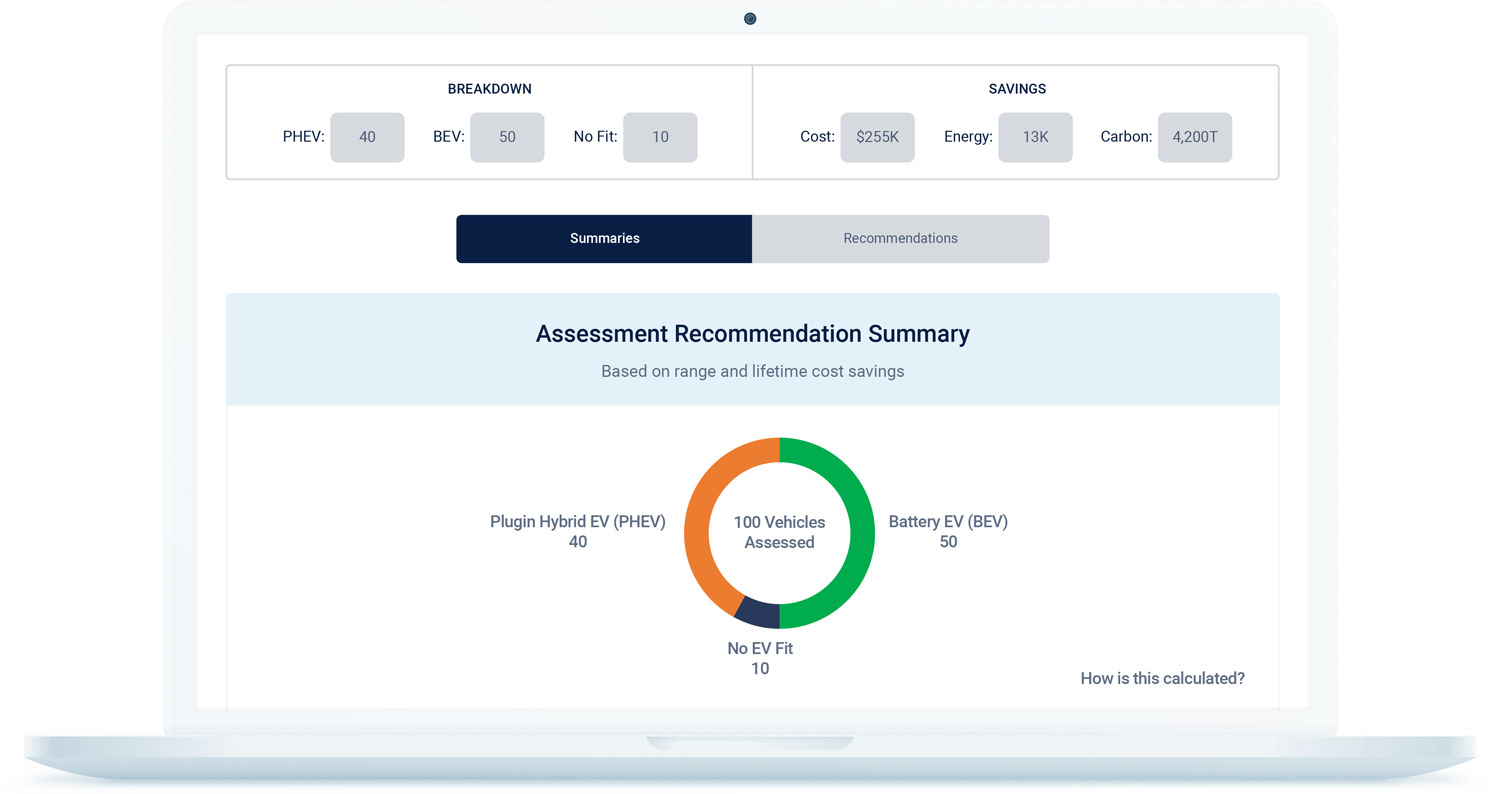 Overcome range anxiety
A common concern when going electric is the question: "will the battery last?" Geotab helps you compare the actual distance each vehicle covers with the range capabilities of currently available EVs. Be certain there's a BEV or a PHEV that fits your fleet's needs before you update.
Cover off the finances
Renewing a fleet with EVs looks like an expensive proposition. Compare the TCO of your existing vehicles or their combustion updates, with a range of EV alternatives. Generate reporting based on researched data and your own costs and financial assumptions to thoroughly investigate how much you could save by going electric.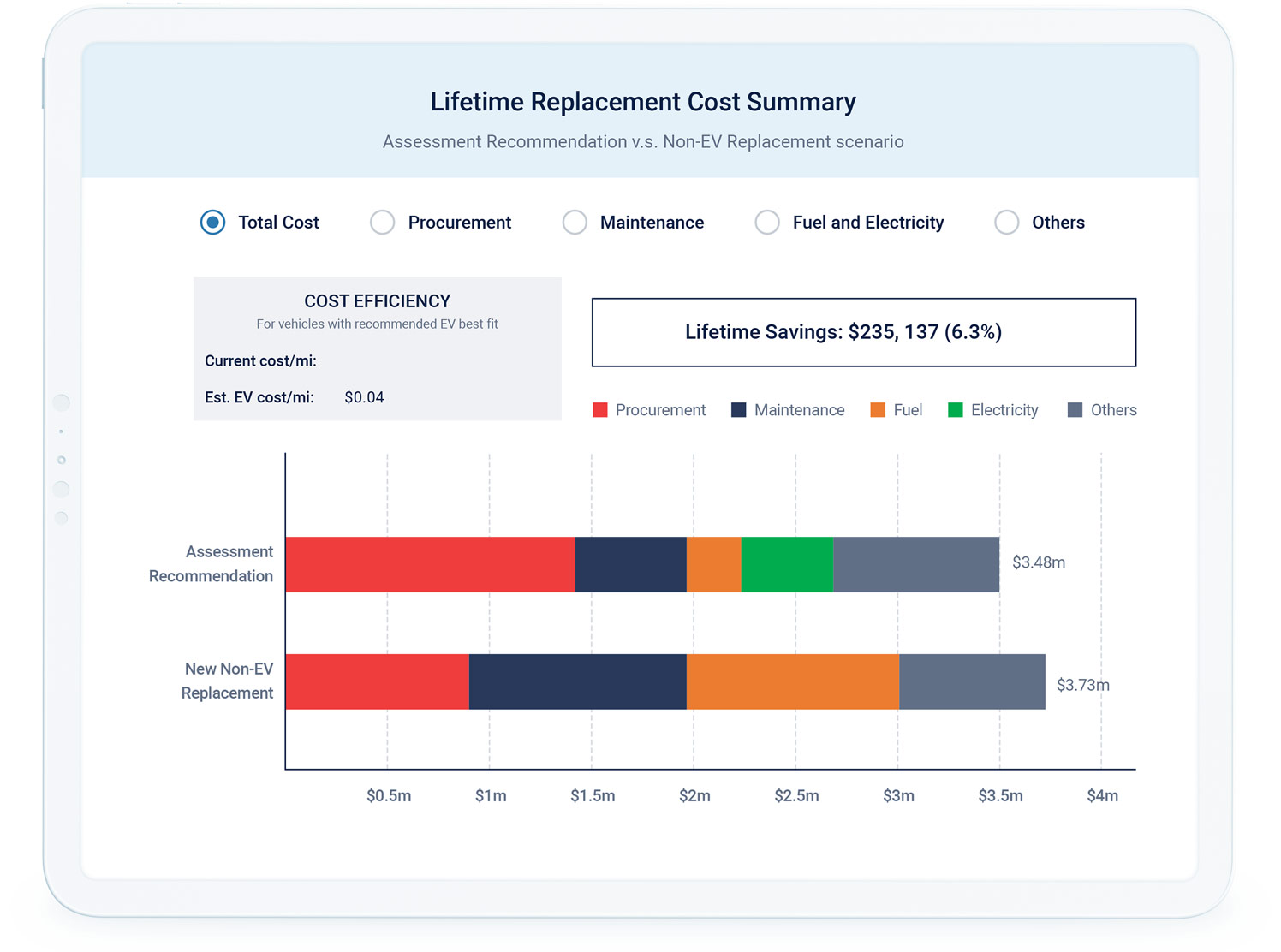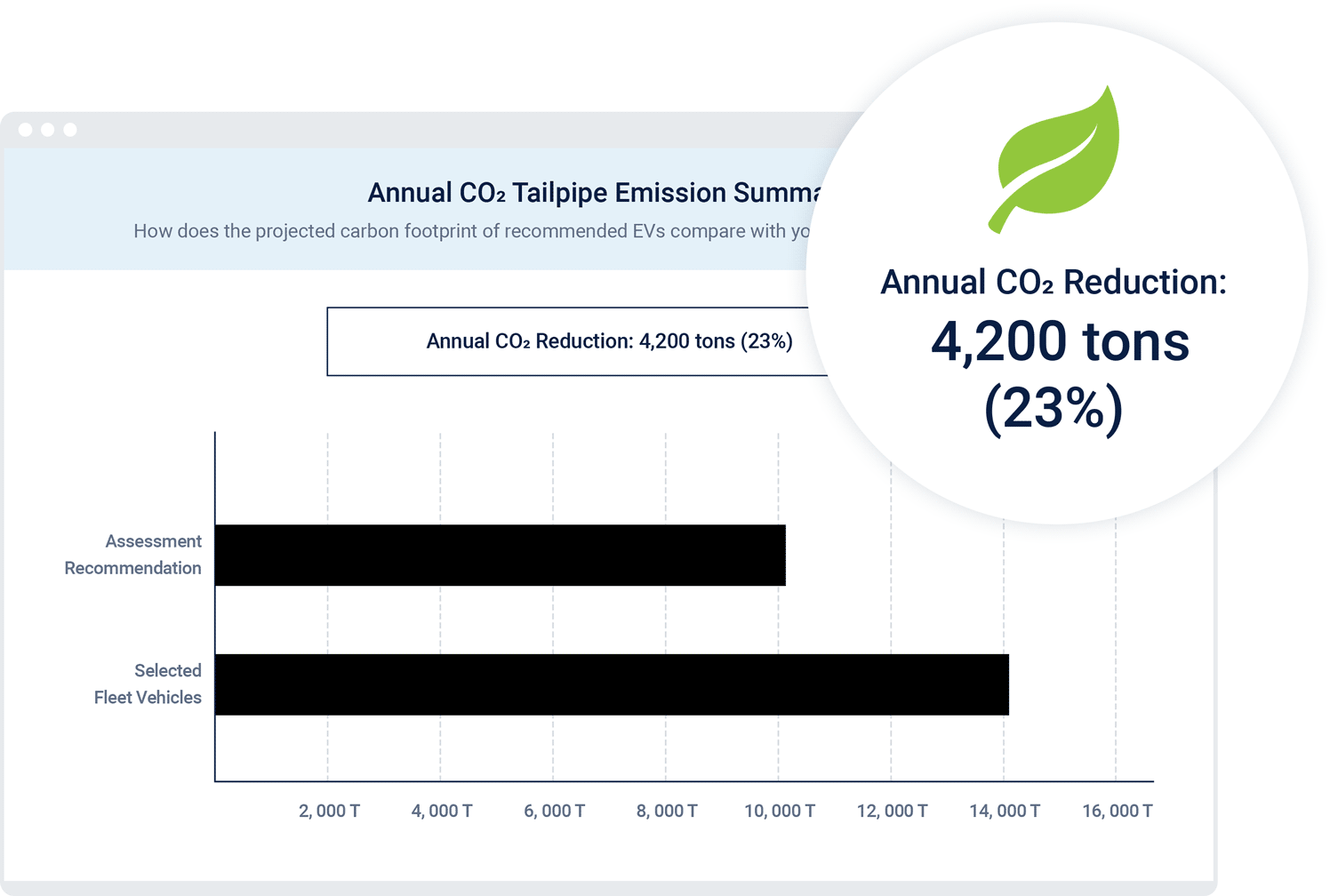 Quantify the sustainability opportunity
Many organisations have set sustainability goals, such as carbon emission reduction targets. The EVSA can help you measure your fleet's carbon footprint and reduce fuel burn by switching to electric. Measure the tonnage of CO2 you won't be emitting with electric vehicles.
---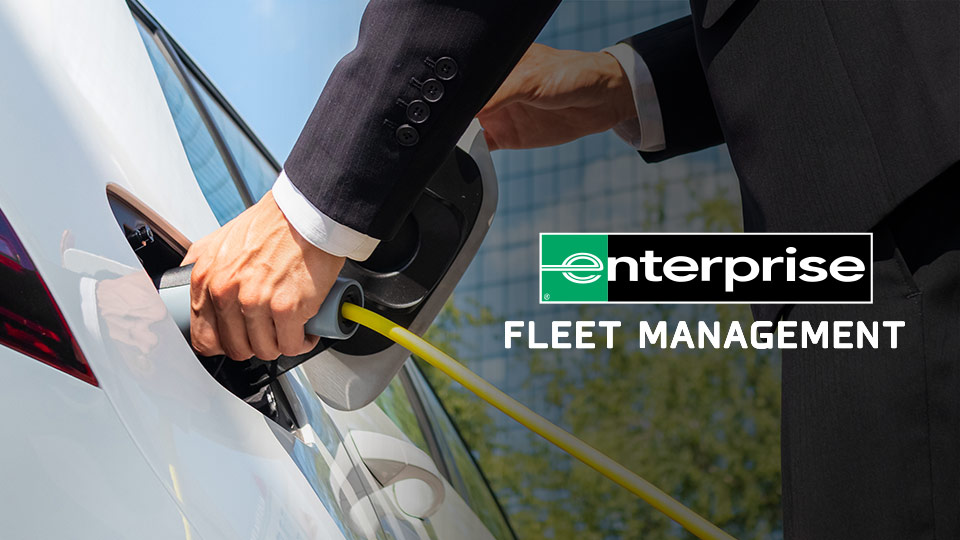 Case study
Enterprise Fleet Management: Uncovering the potential of fleet electrification
A look at how the transition to EVs could save $45 million and 194,000 tonnes of CO2 emissions over four years.
Read more
Marketplace
EV Suitability Assessment
Built on the largest dataset of real-world EV performance, the Geotab EVSA provides an accurate view of your fleet electrification potential. Analyzing your fleet's driving profiles to produce data-driven recommendations, the EVSA helps evaluate the viability of introducing EVs into your fleet. The interactive add-in allows for complete customization to run multiple electrification scenarios in a quick and convenient do-it-yourself tool.
Visit Marketplace
---
Commonly asked questions
What is an Electric Vehicle Suitability Assessment?
An Electric Vehicle Suitability Assessment (EVSA) offers EV adoption recommendations by matching your existing fleet telematics data to real-world EV performance data. Geotab's EVSA analyses your fleet's telematics data over a period of 6 to 12 months, and creates an electrification recommendation based on each vehicle's distinctive driving patterns.
What is the role of telematics in an EVSA?
Telematics solutions provide access to a rich set of data points that can be used to refine the accuracy of Electric Vehicle Suitability Assessments. An EVSA can use location information to get data on the local terrain where vehicles are driven. This data can be correlated to outside temperatures to figure out when to factor in climate control systems when modeling the EV battery capacity. More advanced models can look at driving behavior parameters such as speed, hard acceleration and braking to further refine the estimated range of an electric vehicle under the same driving patterns. With Geotab's support, we can help make your transition as seamless as possible.
What does EVSA mean?
Electric Vehicle Suitability Assessment (EVSA) is a Geotab Marketplace solution developed to help fleet managers identify which vehicles are best suited to be replaced by electric vehicles.
EVSA analyzes the driving data of the vehicles in the fleet and recommends replacement when two conditions are met:
There is an electric vehicle replacement that is sufficiently autonomous to perform the required driving cycle without needing to be charged during the day.
The life cycle cost of the electric vehicle is lower than that of an equivalent non-electric vehicle.
What are the benefits of an Electric Vehicle Suitability Assessment?
A key benefit of an Electric Vehicle Suitability Assessment is that it can save fleet managers time by making it easy to look up EVs and compare them based on factors such as:
Retail price
EV type (Battery Electric vs. Plug-in Hybrid)
Vehicle class
Battery capacity/range
Local availability
Maintenance schedules
Charging speeds
What is an electric vehicle adoption report?
An electric vehicle adoption report (EVSA) provides an accurate understanding of which fleet vehicles could be replaced by electric vehicles. This analysis covers the type of vehicle and its autonomy level, and the cost savings of a change.
Which vehicles can be replaced by electric vehicles?
Many fleet vehicles can be replaced by electric vehicles, but the first step to making a well-informed investment in electric vehicles is to identify the needs within your fleet and seek out the vehicles that will best address that need. Understanding the driving patterns of your fleet and how to maximise operational efficiency can provide the extra clarity that is needed for a switch to electric vehicles. Using telematics data to identify existing driving profiles can be a helpful starting point for deciding whether to switch to electric vehicles.
How long does it take to convert to an electric vehicle fleet?
There is no fixed timeline for a switch to electric vehicles. Each fleet carries out different operations and has its own challenges when it comes to embracing electric vehicles. If you are developing a timeline for electrifying your fleet, it is therefore important to build a picture of the needs within the fleet, your goals and your budget.
What types of electric vehicle are compatible with the Geotab tracking device?
Geotab currently supports more than 200 brands and models of electrical vehicle. Check our reference sheet for a complete listof the electric vehicle brands/models supported.
Ready to electrify your fleet?
Let us show you how simple it is to use our web-based software and fleet tracking devices to manage your fleet of EVs and PHEVs.