Fleet telematics, tracking and management solutions to power your business
Control costs, stay agile and increase the productivity of your fleet with our leading platform.
Learn more
Get to know us
---
Geotab by the numbers
3,000,000+
Telematics devices in operation
55 Billion+
Data points processed daily
100 Million+
Miles driven daily
---
Our resources
Marketplace
The Power of choice
Connect the things that matter to your business. Take advantage of the integrated solutions provided by our diverse partner network to help you achieve your goals.
Visit the Marketplace
Blog
The new Geotab blog
Your online source of fleet management and mobility news, insights and best practices.
Visit the blog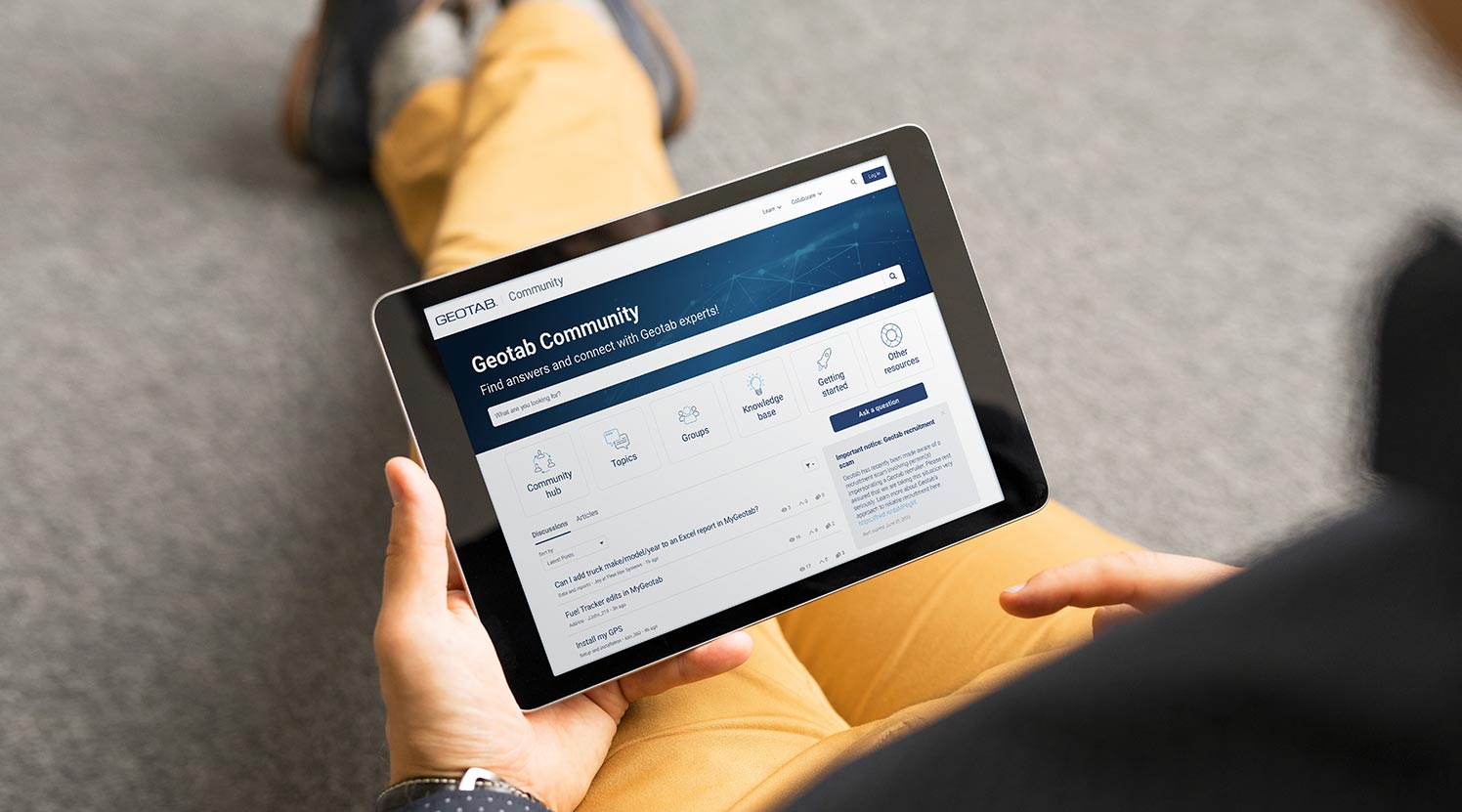 Community
The new Geotab Community
Find answers, interact with other members to get help, share ideas and build knowledge
Visit the Community
---
---
Commonly asked questions
What fleet management solutions do Geotab offer?
What are the benefits of choosing Geotab?
As the #1 commercial fleet telematics provider worldwide, Geotab serves businesses and public sector organisations of all sizes across the globe.
Geotab's secure open-platform technology gives you complete visibility over your vehicles' movements, engine health, fuel usage and more. With this critical business intelligence, you can make data-driven decisions to improve a wide range of business operations. You also get access to over 200 third-party Add-Ons from Geotab's
Marketplace
.
Geotab puts data security first. For more information, visit our
Security Center
.
What industries does Geotab work with?
Geotab works with a large number of industries, including heavy duty fleets; utilities; oil, gas and mining; food and beverage; courier and delivery; transport and logistics; and waste and recycling. View the full list of our
industry-specific offerings
.
Is your industry not listed? Reach out for a
chat
and we'll be happy to show you the vast capabilities of our solutions.
What is fleet tracking?
Fleet tracking is the ability to monitor and manage a fleet of vehicles using a tracking device and software. Geotab's solutions show you much more than just vehicle location. Fleet managers and business owners can view data insights on vehicle health, speed, driver behaviour, fuel usage or electric vehicle state of charge and much more.
What is a fleet tracking system?
A fleet tracking system enables you to view detailed, real-time data on your vehicles. All of this data can be accessed remotely from a single platform.
To learn more about Geotab's fleet management software, visit our
MyGeotab page
.
What are the benefits of fleet telematics?
There are many benefits to using GPS tracking, including improving driver safety and customer service quality, streamlining vehicle maintenance and reducing downtime, strengthening fleet compliance and reducing the environmental impacts of the fleet operations.
Discover how companies are using fleet tracking to improve business operations on our
success stories page
.
What is telematics?
Telematics is a method of monitoring cars, trucks, heavy-duty equipment and other assets by using GPS technology and on-board diagnostics (OBD) to plot the asset's movements on a computerized map. Also known as fleet tracking or GPS vehicle tracking, telematics is now an essential management tool for any commercial and public sector fleet.
What is the purpose of fleet telematics?
Telematics devices are designed to retrieve data generated by the vehicle, like GPS position, speed, engine light information,engine faults, fuel usage. MyGeotab retrieves additional data for electric vehicles on real-time charge levels, charging locations and durations, and battery state of health, enabling fleet managers to effectively manage their EVs and compare their performance directly against the conventionally fueled vehicles in the fleet.. The telematics device sends the data up to the cloud, and it is then available for viewing and analysis in a fleet management platform.