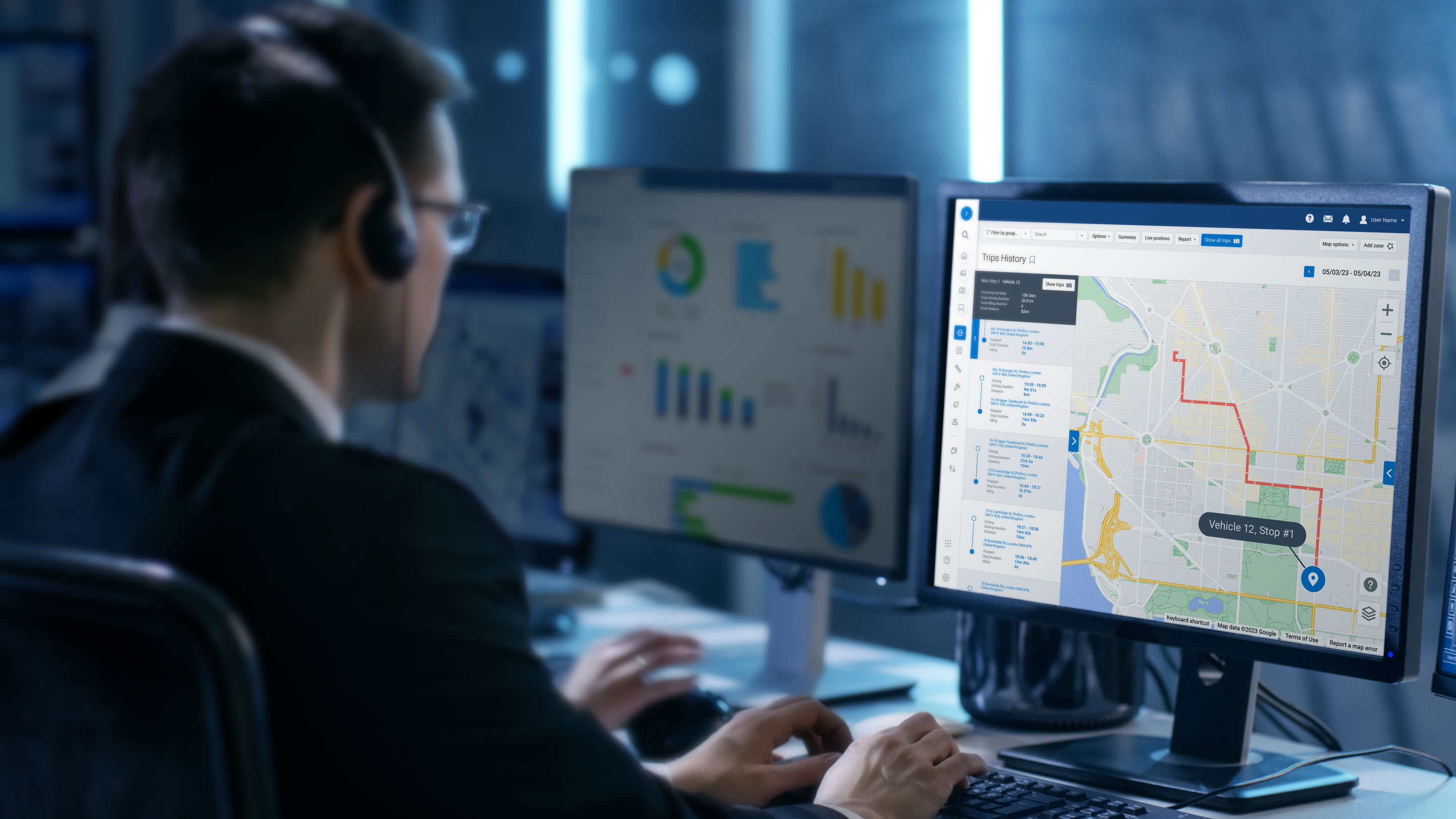 Fleet driver tracking software for improved driver performance
Our fleet driver tracking and coaching tools help you track, evaluate and improve driver performance. Save on fuel and mitigate risk with Geotab's driver management platform.
Request a demo
Why driver tracking?
Aggressive driving can waste fuel and cause unnecessary vehicle wear and tear. Additionally, unsafe driving can potentially lead to collisions, injury, or expensive legal action. Fleets can address these issues using driver tracking and coaching with telematics. Proper driver management is a necessary precursor to overall fleet safety and fleet compliance.
Real-time driver tracking notifications
Take advantage of MyGeotab's flexible notification system to receive email or text notifications based on user-defined rules. Stay on top of day-to-day fleet activities, such as unsafe or inefficient driving behaviour, or when drivers enter and exit specific zones. Our real-time driver tracking and management software keeps you consistently up to date.
Improve driver behaviour
Leverage Geotab's driver tracking technology and easy to use MyGeotab software to monitor and improve driving behaviour with driver safety scorecards, trend reports, and innovative solutions for collision avoidance and minimising driver distraction.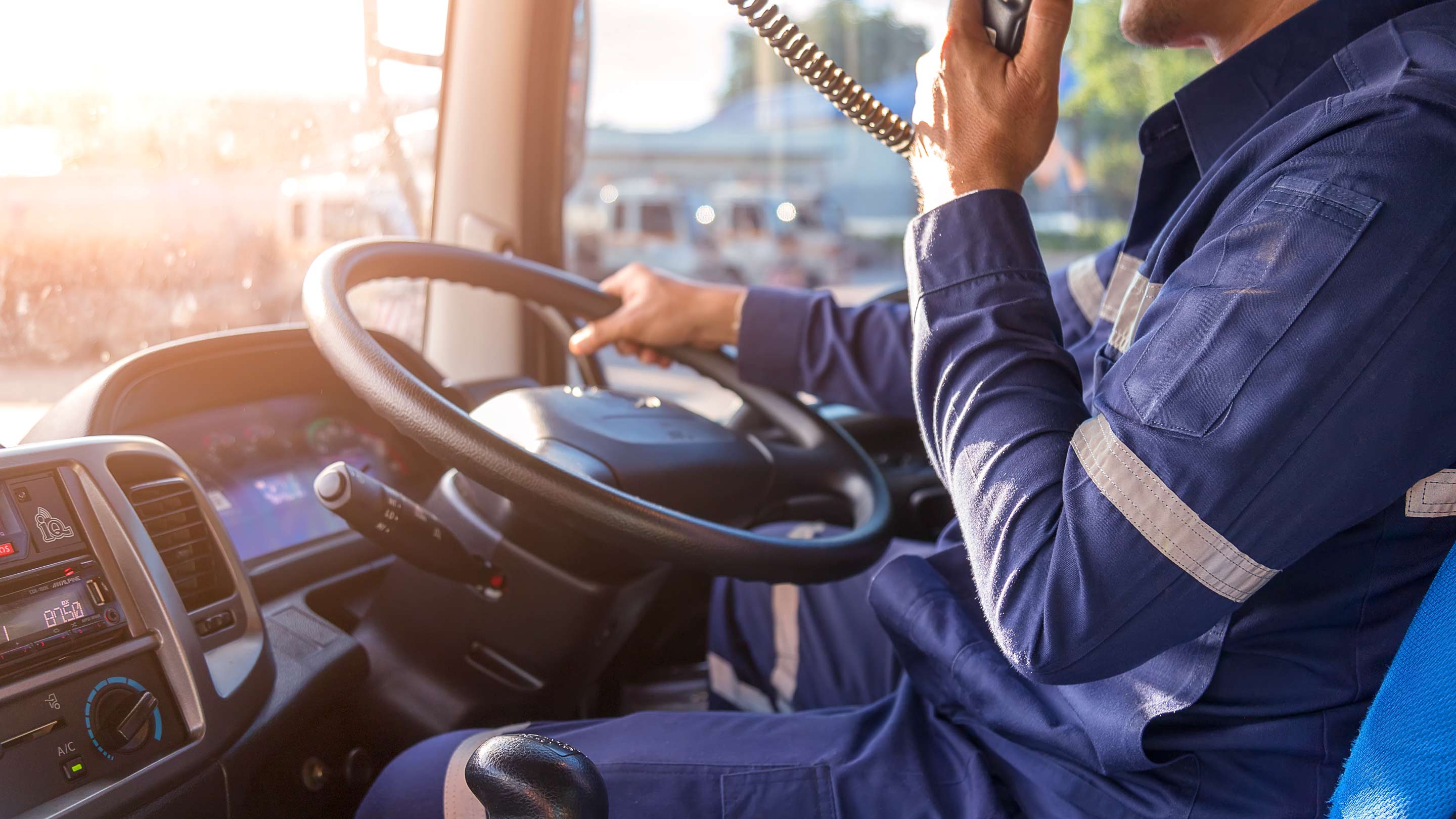 Driver management and driver tracking tools
Whether you want to increase driver safety, productivity, efficiency, or compliance, we have the right solution to help you reach your goals. Geotab offers the following tools to help you manage your drivers:
GO TALK In-Vehicle, Real-Time Driver Feedback
Driver Safety Scorecard
Driver ID
Advanced Collision Avoidance Systems
Flexible safety notification system
Compliance Dashboards
Geotab Tachograph software
Driver Fatigue Monitoring
Anti-Distraction Phone Lock Box
Speeding and Seat Belt Violations Reports
See solution
---
---
Commonly asked questions about driver tracking
What is driver management?
Driver management is the process of overseeing and managing a fleet of drivers while ensuring that their responsibilities are carried out successfully, safely, and promptly. Driver tracking allows fleet managers to effectively manage and organise drivers by leveraging telematics data for optimal fleet efficiency.
How does driver tracking software work?
Driver tracking software works by connecting with a vehicle's data to evaluate driver behaviour and rule adherence. Geotab's driver tracking software gives fleet managers real-time telematics data that allow for informed business decisions that enhance safety, compliance, and increase bottom line revenue.
Why install a driver tracking device for your fleet?
Installing a driver tracking device can help you track and evaluate driver performance across your fleet. This allows you to make strategic business decisions that mitigate risk, enhance safety, and optimise fleet performance. With Geotab you can leverage Geotab's fleet tracking technology and easy-to-use MyGeotab software to improve driving behaviour with scorecards, trend reports, and innovative Add-In solutions for collision avoidance and to reduce driver distraction.
How can a driver tracking device help driver safety?
Driver scorecard reports that rank your fleet drivers according to their driving performance (across vital metrics such as events of harsh braking and acceleration) enable fleet managers to identify the drivers that are most in need of additional training and support, and which drivers deserve recognition for being the safest drivers in the team.

The data collected by the driver tracking device, together with any high-definition videos that are taken by in-vehicle fleet dash cameras, can then make valuable driver training tools.

Finally, when drivers know that they are being tracked, it can often have an immediate impact on their driving style and behaviour, reducing the frequency of aggressive driving incidents.
What are the legal considerations for driver tracking devices?
Businesses are within their rights to track drivers during work activities, but any vehicle tracking device must be fitted with functionality to enable the driver to turn off the GPS tracking when necessary. Certain privacy standards must also be upheld when it comes to transmitting vehicle data.

Geotab's driver tracking solutions come with a privacy mode that drivers can turn on when they are using a company vehicle for authorised personal use, and the MyGeotab telematics solution is fully compliant with the European Union's General Data Protection Regulation (GDPR). To learn more about Geotab and GDPR, visit the GDPR compliance and privacy for fleets solutions page.
What is the advantage of Geotab's driving tracking system?
With Geotab, you can stay on top of day-to-day fleet activities, such as unsafe driving behaviour or when drivers enter or exit specific zones.

Whether you want to increase driver safety, fleet productivity, efficiency, or compliance, we have the right solution to help you reach your goals. Geotab offers the following tools to help you manage your drivers:

• GO TALK in-vehicle driver feedback for real-time driver coaching and performance improvement
• Driver safety scorecard that ranks drivers for a range of performance metrics that indicate their road safety, so that you can easily see which of your drivers need additional training, and which deserve recognition
• Driver ID to ensure that you know and have a record of exactly who is driving each vehicle at every moment in time
• Advanced collision avoidance systems to reduce the incidence of collisions
• Flexible notification system that allows fleet managers to receive email or text message notifications based on user-defined safety rules
• Geotab Tachograph software which enables real-time monitoring of your drivers' adherence to their driving hours restrictions, and helps your fleet to comply with driving hours regulations
• Compliance dashboards that take away the complexity, help you avoid fines, and ensure you remain compliant
• Driver fatigue monitoring that enables you to monitor driver fatigue across your entire fleet and proactively engage with drivers to discuss the safety risks associated with fatigue
• Anti-distraction phone lock box that reduces employee phone distraction while driving
• Speeding and seat belt violations report that ranks your drivers according to these and other important safety violations
Ready to optimise your fleet?
Let us show you how simple it is to use our web-based software and fleet driver tracking devices to manage your fleet.