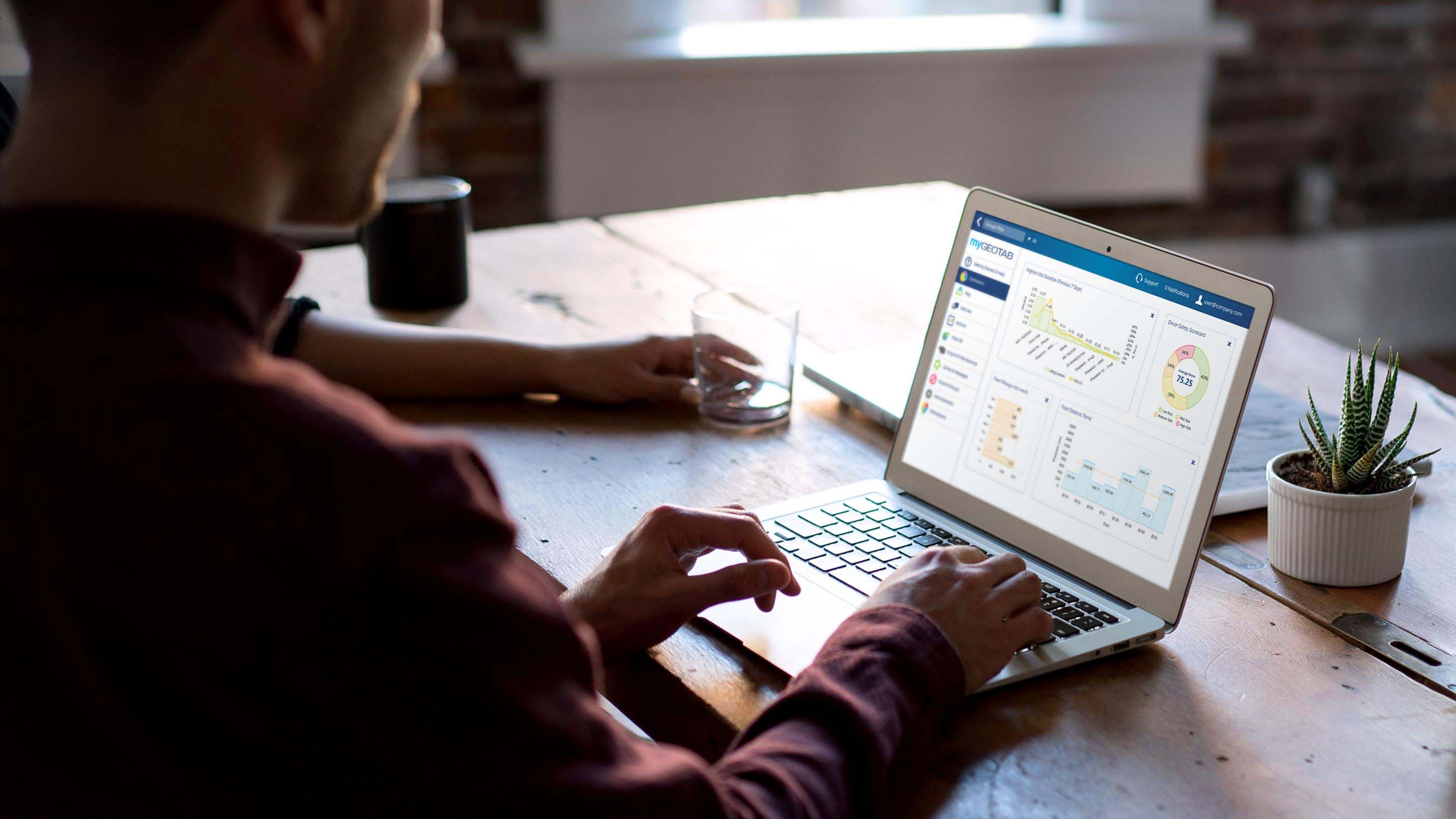 Fleet management and tracking reports
Obtain insight into your fleet operations, maintenance needs and costs for improved performance. Set up custom reports to suit your fleet needs.
Request a demo
Freedom in flexibility
Geotab's advanced reports deliver the information you want, when and how you want it.. Find useful pre-built reports in MyGeotab and tailor them to meet your unique business needs. Use the Driver Safety Scorecard report to improve driving habits within your fleet, or run the Speed Profile report for a visual representation of actual vs. posted road speeds. Use these and other custom reports to gain complete oversight of fleet operations so that you can make informed decisions to improve performance.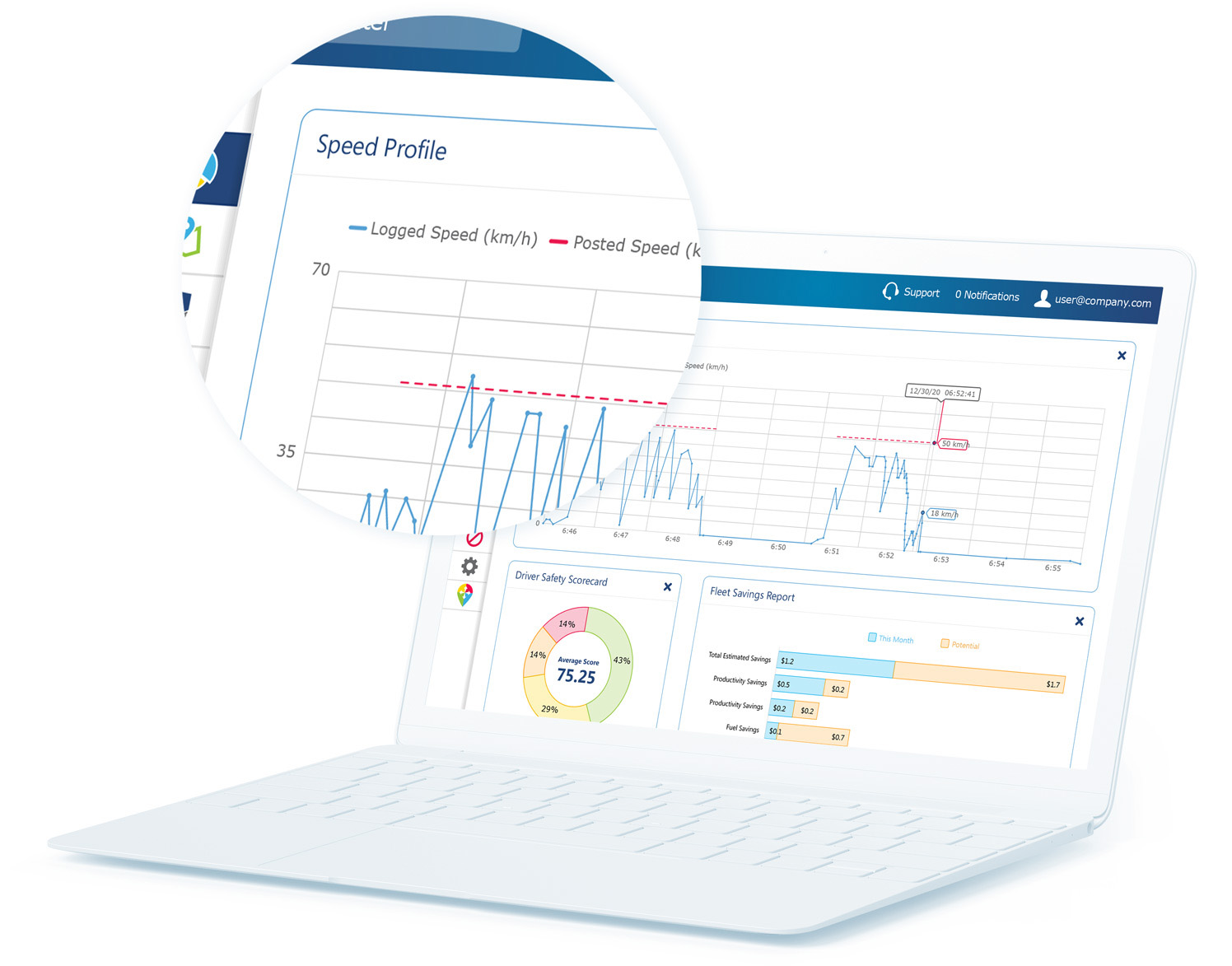 Trips history report
View your fleet's trip history with a breadcrumb trail for an accurate productivity assessment. Take a look at vehicles individually or analyse your vehicles as a whole to better understand day-day activities and uncover areas of improvement.
Advanced risk management report
Track driving patterns for increased safety, efficiency and fleet productivity. Reduce idling times and harsh driving incidents, and get alerted when safety violations or engine faults occur.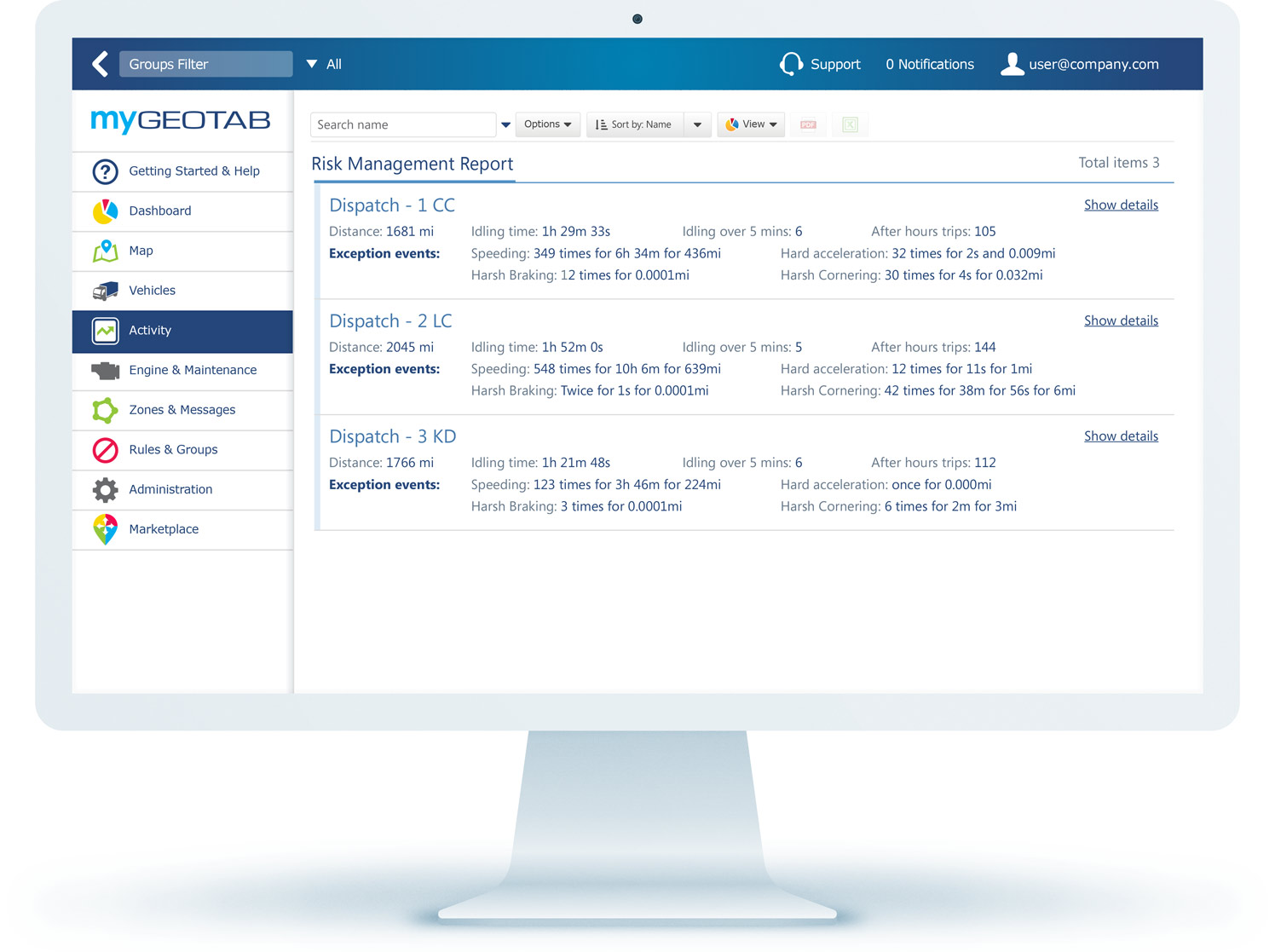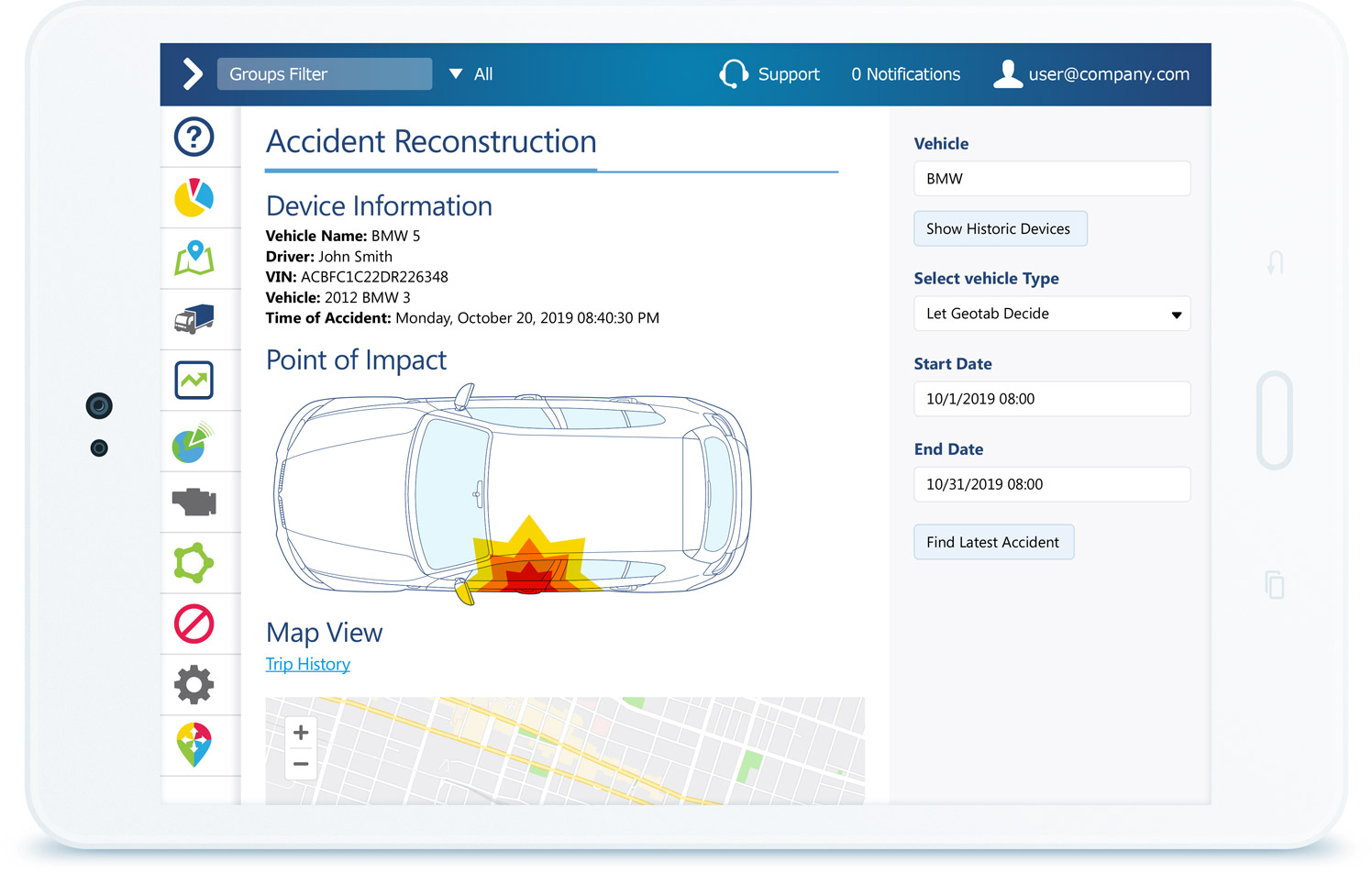 Log data and collisions report
Capture comprehensive information from each vehicle in your fleet and manage it in one central location. Gain visibility into a vehicle's historical GPS location, accelerometer data, engine performance, fuel consumption, RPM level and more. Improve collision analysis by viewing a vehicle's activity leading up to a collision event, including driving habits, direction and force of impact.
---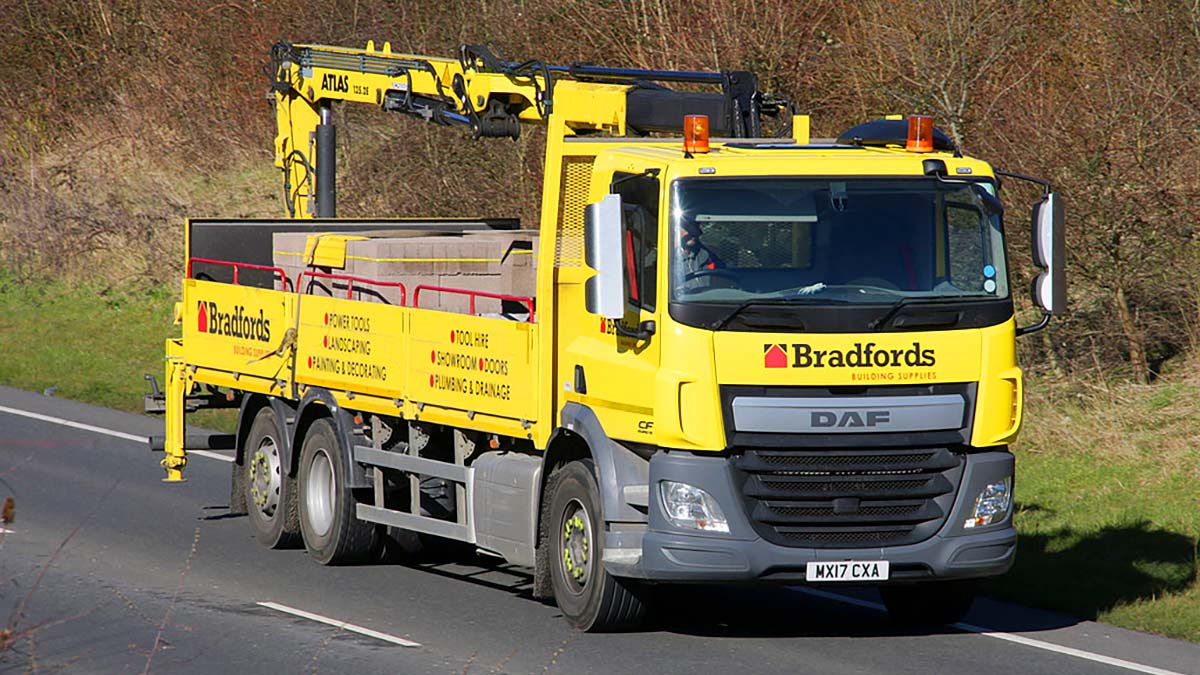 Case study
Fleet creates custom report to meet safety and monitoring goals while lowering costs
Using Geotab's solution, The Bradfords Group was able to cut costs by 2-4% and used gathered data to dispute a false incident claim. Their unique "Magnificent Seven'' scorecard was used to monitor seven driving behaviours that promoted safe and conscious driving.
Read more
Marketplace
Reporting solutions from Geotab Marketplace
Find specialised reports tailored to different scenarios. Solutions include ways to track driving hours violations, determine fuel economy, estimate potential fleet savings, and assess driver safety
See solutions
---
---
Commonly asked questions
Fleet management reports are customised, detailed reports that provide you with the most important information to monitor your fleet's performance. Fleet reporting is specialised and tailored to different scenarios, including tracking drivers hours violations, determining fuel economy, estimating potential fleet savings and assessing driver safety.
What reports can be generated from Geotab's telematics system?
Geotab's advanced reporting flexibility delivers the information you want, when and where you want it. Find useful pre-built reports in MyGeotab and tailor them to meet your unique business needs. Geotab's default reports are grouped into four core operational areas:

Compliance
• Risk management
• Driving hours status log

Fleet
• Detailed vehicle data
• Fuel usage
• Maintenance history
• Maintenance due
• Idling events, total fuel use and total miles trends

Safety
• Driver safety scorecard
• Vehicle speed profile; actual vs posted speeds
• Engine faults and measurements
• Safety violations (exceptions)
• Accidents
• Audit logs

Productivity
• Trips history
• Customer visits
• Congregation events
• Time card log
• Planned vs actual routes

What are the benefits of automated fleet reporting?
Automating reporting helps fleet managers focus on what matters most to them while still monitoring fleet activity. Automated reporting provides customised insights that are available when and where you need them. With an automated system you have the ability to check on fleet performance in real-time or at weekly, monthly, yearly or other intervals.

These automated reports can be scheduled to whatever frequency you require, so that they are ready for you instantaneously. Thousands of data points can be analysed in simple dashboards, where you can filter by any parameter that is important to you.

Automated reporting can help fleet managers to track fleet efficiency, safety, compliance, maintenance, asset utilization, and much more. Then set up custom rules to create automated alerts and reminders for the information that you can't afford to miss.
What are the advantages of Geotab's fleet management reporting system?
Geotab's fleet management tracking and reporting system provides fleets with:

• Pre-built reports that are designed to optimise your fleet efficiency, safety and productivity
• Key reports built into simple dashboards, saving you valuable time and effort
• Complete customisation so that each report can fit your unique requirements
• Automated reports, scheduled to run at the frequency you require
• Custom alerts and notifications via text or email for the information you can't afford to miss
• User permissions to provide your team with only the information they need
• Complete oversight of fleet operations so that you can make informed decisions to improve performance
---
Start getting the most out of your fleet
Learn how simple it is to use our web-based software and fleet management devices to improve fleet reporting.