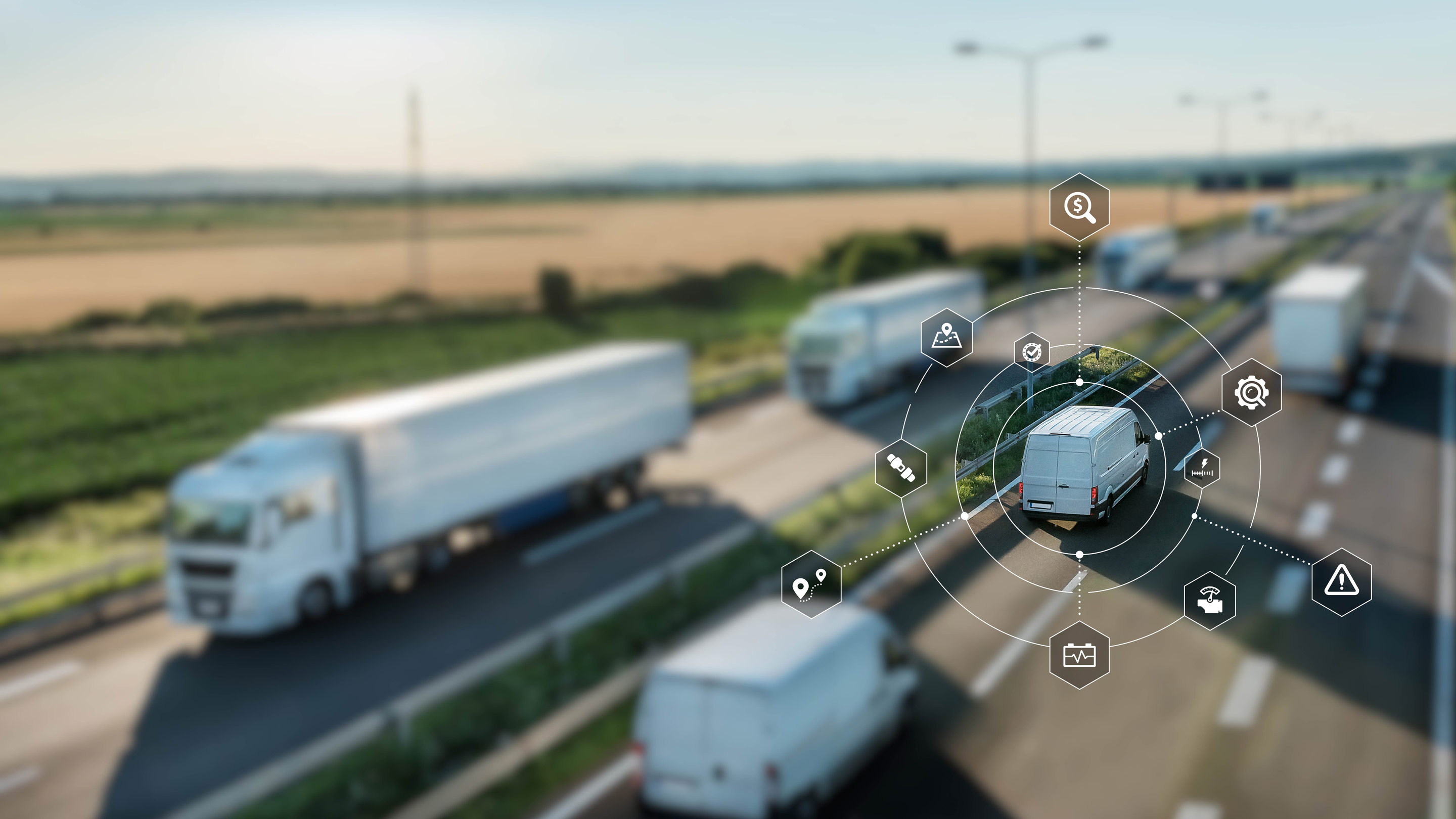 Connected vehicle solutions
Expand revenue streams and add services with connected vehicle solutions and data capabilities for fleets.
Request a demo
---
Connected vehicle solutions your way
Our partnership is flexible, secure and scalable. We can work together in a way that suits your needs and your strategy.
Launch
Take advantage of our telematics capabilities—from hardware to software—and supercharge your data services.

Benefits:
Upsell your data streams to fleets for enhanced retention
Optimise the cost of adding connectivity to your vehicles
Cross-sell to allied industries
Build
Combine your device with our fleet management platform, powerful APIs and high-quality data for intelligent mobility solutions. You'll lower investment costs and gain a competitive advantage.

Benefits:
Supercharge your data analytics capability
Empower fleets to accurately benchmark objectives
Help fleets make better decisions with predictive insights.
Transform
Layer our firmware on your hardware for second-by-second data capabilities to supercharge product development.

Benefits:
Leverage our expertise to improve connected vehicle solutions
Use our expert firmware inside your bundled product
Reduce costs and accelerate products to market
Label
Make our experience yours. Offer fleets our full capability to improve your customer service and help them better manage their fleet.

Benefits:
Enhanced customer service
Wider product and service offerings
Eliminate investment and development time
---
For OEMs, finding the right connectivity partner is crucial — here's why
Read how to get to market faster and reduce development costs with the right telematics partnership.
---
Marketplace
Open platform, third-party integration
Our secure, open platform integrates with hundreds of Marketplace ecosystem solutions. You can select a custom stack to reduce operational costs and create efficiency.
Fuel management solutions
Custom reports and analytics
Much, much more!
Explore our Marketplace solutions today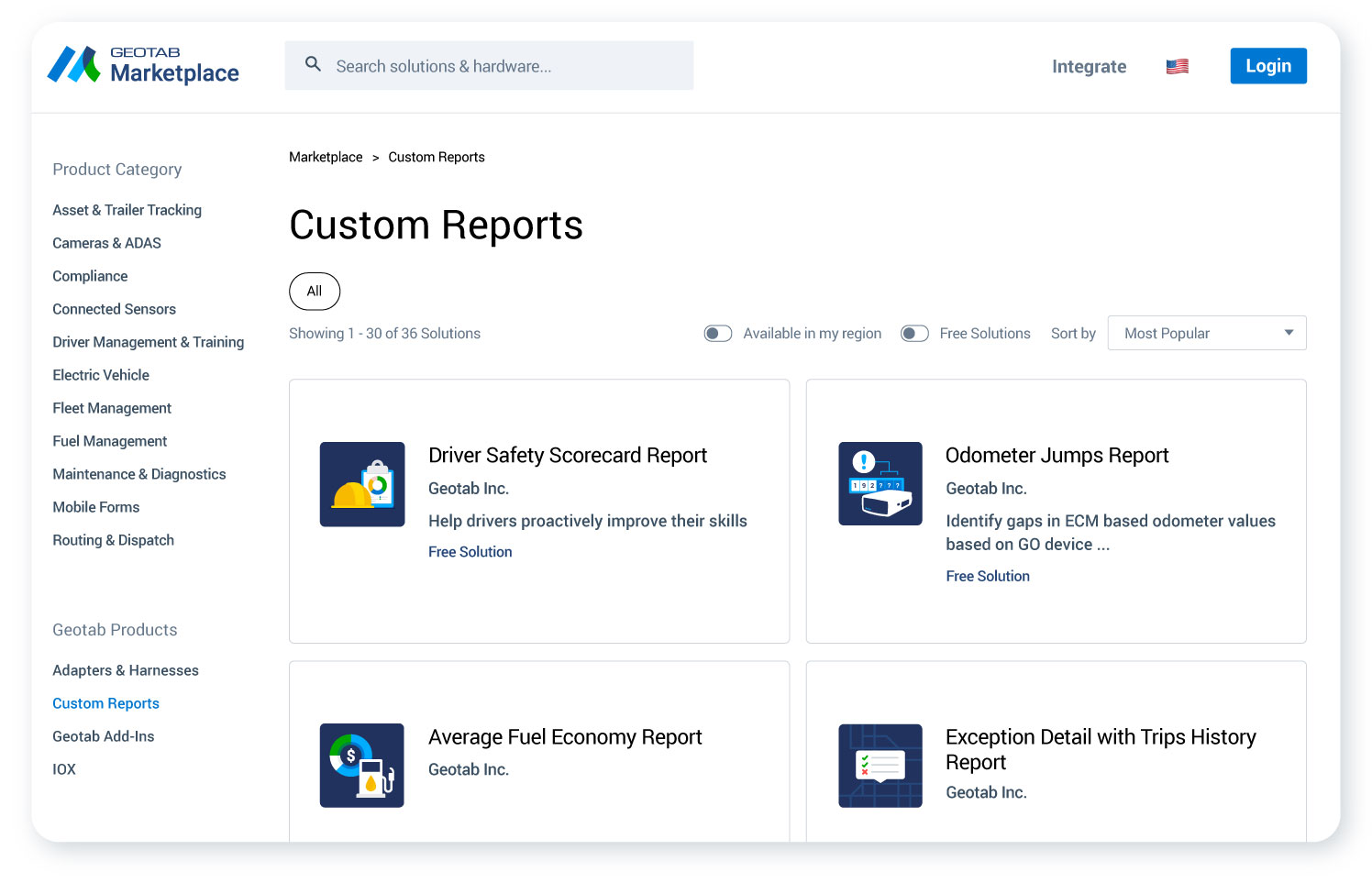 ---
Capture every second
Our fleet software integration gives you instant access to second-by-second historical vehicle data for improved insights.

Easily expand data frequency and impress fleet customers with ever-evolving data services.

---
What assets and hardware can you connect?
OEM telematics knowledge centre
Discover how our OEM telematics solutions can broaden your connected car capabilities and help you deliver innovative services faster to fleets.
---
---
Commonly asked questions about our connected vehicle solutions
What is a connected vehicle?
A connected vehicle is a vehicle equipped with mobile technology to connect it with external applications through the Internet. Using telematics devices or embedded technology, a vehicle can send data to a cloud service, where it can be processed and accessed by the vehicle owner or fleet manager.
To learn more about connected vehicle technology,
read our blog post
.
What is the future of vehicle connectivity?
There is no one focus for future connected vehicle technology, but it is likely that vehicles in the not-too-distant future will all be connected, transmitting data and "interacting" with the road and every other vehicle around them. One area of growing interest is self-driving vehicles, but even before then, connectivity will make roads safer by allowing vehicles to effectively avoid hazards and interact with their environment more intelligently.
How does a connected fleet benefit owners and drivers?
Connected fleets bring multiple benefits to fleet managers and owners, including:

• Tracking factors that influence fleet productivity, such as idling time, driving time, customer visits or ignition locations.
• Detecting risky driving behaviour such as harsh braking, speeding or sharp cornering. • Accessing vehicle health data to minimise the risk of unexpected, and potentially dangerous, vehicle failure.
• Getting precise data on fuel usage and inefficient activities like idling in internal combustion engine vehicles (ICEs) or monitoring charge levels, range and battery degradation in EVs.
What connected vehicle solutions does Geotab offer?
Geotab GO devices act as an IoT hub, extending Add-Ons, such as Bluetooth for asset tracking and tools, in-cab speakers to train drivers, barcode scanners, scales and digital keys.
What are the different types of connected vehicle technologies?
Connected vehicle capabilities can be grouped into several categories:
Telematics: Tracking vehicle location and activity, driver behavior, engine diagnostics. Organizations can monitor the performance of a large fleet from a single online platform.
Vehicle to everything (V2X): interacting with any object in the vehicle's vicinity. This communication could be vehicle to vehicle (V2V), vehicle to pedestrian (V2P), vehicle to network (V2N) or vehicle to infrastructure (V2I).
In-vehicle infotainment: interacting with vehicle occupants. This includes audio and video entertainment and navigation systems.
---
We're your telematics partner for product insights, customer expansion and market acceleration
Talk to our OEM telematics solutions experts today