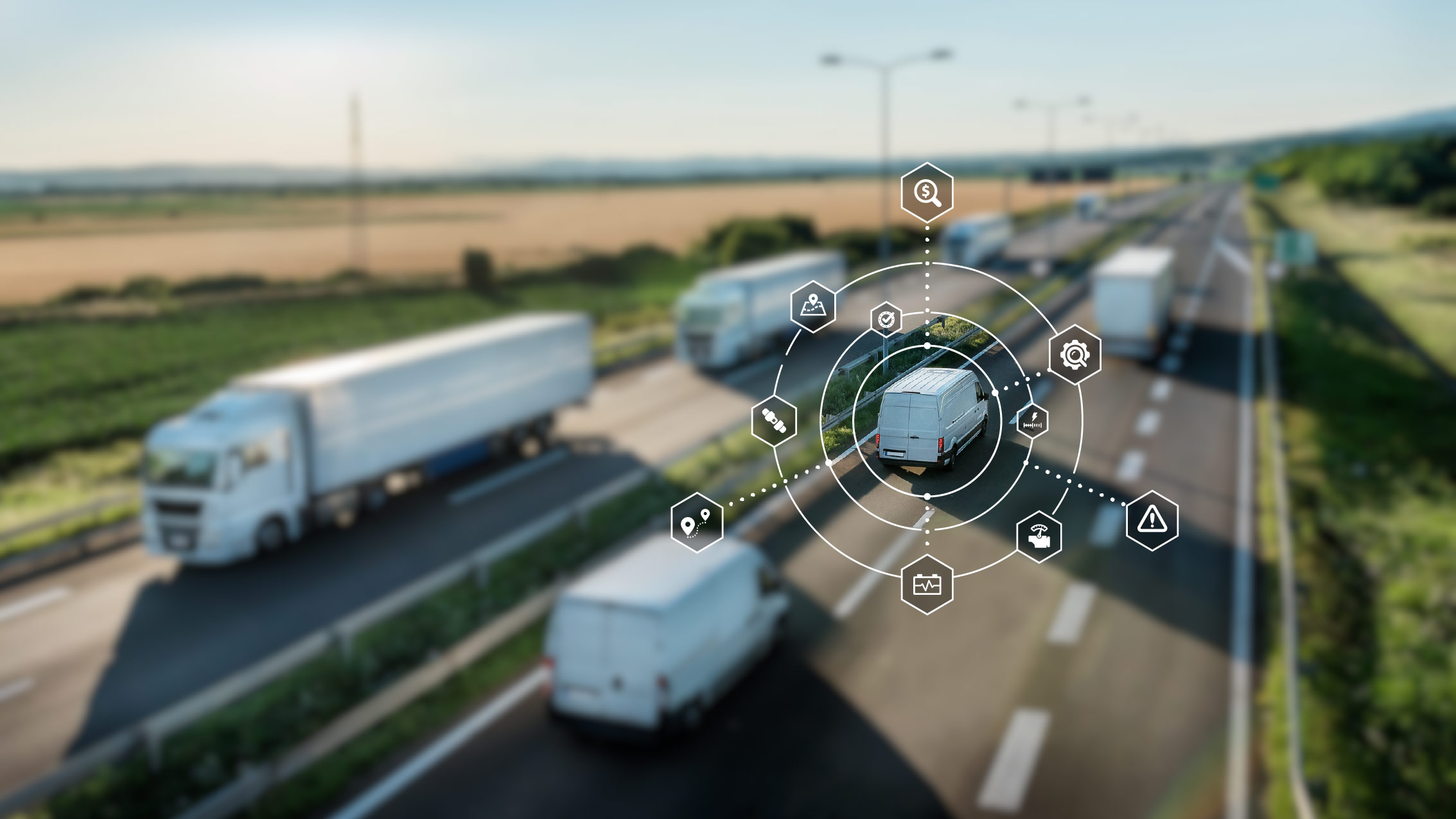 For OEMs, finding the right connectivity partner is crucial — here's why
---
Many OEMs build and maintain proprietary fleet telematics solutions. Partnering with a leading connectivity expert reduces costs and accelerates products to market.
As an OEM, you are the expert when it comes to making vehicles and you know how hard it is. When James Dyson shared his $700 million attempt at designing an electric car, Elon Musk replied in a Tweet: "Production is hard. Production with positive cash flow is extremely hard".

Apart from the complex decisions you have to make about everything from raw materials to sales and marketing, you are increasingly confronted with new challenges and trends that the automotive industry is undergoing: electrification, mobility services and solutions, and autonomous driving — all of it needs your attention; all of it is crucial to meet the high expectations of your customers

With approx. 50% of the sales volume, fleet customers are becoming a more significant market segment to you as OEMs. These customers demand more than a great driving experience. They need professional technical support to optimally manage their vehicle fleet. And it is precisely this support that telematics offers them. But is building your own telematics solution really the way to go or wouldn't it be a better option to partner with a connectivity expert?

In reality, the staggering amount of time, money and resources needed to build such a product could threaten the focus on your core competencies and operations.

For now, let's look at why partnering with a connected vehicle expert is a better choice for OEMs looking for a connectivity platform.
What's your focus as an OEM?
Times are challenging. Always. Right now, OEMs face heavy long-term and short-term challenges simultaneously that impact their business models massively.
CASE — changing the face of the automotive industry in the long run
The four well-known mega-trends: Connectivity, Autonomous Driving, Shared Mobility and Electrification are each a game changer by itself. Combined, they change the long-standing business models of OEMs within a short time frame. Developing new EV-based vehicles, IT becoming a differentiator and micropayment transaction pose never seen before changes and investments to the OEMs.

This demands your full focus and financial investment to change your systems, processes and thinking. Short-term crises need day-to-day action and reaction. Supply shortages, interrupted logistics chains, rising inflation and recession at the horizon are external factors that make long term planning impossible for you. Instead, these circumstances require you to manage your operational processes from day to day with as little risks to take as possible.
How can you drive added value for your fleet customers?
Given the above, providing fleet management solutions is probably not on your list of priorities and it shouldn't be! There are experts out there that can provide what your fleet customers need.

Fleet managers typically have several suppliers and partners that support them in their daily business, like FMC, fuel card providers, insurances, workshops, fleet telematics services providers (TSP) and OEMs, which supply the vehicles.

Fleet Telematics is a field of its own as it delivers the data from the vehicle and from the operational processes many of the mentioned suppliers rely on. But customers do not only want to have the data. They want the analytics, reports and insights to optimise their fleet based on the data. Customers demand that a TSP understands the logistics processes and vehicle operations in a fleet to the fullest extent to deliver the best support to the fleet manager. This is an area of expertise an OEM does not necessarily have and does not need to have.

Nevertheless, the vehicle can deliver the raw data a TSP needs. In addition, vehicles are increasingly equipped with a telematics device as soon as they leave the factory and deliver the data to the OEM's cloud.

Since it is embedded in the vehicle, it is included in the leasing rate that the customer pays for. Customers want to take full advantage of this service to receive the data and feed it into the fleet management system via the TSP.

So, here is a compelling proposal: OEMs make the data which is stored in their cloud available to the TSPs who then can refrain from installing aftermarket devices in the vehicle. And fleet customers enjoy the convenience of getting data access in their preferred telematics system with a push of a button.

It's a triple win. And an easy way of monetising data access for you as an OEM, because companies like Geotab are specialised in selling telematics solutions to fleet customers — it's our core business.
Don't have a connectivity solution? No worries, we'll take care of it
Now, what if you don't have a telematics device built in your vehicles at the factory line or do not operate a data cloud?

Well, here comes the second pillar of our core business: we have what you are looking for! Our telematics devices are made specifically for that. They can be built into your vehicles and capture the data using intelligent algorithms that we have developed over the years, like the Curve logging algorithm. But even better, we also have the backend infrastructure that can manage 50bn data points per day for 3M vehicles and we can scale. If you like, a frontend in your CD and logo is done in a blast.

Need proof? Read how Geotab provides LEVC with an end-to-end telematics solution.

With a turnkey telematics platform, like Geotab for hardware, software or both, you can get to market faster, reduce development costs and generate revenues. That's the business case you've been looking for, right?
Integrity, experience and expertise
Building a quality connected vehicle solution requires decades of experience, teams of talented people and hundreds of millions of dollars in investment.

Geotab has over 2,000 employees, including over 500 engineers and over 100 people working behind the scenes in our data and analytics department. We process over 50 billion points of data every day to deliver insights to both OEMs and fleets around the world.

In fact, we've spent over 20 years building and developing a customisable telematics solution that provides fleets with the insights and tools that they need to manage their business. They can use this data to make improvements and add new features, relying on our expertise in the following areas:
Cybersecurity operations
Cloud-to-cloud integration
Asset management
Equipment monitoring
Network coverage

The advanced security features of Geotab's telematics platform are certified against rigorous encryption, authentication and compliance standards.

In 2021 alone, we invested $75 million into research and development. We partner with OEMs around the world as their telematics experts to complement their strengths and help their vehicles become more connected.

In addition to the benefits of partnering with a connected vehicle expert rather than building your own solution, Geotab can help you understand the right data model to grow your fleet business with the $400 billion connected car market opportunity.
The advantage of partnering with a leading connected vehicle expert
The global mobility ecosystem is evolving and holds more challenges than ever. Partnering with a connected vehicle expert helps you build stronger products in a more connected environment. It's also a far more effective path to help you deliver and improve your products.

You can provide proven connectivity systems to your fleet customers and avoid the challenges of trying to build and maintain a secure, reliable and scalable telematics platform. Rely on our expertise. It's our day-to-day business!

So, if you need a connectivity solution, let's talk about how a partnership with Geotab is an investment that can help accelerate your business and better serve your fleet customers.

Learn more about getting value from connected vehicle data in our white paper, Winning the connected vehicle data revolution.
---
If you liked this post, let us know!
---
Disclaimer
Geotab's blog posts are intended to provide information and encourage discussion on topics of interest to the telematics community at large. Geotab is not providing technical, professional or legal advice through these blog posts. While every effort has been made to ensure the information in this blog post is timely and accurate, errors and omissions may occur, and the information presented here may become out-of-date with the passage of time.
Subscribe to the Geotab Blog
Sign up for monthly news and tips from our award-winning fleet management blog. You can unsubscribe at any time.
Other posts you might like