Geotab Sustainability and Impact Report
This second edition of the Geotab Sustainability and Impact Report highlights our work to support the transition to low-carbon transportation and make progress on our environmental, social and ethical goals.
---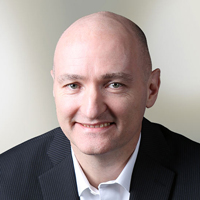 Neil Cawse, Founder & CEO of Geotab
As the world-leading commercial telematics platform for connected vehicles and assets, Geotab is unlocking the power of data to build a low-carbon future for a sustainable planet.
---
Committed to taking climate action
Data and technology are the key to measuring performance and making an impact. This is where Geotab, along with our partners globally, can make a difference – helping our customers, partners and suppliers to improve energy efficiency, conserve resources and achieve their climate change goals. The only path to a net-zero carbon future is together.
---
Our Impact Agenda
Sustainability is at the core of everything we do at Geotab. As a global leader in telematics, we have the opportunity to help address some of the greatest challenges facing the world today, including climate change and road safety. Our Impact Agenda focuses on three areas where we can make the most significant contribution:
Accelerating decarbonisation in the transportation industry
Providing data-driven tools and insights to support fleets along their sustainability journey and help them to make progress on decarbonising and electrification.
Powering driver and road safety
Connecting businesses and cities to intelligent vehicle and transportation insights to improve driver safety and reduce the risk of collisions.
Advancing progress to net zero through data, research and partnerships
Sharing knowledge and expertise, making investments and collaborating on projects to spark innovation and support efforts towards a low-carbon future.
---
On the path to a greener future
Sustainability is at the core of everything we do at Geotab, from striving to minimise the environmental footprint of our internal operations to developing innovative technologies that optimise the ability of fleets to go green. Our mission is to work with our partners globally towards a decarbonised and thriving future with a collective vision of net-zero emissions. Geotab's four pillars of sustainability are:
Safeguard the environment
You can't manage what you don't measure. We used our 2019 baseline to set science-based targets to reduce Scope 1 & 2 emissions by 50% by 2030, and achieve net-zero for all three scopes of emissions by 2040 by managing direct and indirect sources.
Source responsibly
We are committed to a sustainable and ethical supply chain, transparency, and upholding fair labor standards for all employees across our global operations, through the
Geotab Global Partner Code of Conduct
, and compliance and auditing processes.
Provide innovation that helps organizations do things better and do better things
Our greatest impact will be to help fleet customers operate more efficiently and transition to zero emission vehicles with the Geotab telematics platform and data-driven insights. By helping our customers increase efficiency even by 5%, that would equate to a decrease of CO2 emissions by 1.25 million metric tons per year.
Creating a positive impact for our people and communities
We believe in doing the right thing everyday — at work and in the community. Corporate social responsibility extends from our business practices to Geotab Cares, in which we partner with organisations to make positive changes in STEM, the environment, and pedestrian and road safety. At Geotab, we are working together for an accessible and globally diverse, equitable and inclusive culture where differences drive innovative solutions.
---
Our approach to sustainability
As a participant of the UN Global Compact, Geotab aligns its operations and strategies with ten universally accepted principles in the areas of human rights, labour, environment and anti-corruption, and is committed to taking action in support of UN goals and issues embodied in the Sustainable Development Goals (SDGs). The UN's seventeen SDGs are the world's shared plan to end extreme poverty, reduce inequality and protect the planet by 2030. Our sustainability initiatives align with the following SDGs:
Goal 5: Gender Equality
Goal 7: Affordable and clean energy
Goal 9: Industry innovation and infrastructure
Goal 10: Reduced Inequality
Goal 11: Sustainable cities and communities
Goal 12: Responsible consumption and production
Goal 13: Climate action
Goal 16: Peace, justice and strong institutions
Goal 17: Partnerships for the Goals
---
Building sustainable operations globally
Environmental initiatives
We are working to reduce our environmental impact through waste diversion, procuring EPEAT-certified IT equipment, investing in EV chargers at our offices, and other measures.
Creating a positive impact in our communities
Through Geotab Cares and corporate social responsibility initiatives, we partner with organisations to make positive changes in STEM, the environment and road safety.
Learn more
Diversity, equity and inclusion
At Geotab, we are working together for an accessible and globally diverse, equitable and inclusive culture, where differences drive innovative solutions.
Learn more
Navigating our way to zero emissions
Understanding the urgency of climate action, Geotab has set a target to achieve net-zero emissions by 2040 — a decade earlier than called for in the Paris Agreement.
Science-based climate targets
To achieve this, we are working collectively with other organisations around the world to rethink and redefine our actions so we can leave the world better than we found it. We are committed to reducing emissions across the entire value chain and have set
Science-based Targets (SBTi)
to achieve our goals.
The road to net-zero carbon
Geotab is navigating towards a 50% reduction in emissions by 2030 with the ultimate goal of becoming carbon neutral by 2040.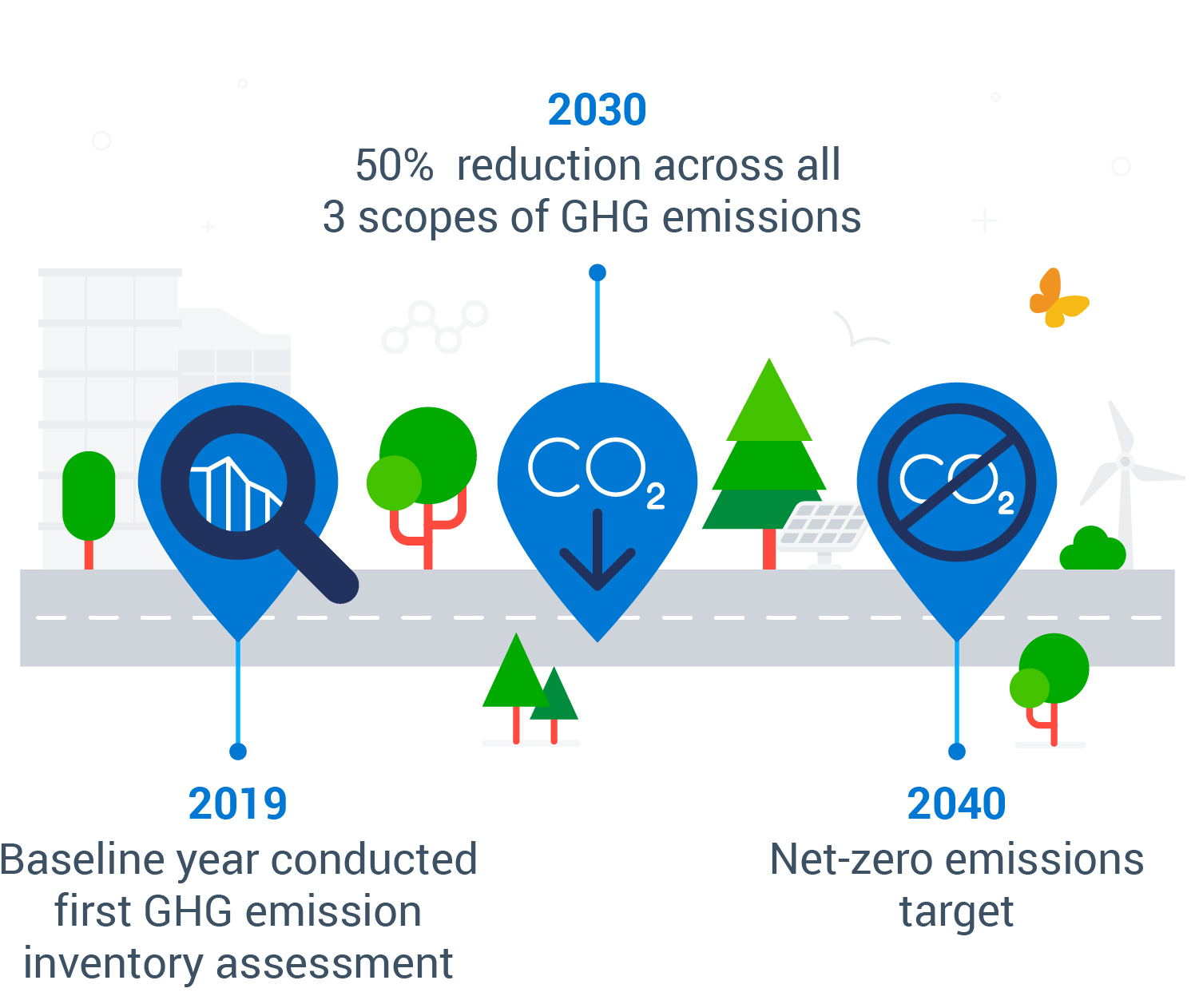 ---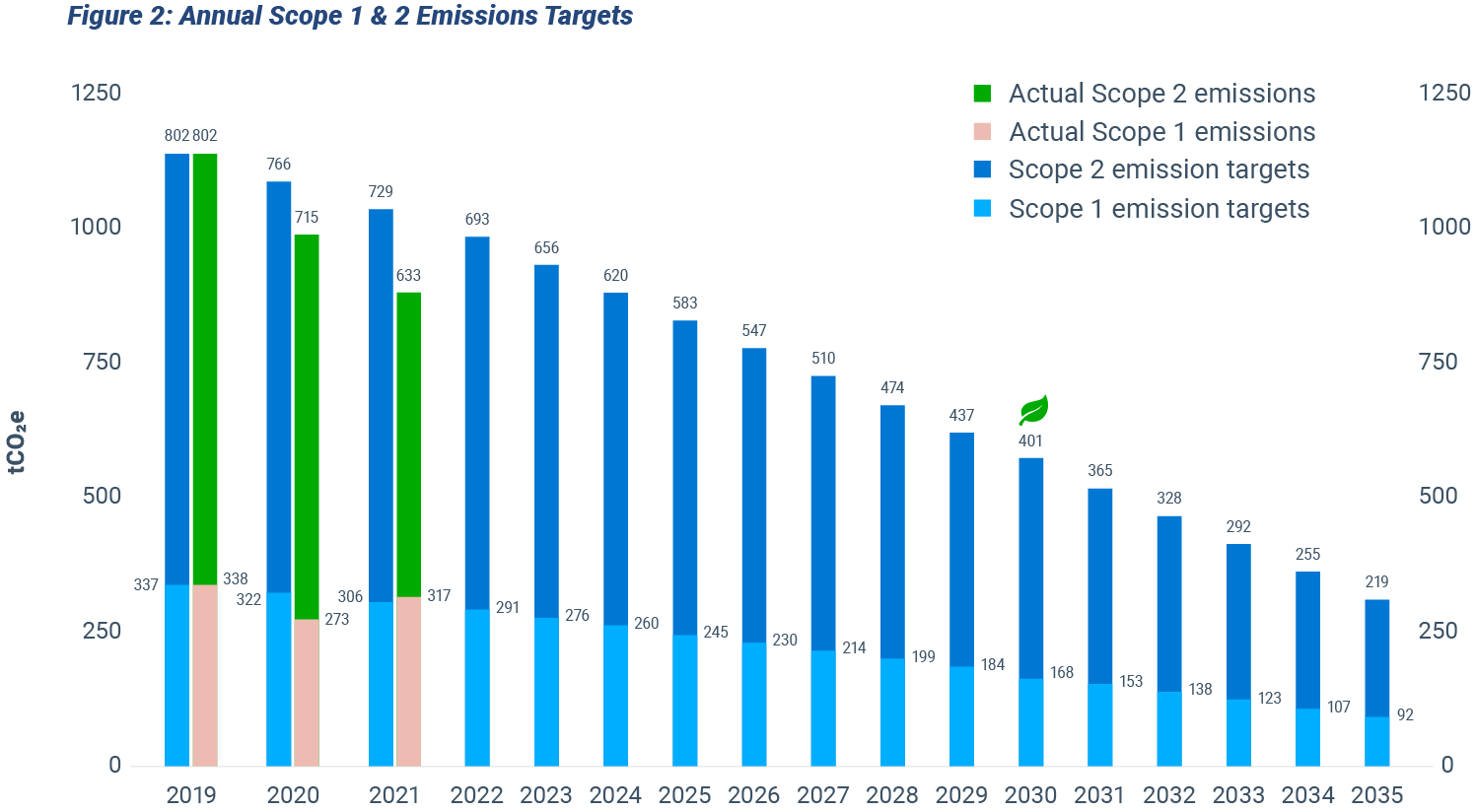 Reducing carbon emissions
Our total carbon emissions decreased by 14% from 2019 to 2021. Geotab is lowering greenhouse gas emissions through innovative programmes to reduce employee commuting and travel, including the Electric Vehicle Incentive Programme and Public Transportation Reimbursement, and new business travel guidelines, in addition to our flexible-first model for remote working.
---
Awards and recognition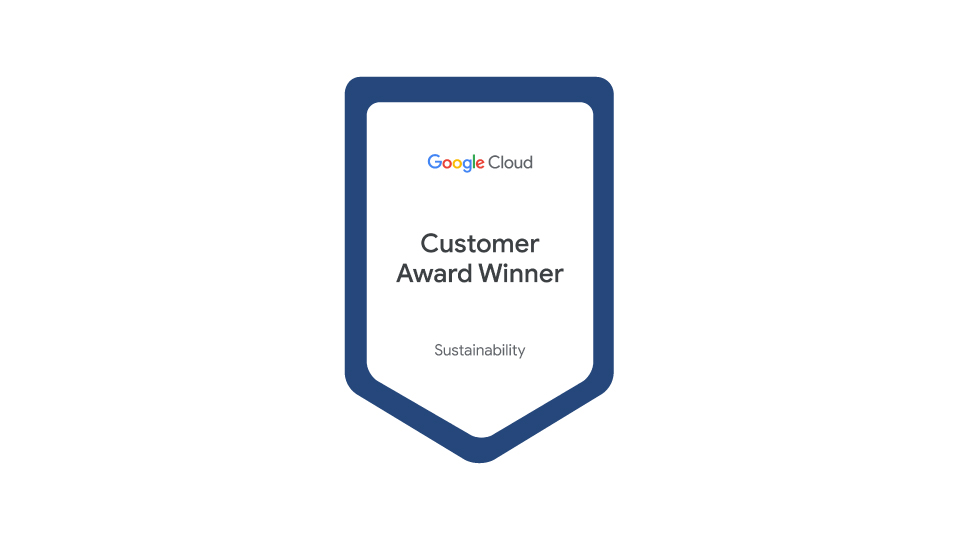 Google Cloud Award: Sustainability
Awarded to organisations making a positive impact on the environment.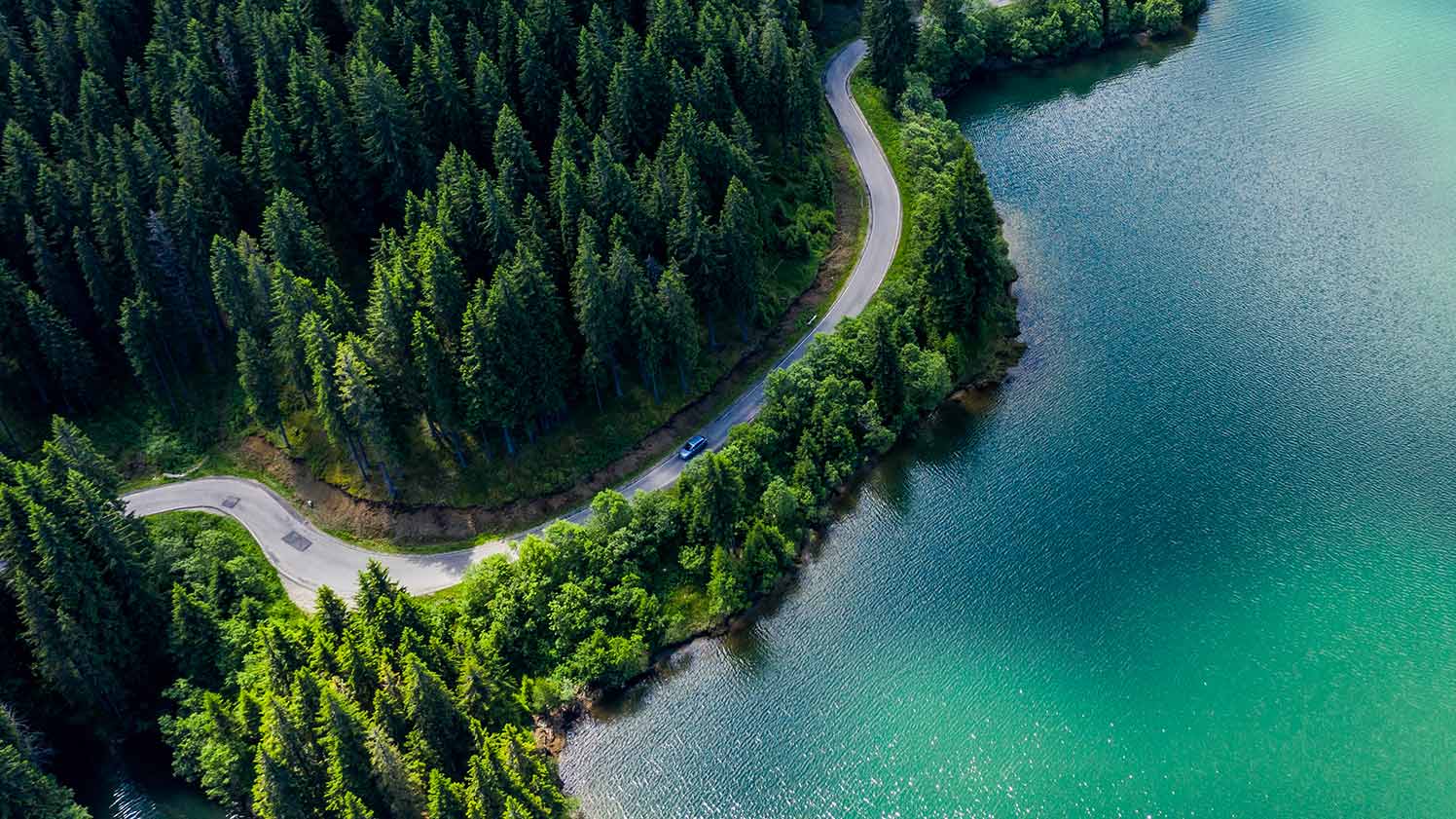 How Geotab helps companies reduce their environmental impact
Companies can use the Geotab platform for sustainability and data-driven insights to:
Reduce fuel consumption and improve fuel economy
Promote eco-driving with coaching and feedback
Lower carbon emissions and assess vehicle utilisation with the Green Fleet Dashboard
Prioritise vehicles in need of maintenance to reduce parts required, labour costs and cost of maintenance, and use Geotab's route management tools for effective route planning that lowers fuel consumption, time spent idling and miles driven
Transition to electric vehicles with the free EV Suitability Assessment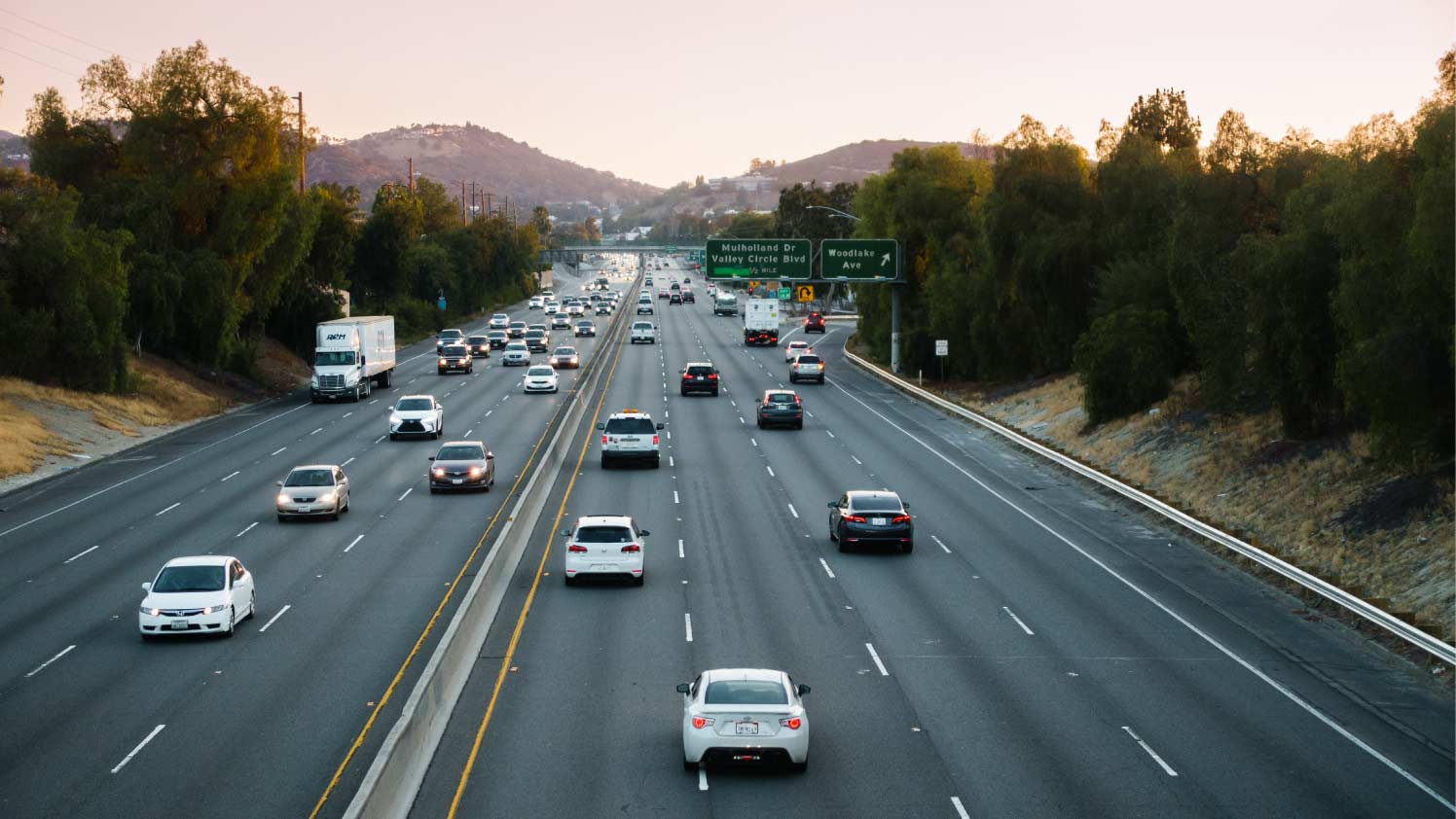 Solutions that drive your sustainable fleet strategy forward
Discover solutions and tools to help you achieve your corporate sustainability goals, minimise your environmental impact and manage your fleet's electric vehicles. Geotab GO devices are designed and tested to verify recyclability and durability, and to minimise waste that goes to the landfill.
---
Sustainability news
At Geotab we are committed to doing our part for the environment by helping fleets operate sustainably and lowering our carbon footprint. Read about our CSR efforts and how we are powering sustainable change through data insights.
---
ESG policies and reports
Review Geotab's environmental, social and governance-related documents and past sustainability reports.
Explore our Sustainability Report
We are on the path to carbon neutrality. View our Sustainability and Impact Report to learn about our global sustainability initiatives and targets.