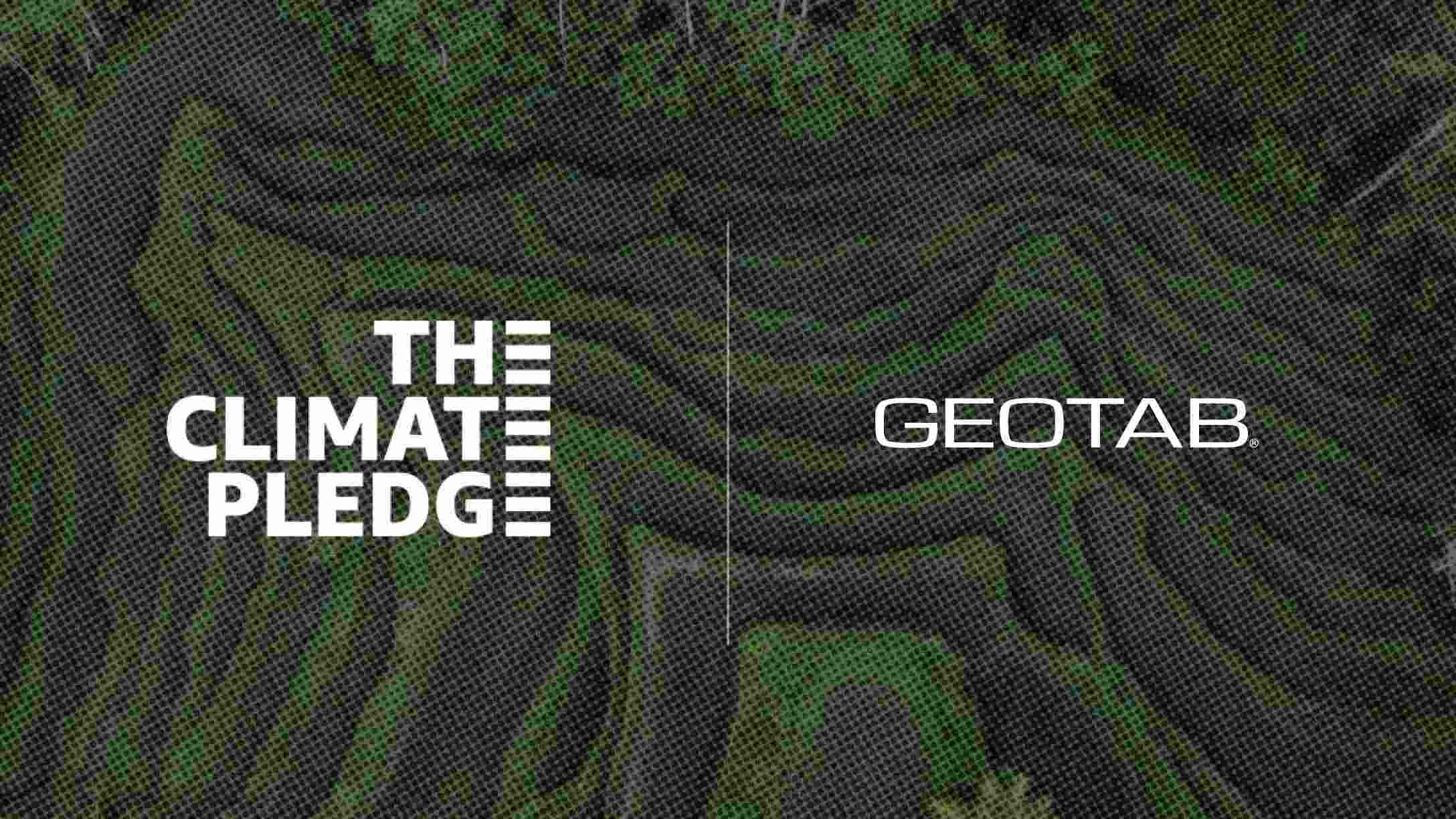 Geotab signs The Climate Pledge, committing to net-zero by 2040
---
Amazon and Global Optimism co-founded The Climate Pledge to foster corporate climate action.
Geotab has officially signed The Climate Pledge, agreeing to reach net-zero carbon by 2040, and now joins a group of world-renowned companies and organizations that have confirmed their commitment to climate action. The Climate Pledge signatories are changing how business is done, finding innovative ways to help decarbonise the economy.
What is The Climate Pledge?
The Climate Pledge is a commitment to net-zero carbon by 2040 that forms a cross-sector community of companies and organizations, working together to crack the climate crisis and solve the challenges of decarbonising our economy. The Climate Pledge was co-founded by Amazon and Global Optimism in 2019 to call on signatories to become net-zero carbon across their businesses by 2040. Companies and organizations that sign the Pledge commit to three areas of action:
Measure and report greenhouse gas emissions on a regular basis;
Implement decarbonisation strategies in line with the Paris Agreement through real business changes and innovations, including efficiency improvements, renewable energy, materials reductions, and other carbon emission elimination strategies;
Neutralise any remaining emissions with additional, quantifiable, permanent, and socially-beneficial offsets to achieve net zero annual carbon emissions by 2040.
Decarbonising road transportation
The largest opportunity Geotab has to reduce global emissions is by helping business and government organisations operate more efficiently and transition to zero-emission vehicles. Geotab's telematics platform and data-driven insights empower fleets to understand, act upon, and scale their efforts in reducing their emissions. We have developed a suite of tools designed to help our customers throughout their sustainability journey.
Geotab is a global leader in electric vehicle (EV) support, connecting fleets to rich data for the largest set of EV makes/models on the market today, from passenger cars to heavy-duty trucks. Geotab's EV fleet management solutions are designed to help fleets at every stage of their electrification journey, whether they currently do not have any EVs and are considering EV adoption, all the way to a fully-electric fleet. Data-driven insights take the guesswork out of selecting the right vehicle for the job, and reports on vehicles' state of charge and energy use allow fleet operators to manage their EVs optimally.
Thousands of Amazon connected vehicles rely on Geotab for sustainability insights
The Amazon global road fleet relies on Geotab to gain critical data insights on fleet operations, efficiency, and sustainability. Globally thousands of vehicles that delivery service partners of Amazon operate are connected to Geotab telematics. Amazon leverages the Geotab fleet management program to enhance efficiency of its routing and increase driver safety. Moreover, it enables trend monitoring regarding fuel and energy usage to reduce emissions and manage range performance of EVs.
Leading by example
At Geotab, we have voluntarily compiled our greenhouse gas inventory that covers direct emissions from owned/controlled sources and indirect emissions from the use of purchased electricity (known as Scope 1 and Scope 2). We are committed to setting near-term science-based targets for our Scope 1 and 2 footprint that will reduce these emissions by 50% by 2030 from a 2019 baseline. In alignment with The Climate Pledge, we are committed to achieving net zero for Scope 1, 2 and 3 emissions by 2040. Learn more about Geotab's position on the climate crisis.
We understand that we need to lead by example and we take our responsibility seriously. With our GO Device Recycling program we focus on pursuing the value of a circular economy and making sure that we use materials responsibly and to their fullest potential. Right now, Geotab is expanding the project into Europe as well to allow for localised recycling and waste management mechanisms.
Geotab's offices embody sustainability as well. It's important that staff work in an environmentally friendly space. We look to add green building elements to our other office spaces worldwide. Some examples of current initiatives include water refill stations to encourage staff to avoid single-use plastic water bottles, and bike rooms for employees who are able to cycle to work to encourage alternative modes of transportation.
Additionally, as part of Geotab's CSR program and in alignment with the company's overarching sustainability mission, Geotab developed an EV program where employees can receive an incentive to purchase or lease an electric vehicle.
Together for a better future
Geotab will be participating at the Sustainable Innovation Forum at COP26 in Glasgow from November 8 to 10, 2021. This event provides an inclusive platform for corporations to raise their voice on climate action. Hear from our corporate leaders how Geotab envisions the future of mobility.
Learn more about corporate sustainability at Geotab.
---
If you liked this post, let us know!
---
Disclaimer
Geotab's blog posts are intended to provide information and encourage discussion on topics of interest to the telematics community at large. Geotab is not providing technical, professional or legal advice through these blog posts. While every effort has been made to ensure the information in this blog post is timely and accurate, errors and omissions may occur, and the information presented here may become out-of-date with the passage of time.
Subscribe to the Geotab Blog
Sign up for monthly news and tips from our award-winning fleet management blog. You can unsubscribe at any time.
Other posts you might like