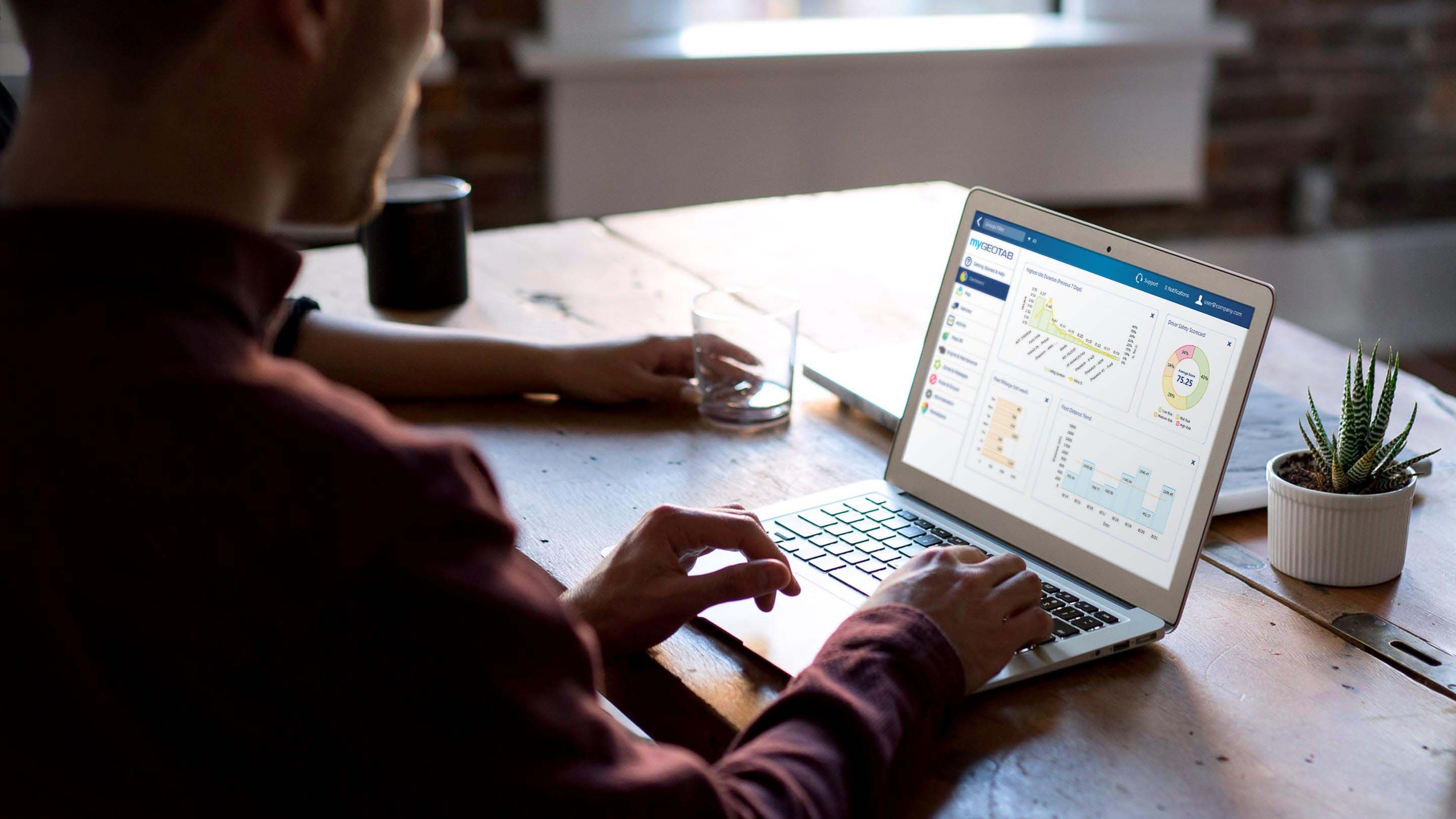 Advanced fleet management reporting
Customised, detailed reports on your fleet's performance, at your fingertips.
Request a demo
Summarise fleet trips, or dig deeper with advanced trip history
Geotab collects the data, but you choose how to view it. Understand your fleet and work on specific focus areas.. Use our standard reporting features such as the Driver Safety Scorecard to improve driver safety across the team, or run a speeding report to see conflict between actual speeds driven versus posted road speed. Standard and custom reporting lets you use your data how you like, for the best analytical insights.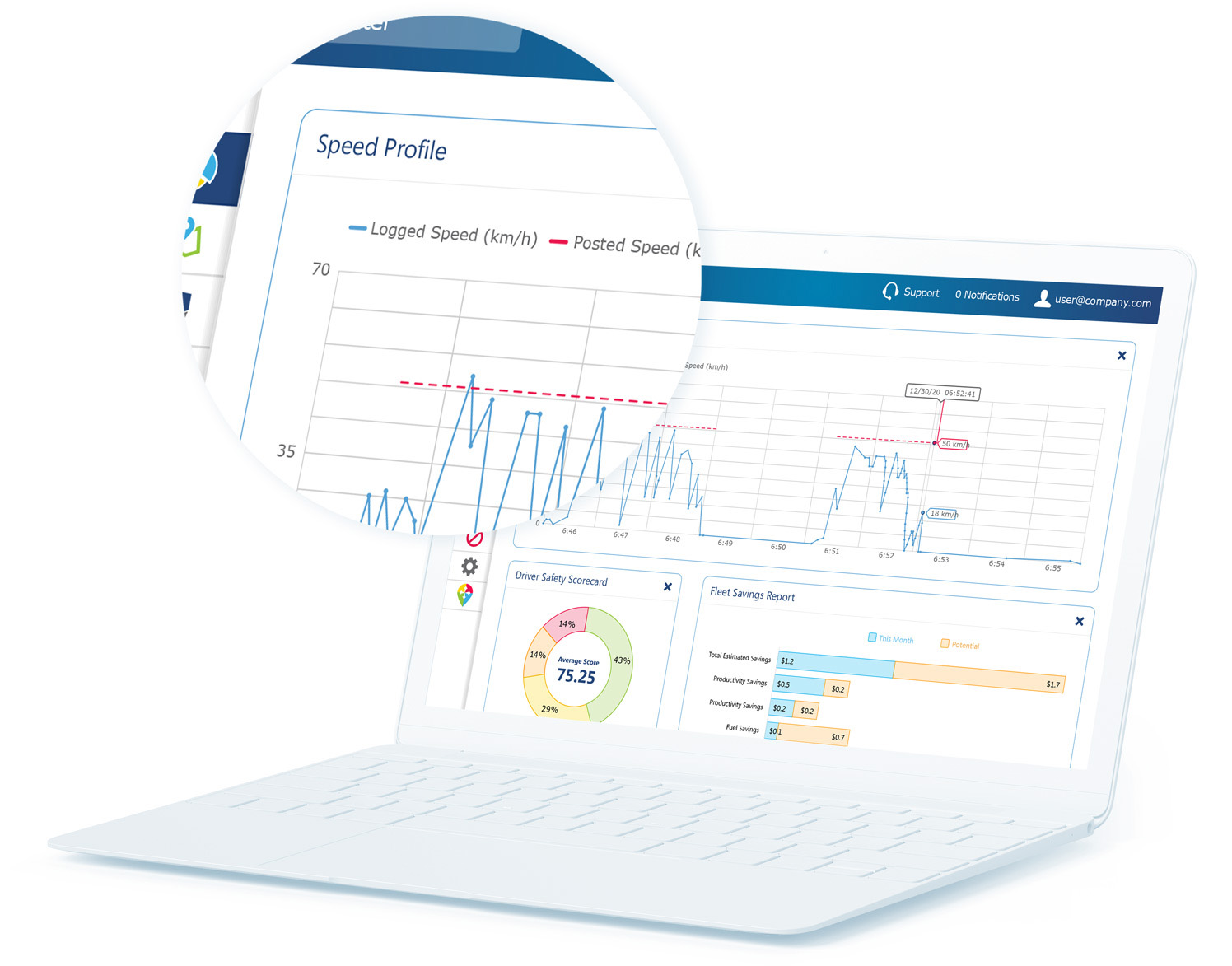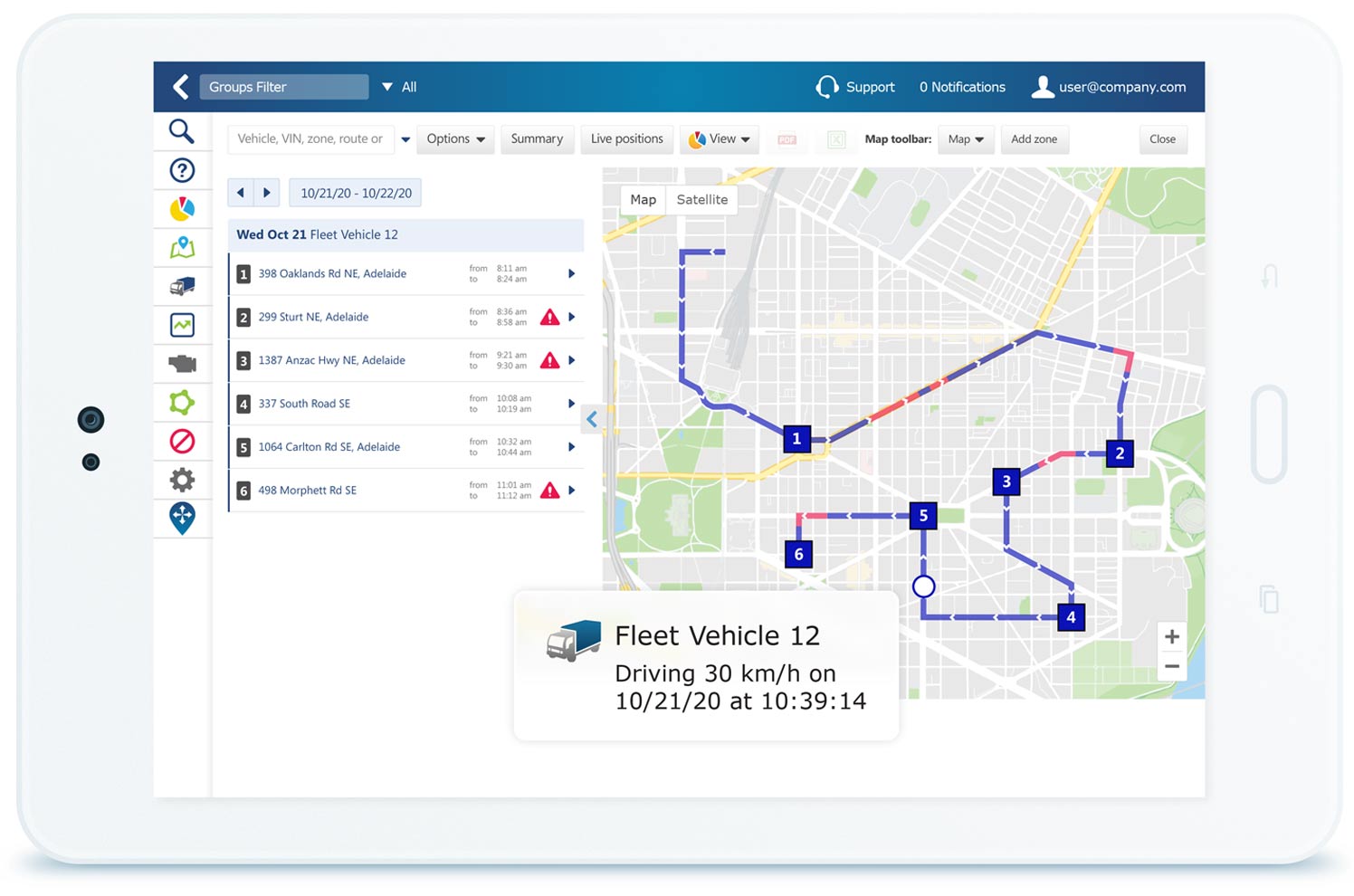 Comprehensive risk management reporting
Driving patterns will show you the safety, efficiency and productivity of your fleet. Track driver behaviour and manage risks and leverage opportunities to get value out of every asset on the road. Reduce vehicle idling and fuel waste, or get alerts for engine abuse or faults.
View exceptions, summarised or a detailed exploration of driver behaviour
Every trip leaves a breadcrumb trail of events, recorded by the in-vehicle tracking device. Manage how your fleet vehicles are used trip by trip, or summarised for an accurate productivity assessment. Identify problematic trends, and dig deeper into specific trips to view speeding, harsh driving and more, to evaluate your drivers.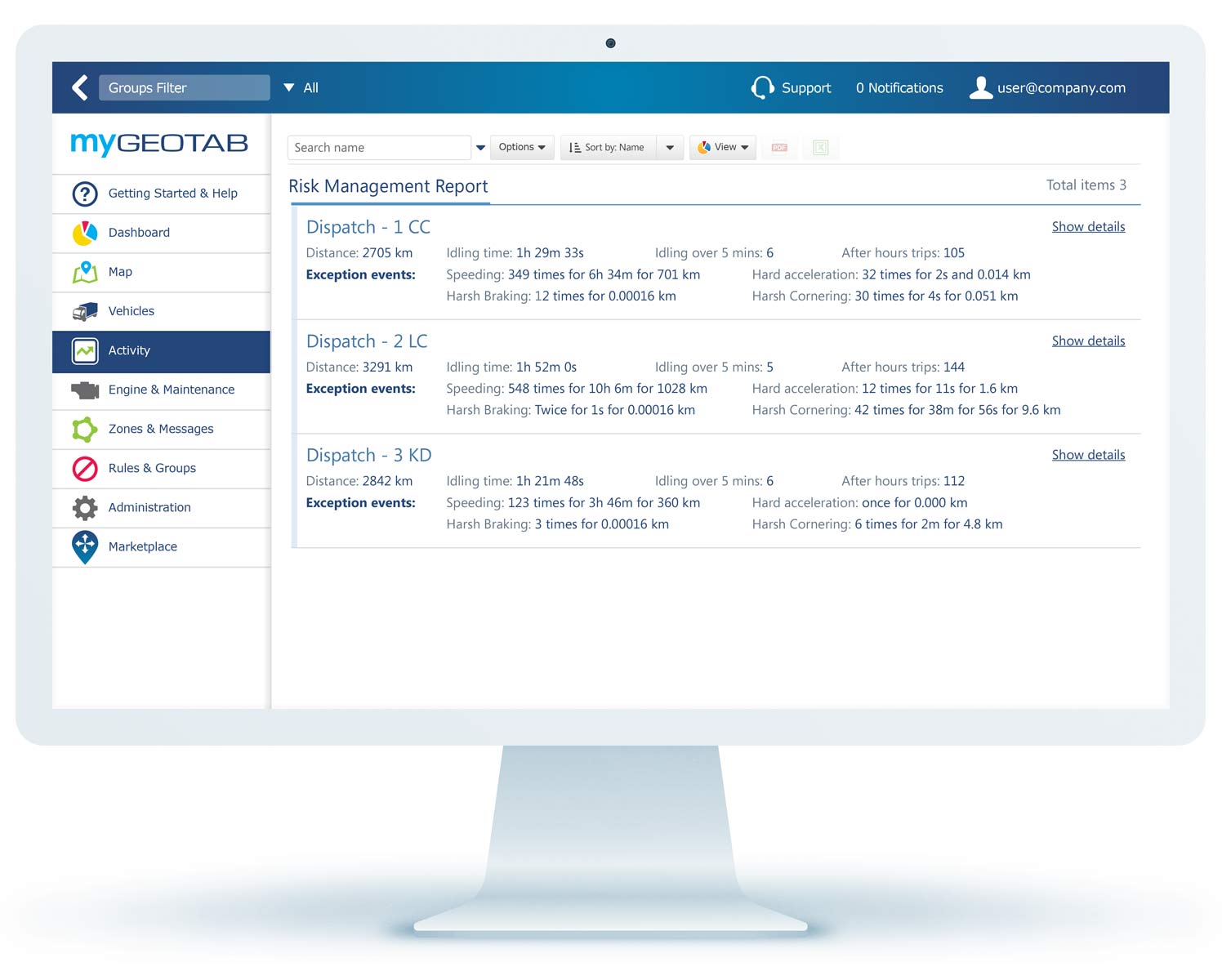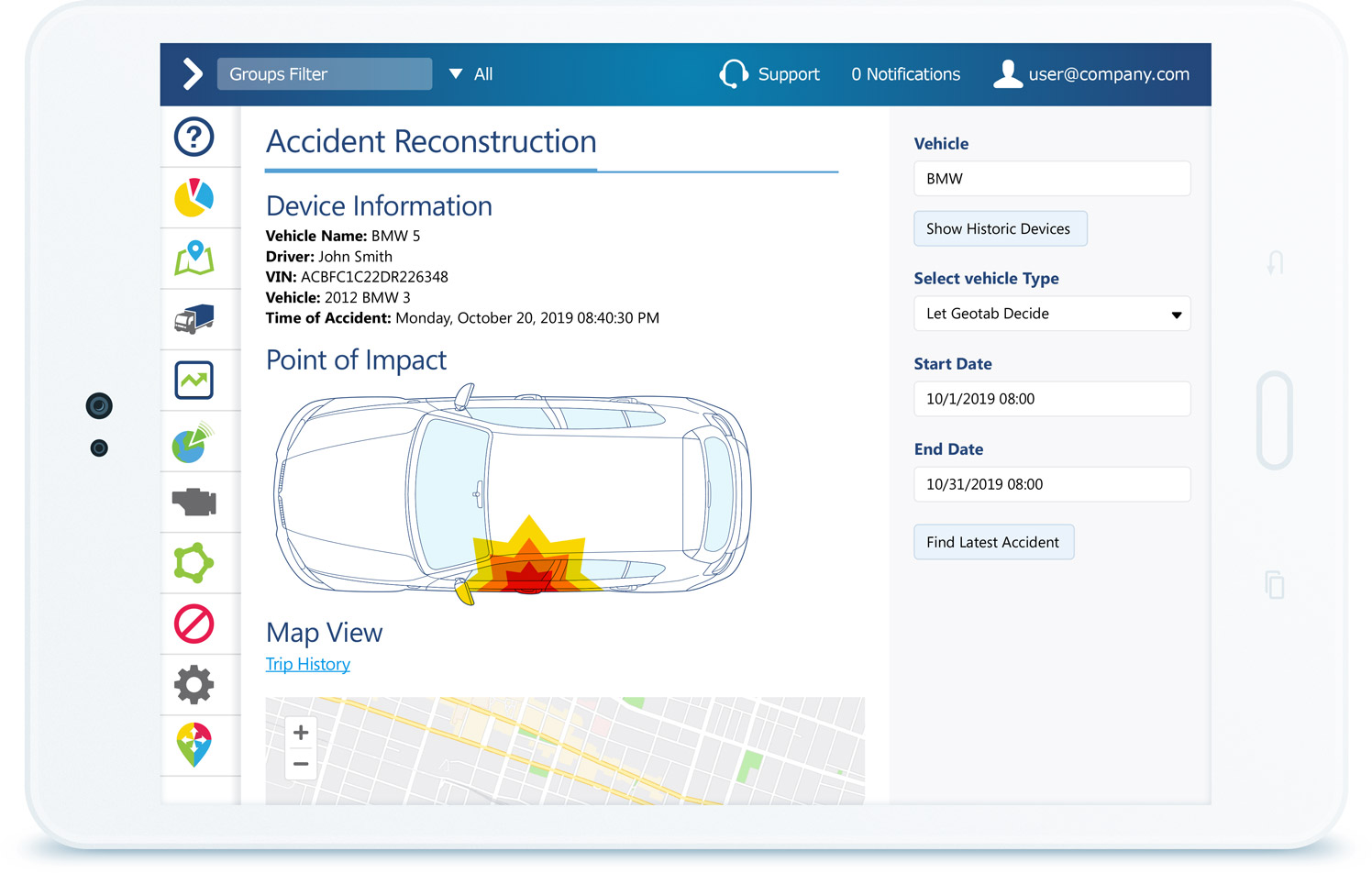 Reconstruct collisions with data
In the event of a collision, the in-built accelerometer and gyroscope help you reconstruct the event, and the behaviours leading up to it. Understand what happened before, during and after, to support training and help avoid repair, insurance or litigation costs.
---
Marketplace
Reporting solutions from Geotab Marketplace
Find specialised reports tailored to different scenarios. Solutions include ways to track HOS violations, determine fuel economy, estimate potential fleet savings, and assess driver safety
See solutions
Video
How to set up a Marketplace report in MyGeotab
The Geotab Marketplace gives users access to a constantly growing catalog of solutions already integrated with the MyGeotab software. These solutions include a wide selection of pre-built custom reports, which allow users to supplement existing reports in MyGeotab. Learn how to setup a custom Geotab Marketplace report within your MyGeotab database.
Watch video
Start getting the most out of your fleet
Learn more about how simple it is to use our web-based software and fleet management devices to improve fleet reporting.