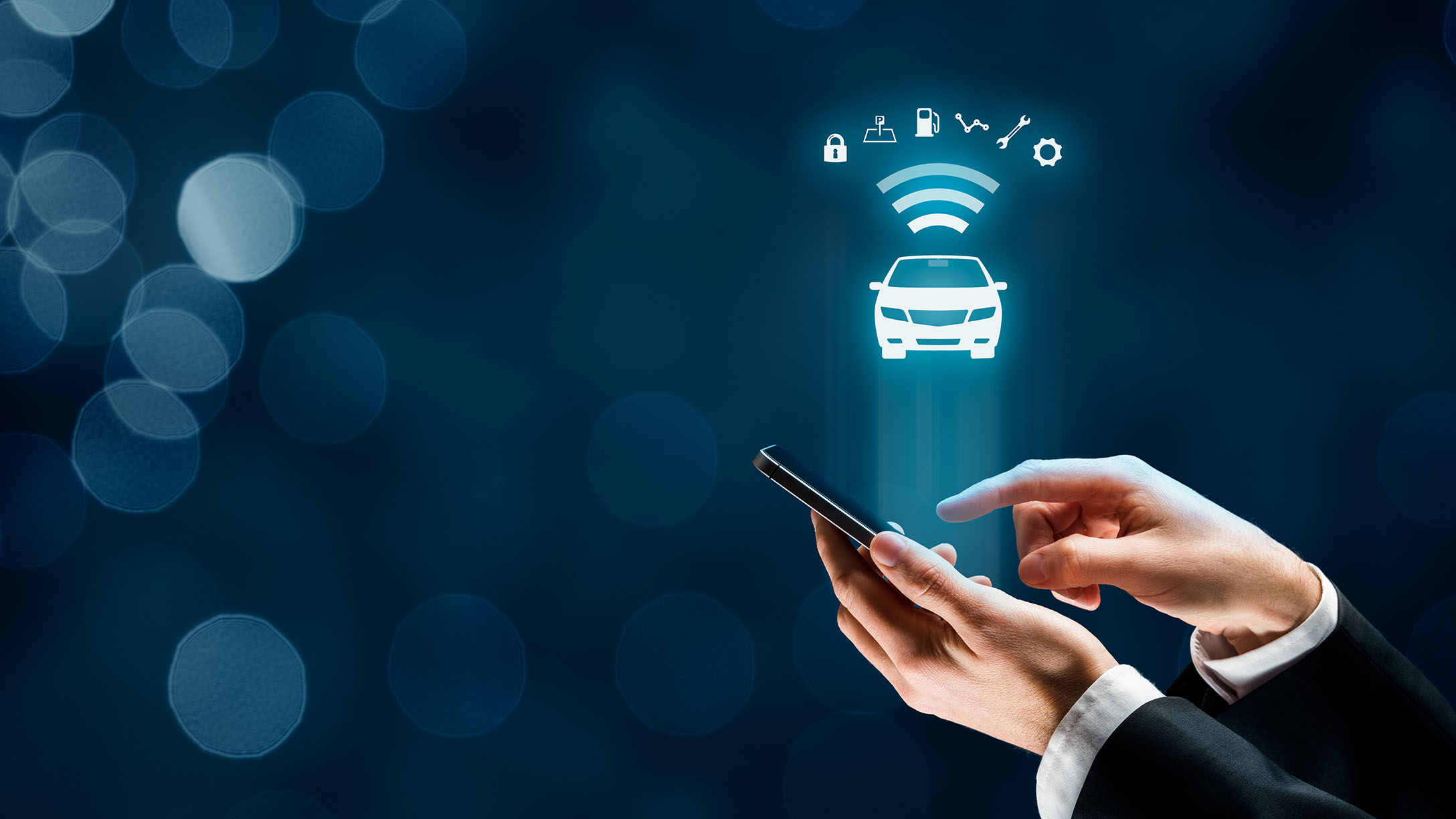 Connected Cars, Connected Fleets and Connected Vehicles: What is there to know?
---
Connected cars have opened up a world of possibilities for enhancing vehicle performance.
The most game-changing smart device in recent years isn't a phone or a watch… It's your car. All over the world, businesses, governments and individuals are equipping their vehicles with internet connection, while the top vehicle manufacturers are embedding telematics devices into their newest models.
What is a "connected car"?
A connected car is a vehicle that's equipped with mobile technology, and therefore is "connected" via the internet.
Telematics is also used to connect cars, by means of a small device that plugs into the vehicle, or through embedded technology. The telematics device acts as an Internet of Things (IoT) hub which sends vehicle data to a cloud service, where it can be processed and accessed by the vehicle owner or fleet manager.
Types of connectivity in cars
Connected car capabilities can be grouped into several categories:
Telematics: tracking vehicle location and activity, driver behaviour, engine and EV battery state-of-health diagnostics. Organisations can gain visibility over a large fleet's performance from a single online platform.
Vehicle-to-everything (V2X): interacting with any object in the vehicle's surrounding environment. This communication could be vehicle-to-vehicle (V2V), vehicle-to-pedestrian (V2P), vehicle-to-network (V2N), or vehicle-to-infrastructure (V2I).
In-vehicle infotainment: interacting with vehicle occupants. This includes audio and video entertainment as well as navigation systems.
What's the difference between connected cars and autonomous vehicles?
A connected car refers to internet connectivity, while an autonomous vehicle controls its own movement, without driver intervention. A fully automated vehicle or self-driving vehicle with artificial intelligence (AI) needs no driver input in order to navigate to its destination.
Highly automated vehicles still need years of testing before they can become widely available for public use. Today, however, many drivers can benefit from connectivity and basic automation for support with manoeuvres like parallel parking or adaptive cruise control.
What's the history of connected cars?
1980: The connected car had its origins in Formula 1, when the first on-board computer was integrated into team BMW's racing cars.
1996: General Motors brought the first connected car to the public, equipping some of their models with an emergency call function. The vehicle could register an accident and automatically call the nearest emergency centre.
2000: GPS signals, previously reserved for the military, were made available for civil and commercial applications by U.S president Bill Clinton, bringing navigation systems to a new level.
2001: Remote diagnostics were first introduced into vehicles. This enabled car manufacturers and fleet owners to examine the system's functionality and recognise faults more quickly. Now some vehicles benefit from predictive intelligence, enabling fleet managers to better manage and maintain their vehicles
2008: The first car with an Internet hotspot hit the market. This was shortly followed by smartphone apps for the connected car, with functionality such as locking and unlocking the doors.
2014: 4G LTE Hotspots were mass deployed by Audi and General Motors.
2016: Toyota became the first manufacturer to introduce cars equipped with V2X. These cars were only sold in Japan.
2017: A European manufacturer announced deployment of V2X technology.
2020: 30 million new connected vehicles were sold
2021: Germany takes a leading role in autonomous driving and the Autonomous Driving Act comes into force.
By 2025: every second vehicle on EU and US roads is projected to be connected.
By 2050: In an optimistic scenario, LBBW predicts that the share of newly registered vehicles with autopilot will increase from 2.4% in 2020 to 70% in 2050.
What's the future for connected cars?
The Society of Motor Manufacturers and Traders (SMMT) predicts that all newly sold cars in the UK will be connected by 2026. While they won't be self-driving by then, these connected cars will be mobile IoT devices that sense their local environment and communicate with cloud-based platforms.
5G and IoT
The introduction of 5G promises to improve the speed and reliability of mobile internet connection. At its peak, 5G operates 100 times faster than 4G, with extremely low latency. This means 5G devices can download and send vast amounts of data in a fraction of the time it would take using 4G.
Connected cars generate millions of data points each day, which can be transferred faster than ever using 5G. Real-time tracking will become even more accurate, improving solutions like Advanced Driver Assistance Systems which help drivers avoid collision hazards.
Greater road safety
V2X has the potential to significantly increase road safety. The Department for Transport reported that 26,610 people were killed or seriously injured on UK roads in the year ending June 2018, so this is a huge potential benefit. But if cellular V2X is to deliver safer driving, then mobile coverage on the roads has to improve significantly.
A fully functional cellular V2X ecosystem not only requires the widespread deployment of roadside units and on-board units to support direct communication, but also good cellular connectivity on the roads for V2N communication.
OEM telematics
A trend is emerging among leading vehicle manufacturers — or Original Equipment Manufacturers (OEMs) — to embed telematics devices directly into new vehicle models. Embedded devices are capable of processing OEM-specific vehicle information and telematics data once the consumer has given consent to the manufacturer. This data can then be integrated with an online fleet management platform that standardises the user experience, enabling owners of fleets with a variety of vehicle and connectivity types to see all vehicle information in one place.
What are the benefits of connected vehicle technology?
Once vehicles are connected, rich GPS and on-board diagnostics (OBD) data can be processed and presented on an online fleet management platform. Fleet managers can use this information to make critical business decisions, measure the effectiveness of those decisions and benchmark performance against similar fleets.
Here are a few ways fleets can benefit from connected vehicle technology:
Productivity: Track factors that influence fleet productivity, such as idling time, driving time, customer visits or ignition locations.
Safety: Detect risky driving behaviour such as harsh braking, speeding or sharp cornering. Set up driver coaching and advanced driver assistance, or install dash-cam solutions to gain visibility into on-road activity.
Maintenance: Access vehicle health data. Use a connected fleet management platform to set up predictive maintenance to minimise the risk of unexpected, and potentially dangerous, vehicle failure.
Sustainability: Get precise data on fuel usage and inefficient activities like idling. Fleets made up of EVs, or a mix of EVs and conventional vehicles, can also monitor charge levels, range and battery degradation.
How connected vehicle technology is changing the fleet industry
Today's asset tracking capabilities go far beyond providing location information. Connected fleet managers can easily view and monitor variables like driver behaviour, fuel usage, harsh events and engine health. This information can be used to construct comprehensive plans for improving fleet safety, productivity, sustainability and more.
View our solutions page to learn more about how Geotab's connected vehicle solutions can connect any vehicle type, any fleet size and any mix, so that you can do more with your data.
---
If you liked this post, let us know!
---
Disclaimer
Geotab's blog posts are intended to provide information and encourage discussion on topics of interest to the telematics community at large. Geotab is not providing technical, professional or legal advice through these blog posts. While every effort has been made to ensure the information in this blog post is timely and accurate, errors and omissions may occur, and the information presented here may become out-of-date with the passage of time.
Subscribe to the Geotab Blog
Sign up for monthly news and tips from our award-winning fleet management blog. You can unsubscribe at any time.
Other posts you might like