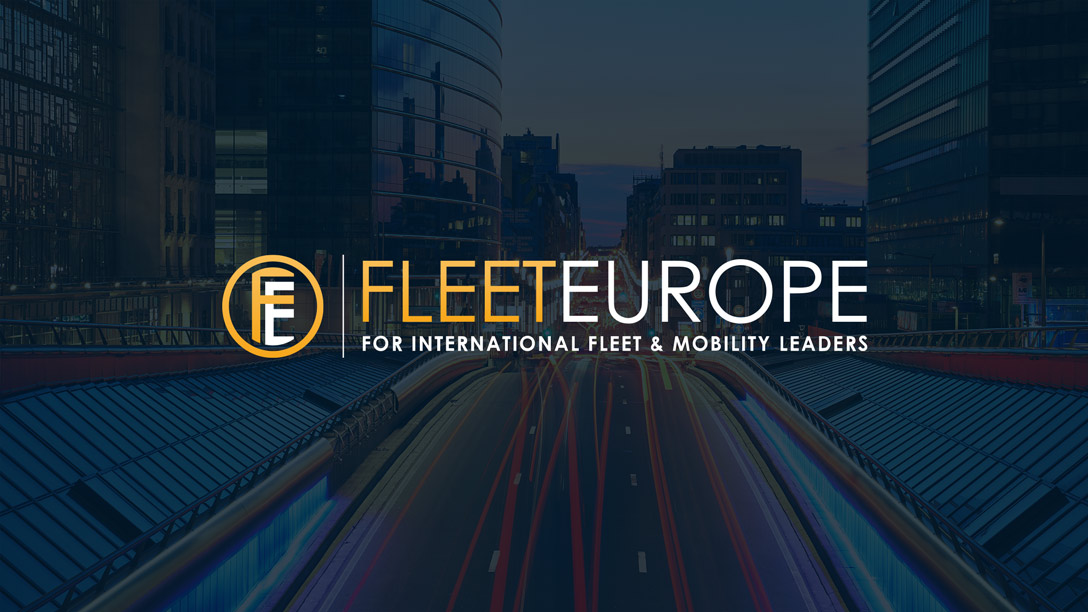 How ready is Europe to electrify?
France, Germany and the UK are primed for electrification over the next 12 months.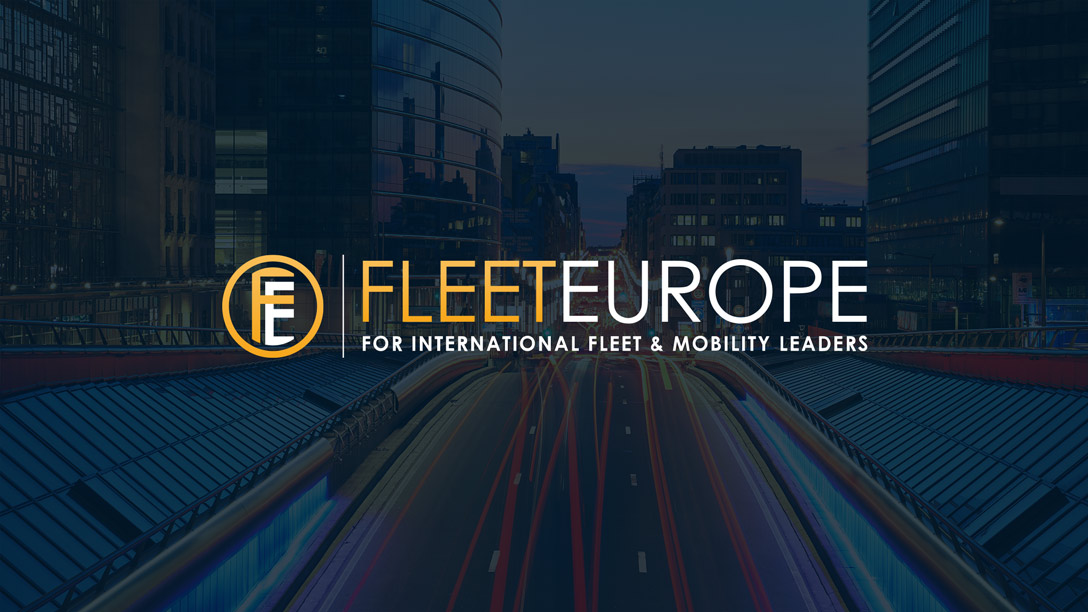 Despite how large or small a fleet is, getting ahead of your competition and recognising the strength that EVs can offer when paired with telematics can help allow you to become more competitive and save costs. Due to this realisation and the popularity of EVs, many fleets across Europe are moving towards electrification for the many benefits it brings.

Geotab worked in cooperation with Fleet Europe to help understand how to help prepare fleet managers and suppliers for the challenges that may come along with electrification. Read on to learn more about the findings from the survey.

About the survey
Fleet Europe surveyed 116 members of the European Fleet & Mobility community in September this year and found the growing preference for electric vehicles along with their biggest motivators and concerns.
The survey focused on the following questions:

When will the shift to electrification occur?
What is missing today to change from ICE to EV vehicles?
What are the hurdles that are associated with switching?
What else is needed to electrify?
Key findings from the Fleet Europe
Motivations to make the switch
The study showed that there are many motivations to electrify a fleet.
Top motivations for fleet electrification for buyers (end customers) are:

Company sustainability and environmental targets (76%)
Current/future regulation and policy mandates (45%)
Top motivations for fleet electrification for suppliers are:

Sustainability and environmental targets (45%)
Current/future regulation and policy mandates (35%)
The other two motivators include lower total cost of ownership and to extend the employee benefit package. See below for survey results.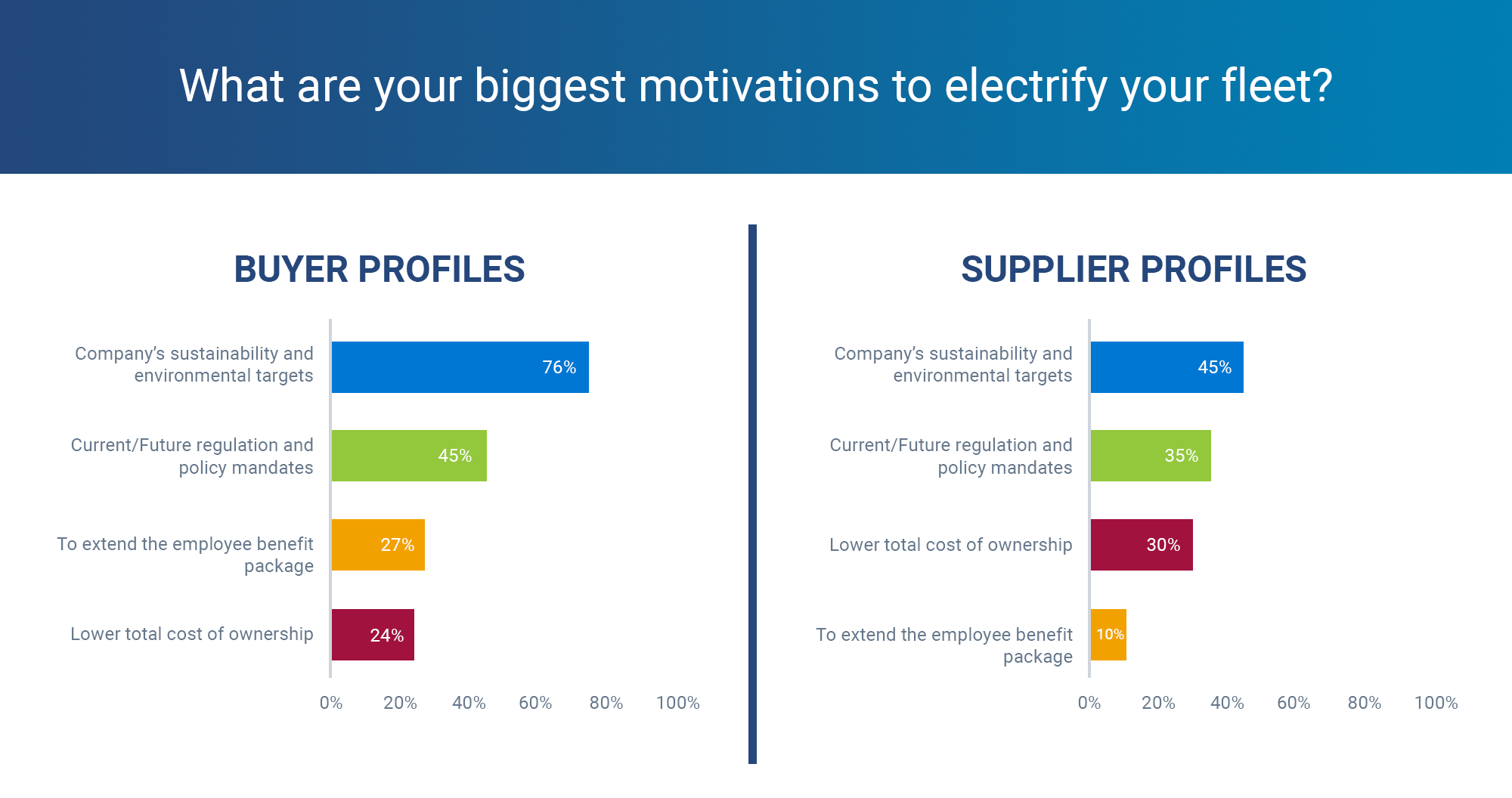 Biggest motivations to electrify for buyers and suppliers.

Biggest concerns for electrifying
While there are many motivators to switch to EVs, there are also a few concerns.
The leading concerns for fleet electrification for buyers (end customers) are:

Charging infrastructure and facility upgrade costs being high (80%)
High purchasing price for EVs (70%)
The biggest concerns for supplies are:

Charging infrastructure and facility upgrade costs being high (55%)
Range anxiety among drivers (30%)
Other reasons include: not enough models/makes available, uncertainty about residual value of EVs, safety of EV technology and fast evolution in technology/battery development.


Buyer and supplier top concerns and barriers to fleet electrification.

Additional findings
More than 40% of both groups identify fleet electrification as a priority for their company.
Only seven percent of the buyers and 14% of the suppliers consider electrifying to be less important for their strategy.
The countries with the highest priorities around electrification are also the same countries that have a legislation and/or taxation focus on EVs.
Lower cost of ownership is the most significant factor that would impact both the buyer and supplier's vehicle electrification decision.
Electrification on the rise
Even with the concerns of EVs that some may have, electrification continues to be on the rise across Europe. Despite being in the middle of a pandemic, EV sales have continued to surge as mandatory emission reduction targets were set for new cars. This alongside EV-focused incentives and personal motivations for higher efficiency and costs reduction in fleets are all reasons as to why despite some having concerns about electrification, the market continues to grow rapidly across the continent.

To learn more about the benefits of EV fleet management, visit: https://www.geotab.com/uk/fleet-management-solutions/electric-vehicles/

---
If you liked this post, let us know!
---
Disclaimer
Geotab's blog posts are intended to provide information and encourage discussion on topics of interest to the telematics community at large. Geotab is not providing technical, professional or legal advice through these blog posts. While every effort has been made to ensure the information in this blog post is timely and accurate, errors and omissions may occur, and the information presented here may become out-of-date with the passage of time.
Subscribe to the Geotab Blog
Sign up for monthly news and tips from our award-winning fleet management blog. You can unsubscribe at any time.
Other posts you might like