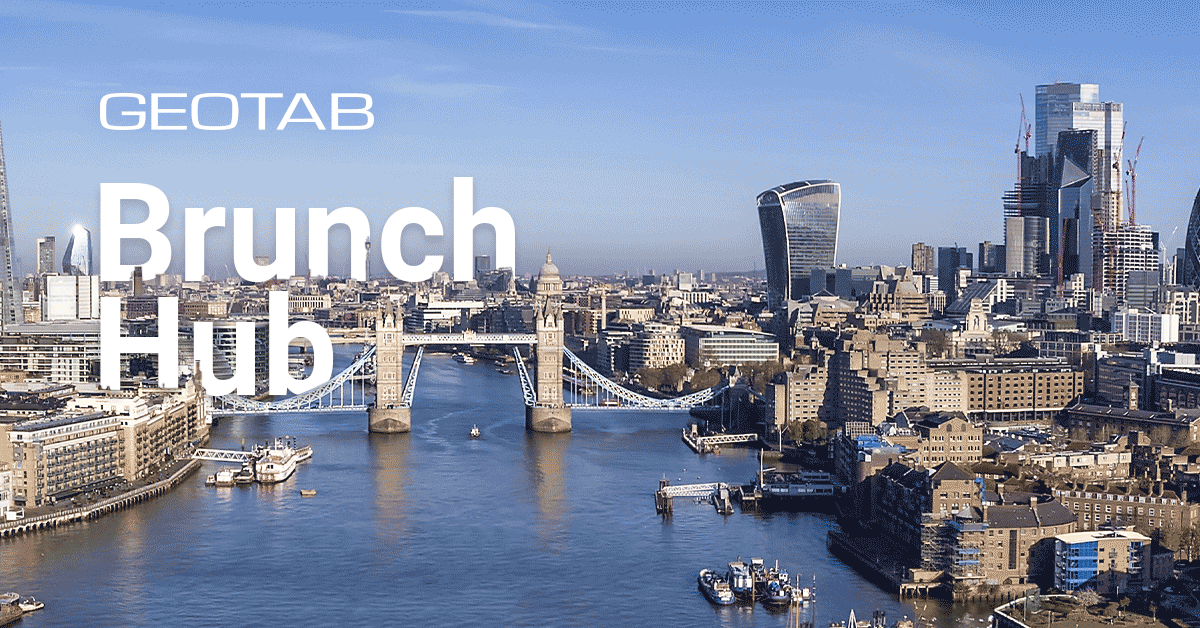 Geotab's First Brunch Hub: How United Utilities improved sustainability and driver safety
---
Geotab launches Brunch Hub as a roundtable event to bring together fleet managers across the UK to collaborate, share best practices and solve challenges across the UK fleet industry.
Geotab UK's first Brunch Hub event on June 21st, 2023 brought together industry leaders. These informal sessions provide a platform for fleet managers to discuss their experiences and share best practices within a community of understanding professionals all seeking to excel within the industry. For both the seasoned veteran and the fleet manager wanting to learn more, our Brunch Hub events are comfortable environments which will leave you better prepared for your management journey ahead. This first Brunch Hub highlighted the significant role played by the Vodafone Business Fleet Analytics (powered by Geotab) in the operations of United Utilities, known for delivering exceptional water services with a strong commitment to sustainability, and recognised the significance of accurate data in driving their operations forward. The session was led by Carl Doyle, Green Fleet Business Lead, and Martin Kemp, Fleet Support Manager.
The power of information
United Utilities initially lacked vehicle data. Geotab's solution transformed the scenario. With the target of transitioning their vehicle fleet to low-carbon options by 2028 and embracing technological advancements are essential aspects of their strategy. Accurate data is critical for effective decision-making, and overcoming a lack of data was part of United Utilites' journey. Geotab's telematics solution resolved previous data inconsistencies, providing United Utilities with reliable information to drive its operations forward. By providing insights into daily mileage, and facilitating a successful transition to a greener fleet, through Geotab's data analysis, United Utilities discovered that they could transition 70% of their fleet to low-carbon options, exceeding their initial estimations of just 20%. United Utilities had discovered data empowerment.
Improving safety and driver habits
Keeping drivers safe can only be done when you're armed with the right tools. Martin Kemp emphasised the significance of information and data transparency in efficient fleet management. It was estimated approximately 95% of United Utilities' vans are taken home by engineers due to the reactive nature of their roles, an experience many fleet managers are likely to relate to. This means immediate remote access to vehicle information and location data is crucial.
GO9 devices were implemented across United Utilities' 2,300+ fleet vehicles, including LCVs and HGVs. United Utilities was able to monitor driver behaviour, address safety concerns, and promote responsible driving habits. Not only this, but United Utilities became able to counter insurance claims and maintain a low-speed prosecution record despite growing its fleet significantly.
Collecting data from new vehicles ensured early detection of any issues and prevention of breakdowns during critical operations, and this was only made possible after onboarding Geotab's solution. This consistency positively influenced drivers' perceptions and facilitated a smooth transition to electric vehicles. Drivers could trust their vehicles and that their team would be able to detect any problems as soon as they occurred.

Real-time vehicle diagnostics insights were sent directly to United Utilities' maintenance garages, ensuring prompt action and reducing downtime. The operations management team received detailed driver behaviour reports, aiding in targeted driver training and improving overall safety. Geotab's Electric Vehicle Suitability Assessment (EVSA) provided valuable insights into transitioning vehicles to electric options and quantifying the resulting CO2 emissions reduction.

Geotab's Green Fleet Dashboard provided United Utilities with a comprehensive overview of their fleet's environmental impact, allowing them to track improvements in fuel consumption, idling times, maintenance costs, and CO2 emissions. The integration of Geotab's solutions into United Utilities' operations not only enhanced efficiency and safety but also strengthened customer relationships, showcasing their commitment to sustainability.
"I was grateful to Geotab for hosting the brunch session. I was happy to share how Geotab has helped to improve our driver safety, and discuss our further ambitions to use the data to support asset replacement planning in future. The opportunity to speak to other fleet operators to understand how they are using the platform was really useful too."
- Carl Doyle, United Utilities.
Don't miss out on Geotab's upcoming Brunch Hub on September 21st. You'll get to hear from United Utilities and their experience with service, maintenance and repair, and how Geotab propelled their success.
Register your interest here and be part of this valuable knowledge-sharing experience!
---
If you liked this post, let us know!
---
Disclaimer
Geotab's blog posts are intended to provide information and encourage discussion on topics of interest to the telematics community at large. Geotab is not providing technical, professional or legal advice through these blog posts. While every effort has been made to ensure the information in this blog post is timely and accurate, errors and omissions may occur, and the information presented here may become out-of-date with the passage of time.
Subscribe to the Geotab Blog
Sign up for monthly news and tips from our award-winning fleet management blog. You can unsubscribe at any time.
Other posts you might like