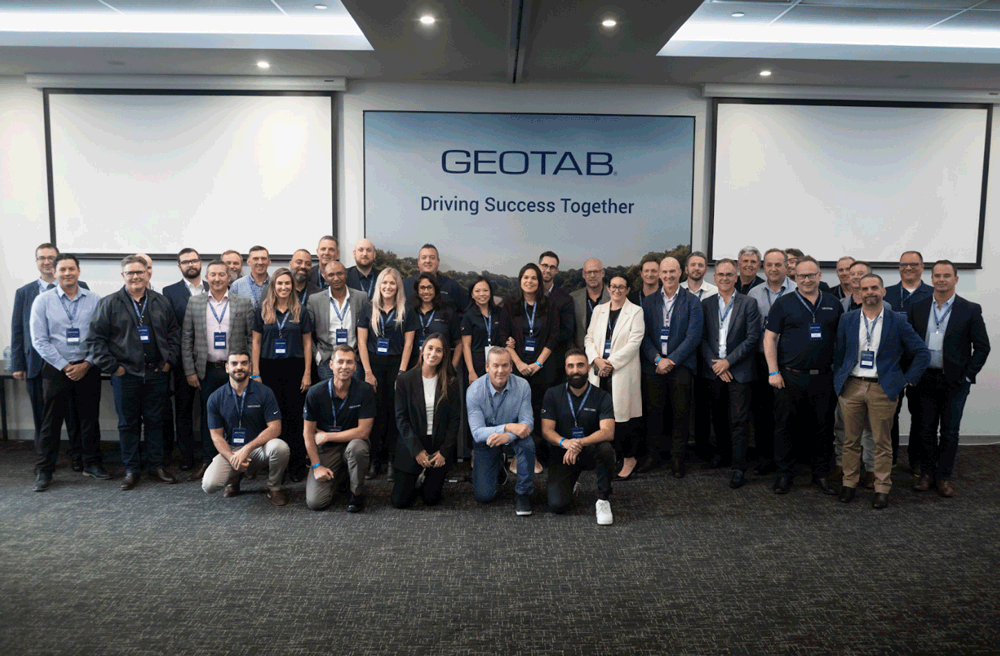 Geotab Partner Day in Australia: Celebrating Innovation and Collaboration in Fleet Management
---
Geotab's global network of partners is fundamental to how we work, and how we develop solutions for our customers. Earlier this month, we had a wonderful opportunity to meet with our partners to discuss how we can further our collaboration.
For the first time, Geotab held a Partner Day in Australia. The event brought together industry leaders, innovators, and experts to explore the latest trends, advancements, and collaborative opportunities in fleet management solutions.

Our Vice President of Latin America, Asia, Australia, and New Zealand Sean Killen kicked things off, speaking about his five-year journey working across various markets with Geotab and how thrilled he feels about taking on work in ANZ.

He also shared that positive changes are underway, with a refreshed team bringing about fresh ways of working for Geotab Australia
Among the Marketplace partners present at the event were Logmaster, a leading provider of Electronic Work Diary and fatigue compliance management systems for the trucking and transport industry in Australia. Best-in-class IoT camera technology solution provider, Sensata INSIGHTS also took part.

These partnerships enable Geotab to offer comprehensive fleet management solutions, driving enhanced operational efficiency, safety, and sustainability.
Stewart Flecknoe-Brown and Josh Saunders from Logmaster talked about their partnership with Geotab, which is working on a complete telematics and Electronic Work Diary solution for Australian fleet and transportation companies using deep product integration and a collaborative marketing model.

This partnership will bring about a solution that enables fleets to navigate complex urban environments, reduce fuel consumption, minimise delivery delays, and enhance overall productivity.

Tom Koch from Sensata INSIGHTS took the audience through its video telematics solutions, developed from its cutting-edge sensor technologies for vehicle safety and efficiency.
Geotab's integration of Sensata's solutions into its platform equips fleet managers with critical data to monitor vehicle performance, optimise maintenance schedules, and ensure compliance with safety regulations. Sensata also showcased its state-of-the-art sensors, including tire pressure monitoring systems, brake performance sensors, and fuel efficiency sensors.
These innovations empower fleet managers to proactively address maintenance issues, improve driver safety, and optimise fuel consumption, resulting in significant cost savings and a reduced environmental footprint.

The event was also an opportunity for Geotab to update its partners on some new developments.

Ezanne Soh, Product Manager at Geotab APAC, gave a presentation on the product roadmap, where she highlighted some key changes that customers and partners to look out for:
1. New Geotab products will be deployed on a weekly basis instead of quarterly.
Post-version 11.0 on my Geotab will be the last of its kind, so customers can look forward to enjoying frequent updates to the products.
2. All customers will be moved to Geotab version 11.0 by the end of May.

Previously, versions on Geotab could run on any version from 7.0 to 10.0. However, the multiple versions pose an inconvenience when new features are pushed out for specific versions. All customers should be converted to 11.0 by the end of May.
Another highlight was a presentation on Sustainability led by Dr. Ben Hale, Principal Solutions Engineer. He started off by addressing the misconception that Electric Vehicles are the sole focus for sustainability, emphasising the importance of fuel consumption in the current market.

"In your market right now, let alone the rest of the world, it's not (about EVs), it's mostly about fuel consumption. That's the number one thing in sustainability," he said.
---
If you liked this post, let us know!
---
Disclaimer
Geotab's blog posts are intended to provide information and encourage discussion on topics of interest to the telematics community at large. Geotab is not providing technical, professional or legal advice through these blog posts. While every effort has been made to ensure the information in this blog post is timely and accurate, errors and omissions may occur, and the information presented here may become out-of-date with the passage of time.
Other posts you might like