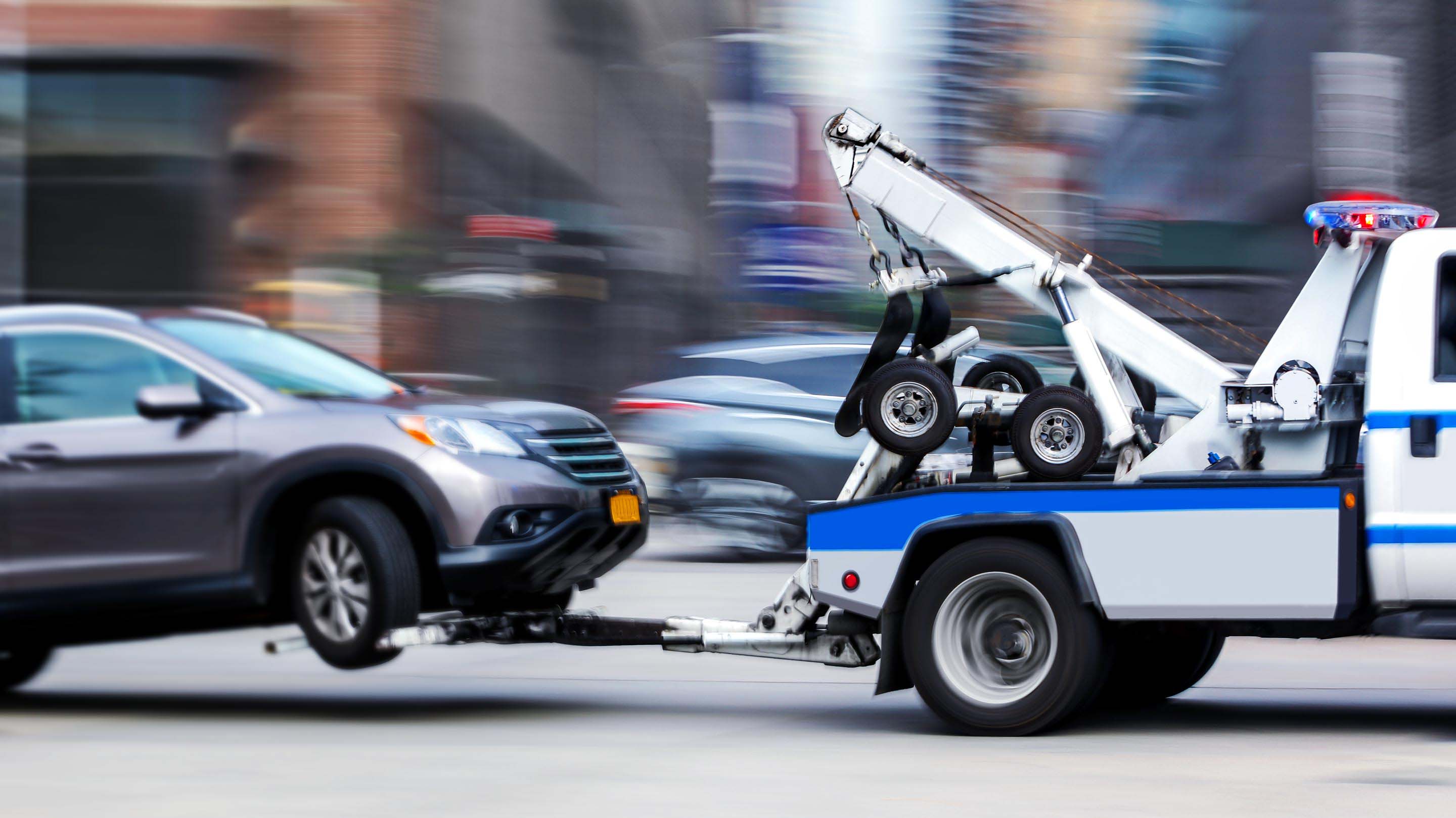 Towing fleet management software for towing fleets
Our towing fleet management software has live GPS tracking to enhance your towing fleets overall performance and profitability.
Request a demo
Towing fleet management software features
Two-way job dispatching and communications to attend service calls faster
Increase driver and road safety through driver coaching
Real-time visibility of every fleet asset in the field
---
Communicate with and dispatch on-road drivers
Your towing fleet is spread across your service areas. How do you get the right vehicle to the right place when a collision occurs?. Get in touch with drivers quickly and dispatch them to the nearest towing pickup spot with ease by implementing Geotab's fleet route planning software system and by adding Garmin in-cab display.
Advanced driver safety for towing fleets in the field
With monitoring for harsh braking, sharp turns, harsh acceleration, speeding, seat belt and more, you can keep an eye on the safety performance of your team. Intervene in unsafe behaviours or reward your safest drivers to keep your team and your customers' property safe every time.
Integrate existing towing fleet vehicle features to isolate vehicles available for pick up
With the unique expandability of Geotab's solution, our GPS tracker can be integrated with your other vehicle features. Highlight which parts of your towing fleet are actively carrying loads and identify when drivers have the capacity to be dispatched to another site.
Why use Geotab's fleet towing services?
Dispatch the nearest available driver to a new, unscheduled job
Integrate with all aspects of the vehicles to manage fleet productivity
Real-time tracking of every fleet asset in the field
Manage worker safety with driver safety scorecards and unsafe behaviour notifications
Route drivers through traffic or determine the fastest route back to base to cut fuel costs
View brochure
Real-time insight for your active towing fleet
With Geotab's live GPS tracking, fleet managers can always maintain visibility over the performance of their fleet. Send real-time notifications on driver performance, set up geofences and zones to manage operations or dispatch the nearest drivers by knowing which vehicle is where.
---
---
Commonly asked questions about fleet towing
What is trailer fleet management?
Trailer fleet management consists of the gathering, monitoring, and analysis of data related to tow trucks and trailers. Telematics devices and platforms can help fleet towing service companies to track vehicle health, location, and usage patterns. Towing fleet managers and dispatchers can manage driving safety scorecards, identify the closest vehicle to send to a service call, and monitor driving habits like speeding, harsh braking, and excessive idling. This data can be centrally analysed to identify vehicle maintenance and driver coaching requirements.
Geotab GO and MyGeotab also track the location, utilisation, integrity, and maintenance requirements of remote trailer enclosures.
What are the advantages of using a tracker for a trailer fleet?
The Flex TT600 solar powered asset tracker utilises GPS-based tracking to provide insight into asset usage and location via the MyGeotab platform. Trailer fleet utilisation measures the percentage of time the trailer is in active use and on the road making money for your fleet towing company.

Tracking utilisation on trailers enables towing fleet managers to:
Plan trailer capacity for seasonal peaks
Determine the ideal balance between owned and rented trailers
Justify the purchase of new trailers when it is truly needed
How does the Geotab tracker work on trailers?
The Flex TT600 solar powered asset tracker (available through the Geotab Marketplace) collects data, and transmits it via GPS to the MyGeotab platform. Manage trailer utilisation, location, and maintenance data to help determine when trailers need to be replaced or repaired.
Which types of towing vehicles does the Geotab tracking device work on?
Geotab GO devices work with modern light, medium, heavy and heavy duty tow trucks and flatbed vehicles. The GO RUGGED ruggedised device is especially resilient and effective for heavy duty vehicles which require external installation for:
Tracking the location of fleet tow trucks so that vehicles can be dispatched to the nearest available driver
Monitoring vehicle integrity and detecting maintenance requirements
Driver schedule and behaviour, including hard braking, turning and speeding
Route optimisation and fuel consumption monitoring
Enabling geofencing to ensure that drivers are in the territories assigned to them
Geotab's GO devices can be used to dispatch, route, and monitor most modern heavy transport vehicles, light-duty trucks and passenger vehicles like cars and SUVs. A comprehensive list of supported vehicles is provided on our "Is my vehicle supported?" page on our Community portal.
How does trailer fleet management work?
The solar powered Flex TT60x helps towing fleet managers track percentage utilisation on their trailers to get a better understanding of how much each trailer is used. This data can then be used to inform towing fleet managers when they should move trailers to different sites to maximise utilisation, or remove the trailers from their books. The Solar Powered Trailer Tracker can be used to track trailers, containers, generators and other assets. With its rugged construction, long battery life, and highly efficient solar cell, this tracker is designed to endure the real world abuse most large trailers experience. The collected data can be used to stay on top of maintenance and avoid unexpected malfunctions; pinpointing exactly how trailers are being used to maximise their productivity, and providing customers with updates on the status of their goods.
Ready to optimise your fleet?
Let us show you how simple it is to use our web-based software and fleet tracking devices to manage your fleet.