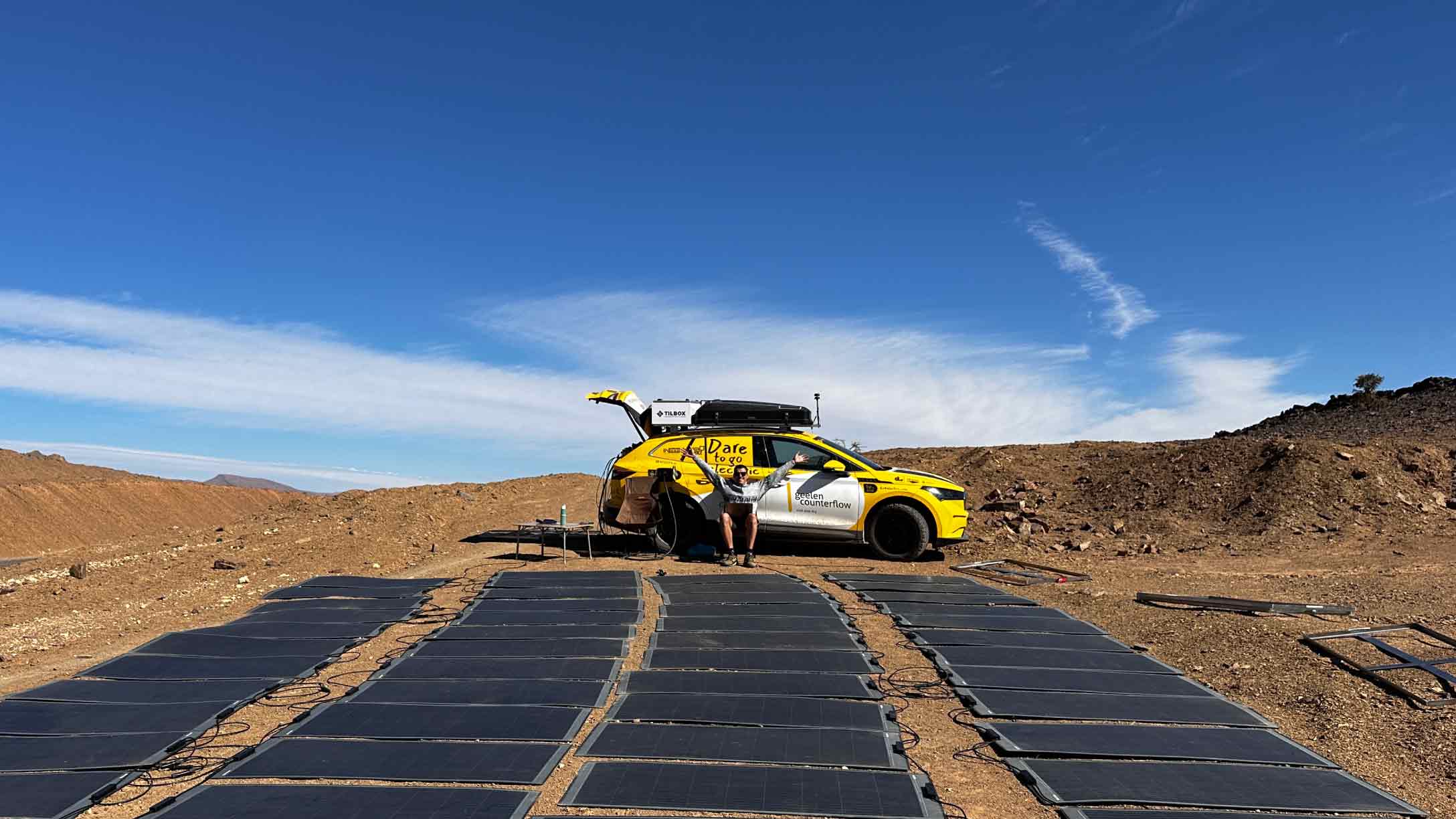 Our 40,000km African EV Odyssey: leveraging the power of the sun
---
Geotab telematics records every stage of 4x4electric's 40,000km African EV Odyssey
Renske Cox and Maarten van Pel are the founders of '4x4electric': a fully self-sufficient 40,000km expedition from Europe and around the African continent in an Electric Vehicle (EV). Geotab is partnering with Renske and Maarten on their adventure, supporting them with vehicle telematics and near real-time insights. We are delighted to host a new content series chronicling their journey—the first part of which outlines how they are leveraging the power of the sun for the majority of their driving.
The shift to electric (EV) and zero-emission vehicles has been a compelling one for most of us; often with extensive infrastructure underpinning the backbone of this transition. But critics often cite concerns around journey range and their overall suitability for long-distance driving.
We decided to take this to the Nth degree and journey to, around, and back from the continent of Africa, totalling approximately 40,000 kilometres.
As we write this, we're currently 10,000km into our expedition—and incredibly, the vast majority of our energy has come purely from the sun.
In Europe, most of all of our EV journeys are powered by grid electricity either at home or on public charging networks. In fact, Europe is currently the second-largest market worldwide for electric vehicle charging systems.
Africa, however, is comparatively a much smaller market and there isn't the same degree of investment—which, on the surface, makes long-distance EV driving a little more challenging.
We're making our journey in a modified ŠKODA ENYAQ iV 80 which features a 77kWh battery providing (on paper) a 537km WLTP range. However, as mentioned, it's modified: the car is fully-loaded with a rooftop tent, a 50L water tank, refrigeration/cooking equipment, around 200kg of stored solar panels—and to top it off, we're driving on uncertain roads with, at times, arduous conditions.
Of course, it has been fitted with the Geotab GO9 to record every mile of our journey. For those sections of our journey where we are 'off-grid' and don't have communications connections, Geotab records the data for us to access at a later stage.
Despite the challenges, we've driven purely on solar energy from Dakhla in Morocco, through eight countries, all the way to the coast of Ghana. Some of these countries don't have reliable electricity grids, let alone EV charging infrastructure.
With the sun, we effectively have our own power station with us at all times, providing clean and stable energy. The irony of which is that it's made, what some would consider a crazy journey, incredibly peaceful.
We've met some wonderful people and seen fantastic communities and sustainability initiatives throughout our journey so far, and across the board people have been fascinated by what we've been able to do with this car.
Geotab has been helping us to pull data from our vehicle for three key reasons: first, to share our progress with our community in near real-time, second, to help us understand how our vehicle is performing throughout the journey, and finally, to provide a wealth of long-term journey data to analyse and learn from the expedition.
This includes data parameters such as vehicle location, driving behaviour and trends, power information, and environmental data. This is sourced from the vehicle via a retrofitted Geotab GO9 telematics device, connected with MyGeotab.
All this data enables us to keep our followers apprised with the progress of our journey, and better understand how environmental influences such as ambient temperatures and altitude affects energy efficiency.
Beyond that, however, we're really interested to see what insights we can infer from the data once the expedition is complete. Given the challenging environment we're taking this vehicle through, we're curious to see what conclusions can be drawn and what lessons the industry can learn from this real-world experiment: for example, how EVs perform in different weathers and climates, the efficiency of regenerative recuperation, long-term effects on batteries, and so on.
The automotive industry (and our society at large) is undergoing its most significant and important transition ever, with the move to zero-emission transportation and a sustainability-led world. We're just about a quarter of the way through our journey and we've already been incredibly excited to learn how even in the most demanding environments, electric vehicles are ready.

To learn more about the expedition take a look at our press release and take a look at the 4x4electric website and their expedition dashboard.
---
If you liked this post, let us know!
---
Disclaimer
Geotab's blog posts are intended to provide information and encourage discussion on topics of interest to the telematics community at large. Geotab is not providing technical, professional or legal advice through these blog posts. While every effort has been made to ensure the information in this blog post is timely and accurate, errors and omissions may occur, and the information presented here may become out-of-date with the passage of time.
Subscribe to the Geotab Blog
Sign up for monthly news and tips from our award-winning fleet management blog. You can unsubscribe at any time.
Other posts you might like