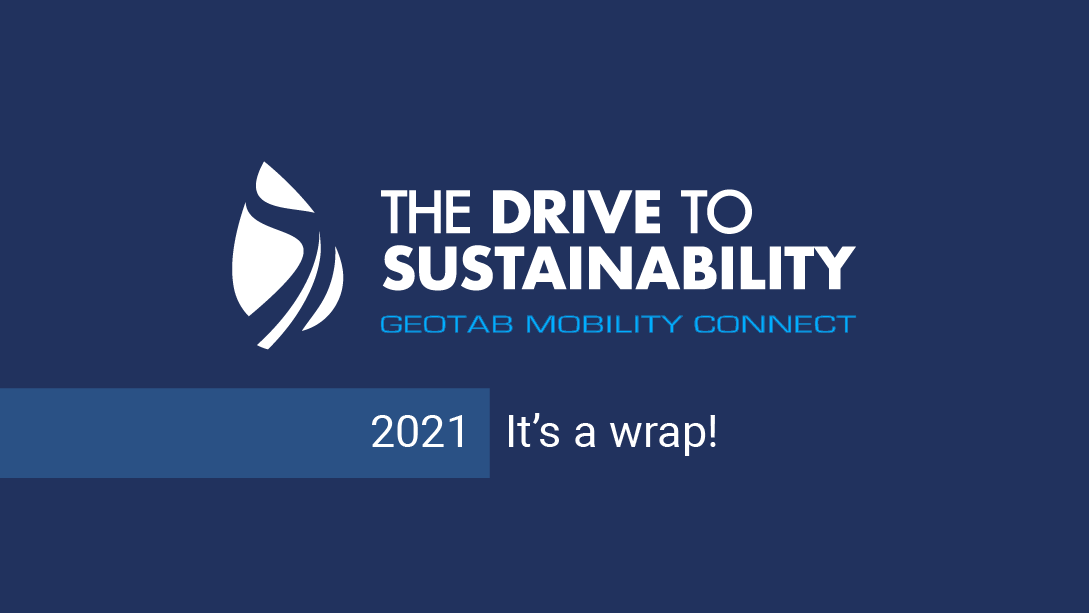 It's a wrap on Mobility Connect: The Drive to Sustainability
---
Our virtual Mobility Connect: The Drive to Sustainability provided attendees with expert insights on how to embark on the journey to operating a sustainable business.
On June 16, 2021, attendees from all across Europe joined the virtual event hosted by Geotab called Mobility Connect: The Drive to Sustainability. The event addressed current sustainability challenges and trends within Europe and provided participants with the chance to connect with industry experts, Geotab executives and thought leaders. Featuring panels, presentations, interviews and fireside chats, the event provided a platform for learning and discussion on how sustainability and electrification trends are shaping fleet management.
The event lasted over three hours and included the following engaging sessions:
Shaping tomorrow's sustainable future today
This session explored the meaning of sustainability and the importance for organisations to participate in the shift towards a green future. Contrary to what is often assumed, the concept of sustainability does not only refer to environmental aspects. Instead, it relies on the Triple Bottom Line incorporating environmental, social, and economic factors. Being highly carbon intensive, the mobility sector plays an essential role in shaping tomorrow's sustainable future with fleet electrification being the long-term solution. Geotab's telematics solutions support companies in becoming more sustainable by ensuring safer roads for everyone, reducing CO2 emissions and improving air quality, and optimising costs and processes. Dave Stangis, Founder and CEO of 21C Impact, and John Davis, Senior Vice President of GreenBiz, further highlighted the importance of strategically incorporating ESG criteria into a company's core business and how reporting on such criteria assists towards a transition to doing sustainable business. Moreover, Center Metropolitan Cities introduced the participants to the future of urban areas, providing insights on how to create livable cities through innovation and sustainability.
The green and clean future of OEMs
During a panel discussion, OEM experts of Geotab and representatives of Mercedes Benz Connectivity Services, LEVC and QEVTech Bus shared insights on trends and challenges of sustainable mobility including vehicle electrification. The panel members talked about the provision of a charging infrastructure for electric vehicles by OEMs, the battery disposal at the end of a vehicle's life, and OEMs' interest in the area of financial flow. Furthermore, it was highlighted that data obtained through telematics helps increase fleet managers' confidence in electric vehicles, providing predictions about maintenance and potential failures, and reducing unforeseen downtime.
GO, operate and scale electric effectively
In the final session of the event, participants had the opportunity to learn about recent EV developments and trends in Europe. The market share of EVs is steadily growing in European countries. This trend can not only be observed in the overall vehicle market but also in the fleet market. However, electrifying a fleet is not a single task but requires careful planning and execution. Tamas Halbrucker, Solutions Engineer at Geotab, explained how Geotab's telematic products support fleet managers in their journey of seamlessly going, operating, and scaling electric. Moreover, in a discussion about the transition to an electric fleet with company representatives from Fleetster and Climate Neutral Road Vehicles at SBB, it was emphasised that, in order to successfully operate an electric fleet, listening to the voices of customers and partners is essential.
Outlook on sustainability in Europe
The goal of achieving a net-zero carbon economy in Europe by 2050, can only be realized if highly carbon intensive sectors including the transportation sector are transformed. As Dirk Schlimm, Executive Vice President of Geotab, said "It is clear that an accelerated transition to a carbon-neutral sector cannot happen without data. The European regulator tells us to accelerate the transition but at the same time tells us to constrain data usage". The question that remains is how the interplay between climate change laws and data restrictions laws will develop in the future. As stated by Dirk Schlimm what needs to be asked is "Does it matter that data is used for achieving climate goals? [...] How rigid are we going to be, how rigid can we afford to be?"
The session recordings of the Mobility Connect: The Drive to Sustainability are now on YouTube.
See also: What is fleet sustainability?
---
If you liked this post, let us know!
---
Disclaimer
Geotab's blog posts are intended to provide information and encourage discussion on topics of interest to the telematics community at large. Geotab is not providing technical, professional or legal advice through these blog posts. While every effort has been made to ensure the information in this blog post is timely and accurate, errors and omissions may occur, and the information presented here may become out-of-date with the passage of time.
Subscribe to the Geotab Blog
Sign up for monthly news and tips from our award-winning fleet management blog. You can unsubscribe at any time.
Other posts you might like