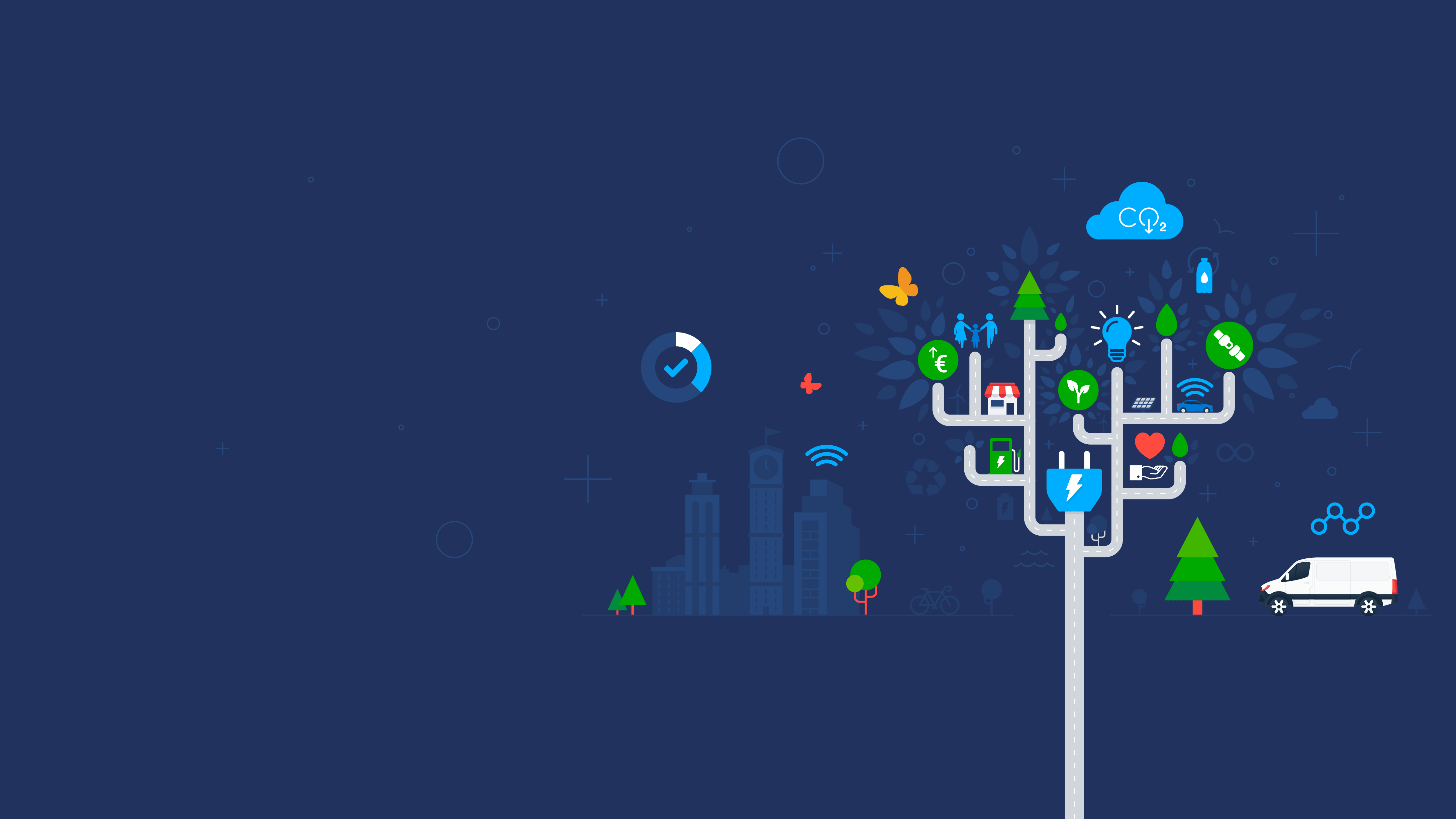 Join Geotab the drive to sustainability
---
Discover ways to innovate and sharpen your competitive edge by registering for Geotab Mobility Connect: The Drive to Sustainability.
As the EU plans to cut emissions by more than 50% within the next decade, electric vehicles (EVs) and sustainable solutions are becoming more and more present in discussions around the future of the mobility and transportation sectors.
By 2030, the UN estimates that the majority of the 8.5 billion people living on our planet will live in cities. To reduce emissions, increase road safety and optimise costs, fleet managers and companies must embark on a sustainability journey starting now.
At Geotab, we have created an exciting and informative event to address the current sustainability challenges and trends within Europe: Geotab Mobility Connect: The Drive to Sustainability.
The event will take place online on Wednesday, June 16, 2021, from 10 a.m. to 1 p.m. CEST (9 a.m. to 12 p.m. BST). To learn more about the forces that are transforming businesses today, read on and discover what Geotab has in store for you.
What to expect
Geotab Mobility Connect: The Drive to Sustainability will bring you thought-provoking panels, presentations, interviews, fireside chats and so much more on an array of topics focused on the journey to sustainability and fleet electrification. You will have the chance to meet industry experts, Geotab executives and thought leaders to learn what it takes to bring your fleet into the sustainable future.
This event will feature engaging sessions including:
Shaping tomorrow's sustainable future today
In this session, get an introduction to sustainability, explore what the term really means and, most importantly, discover why you should care. You will also learn about the benefits of Environmental, Social, and Corporate Governance (ESG) reporting and get an answer to the burning question: Why should companies commit to sustainability?
The green and clean future of OEMs
This session will feature a panel discussion with leading OEMs and EU sustainability experts to help you understand the current sustainability challenges and the opportunities that arise from them. This will all be provided from the perspective of the OEMs.
GO, operate and scale electric effectively
This session will provide an update on the recent EV developments and trends in Europe. Listen to the voices of our Customers and Partners as they discuss their experiences when going, operating and scaling electric.
How to register for the event
To learn more about the sustainability and electrification trends shaping fleet management, register now or visit The Drive to Sustainability event page. You can also watch our promotional video for a quick glimpse at what's to come.
---
If you liked this post, let us know!
---
Disclaimer
Geotab's blog posts are intended to provide information and encourage discussion on topics of interest to the telematics community at large. Geotab is not providing technical, professional or legal advice through these blog posts. While every effort has been made to ensure the information in this blog post is timely and accurate, errors and omissions may occur, and the information presented here may become out-of-date with the passage of time.
Subscribe to the Geotab Blog
Sign up for monthly news and tips from our award-winning fleet management blog. You can unsubscribe at any time.
Other posts you might like