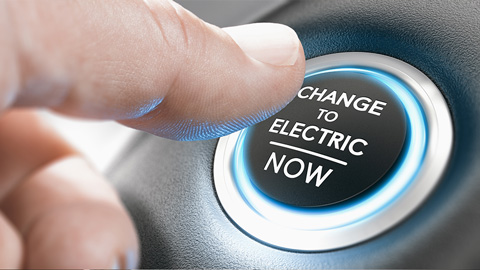 Develop the business case to electrify your fleet
---
The recent government announcement on the ban of internal combustion engine vehicles by 2030 and plug-in hybrids by 2035 is accelerating the electric vehicle transition.
According to Arval Mobility Observatory, over 40 percent of fleets will be affected by the introduction of clean air zones due to start rolling out in 2021. Therefore, operators will have to evaluate the current makeup of their fleet and consider replacement to ensure compliance.
Major UK fleets are in early transition with many having 100% electrification targets. Successful adoption requires a focus on key parameters such as total cost of ownership, and understanding vehicle driving patterns. However, to electrify at scale, having visibility of your fleet's data is crucially important.
Which vehicles do you replace first?
For fleet operators, it is important to understand which vehicles in the fleet can successfully be electric. To begin, identify the vehicles that are on the road without reaching the limitations of EV range, this is done to maximise vehicle productivity. To analyse this, you will need data from your existing fleet which includes daily driving requirements and a comprehensive overview of vehicle costs. Read on for more fleet electrification tips.
Consider not using the average of how much a vehicle drives daily. To be confident in your decision, keep in mind worse case scenarios so you can choose an EV that meets your daily demands.
Complete the Total Cost of Ownership (TCO) on new vehicles for both electric and ICE vehicles. Take into account the reduced fuel, maintenance costs, government grants and tax incentives.
With this information, you have the basis to carry out a comparative analysis.
See also: Creating an EV adoption strategy for your fleet
How to start
Geotab's turn key EV suitability assessment is an online tool that helps evaluate which vehicles in your current fleet could potentially move to electric. This will help you understand which EV in the market is range capable (based on maximum daily driving distances) and where it makes financial sense to move to electric, based on TCO calculations.
While Geotab has done all the research in the background to make this interactive and automatic, it can also be done manually, but you need to analyse underlying fleet data to enable you to make an informed decision on EVs. The data will help you break down barriers and move in the same direction that many in the industry are going. Are you ready to electrify your fleet?
To learn more about how to transition your fleet to electric visit: https://www.geotab.com/uk/fleet-management-solutions/electric-vehicles/
---
If you liked this post, let us know!
---
Disclaimer
Geotab's blog posts are intended to provide information and encourage discussion on topics of interest to the telematics community at large. Geotab is not providing technical, professional or legal advice through these blog posts. While every effort has been made to ensure the information in this blog post is timely and accurate, errors and omissions may occur, and the information presented here may become out-of-date with the passage of time.
Subscribe to the Geotab Blog
Sign up for monthly news and tips from our award-winning fleet management blog. You can unsubscribe at any time.
Other posts you might like