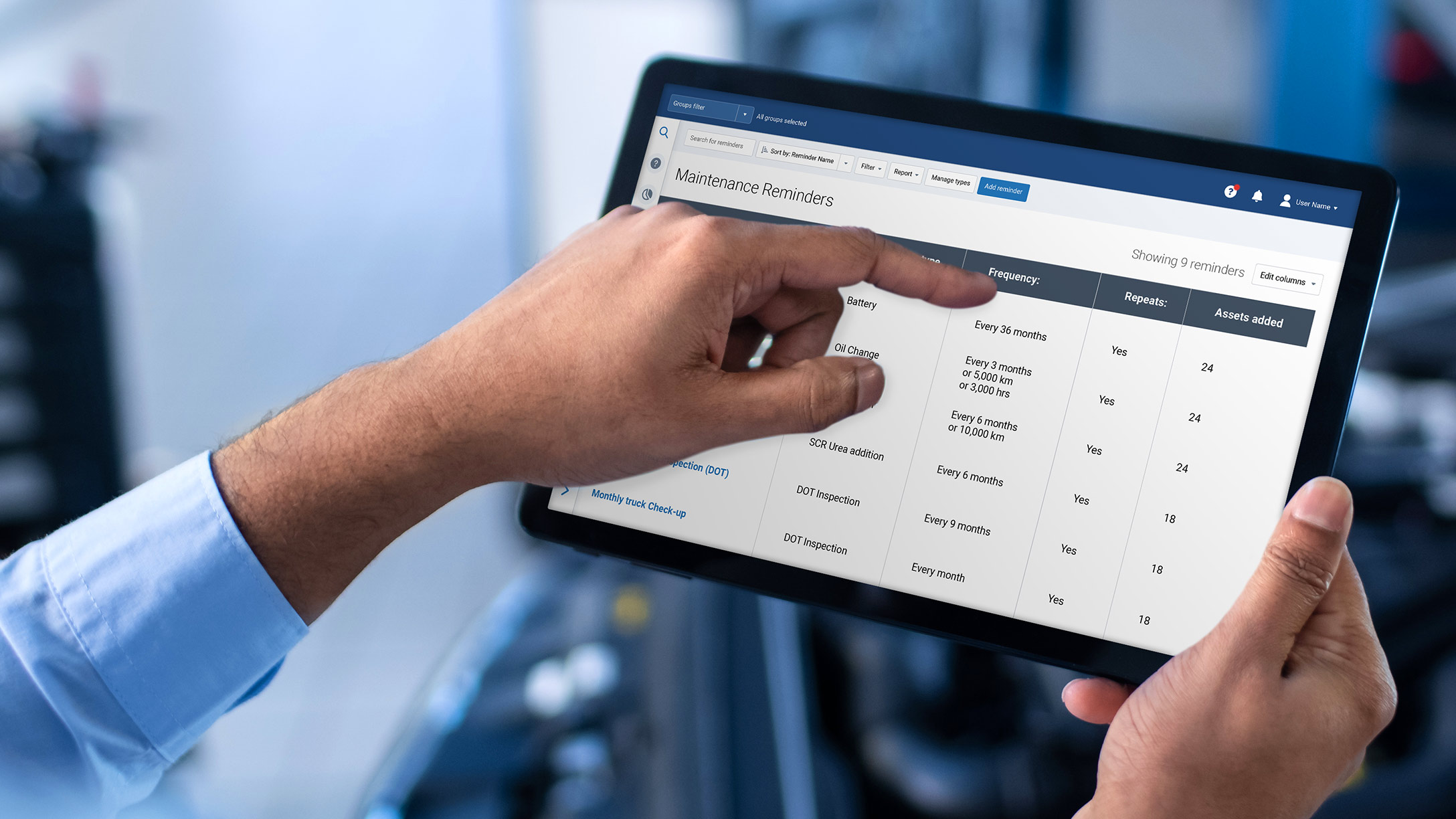 Fleet maintenance software: What is it and what are the benefits for your fleet?
---
Preventive maintenance - the starting point for fleet safety
Most fleets practice a preventive maintenance program, consisting of daily vehicle checks, defect reporting and regular maintenance schedules to keep the fleet vehicles running safely. This is a requirement for any size and composition of fleet, and specifically of an operator's licence for HGV fleets. It is also imperative for maintaining the health and longevity of your vehicles, while reducing operational costs.
Many fleet managers schedule and keep track of these maintenance tasks with wall charts and spreadsheets, but these methods are prone to human error, and can lead to inspections and regular maintenance slipping through the cracks.
Another problem with standard preventative maintenance programs is that they often don't take into account different vehicle ages, usage, or other extenuating circumstances that can cause vehicle faults to occur before scheduled maintenance is due.
This can result in unnecessary vehicle downtime, suboptimal vehicle performance, expensive maintenance costs, and ultimately, a less safe fleet.
What are the benefits of fleet maintenance software?
Fleet maintenance software is the simple alternative to spreadsheets and wall charts that helps you automate fleet operations tasks and keeps vehicles and equipment running optimally.
Fleet maintenance software helps you to:
Maintain vehicle health: Vehicles are your greatest capital investment. Fleet management software ensures that your vehicles are always in the best condition, so that you can get the most value out of your investments.
Optimise vehicle maintenance: Well maintained vehicles consume less fuel. By automating your maintenance program and receiving alerts when scheduled maintenance events are due, you can ensure that preventative maintenance never slips through the gaps and that you are optimising fleet fuel efficiency.
Eliminate vehicle downtime: By forecasting your fleet's maintenance tasks and inspections, and keeping records of all vehicle issues and their resolution, together with accurate parts inventories, maintenance will run smoother. This keeps vehicles off the road for less time, and maximises fleet profitability.
Reduce maintenance costs: Maintenance cost reports enable you to track work completed and report on costs and trends, helping you target areas where you can improve your bottom line
Keep a detailed service history: A fleet maintenance solution will keep a complete service history for every vehicle in your fleet.
Proactive Maintenance - the future of fleet maintenance
The best fleet maintenance solutions go further still and enable fleet managers to practice proactive maintenance based on remote diagnostic data captured in real-time from the vehicles.
This remote diagnostic information saves time and reduces costs by focusing on predictive engine health. By closely monitoring your engine fault code information, you can identify small problems early, before they turn into costly repairs or lead to vehicle downtime.
These vehicle codes quickly identify and locate the engine issue, helping you save on vehicle inspection time and costs. With MyGeotab, you can add an extra level of awareness by having fault codes emailed or texted to you as soon as they occur.
How can Geotab's fleet maintenance software help my business?
Geotab's vehicle maintenance software helps to increase the lifespan of your fleet by catching small problems before they become large, expensive ones. With MyGeotab, you can forecast and schedule your fleet's regular service tasks and inspections, and keep accurate records of vehicle issues, maintenance schedules, and parts inventories to ensure the maintenance scheduling process always runs smoothly.
Using MyGeotab's engine diagnostics solutions, you can keep your drivers safer, maximize vehicle uptime, and flag potential problem areas so you can plan fleet operations effectively. Geotab's fleet maintenance software uses remote diagnostics to quickly identify issues and prioritise vehicle repairs with active diagnostic faults and critical engine data, saving you time and money.
View our solutions page to learn how Geotab's fleet maintenance software can make your fleet vehicles safer, run for longer, and cost you less to maintain.
---
If you liked this post, let us know!
---
Disclaimer
Geotab's blog posts are intended to provide information and encourage discussion on topics of interest to the telematics community at large. Geotab is not providing technical, professional or legal advice through these blog posts. While every effort has been made to ensure the information in this blog post is timely and accurate, errors and omissions may occur, and the information presented here may become out-of-date with the passage of time.
Subscribe to the Geotab Blog
Sign up for monthly news and tips from our award-winning fleet management blog. You can unsubscribe at any time.
Other posts you might like