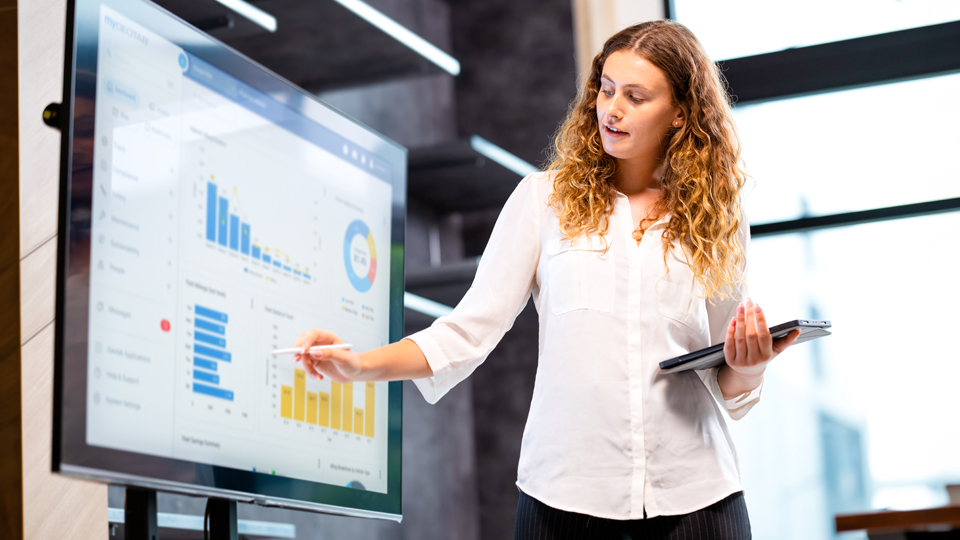 Geotab's Expertise in Global Telematics Deployment
---
Learn how Geotab's Project Managers facilitate the implementation of telematics solutions globally, addressing unique fleet challenges and unlocking fleet management potential.
Implementing telematics solutions across geographical borders can be a complex and daunting decision to make and process to begin. However, with Geotab, you are not alone. As a world leader in telematics, Geotab has an in-house team of Project Managers adept at large-scale implementations.
By deeply understanding the specific needs and operational intricacies of partners and customers, Geotab ensures a seamless transition to Geotab's data intelligence solutions. Through careful consideration of integral business requirements and the application of suitable project methodologies and change management principles, Geotab empowers organisations to successfully navigate the challenges of multi-country deployments of their solution and unlock the full potential of their fleet management endeavours.
Unique Business Needs and Bespoke Tailoring
Mapping out key business drivers is critical to understanding your fleet's needs and tailoring the Geotab solution to provide maximum value. This is carried out through diving into the issues faced by your business currently and translating that into 'requirements' and 'use cases' which describe how you plan to use MyGeotab and what you would need in order to make this a successful deployment.
Our project managers work closely with the Geotab partner and customer to understand the needs of the business, and as a result, the type of methodology best suited to the business environment to facilitate the deployment accordingly.
Change Management
Guiding an organisation effectively through change is a vital component of Geotab's project implementations, ensuring seamless adoption of potentially brand-new processes. Change management strategically facilitates the adoption of new processes, systems, and mindsets. By emphasising the benefits and positive impacts of telematics adoption, Geotab seeks to ensure fleet managers and drivers feel supported and engaged throughout the transition. Drivers will feel confident in the decisions being made and see the value in telematics deployment, allowing the process to run smoothly. This approach empowers drivers to actively participate in the process, fostering a collaborative environment that creates a path for successful adoption and maximised benefits. Meanwhile, fleet managers are able to ensure ROI through customisation of the MyGeotab platform, leading to data-driven business decisions. Geotab sets the standard in successfully transitioning to telematics solutions and driving sustainable growth.
Data Security & Privacy Considerations
Information security and data privacy are part of the foundation of Geotab as an organisation and should be part of your every day as a fleet manager. Local regulations and laws will be taken into account over the course of any Geotab deployment, such as GDPR within Europe (applying to those in the EU as well as UK and Ireland). Geotab provides you with room to adapt your security and privacy regulations within the solution as you see fit. From unique user clearances set by your organisation, to Personal Mode which allows drivers the opportunity to hide vehicle tracking for a designated length of time, to grouping vehicles by departments or regions only select people have access to. Geotab collaborates closely with partners and customers to protect sensitive data and ensure compliance throughout the deployment process- this can be carried out through groups and clearances in MyAdmin. Additional information regarding Information Security and Compliance at Geotab can be found here.
Deploying telematics solutions on a global scale poses unique challenges, but you don't have to navigate it all blind. Geotab's expertise and knowledge lead to comprehensive support throughout the implementation journey. By understanding business needs, choosing the right methodology, driving change management, and addressing data privacy considerations, Geotab empowers global fleets to unlock the full potential of their telematics deployments and achieve optimal fleet management results.
Are you looking for a reliable team to lean on as you start your global telematics journey? Request a demo today to find out how we can support you.
---
If you liked this post, let us know!
---
Disclaimer
Geotab's blog posts are intended to provide information and encourage discussion on topics of interest to the telematics community at large. Geotab is not providing technical, professional or legal advice through these blog posts. While every effort has been made to ensure the information in this blog post is timely and accurate, errors and omissions may occur, and the information presented here may become out-of-date with the passage of time.
Subscribe to the Geotab Blog
Sign up for monthly news and tips from our award-winning fleet management blog. You can unsubscribe at any time.
Other posts you might like