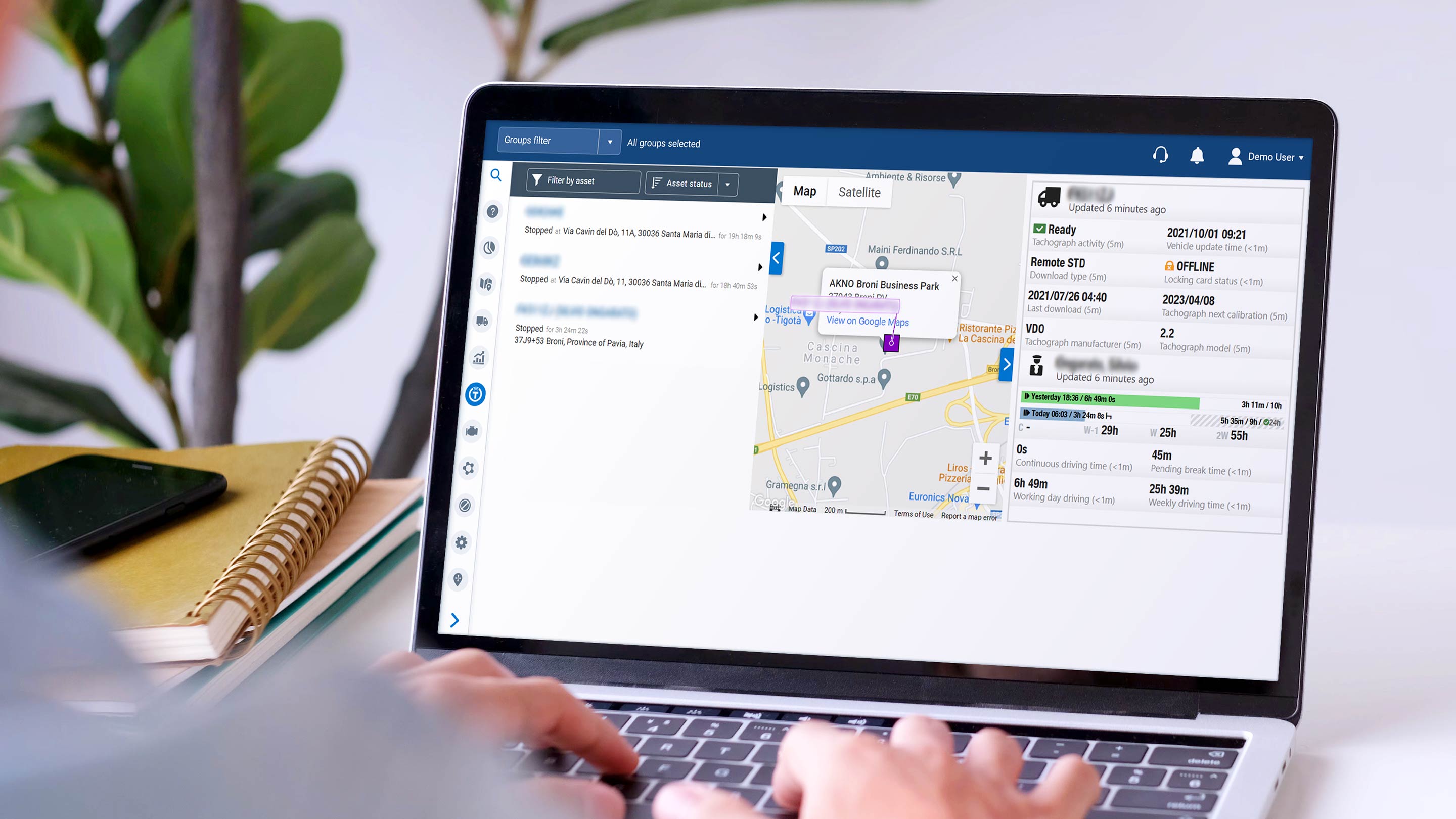 New feature added to the Tachograph Add-In
---
Learn more about the new feature added to the Tachograph Add-In.
A digital tachograph is a device that automatically records different parameters such as speed, distance and driver activity. Geotab's Tachograph makes compliance easier by offering real-time tacho status, remote download and analysis, and driver identification. To help manage fleets better, Geotab's newest feature allows tachograph information to be visible directly on the map.
How does a tachograph work?
The Geotab Tachograph is a combination of three products, which include the GO device (GO9 or later), IOX-UREADER and Tachograph Connection Harness (HRN-URTACHO). The hardware of the tachograph is a collection of:
IOX-UREADER (hardware gateway); and
HRN-URTACHO, a dedicated harness for connection to the rear of the tachograph.
The IOX-UREADER is connected to both the GO Device and the digital tachograph in a vehicle. Learn more about how the tachograph works.
What is Geotab's tachograph solution?
The Geotab Tachograph Solution is an Add-In that allows for Remote Download (RDL), real-time driving and resting information (TAC), and analysis of advanced files and infractions (AFA). The Geotab Tachograph Solution makes it easy for customers to successfully monitor compliance and manage their fleets to meet the EU 561/2006 requirement.
New feature and benefits
Fleet managers can access real-time information about drivers and vehicles with Geotab's Tachograph. The newest feature allows information to be accessible directly from the map.
When a vehicle (equipped with GO + IOX-UREADER + HRN-URTACHO) is selected, a dedicated view appears on the right side. The view is split, with the vehicle section above and the driver section below.
Fleet managers can see a detailed overview about the driver and vehicles in their fleet. This information allows fleet managers to schedule based on driver hours, and provides them with the ability to monitor the tachograph download. It also offers several reminder functions to inform the fleet managers about missing data before the legal deadline expires.
Where is the solution available?
Geotab's Tachograph solution is available with all GO device iterations. The tachograph information on the map is available as default with the Tachograph Add-In solution.
Learn more about the solution and take your fleet to the next level.
---
If you liked this post, let us know!
---
Disclaimer
Geotab's blog posts are intended to provide information and encourage discussion on topics of interest to the telematics community at large. Geotab is not providing technical, professional or legal advice through these blog posts. While every effort has been made to ensure the information in this blog post is timely and accurate, errors and omissions may occur, and the information presented here may become out-of-date with the passage of time.
Subscribe to the Geotab Blog
Sign up for monthly news and tips from our award-winning fleet management blog. You can unsubscribe at any time.
Other posts you might like