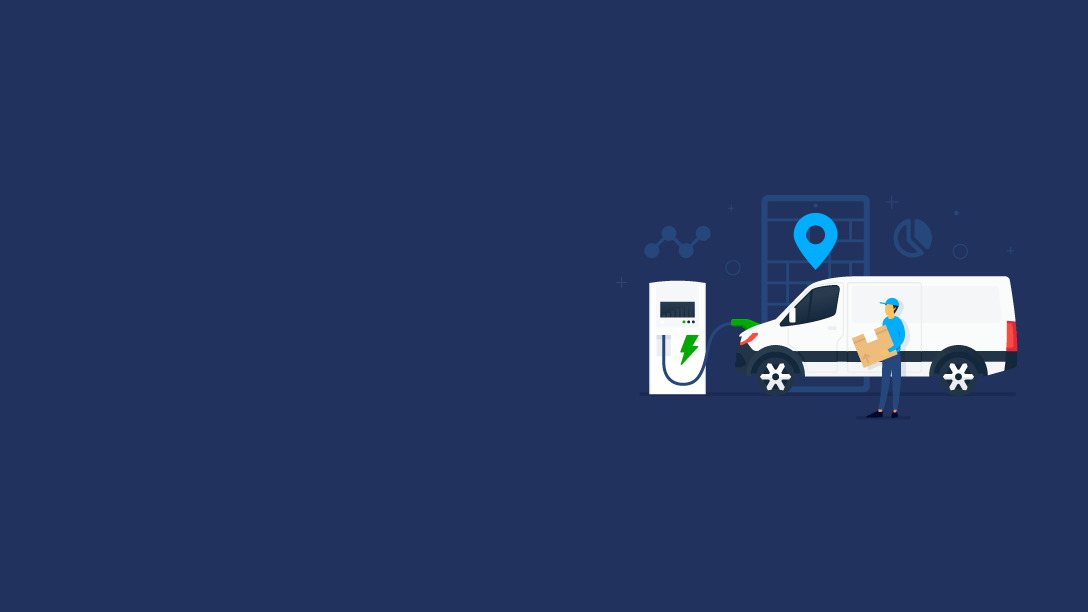 What does full EV support mean and why does it matter?
---
Learn how data leads to insights for EVs, what makes it so difficult to access, and what data you can't afford to run an electric fleet without.
All fleet managers benefit from access to rich vehicle data. But while it may be important for optimising the performance of a fleet of internal combustion engine (ICE) vehicles, it's absolutely imperative for transitioning to, and running electric vehicles (EVs). In this article, we look at why data is critical for gaining actionable insights for EVs, and what exactly we mean when we say that a telematics provider offers "full EV support". Because unfortunately, the data your telematics provider offers for your ICE vehicles might not be available for the EV alternative.
Why does data matter for electric vehicles
With EVs, data is vital from the very beginning. When fleet operators are planning to transition to electric vehicles, certain questions arise which didn't exist for ICE vehicles, and the right telematics software can answer these with intelligent insights. For example:
Are the current vehicle's driving patterns suitable for an EV?
Fleet managers need to have absolute confidence in a vehicle's range, and to ensure an EV can do the route that is required of it. To achieve this, daily driving distance should be analysed for at least 30 to 90 days, and for up to 12 months for those operations with seasonal peaks, looking to see what the longest daily distance is. The EV you choose should be capable of meeting that worst case range requirement.
Will moving to electric make economic sense from a total cost of ownership perspective?
Fleets looking to adopt EVs at scale require telematics data that will provide them with the ability to make optimisations to improve vehicle efficiency and thus total cost of ownership (TCO), optimise routes, and deploy the correct charging infrastructure. Critical to the procurement decision making process is cost, with focus on the TCO over the lifecycle of the vehicle, rather than the upfront price. Whether it is on a purchase or lease basis, fleet managers should take into account all of the elements related to adopting an EV, including fuel, maintenance, registration, taxes, incentives and charging infrastructure.
What charging infrastructure requirements will I need to run my fleet?
To ensure EVs are fully charged when they need to be, fleet managers will need to carefully plan what charging infrastructure will be needed to support them. The number of charging stations and the overall power requirements of that charging infrastructure will vary depending on a number of factors, including the total number of EVs, their duty cycles, their individual range, and their dwell location(s). Your telematics solution should offer intelligent zoning, which shows a heat map of where and when vehicles park, in order to know where best to place charging infrastructure, or to know when public infrastructure should be utilised.
Then once EVs have been incorporated into a fleet, managers will require access to rich vehicle data to ensure their ranges are being optimised, vehicles are at their maximum efficiency and that the EVs are being charged properly.
What does full EV support mean and why is it so hard to achieve?
With full EV support, fleets get the insights they need to operate their vehicles successfully, no matter what EVs they choose to procure. Fleets can monitor real-time battery charge data, fuel and EV energy usage, as well as the full charging history of their EVs.
It's not as easy for EVs as it is for conventionally fuelled vehicles because vehicle manufacturers don't necessarily have to follow the same consistent standardisation protocol when providing access for EV data as they do for ICE.
Each EV that's released could potentially require a new approach for accessing its data. This makes it challenging for many telematics providers to support the growing number of EVs available in comparison to ICE vehicles.
While manufacturers are legally required to provide standardised access to their ICE vehicle data through the OBD standards, they are not required to do so for EVs. This is fundamentally because the standard requires universal access to emissions-related data. Since some EVs produce no tailpipe emissions, the OBD standards do not obligate a manufacturer to conform to a standardised protocol to provide access to any of their data. By law, all a manufacturer has to make accessible is the VIN and the odometer for EVs.
Ask your telematics provider - Do you fully support my EVs?
This is by far the most important point to ask your telematics provider; do you fully support all the EVs within my fleet? This is Geotab's core point of differentiation, providing the driving and charging data required to operate your EV fleet effectively, and providing that data for the greatest number of EV makes and models.
With over 14 years of experience with EVs through the acquisition of FleetCarma in 2018, and subsequent investment, Geotab is the world leading telematics provider in the electric vehicle space. We officially support over 200 EV makes and models and are expanding our coverage faster than ever before.
At Geotab, we indicate full support only when we capture all of the key data elements that matter to effective EV performance management. Be aware that not all telematics providers capture the same wealth of data when supporting EVs or do not support a diverse number of EV makes and models. For instance, you need to know more than where your EVs are to manage them effectively; you need to know what state they're in, and how much charge they have left to perform their duty.
With a telematics provider that offers full EV support, the guesswork is taken out of monitoring and measuring your fleet of EVs.
What EV data elements are the most important when operating your fleet?
For ICE vehicles, telematics is largely focused around vehicle maintenance, fuel management, safety, and compliance. Because EVs have reduced maintenance requirements, the focus moves away from maintenance, and instead there is much greater emphasis on the elements that impact the range of the battery, principally charging and driver behaviour.
The most important data elements for EV management are therefore:
Real-time state-of-charge: Understanding if you will need to instruct the driver to return to the depot and charge the vehicle, knowing which vehicles have sufficient charge to complete additional tasks, and ensuring that the driver is driving in an economical manner that will enable the vehicle to achieve the greatest range.
Vehicle charging data: Making sure the vehicle is ready for the next job. Tracking where the vehicle is charging (at home, at the depot, or on-route), how long charging is taking, how much kWh energy is being consumed, and how much it's costing the business.
EV energy efficiency: Reporting on an EV's efficiency for each trip to ensure that drivers are optimising the potential range of their vehicles, to track costs and to highlight any maintenance issues. Driver behaviour is a critical factor in getting the greatest range out of your EVs, and thus vehicle efficiency is one of your most important metrics.
These are three of the critical data points for effective on-going operation of an EV fleet. To learn about the other essentials you should be asking your telematics provider if they support within an effective tender, check out our RFP checklist for EV support.
While some OEM-owned solutions may offer data support for their own vehicles, Geotab bridges different data sets from OEMs to offer seamless insights across makes and models in one easy-to-use platform. In short, Geotab helps you see your electric fleet operations with full clarity.
Check out our electric vehicle solutions page to learn more about how Geotab can fully support you as you transition your fleet to electric.
---
If you liked this post, let us know!
---
Disclaimer
Geotab's blog posts are intended to provide information and encourage discussion on topics of interest to the telematics community at large. Geotab is not providing technical, professional or legal advice through these blog posts. While every effort has been made to ensure the information in this blog post is timely and accurate, errors and omissions may occur, and the information presented here may become out-of-date with the passage of time.
Subscribe to the Geotab Blog
Sign up for monthly news and tips from our award-winning fleet management blog. You can unsubscribe at any time.
Other posts you might like