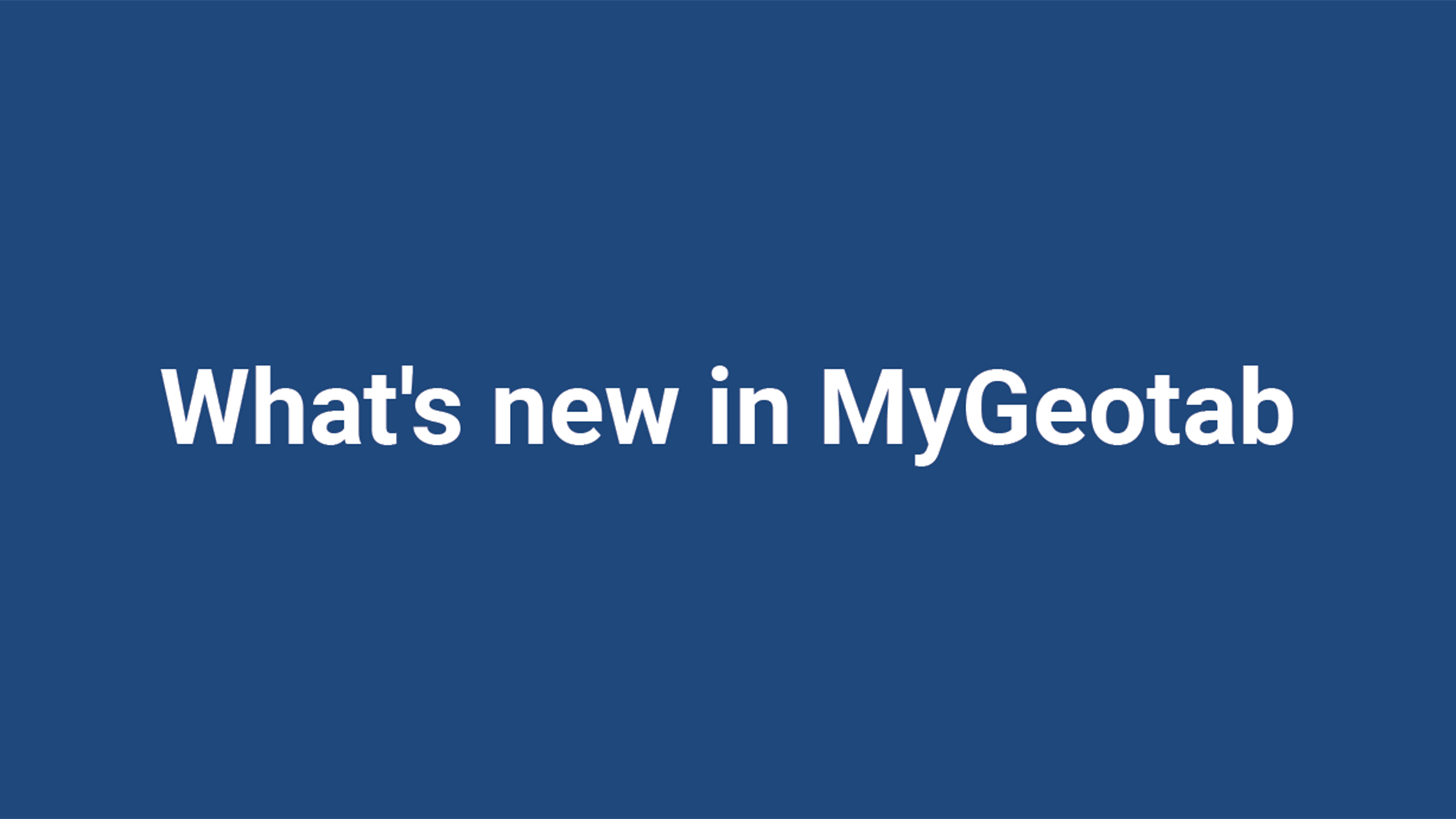 What's new in MyGeotab — Version 1904
---
Read the latest summary of updates in MyGeotab.
Welcome to our latest summary of updates in MyGeotab. Please subscribe to the Geotab newsletter to get these update posts emailed to you.
Geotab Users: To verify your version: go to MyGeotab > Administration > About and check the build number, (e.g. 5.7.1904.xxx release).
Resellers: Review this post for important changes affecting your customers and note any recommendation actions. If you have suggestions for improvement, please leave a comment below.
Note on Feature Previews
All items marked Feature Preview are in Feature Preview and may change or disappear at any time. We do not recommend using these features in a production setting. To use items in Feature Preview, you must toggle Feature Preview to ON by navigating to Administration > Users from the main menu. If you decide to preview any of these features, we welcome your feedback on any of our Geotab Community forums.
User interface (UI) enhancements
Expanded ability to reorganize columns on the vehicle page (Feature Preview)
The 1903 release introduced the new Vehicle page. The functionality of the page now includes the option to choose any of the information columns as the identifier for your vehicles. Columns can be moved by dragging and dropping to arrange in your desired order.

Privacy Mode has been renamed Personal Mode
For consistency, the Privacy Mode feature has been renamed to Personal Mode. All instances of Private/Not Private in MyGeotab have been renamed as Personal/Business. The functionality of this feature has not changed.
Added Release Notes menu item
Customers and Resellers can now easily access MyGeotab release notes from the main menu by selecting Getting Started & Help > Release Notes to view.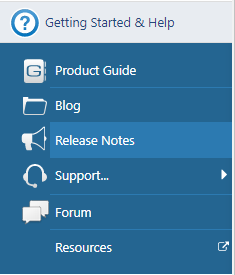 Added option for Add New Template in exception rule email options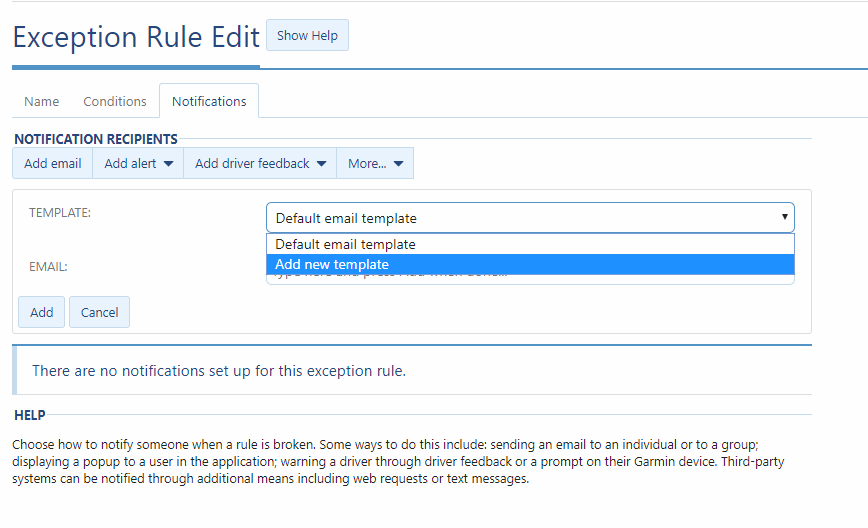 The option to Add a new email template has been added to the Exception rule edit page under the Notifications tab.
Help button update
New MyGeotab user? We've got your back! Guidance has now been provided in the form of the Show Help button. When you click the Show Help button, description and user tips will be displayed for each field. Additionally, the feedback button, previously indicated by the Pencil icon, has been renamed Send Feedback.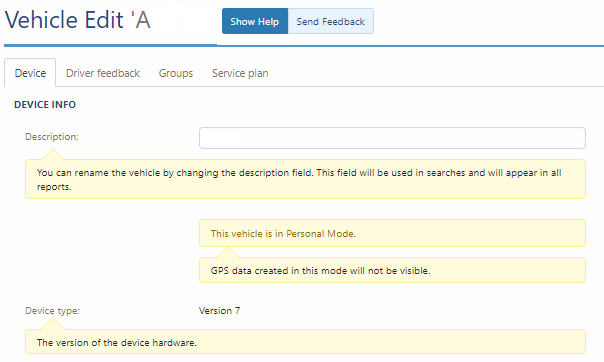 Odometer and asset number are now included in the device install history on MyGeotab
The Device Install History page has been updated to display the odometer and asset number information entered by installers at https://installmygps.com. Previously, this information was not visible to users.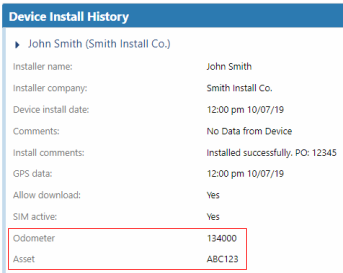 Confirmation required before turning on default rules
Default rules now require confirmation before they are enabled to prevent users from accidentally turning on rules when navigating the page. Users must now confirm their selection by selecting Turn on before the change is applied to the database.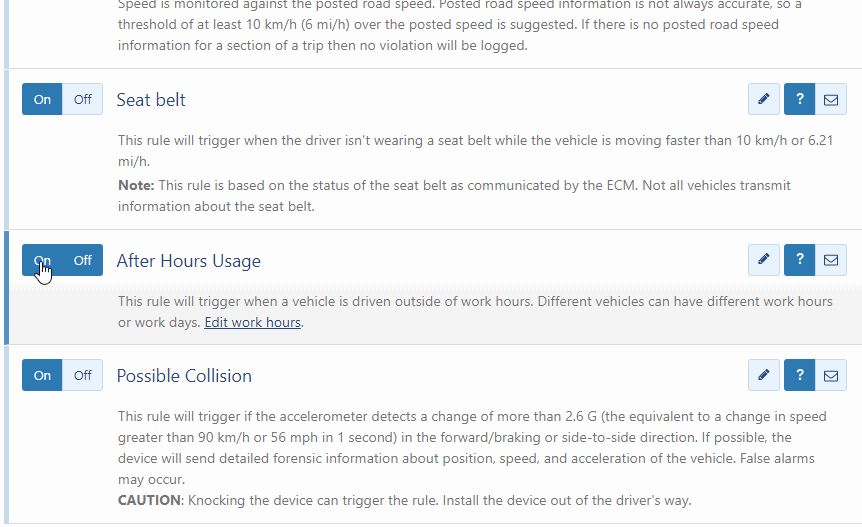 Other updates
New View Groups clearance
A new clearance called View groups has been added to the application. This clearance allows administrators to assign a view-only clearance for users in order for them to view groups without making changes to them.
Fuel fill-ups now supports Ukrainian hryvnia (UAH) and Philippine peso (PHP)
Currency support for Ukranian hryvnia and Phillipine peso has been added for fuel fill-ups in MyGeotab.
Style guide for MyGeotab no longer available
The Style Guide for MyGeotab has been withdrawn from public access. This page was originally intended for internal use only. The public link to the document has been removed.
User Timeout has been renamed Idle Session Timeout (Feature Preview)
The User Timeout feature, currently in Feature Preview, has been renamed Idle Session Timeout. Enabling this feature will log users out after a set period of inactivity.
View Device Reports clearance has been renamed List Devices
The security clearance View device reports has been renamed List devices to maintain consistency with other clearances such as List users. This clearance allows users to view vehicles' complete information without the ability to make changes.
Select All in Filter option removed from User page search box
The options in the Multiple selection menu on the User page have changed to prevent confusion when users begin typing into the search box. Users can use the Select visible option to select all users that match their search text.
Estimated speed limit will now be displayed on relevant Exceptions
Speeding exceptions now indicate whether or not the exception occurred on a road with estimated speed limits.
Audit log will now display custom parameters for devices
The Audit log feature has been updated to display custom parameters added to devices. Going forward, the Audit log will describe custom parameters that were added, removed, or changed.

EULA updates
Added Brazilian Portugeuse translated version of the EULA; and
Updated Other Provider Terms in the EULA
Added icon for inactive faults
The Engine Faults page now displays an icon to indicate which faults are inactive.
Updated Tachograph key input
The Tachograph Key input on the User Edit page has been updated and requires the user to specify the issuing country from the dropdown menu before providing the Driver ID.
Diagnostic code updates
Added revised engine diagnostic codes.
Unit of measure L/ton was added incorrectly as imperial units. L/tonne has been added to correct this (metric ton). All references of L/ton have been updated to L/tonne and the unit of measure L/ton has been removed.
Other:
Fixed and improved typos, grammar, capitalization, bugs, accessibility, security and translation errors.
MyGeotab SDK updates
Groups are now optional for AddInData objects (Feature Preview)
Groups are now optional for AddInData objects, currently in Feature preview. Previously, groups were a required property for the AddInData object. This limited the potential usage of AddInData as there are situations where data should be available to all users regardless of scope, and some users were not able to access data when they belonged to groups outside the data's scope. Removing this restriction means any user is now allowed to get an AddInData object.
Updated DiagnosticEngineHoursAdjustmentId
With the "ENABLEENGINEHOURSINTERPOLATION" custom code applied to your database, DiagnosticEngineHoursAdjustmentId will now be interpolated using trips and DiagnosticIgnitionId values when a search includes a from/toDate value(s) to provide exact values. To apply this custom setting to your database, please reach out to Geotab support. This will become the default behavior in the 2001 release.
DatabaseExists method will now check all federations
DatabaseExists method will now check if a database exists on all federations.
LoginResult - Removed unsupported legacy property "SecurityToken"
This property duplicated the supported property Credentials. It was previously maintained for compatibility with MyGeotab version 5.6.1 which is no longer supported.
Other:
Rule — Fix, do not allow adding Rules without Conditions.
FuelTransactionProductType — Added Hydrogen and DieselExhaustFluid.
FuelTransactionProvider — Added GFN.
BinaryDataType — Added SoftwareVersionFull.
HosRuleSet — Added HosRuleSetCanadaCycleOneTeam and HosRuleSetCanadaCycleTwoTeam.
SecurityIdentifier - Added ViewGroups.
Previous update
Looking for the last update summary? Read: What's new in Geotab - Version 1903.
Learning resources
For more info on SDK updates, please visit the MyGeotab SDK What's New page.
Learn more about Geotab Drive, MyGeotab, and the Geotab GO telematics device by consulting these resources:
Contributors:
Kelly Tice, Warisha Khan, Technical Writers
Inshaal Badar, Senior Content Writer
Vik Sridhar, Product Engineering Manager, MyGeotab
See also: What's new in MyGeotab — Version 1903
---
If you liked this post, let us know!
---
Disclaimer
Geotab's blog posts are intended to provide information and encourage discussion on topics of interest to the telematics community at large. Geotab is not providing technical, professional or legal advice through these blog posts. While every effort has been made to ensure the information in this blog post is timely and accurate, errors and omissions may occur, and the information presented here may become out-of-date with the passage of time.
Other posts you might like