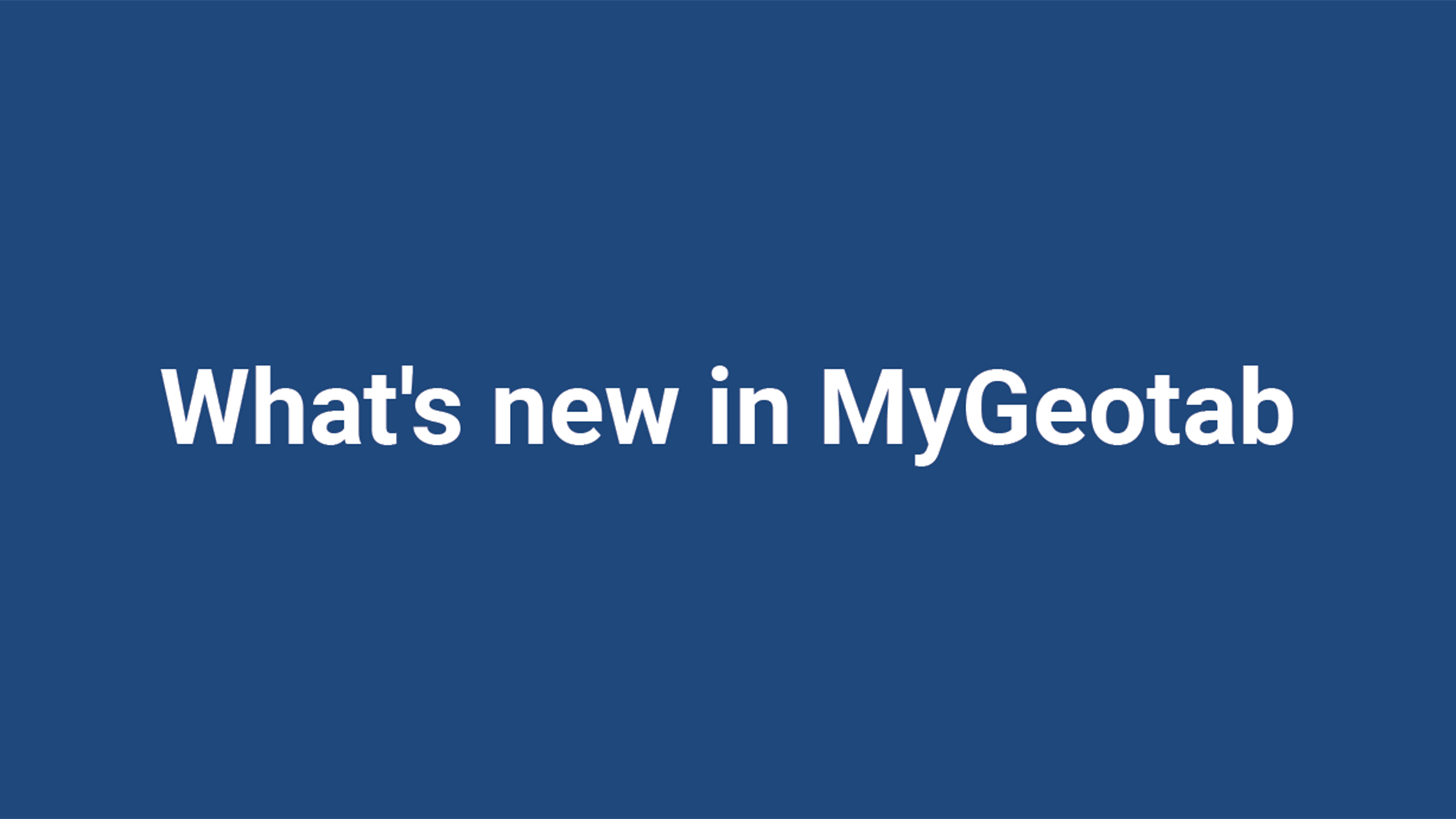 What's new in MyGeotab — Version 1903
---
Read the latest summary of updates in MyGeotab.
Welcome to our latest summary of updates in MyGeotab.
Geotab Users: To verify your version: go to MyGeotab > Administration > About and check the build number, (e.g. 5.7.1903.xxx release).
Resellers: Review this post for important changes affecting your customers and note any recommendation actions. If you have suggestions for improvement, please leave a comment below.
Note: All items marked Feature Preview are in Feature Preview and may change or disappear at any time. We do not recommend using these features in a production setting. To use items in Feature Preview, you must toggle Feature Preview to ON by navigating to Administration > Users from the main menu. If you decide to preview any of these features, we welcome your feedback on any of our Geotab Community forums.
Sign up for Geotab news
Stay up to date on what's new. Please subscribe to the Geotab newsletter to get these update posts emailed to you.
Security
Increased minimum password length to 8 characters
For this release, all MyGeotab Customer portals will now enforce a minimum password length of eight (8) characters for new user accounts, or for password changes to existing accounts. In addition, the minimum password length, under the password policy in System Settings, cannot be set to a value less than 8.
User interface (UI) enhancements
By special request — Direct downloading of reports
You asked and we listened! Based on feedback, users no longer need to preview reports in Excel or PDF format prior to downloading. Simply click the Report button to download the report immediately, or if desired, the ellipsis tool to view, then download. The "View" button has been renamed "Report."
New "My location" button added to the Live Map
You can now view your current location on the Live Map. Simply click the My location button to zoom in or view nearby vehicles and zones. This feature is useful for users who want to see their current location on the map, and then reference the location of other vehicles or zones.
Trips History page now easier to read (Feature Preview)
To improve clarity, the Trips History page has been updated to display Driving time and Stopped time in separate rows.
Show, hide and move columns on the Vehicles page (Feature Preview)
Geotab has added a neat interactive feature on the Vehicles page to help you organize your vehicles. The Vehicles page now includes additional columns of information: License, VIN, Odometer, Engine hours, Current driver, and Comments. You can show, hide and even rearrange columns in the order you would like to see them. The new view is automatically saved for future reference.
Additionally, the group name is now displayed under the vehicle name, and we have added a new icon to signify that a vehicle has not communicated recently.
Unsaved changes reminder
When editing users and vehicles, you are now prompted to Save your changes if you attempt to navigate away from the page without saving.
In-context zone edit menu
When editing zones, the edit page displays to the right of the zone you are trying to edit. Previously, a new window opened when editing a zone, and users might have lost their place in the list of zones. This update gives context when editing zones by highlighting the zone on the list, and allowing you to switch between the Zone edit tab and the Map tab, all in the same window. Read more about creating zones in this article: What is geofencing?
See one-way roads (for Google Map users)
If you selected Google Maps as your map provider in MyGeotab, you can now view the road directions for one-way roads, indicated by an arrow on the Map.
Pan the Map on the MyGeotab app using one finger instead of two
For ease of use on touchscreens and phones, you can now pan the Map using one finger, instead of two.
New options for managing user accounts
We have added some new management options on the Users page:
Filter dropdown to select Active users (Feature Preview), Suspended users or All
Active from: [Date] field indicates when the user account was created
Last logon date: [Date] field to indicate when the user last logged into MyGeotab, Geotab Drive, or the API.
MyAdmin users can now see information for other MyAdmin users on the Users page and the Audit Log page
Previously, when Customers registered their own database, then provided their Reseller with access to the database, neither the Customer nor Reseller could see each other. Starting with this release, all MyAdmin users with the appropriate clearance can now see other MyAdmin users with access to their account.
Advisory message when odometer and engine hour values change
An advisory message has been added to the Vehicle Edit page to explain that any updates to the odometer and/or engine hour values will be queued for processing, and may take some time to complete. However, users should not experience a significant time delay.
Pop-up message for report generation (Feature Preview)
When generating a report, you are now notified that it may take time to complete, with the option to continue or not.
This message will be displayed on the following pages:
Risk Management
Fuel Usage
HOS availability
HOS Violations
Route plan vs Actual
Trips Summary
For Personal Mode, "Private/Not Private" has been renamed as "Personal/Business"
The name and functionality of the Personal Mode feature has not changed. However, all instances of Private/Not Private on the UI have been renamed Personal/Business. To learn more about using this feature, please consult the Personal Mode User Guide.
Other UI improvements:
Password email for new users updated
Improved visibility of "Forgot password" link on MyGeotab Login page
Changed the default transparency from 100% to 0% value on the Group Edit page
"Reports" menu has been renamed to "Report setup"
Report enhancements
Risk Management Report update
To ensure consistency among available data, the option to include historical data when running the Risk Management report has been removed. If a vehicle was archived during the selected date range, the vehicle will be displayed on the report. However, if the vehicle was archived before the selected date range, the vehicle will not display in the report.
Trips Summary Excel report update
Previously, the Trips Summary report only filtered stops that were shorter than the specified value inside Customer, Office, and Home zones. The report now filters all stops — both inside and outside zones — that are shorter than the specified value, allowing you to see only the stops you desire.
Coming soon: Two new Geotab Marketplace reports
Two new reports are coming soon, available for download from the Geotab Marketplace:
Vehicle Vocation Report — Displays a list of vehicles with a predicted vocation based on the vehicle driving behaviour in the past three months combined with insights in our big data environment. For more information on vehicle vocations, refer to the Vehicle Vocations Glossary.
Battery Fault Detection Report (Feature Preview) — Displays a list of vehicles with their Electrical System Rating (Feature Preview) — a rating on a scale from 0 to 100 that represents battery health. Battery health is predicted using a Machine Learning (ML) model that leverages historical data from our big data environment to identify patterns in Cranking events.
To access these reports, download them from the Geotab Marketplace. The Marketplace offers a whole range of free reports for fleet management. Read about some popular custom fleet reports here.
Other updates
Purge is now available to all customers (Feature Preview)
In MyGeotab, the purge feature is used to permanently delete data older than a specified time frame. In the past, you had to create a support ticket with Geotab technical support in order for your purge settings to take effect. This is no longer a requirement. You can now enable the purge on your MyGeotab portal and have it take effect immediately.
Purging by group
You can now schedule purges for different groups within your organization within System Settings > Purge. The maximum number of purge schedules you can set up is 20. If a vehicle is in multiple groups, and each group has a purge schedule, the group with the longest data retention window is chosen. We recommend that you trial these schedules in a sandbox environment, and only after you are satisfied with the results, enable this Feature Preview feature on a Customer portal.
Added support for Posted Road Speed in African countries
Geotab has added road speed support in MyGeotab in a number of African countries (see list below). With this addition, fleet managers can set up exceptions to monitor drivers going over the posted speed limits Learn more about working with road speeds in MyGeotab in this article.
Cameroon
Democratic Republic of the Congo
Gabon
Gambia
Ghana
Guinea
Ivory Coast
Kenya
Madagascar
Mali
Nigeria
Malawi
Sierra Leone
Tanzania
Uganda
Add hyperlinks to messages (Feature Preview)
MyGeotab users can now include hyperlinks in their messages to drivers on the Geotab Drive app. Just type in the url in the Link field, then click ADD LINK. This feature is useful for fleet managers or dispatchers who want to send websites, location links, public documents, and other links to their drivers.
Improved system notification alert
Previously, for users who utilized web notifications, when MyGeotab sent a system notification for an invalid external address, it did not differentiate between a truly forbidden address and a potentially valid address that was either unresponsive or an invalid DNS entry. Now the notification is clear about whether the address is forbidden and will never succeed, or if there is a networking issue that may start working again later.
Diagnostic code updates
Added revised engine diagnostic codes.
Fixed and improved typos, grammar, capitalization, bugs, accessibility, security, translation errors and VIN decoding.
MyGeotab SDK updates
Added feeds for entities that could generate more than 50,000 records in a single request
Geotab has added API feeds for the following entities. Please take note of the limits on results.
Audit – 50,000 record limit
Device – 5,000 record limit
Diagnostic – 50,000 record limit
DriverChange – 50,000 record limit
Route – 10,000 record limit
Rule – 10,000 record limit
TextMessage – 50,000 record limit
Trailer – 50,000 record limit
User – 5,000 record limit
Zone – 10,000 record limit
Added a new property to the IoxAddOn object
We have added the property "dateTime", which indicates the time when the channel was set.
Other
ISO date time returned will now have full ISO time. Previously, it would return "1986-01-01". Now it will return "1986-01-01T00:00:00.000Z"
Incomplete custom data is no longer returned via GetFeed API
Previous update
Looking for the last update summary? Read: What's new in Geotab - Version 1902.
Learning resources
For more info on SDK updates, please visit the MyGeotab SDK What's New page.
Learn more about Geotab Drive, MyGeotab, and the Geotab GO telematics device by consulting these resources:
Contributors:
Warisha Khan, Technical Writer
Melanie Serr, Senior Content Editor
Vik Sridhar, Product Engineering Manager, MyGeotab
See also: What's new in MyGeotab — Version 1902
---
If you liked this post, let us know!
---
Disclaimer
Geotab's blog posts are intended to provide information and encourage discussion on topics of interest to the telematics community at large. Geotab is not providing technical, professional or legal advice through these blog posts. While every effort has been made to ensure the information in this blog post is timely and accurate, errors and omissions may occur, and the information presented here may become out-of-date with the passage of time.
Other posts you might like