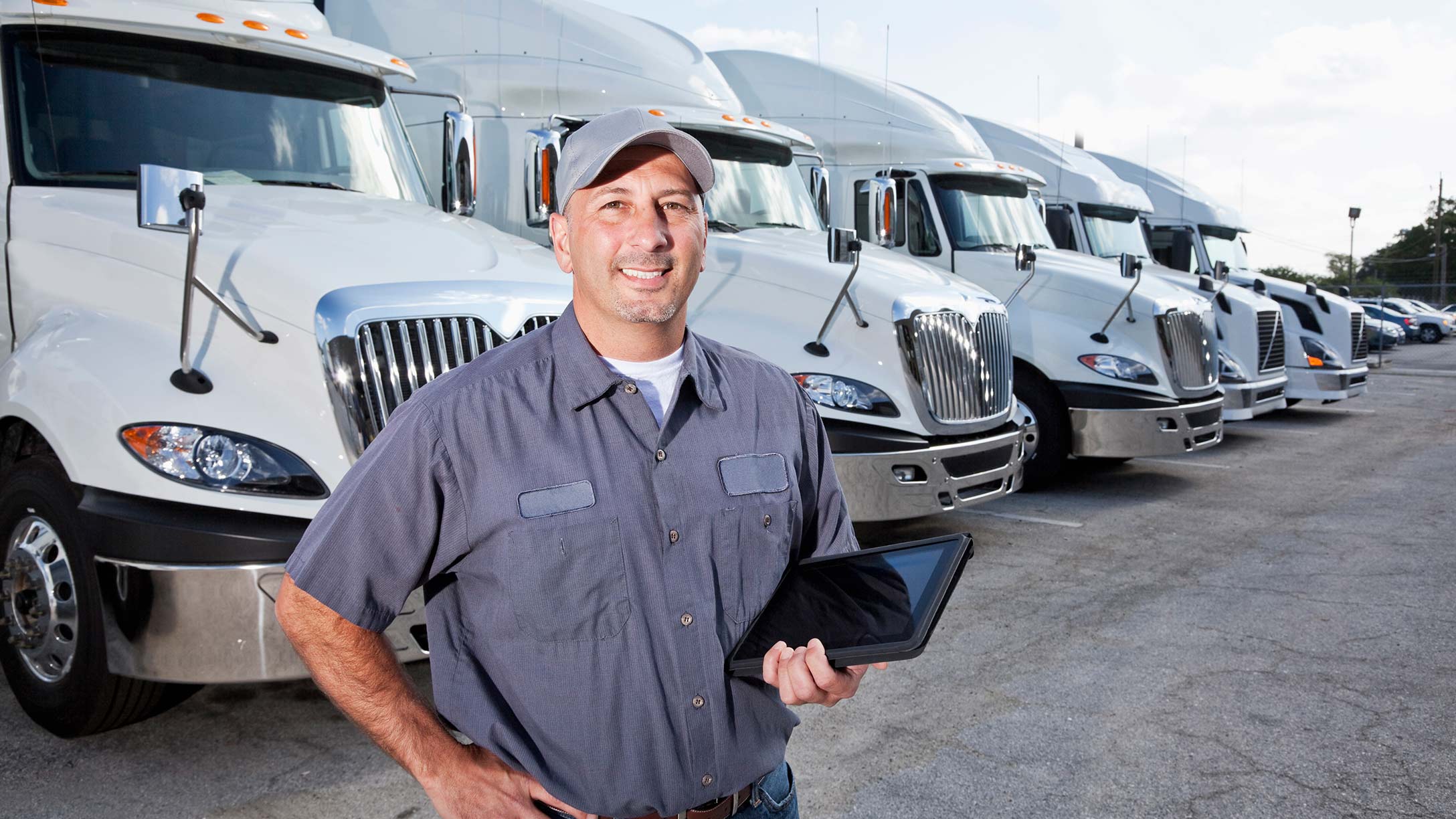 The complete guide to fleet management
---
Learn more about the role fleet management plays in the transportation industry.
What is fleet management?
Fleet management is a function for businesses and agencies that rely on transportation for their products or services. It is designed to control costs, manage productivity and reduce risks. The activity of fleet management can drive valuable benefits for an organisation such as increasing efficiency in vehicle acquisition, fuel management, strengthening compliance, increasing employee safety, and reducing carbon emissions.
"Fleet management has a valued and integral role in many industries, from construction to last-mile delivery and is constantly evolving. Today and in the future, new advances in telematics technology and fleet management software will continue to help simplify and streamline the task of fleet management," said Neil Cawse, CEO at Geotab. "By leveraging telematics and connected vehicle technology, fleet managers will have access to fleet vehicle data in one secured location, to help them make better-informed decisions to help optimise their fleet."
What do fleet management departments do?
Fleet management departments and fleet managers are responsible for:
1. Driver training and compliance
This can include general administration, driver license reviews, data preservation, compliance reporting and driver instruction in adherence with local, regional or national compliance standards.
2. Fleet maintenance
Fleet maintenance is the management of policies and processes designed to keep company vehicles in safe and reliable operating conditions to protect drivers and residual value.
3. Contract management and fiscal planning
Negotiating contracts for new vehicles and equipment, vehicle replacement forecasting, disposing of out-of-service vehicles and equipment, and managing fleet contracts for parts, service and fuel are central to the practice of fleet management.
4. Fuel management
Fleet managers are responsible for managing fuel types including petrol, diesel, LPG and electric energy as well as the repair and related compliance procedures associated with them.
5. Route planning and optimisation
Route planning and optimisation involves tightening routes to boost fleet productivity, designing routes and allocating vehicles, building custom zones, assessing missed or out-of-order stops, comparing planned versus actual arrival times and stop duration and viewing travel time and time spent in defined zones.
Types of fleet management
Businesses and organisations from a broad variety of industries, both large and small use fleet management software like Geotab to track and oversee different types of vehicles, from passenger cars, to trucks, planes, off-road construction vehicles and more. They also operate in a range of areas such as freight to delivery, sales and service, oil and gas, emergency services and other industries.
Fleet vehicle management can be carried out within an organisation or by a third-party fleet management company. Fleet management companies provide different services such as:
Vehicle leasing
Acquisition and remarketing
Supply chain management
Fuel management
Maintenance services
Safety programs
Collision response
Tolls and compliance services
Garage management
Why is fleet management important?
Whether 1 truck or 10,000 trucks, fleet management is critical to the success of business operations. Tracking the location and condition of vehicles, as well as maintenance schedules and fuel consumption, aids in cost management and extends the life of equipment.
The overall purpose of fleet management is continual improvement. Within this, there are many goals, including tracking vehicles and equipment, increasing safety, monitoring the lifecycle of commercial vehicles while lowering risk, boosting efficiency, enhancing productivity and maintaining compliance with regulations. As more companies embrace electric vehicles and fleet sustainability, lowering emissions is also a key goal.
How does fleet management work?
Fleet management fundamentally works the same across any business that leases or owns a fleet of vehicles. The process and strategy of fleet management is to maintain smooth and efficient operations and involve the following core strategies:
There is constant pressure to reduce the total cost of ownership, enforce driver safety policies, minimise risk and increase productivity. Because of this, fleet managers use telematics technology, data analytics and software that can help them confront the many business challenges they face.
What is a fleet management system?
A fleet management system is a software platform that allows managers to track and manage vehicles and technicians. These systems can help keep track of key performance data, obtain real-time insights and analytics and aid business planning.
When using a fleet management system, managers receive data on vehicle availability, delivery updates, accumulated on-road hours, weather alerts and strategic route adjustments, among other things in real time. This is all done through a process known as telematics.
Telematics refers to the integrated use of information and communications technology. The technology can send, receive and store information to vehicles through telecommunication devices. Telematics is the in-vehicle communication device, services and applications used in GPS-equipped vehicles.
The role of telematics in fleet management
Telematics is commonly integrated into fleets via vehicle on-board diagnostic (OBD) ports to provide data into software platforms. Telematics can be used to encourage safer, more eco-friendly driver behavior and influence compliance to fleet policies. In addition, telematics can:
Improve customer service through the use of real-time GPS monitoring, trip reporting and dispatching and routing
Provide in-car driver coaching, risk and driver behaviour reporting, crash notifications, reconstruction and location tracking for missing or stolen vehicles or equipment
Use predictive maintenance and remote diagnostics to streamline maintenance and remote diagnostics
Perform fuel management by monitoring idling and other driving habits
Integrate with other software systems, such as onboard camera technology or CRM software, and even create new applications
Manage electric vehicles (EVs) while reducing a fleet's environmental impact and carbon emissions
What is fleet management software?
Fleet management software (FMS) is a computer or cloud-based software that allows a person or team to manage tasks associated with managing fleet vehicles. These specific tasks cover everything from vehicle procurement to vehicle disposal.
The primary purpose of fleet management software is to collect, store, process, monitor, report, manipulate and export fleet data. Fleet management software can track fleet performance and report on fleet metrics through reports and analytics. Specific tasks that fleet management software can track include vehicle, driver, maintenance, incident management and vehicle tracking. FMS is designed to streamline and improve the end-to-end management and automation of a fleet.
When telematics is used, fleet managers can implement smart solutions to achieve, automate and improve the following:
Manage route optimisation
Ensure driver safety and compliance
Receive notifications for preventative maintenance
Reduce idling, fuel and maintenance costs
Manage assets utilisation
Help driver compliance with policies and regulations
Carbon footprint reduction objectives
See also: What is a fleet management dashboard?
Electric vehicle fleet management
Electric vehicle fleet management is the process of overseeing company EVs and drivers, such as battery electric vehicles (BEVs) and plug-in hybrid electric vehicles (PHEVs). With telematics software, fleet managers can monitor both petrol-powered vehicles and EVs on the same platform.
Examples of electric vehicle tracking metrics include:
Fuel and EV energy usage
EV charging status
Battery charge
For an idea of a use case, try our free ​​EV battery degradation tool to see how battery life compared for different EV makes and models of EV, crucial data for fleet managers to understand.
The evolution of fleet tracking
Data analytics, mobility and integrated technology are shaping the future of fleet management.
Companies with larger datasets of vehicle and driver data are using data solutions and AI for deeper analysis. For example, by benchmarking their safety score against similar fleets, a company can better understand and adapt their programs. With Software Development Kits (SDKs) and APIs, fleets can link operations with human resources, finance, insurance and other key stakeholders. They can also automate processes, reduce the cost of doing business and get the most value from their data.
Key integrations for fleet management
Telematics fleet management has many different options to help fleets get the most out of their vehicle data.
These include:
Advanced collision prevention
What is the future of fleet management?
Fleet management is evolving as the world of technology grows. Not only is it embracing the idea of sustainability as a key tracking metric, but it is becoming more attuned to customer needs for ease of use and technological advancement. As we move forward, we will begin to see more advancement in:
Blockchain technology: With blockchain, data is decentralised and disseminated, bringing anonymity to help strengthen security while allowing businesses to easily access the information they require.
Mobility as a service: This consumer-centric form of mobility can also be applied to the transportation industry. It is an on-demand, real-time platform that can incorporate any combination of modes of transportation and offers the consumer everything from journey planning to payment.
Keyless vehicle access: Digital keys, like Geotab Keyless, make it easy for customers and employees to access shared vehicles at the touch of a button or through the use of an app. This opens up opportunities for fleets to get the most out of their vehicles.
Sustainable vehicle solutions: With the world beginning to lean more towards sustainable solutions, new makes and models of EVs are being released for even more purposes. From electric long-haul trucks to additional consumer models, it will soon become easier than ever to access the right EVs for your fleet needs.
Autonomous vehicles: Though self-driving cars may still feel like a far-off idea, there are opportunities in trucking to take advantage of these assets due to the predictability of traffic patterns on highways.
With telematics, fleet managers have access to vehicle diagnostic reporting, asset tracking and insight into driver behaviours. With this available data, fleet managers can gain new insight into their business, to plan and innovate for the future.
Want to learn more? Find out how you can simplify fleet management with Geotab by scheduling a demo.
Originally published on November 13, 2017.
---
If you liked this post, let us know!
---
Disclaimer
Geotab's blog posts are intended to provide information and encourage discussion on topics of interest to the telematics community at large. Geotab is not providing technical, professional or legal advice through these blog posts. While every effort has been made to ensure the information in this blog post is timely and accurate, errors and omissions may occur, and the information presented here may become out-of-date with the passage of time.
Other posts you might like