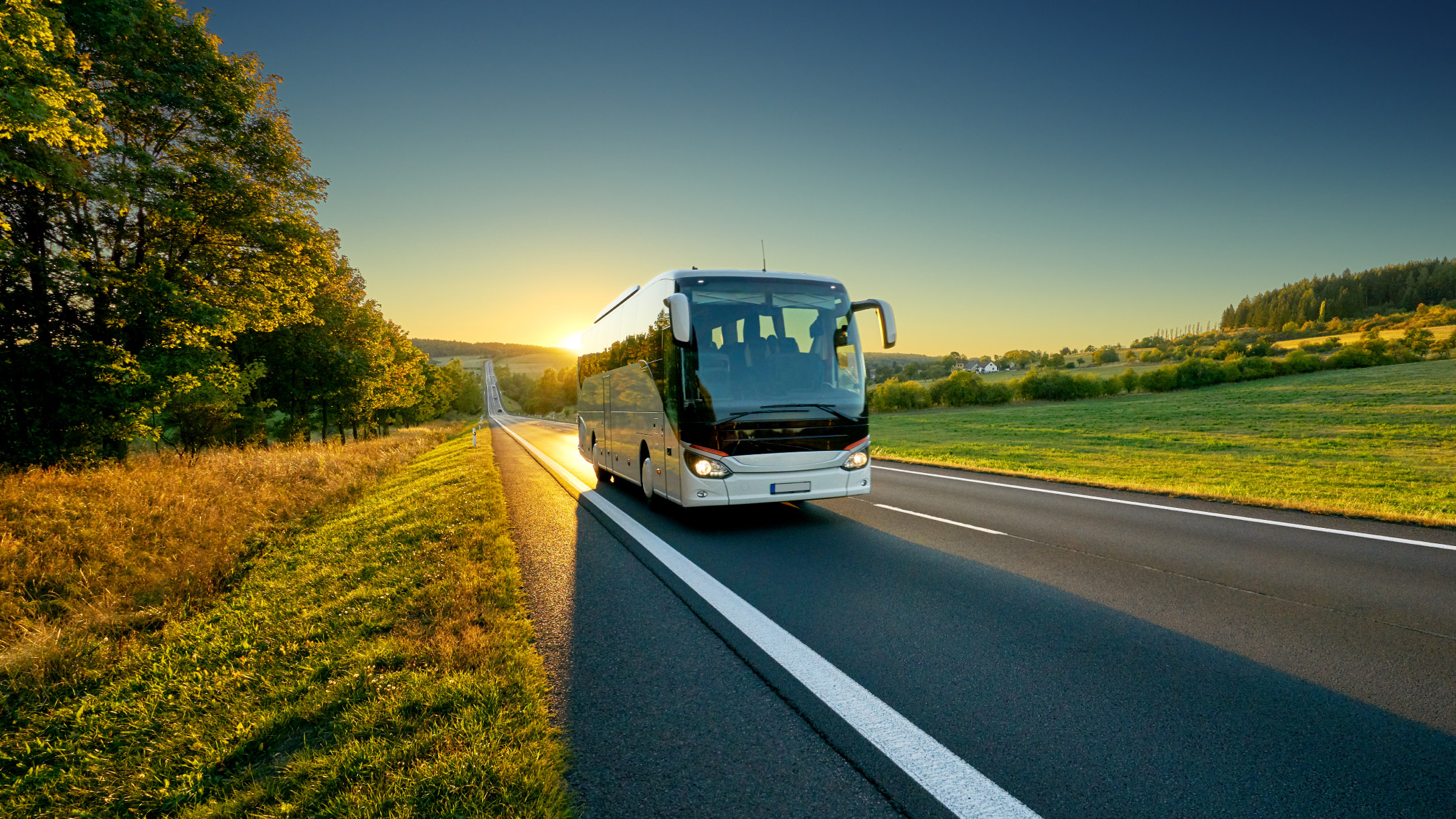 Tighten coach operations and simplify compliance with Geotab
---
An article on how to tighten coach operations and simplify compliance with Geotab telematics.
For many coach operators, spiralling fuel costs have now made it imperative to gain a greater control of fuel spend, while the need for simple and robust systems to ensure compliance with drivers' hours and working time regulations remains ever present.

Learn how Geotab's fleet management solution helps coach operators to take complete control of fuel consumption, and has you covered for tachograph and working time compliance.
Simplified compliance with drivers' hours and working time rules
Remaining in compliance with both drivers' hours and working time rules can be a continual headache for fleet managers, and DVSA inspections can sometimes be stressful occurrences. As well as ensuring that your drivers never exceed their driving or working time limits, there are additional strict requirements for the digital storage of tachograph and driver card data to contend with.

Geotab tachograph offers an automated solution to streamline the entire process, integrating with your coaches' digital tachographs to enable easy compliance with both drivers' hours and working time regulations.
With automatic remote downloading, all of your fleet's and drivers' information is updated in real-time, eliminating the need for either the coach or the driver to be present for you to access the required data, and saving valuable administrative time.
Key features of the Geotab tachograph solution include driver identification, real-time tacho status, remote download and analysis. And through the MyGeotab fleet management platform, alerts can be created for expiring company and driver cards, and the expiration of legal downloading periods, so that inspections are never a stress again.
Actively manage fuel consumption to reduce spend
With stifling diesel prices that are only projected to rise in the short to medium term, any improvements that can be made in fleet fuel economy can translate into significant savings for your fleet's bottom line. MyGeotab has several features and integrated add-ons that support the fleet manager to improve fuel economy and drive immediate cost savings.
Tyre pressure monitoring systems
Underinflated tyres can cause a 1% reduction in fuel economy, which across the entire fleet can translate into considerable losses. And it doesn't just affect fuel economy; underinflated tyres are also more likely to overheat or blow out. By integrating one of the Marketplace tyre pressure monitoring systems (TPMS) into MyGeotab, you can benefit from real-time tyre pressure and temperature monitoring that will help keep your tyres at optimal pressure for both cost and safety savings.
Idling control
When idling, heavy-duty vehicles burn at least 2 litres of diesel per hour. With diesel hovering around £1.80 per litre, just one hour of idling per week could cost your business £187 per coach per year.
And fuel costs aside, idling also impacts vehicle health by putting extra load and engine hours on the fleet. This increases engine wear and tear, and can result in the need for more frequent oil changes, inflating maintenance costs.

MyGeotab's idling reports enable you to see trends in idling rates across your entire fleet and identify drivers who are idling more than the fleet average. With access to Geotab's big data processing technology, you also have the ability to benchmark your fleet's idling rates against those of similar operators, so that you can see how your fleet's idling rate stacks up with others, and to help you identify opportunities to make further savings.

Notifications and alerts will then inform you in real-time if a driver has exceeded defined idling limits, so that the driver can be spoken to in the moment to instantly influence the behaviour.
Driver performance monitoring
After idling has been addressed, there can still be significant differences in fuel economy between your best and worst-performing drivers. Through MyGeotab and Geotab Tachograph, your fuel efficiency reports will be 100% accurate for each driver, helping you to identify the weakest and strongest members of your driving team.

A recent study found the fuel savings of improving driver performance to be as high as 10%. Geotab's Green Fleet Dashboard provides at-a-glance reports for the driving indicators that have the most significant impact on fuel consumption, and the Driver Challenge add-in uses gamification to motivate your drivers to improve their driving styles according to your fleet's safety and fuel efficiency KPIs.
Case study - Geotab improves a coach operator's efficiency and performance
A coach operator with school, corporate and leisure contracts needed a telematics provider that could help them to reduce breakdowns, improve driver behaviour, reduce the incidence of accidents and provide real-time vehicle location tracking.
Geotab's solution enabled them to utilise Near Field Communication (NFC) readers, together with driver fobs for robust driver identification across all classes of vehicle. Driver safety behaviour was actively managed through the Driver Challenge gamification add-in, and the maintenance team used the solution to implement a robust preventative maintenance program.

The company benefited from:
Reduced fuel costs and a refreshed image as a clean and responsible operator thanks to reports and real-time notifications for excessive idling events
Reduced maintenance costs with real-time notifications for low voltage batteries, low levels of ad blue, and other critical fault code information
Reduced risk of at-fault accidents due to the safety training supported by the Driver Challenge Marketplace add-on
Improved customer service standards due to the integration of their internal planning system with MyGeotab, enabling real-time updates on coach locations and arrival times.
Click here to learn how Geotab tachograph can help coach operators to stay in comfortable compliance with tachograph and working time regulations.
---
If you liked this post, let us know!
---
Disclaimer
Geotab's blog posts are intended to provide information and encourage discussion on topics of interest to the telematics community at large. Geotab is not providing technical, professional or legal advice through these blog posts. While every effort has been made to ensure the information in this blog post is timely and accurate, errors and omissions may occur, and the information presented here may become out-of-date with the passage of time.
Subscribe to the Geotab Blog
Sign up for monthly news and tips from our award-winning fleet management blog. You can unsubscribe at any time.
Other posts you might like