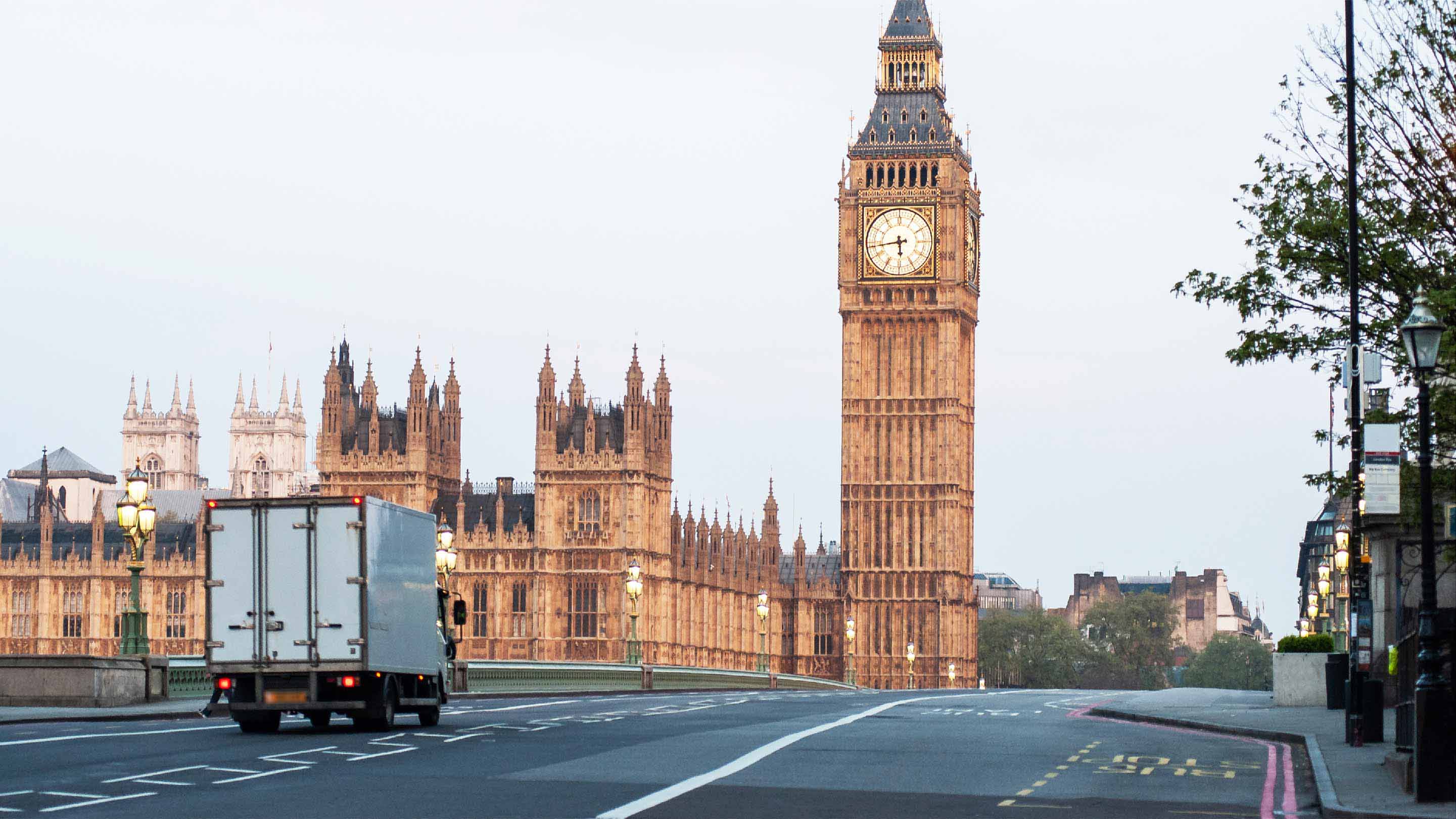 UK Transport Recovery at 84% According To Latest Figures from Geotab and Webfleet Solutions*
Published on July 13, 2020
---
Company secures position as largest commercial telematics provider in the world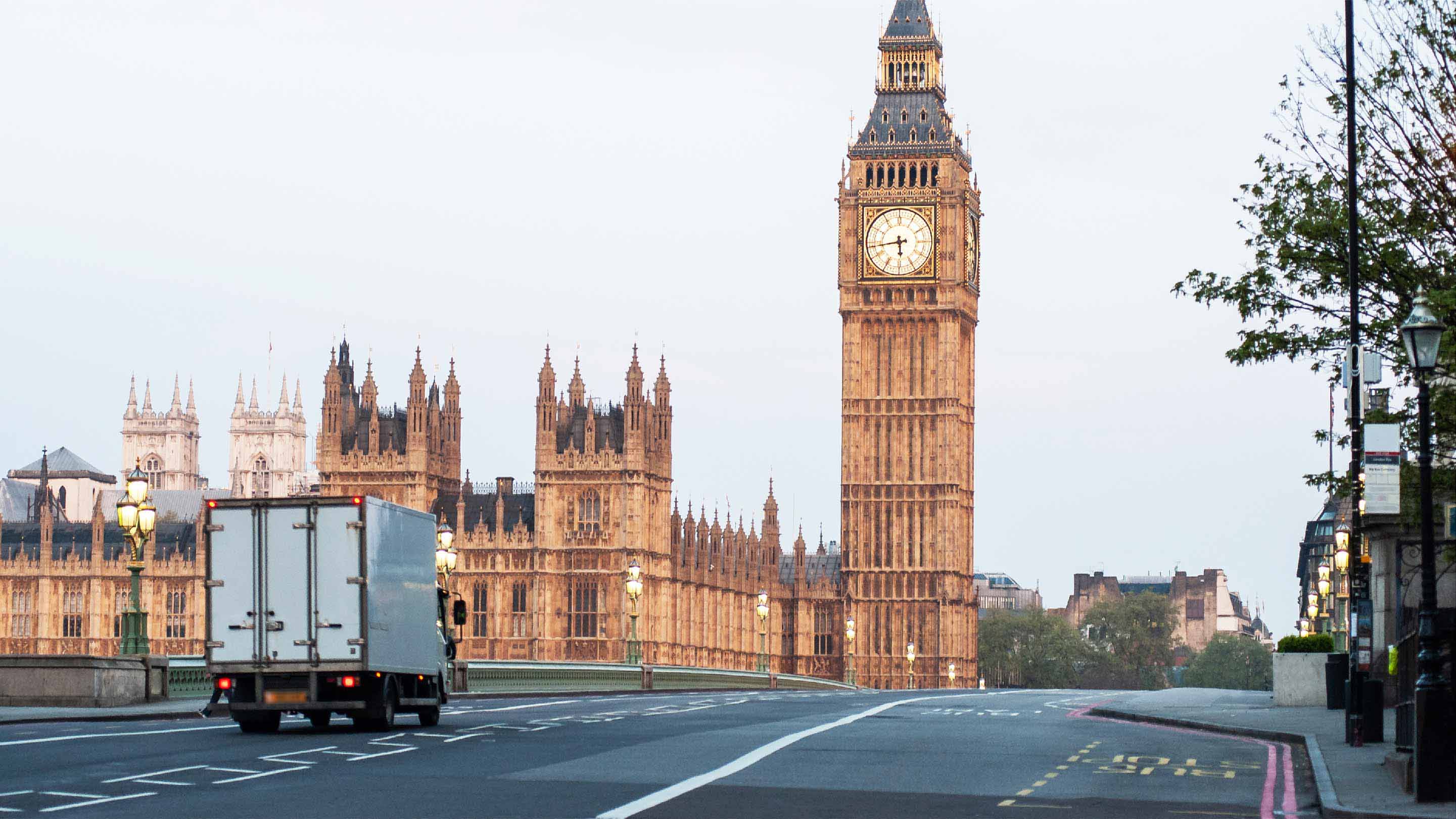 Week following Super Saturday sees highest activity growth since lockdown at 5%
UK Freight & Logistics sub-sector strongest at 94% of pre-COVID-19 baseline
UK transport recovery is among last place compared to EU peers**
LONDON UK, July 14 – According to the latest figures from Geotab and Webfleet Solutions' Commercial Mobility Recovery Dashboard, the UK's transport sector activity has recovered to 84% of its pre-COVID-19 baseline, three months since lockdown was first imposed on March 23 in the UK. Despite a positive trend over last quarter, the UK transport sector lags behind its EU peers, with France at 97%, Germany at 99%, Italy at 98%, Netherlands at 92%, Poland at 92% and Spain at 84%.
The Dashboard, built by Geotab and Webfleet Solutions in a joint effort to help keep a pulse on commercial fleet activity recovery, outlines activity on a country by country basis, as well by three sub-sectors; business services, construction and freight. Now, roughly three months since each country locked down, meaningful data analysis on the recovery can be made.
In the first+ and second week of each country's imposition of strict measures, analysis found:
UK activity fell to an average (avg) of 63% (Mar. 23-29), and avg. 52% (Mar. 30 - Apr. 05)
FR activity fell to avg. 42% (Mar. 17-22), and avg. 35% (Mar. 23-29)
DE activity fell to avg. 86% (Mar. 23-29), and avg. 86% (Mar. 30 - Apr. 05)
ES activity fell to avg. 56% (Mar. 16-22), and avg. 53% (Mar. 23-29)
IT activity fell to avg. 76% (Mar. 9-15), and avg. 61% (Mar. 16-22)
Since its second week of lockdown (SWoL), commencing Mar. 30, UK transport activity has recovered an average of only 2.6% per week. This compares to FR 4.8%, DE 1.1% (due to its lockdown having the least impact on any measured region), ES 2.4%, and IT 2.7%.
The week following "Super Saturday" commencing July 6 - when the UK hospitality industry re-opened to the public - saw a total recovery rate of 5%, with UK recovery climbing from 79% the week prior to 84% on July 10th.
Consisting of non-essential services such as cleaning, office supply deliveries and facilities management, business services activity in the UK has been the slowest to recover, at 71% as of July 10 according to the dashboard. This compares to an avg. of 45% in the UK's SWoL, with an average recovery rate of 2.2% per week.
Meanwhile, UK freight activity - consisting of essential services, necessary goods, such as food, medicine and post - has remained relatively high throughout the lockdown, now at 94% as of July 10. This compares to avg. 71% in SWoL, with an average weekly recovery rate of 1.9%.
Fleets within the construction industry have seen the largest recovery over the last 13 weeks, with SWoL activity dropping 66% on average. Now at 88% of its baseline, its weekly recovery rate has averaged at 3.8%.
David Savage, Regional Manager, UK & Ireland of Geotab said: "As the lifeblood to our economies, commercial fleet activity can act as a strong economic barometer, used to help inform policy, management and forecasting at both macro and local levels. As vehicles become more connected and telematics technology more widely adopted, we will see it not only help shape these decisions but also drive huge cost efficiencies and breakthrough innovations in how our society functions."
Beverley Wise, Sales Director UK & Ireland of Webfleet Solutions added: "Now more than ever, it is crucial that we make the most out of the anonymised and aggregated data available to us in analysing the impacts on our businesses and our economy. This joint initiative enables us to provide deep data-driven insights that will also help support our customers to get their businesses back on the road as they plan their route to recovery."
For further information or statistics, please contact GeotabUK@hotwireglobal.com or dashboard@webfleet.com.
*Figures as of July 10, 2020
**Measured countries: France, Germany, Italy, Netherlands, Poland, Spain, United Kingdom
+Country strict lockdown dates:
France: Mar. 17
Germany: Mar. 22
UK: Mar. 23
ES: Mar. 16
IT: Mar. 9
About Webfleet Solutions - a Bridgestone company
Webfleet Solutions is one of the world's leading telematics solution providers, dedicated to fleet management, vehicle telematics and connected car services. Its main Software-as-a-Service solution WEBFLEET is used by businesses of all sizes to improve vehicle performance, save fuel, support drivers and increase overall fleet efficiency. In addition, Webfleet Solutions provides services for the insurance, rental and leasing industries, car importers and companies that address the needs of businesses as well as consumers. Webfleet Solutions has over 50,000 customers worldwide and services drivers in more than 100 countries, giving them the industry's strongest local support network and widest range of sector-specific third-party applications and integrations. Our customers benefit every day from the high standards of confidentiality, integrity and availability of our ISO/IEC 27001:2013 certified service, re-audited in November 2018. Webfleet Solutions is part of Bridgestone Europe NV/SA ("Bridgestone"), a subsidiary of Bridgestone Corporation, the world's largest tyre and rubber company.
For further information, please visit webfleet.com. Follow us on Twitter @WebfleetNews. For more information about Bridgestone in EMIA, please visit www.bridgestone-emia.com and Bridgestone newsroom.
---
Media Contact
Tony Brown
Geotab
Communications Manager - Europe
pr@geotab.com
About Geotab
Geotab is advancing security, connecting commercial vehicles to the cloud and providing data-driven analytics to help customers better manage their fleets. Geotab's open platform and Marketplace, offering hundreds of third-party solution options, allows both small and large businesses to automate operations by integrating vehicle data with their other data assets. As an IoT hub, the in-vehicle device provides additional functionality through IOX Add-Ons. Processing billions of data points a day, Geotab leverages data analytics and machine learning to help customers improve productivity, optimize fleets through the reduction of fuel consumption, enhance driver safety, and achieve strong compliance to regulatory changes. Geotab's products are represented and sold worldwide through Authorized Geotab Resellers. To learn more, please visit www.geotab.com and follow us @GEOTAB and onLinkedIn.